Ranomi Kromowidjojo Strikes Again: Gold in 23.97 Nine Years After Olympic 50 free Gold In 24.05 & Her Swiftest European Win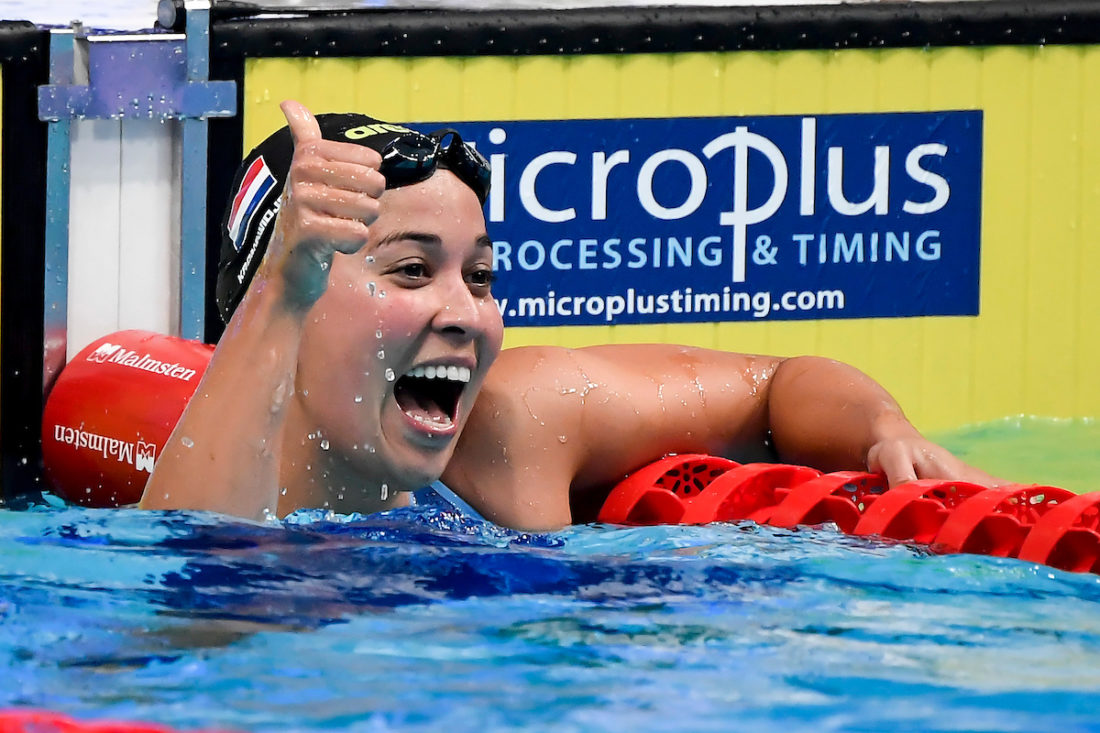 Ranomi Kromowidjojo, 30 going into fourth Olympics campaign and still going strong, the hand of experience landing a 23.97sec gold in the freestyle dash in Budapest at the European Championships today.
It was a case of the 2012 Olympic champion getting her hand to the wall ahead of the 2016 Olympic champion without any of it being virtual.
Results / Livestream / LEN Championship website/ Tokyo 2020 Table of Target Times below qualifiers
Other Day 2 Finals coverage:
Kromowidjojo Adds More Gold To Orange Treasury
Ranomi Kromowidjojo and Pernille Blume, of Denmark, reacted on their blocks at precisely the same moment – in 0.64sec.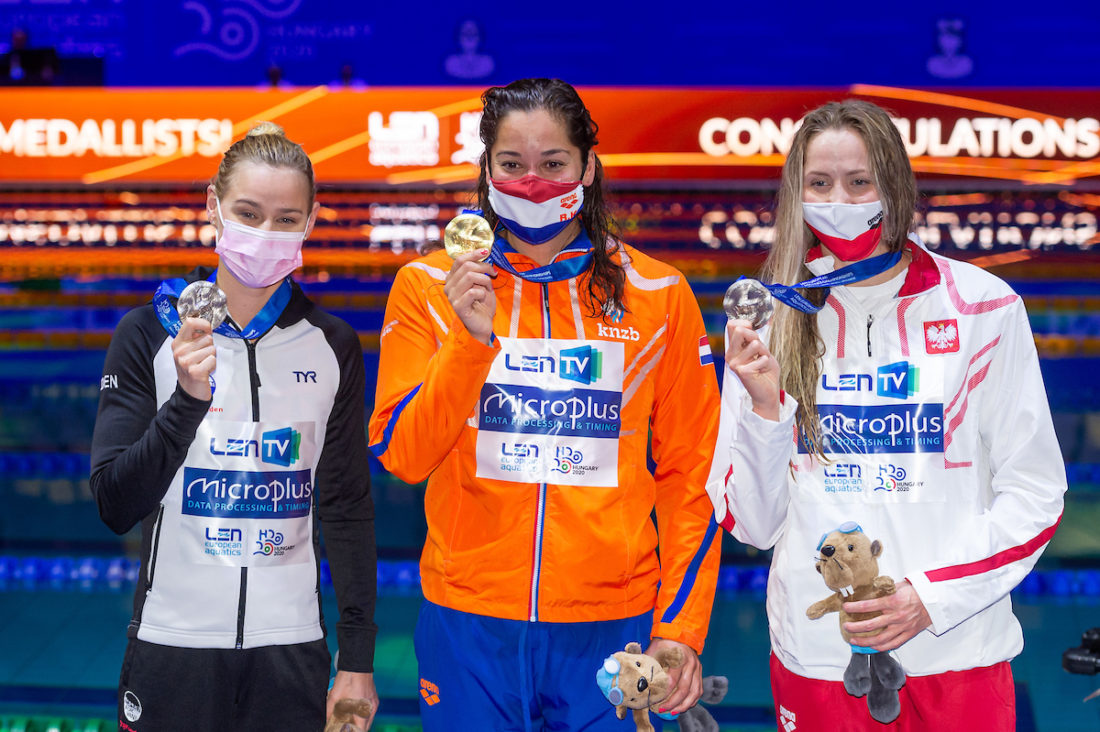 From there, it was the Dutch Diva of sprint, who claimed both the 50 and 100m titles at London 2012, had the edge and the decisive momentum and timing into the wall for a solid victory by 0.2sec over a snap for silver: Blume's 24.17 was yet another moment of match at European meets fairly stacked with them in recent years, Poland's Katarzyna Wasick setting a national record in the bargain and keeping Maria Kameneva, of Russia at bay on 24.29.
Kromowidjojo has her fair share of European medals, including gold in the 50m free back in 2016 and bronze in 2018. Her treasury also includes 17 World l/c medals, 22 World s/c podiums and 26 European s/c prizes.
Other priorities and some injury and illness setbacks dented her European l/c tally along the way but at 9 podiums before arriving in Budapest, where she has a gold and a silver so far, Kromowidjojo has a collection of prizes most swimmers would leap out of the pool and cover a marathon for. That may be going too far, Kromowidjojo might say and no-one would argue: the sprinter's partner is Olympic marathon champion Ferry Weertman, he of the best twitter handle in the swimosphere (VeryFerryFast).
Ranomi Kromowidjojo – whose victory drew the Dutch level with Germany on all-time gold count in the 50m, behind the 6 titles for Sweden, courtesy of Therese Alshammar and Sarah Sjostrom – claimed her first European medal back in 2008 as a member of the Dutch free relay in Eindhoven. Now she's bound for her fourth Olympics and at 23.97 today is racing faster than her London 2012 win (24.05) and her 2016 European gold (24.07).
Kromowidjojo said: "I felt strong in the water today. It was a good race, after the prelims and the semi-finals I felt strong too and I knew I could go faster. Just below 24sec is not that far from my personal best. I'm happy for the medal at the Europeans but it is good to get back mentally to competition mood."
Blume said that it was "a tough race … I had a bad start in the semi-final so I knew I had to swim faster in the final. I didn't expect to swim so fast in this competition so I'm quite happy."
Wasick was "extremely happy", adding: "I couldn't even dream about coming here and winning a medal. I cannot believe I could lower the Polish national record by that much. I'm really happy and I'm looking forward to the Olympics."
After Kameneva came Femke Heemskerk, on 24.32, then Anna Hopkin, on 24.51, inside the Tokyo Olympic A cut and now guaranteed a swim in the 50m, having already been named for the Britain team.
The 50 free final:
P
L
Nation
Swimmer/DoB
R
Time
Gap
1
5
NED
KROMOWIDJOJO Ranomi
(20 AUG 1990)
0.64
23.97
2
4
DEN
BLUME Pernille
(14 MAY 1994)
0.64
24.17
0.20
2
3
POL
WASICK Katarzyna
(22 MAR 1992)
0.67
24.17
0.20
4
6
RUS
KAMENEVA Maria
(27 MAY 1999)
0.65
24.29
0.32
5
2
NED
HEEMSKERK Femke
(21 SEP 1987)
0.70
24.32
0.35
6
1
GBR
HOPKIN Anna
(24 APR 1996)
0.67
24.51
0.54
7
7
SWE
COLEMAN Michelle
(31 OCT 1993)
0.68
24.65
0.68
8
8
CZE
SEEMANOVA Barbora
(01 APR 2000)
0.62
24.67
0.70