Ranomi Kromowidjojo Retires From Racing After Stellar Sprint Career Topped By Olympic Double Dutch Delight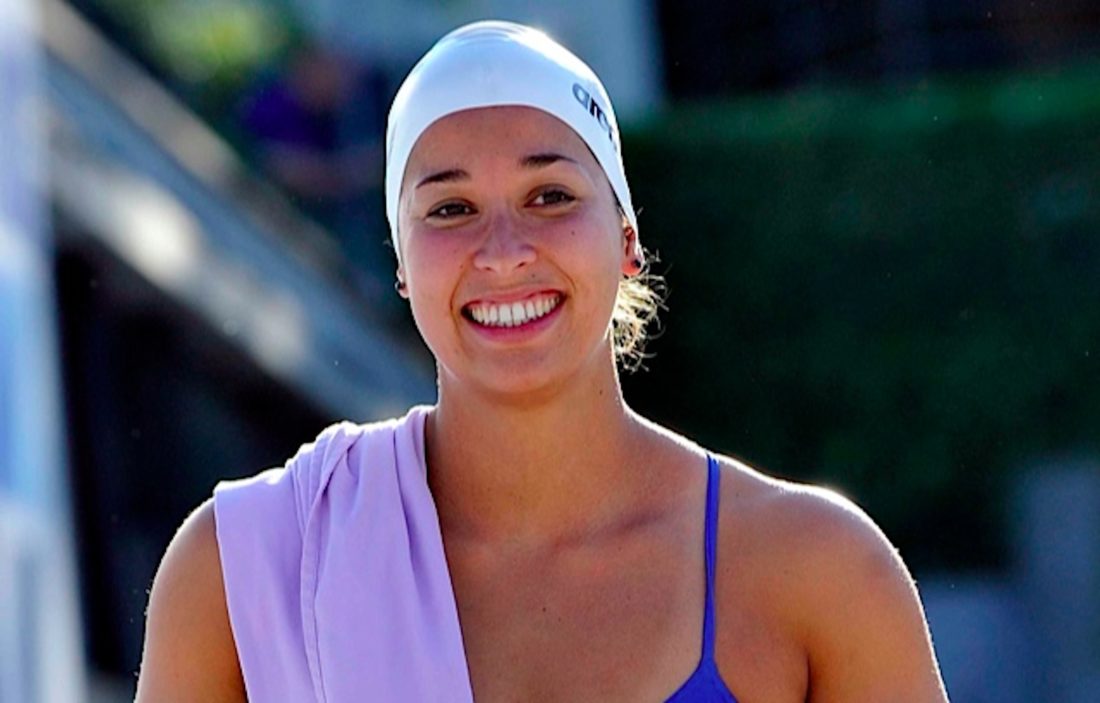 Ranomi Kromowidjojo, the London 2012 double Olympic sprint champion and triple Games gold medallist with 89 international senior podiums to her name for The Netherlands since 2006, has retired from the fast lane at 31 years of age. Her international career for the Orange team stretched across 16 years and included four Olympic Games.
Kromowidjojo won a total of three medals at the European Junior Swimming Championships in 2005, with bronze in the 50m freestyle, and 2006, with silver in the 50m freestyle and bronze in the 50m butterfly. Her senior long-course career for The Netherlands began with selection to the European Championships in Budapest in 2006 and ended just last month.
Popular with her teammates, peers and rivals alike, Kromowidjojo, a member of the leadership group at the International Swimmers' Alliance, has been a fine ambassador for her sport, country and self down the years.
Kromowidjojo added to the last of her honours at the World Short-Course Championships in Abu Dhabi in December, 2021 now marking the end of her racing days with two more global titles among six medals in all. In pandemic season 2021, she also claimed more European titles, travelling at close to best pace.
As she announced her retirement today, Kromowidjojo said: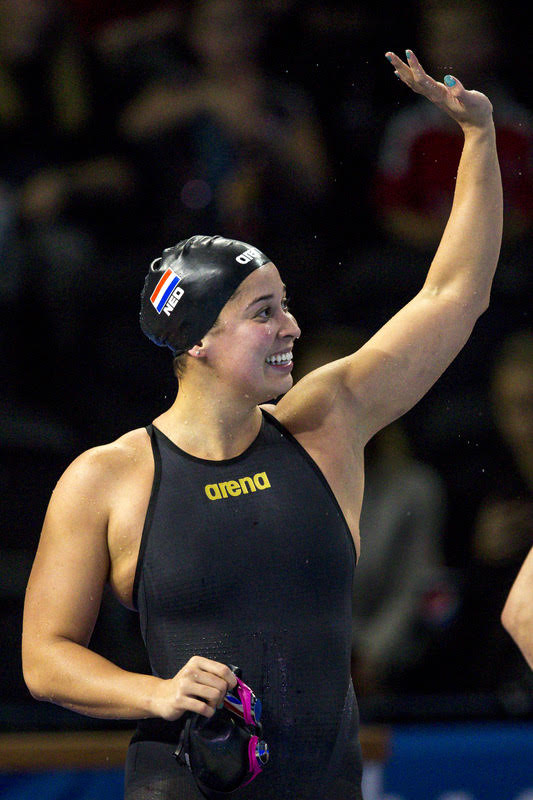 "I fulfilled my career as a professional athlete. Swimming will remain my passion, but no longer on a professional level. I have always been aware that there is more to life than professional sport and that it is part of a greater whole.

Thanks to all the years of professional sport, I know that people are capable of much more than they think they are, partly by having the right mindset.

I am convinced that these experiences will now help me with my next challenge of inspiring others."

Ranomi Kromowidjojo – farewell – by Patrick B. Kraemer
Kromowidjojo was born on 20 August 1990 in Sauwerd, Groningen. She got her swimming certificate at the age of 4, but only started competitive swimming four years later ("Unfortunately, it wasn't allowed before that age…") with the Ducdalf swimming club in Bedum. Via TriVia in Groningen, she moved to PSV in Eindhoven in 2008, where she has lived and trained ever since.
At the age of 15, Kromowidjojo won her first international medal at the 2005 European Junior Championships and at the end of the same year raced as a relay reserve contributing to Dutch gold in the 4 x 50 metres freestyle at the European Short Course Championships in Trieste, Italy. In the 16 years that followed, she accumulated a stunning 89 medals at Olympic, World and European levels for The Netherlands.
In Beijing 2008, Ranomi Kromowidjojo claimed gold with Marleen Veldhuis, Femke Heemskerk and Inge Dekker in the 4 x 100 metres freestyle. Four years later, at London 2012, the 'Golden Girls' took silver in the same event but 'Kromo' shone brightly as a solo star ascending to the highest place on the Olympic podium in both the the 50 and 100 metres freestyle.
Those soaring achievements earned her a Jaap Eden as Dutch Sportswoman of the Year, a prize she first won the year before in 2011.
Over the years, Kromowidjojo started to specialise more in the shortest sprint categories of 50 metres freestyle and 50 metres butterfly (non-Olympic). As an 'unleashed' anchor, she also won the necessary precious metals for various Dutch relay teams in addition to many individual medals at these distances (and still at the 100 metres freestyle).
International medals Ranomi Kromowidjojo, individual and relay (total):
Olympic Games: 3 x gold, 1 x silver
World Championships: 3 x gold, 8 x silver, 6 x bronze
European Championships: 6 x gold, 6 x silver, 1 x bronze
World Championship short course: 14 x gold, 9 x silver, 5 x bronze European Championship short course: 18 x gold, 5 x silver, 3 x bronze
Kromowidjojo Retires A World Title & Record Holder
Kromowidjojo, with two current World crowns to her credit, is still a world record holder: her 22.93 over 50m freestyle remains the global high bar in the short-course pool. She is also one of the relay swimmers who hold the world s/c standards in the 4 x 50 metres, 4 x 100 metres and 4 x 200 metres freestyle. Over 50 and 100m freestyle and 50m butterfly, she has five entries in the all-time top 10 and one in the all-time top 15 in the six events long- and short-course.
Over the years, she successively trained with coaches Jeanet Mulder, Jacco Verhaeren, Marcel Wouda and Patrick Pearson. Pearson had various (assistant) coaching roles and was involved in coaching Kromowidjojo for more than ten years, five of which he was ultimately responsible for her performance.
Pearson paid plaudits to Kromowidjojo, saying: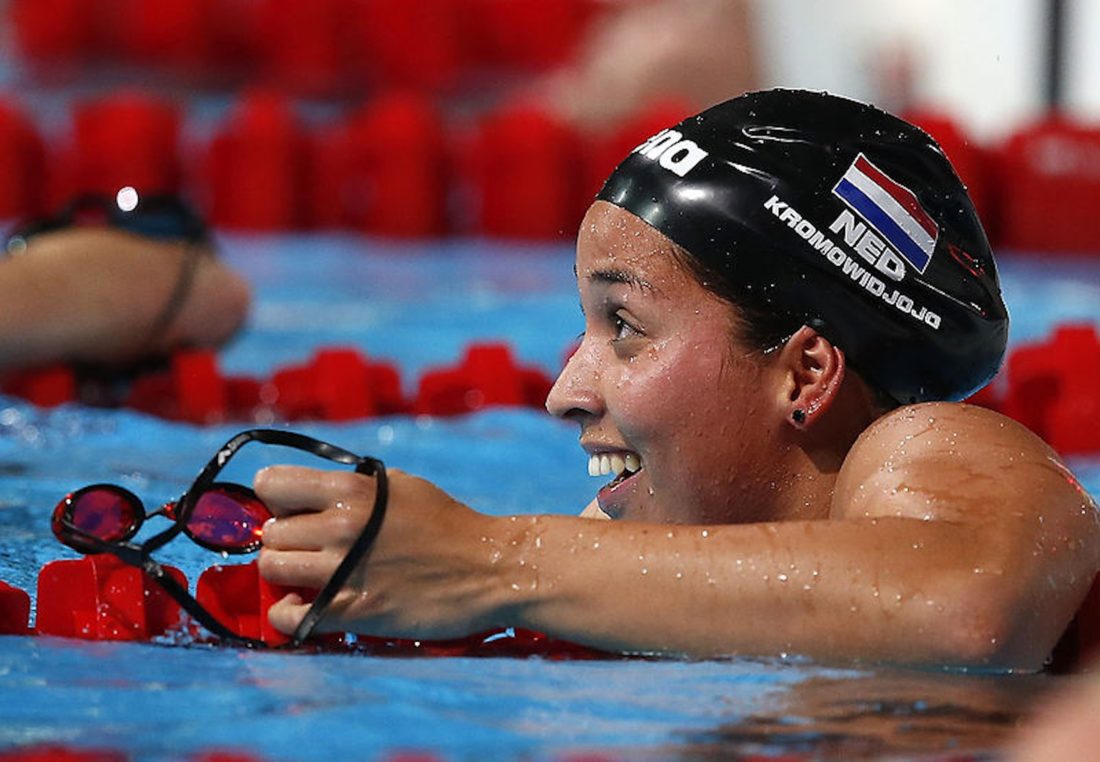 "Ranomi has shown that talent can take you far, but that she has specially made a difference through wanting to do better every day than she did the day before. She swam every metre with dedication and focus. She used the knowledge, skill and her own experiences to reach the very top and stay there for 15 years. I enjoyed the pleasure she had in doing so. Ranomi thrilled the entire swimming and sports-minded Netherlands with her sporting achievements and optimism. It was an honour to be able to work with her."

Patrick Pearson – image, Ranomi Kromowidjojo

– reacts after winning the women's 50m freestyle World title in 2013 – by Patrick B. Kraemer
The Future – Giving Back
As for her future, Kromowidjojo is clear: "I want to make the world a bit more beautiful, contribute to a better world."
She will remain committed to Unicef, the children's rights organisation of which she has been a dedicated ambassador for many years. "Hopefully, we can organise another Ranomi Cup for Unicef in 2023 as well."
A member of the Swimmers' Alliance, Kromowidjojo will also continue to champion the interests of top international swimmers. "Furthermore, I also have the ambition to help people in their personal development. I think it would be great fun to coach people and teams, just not at the poolside…".