Racism Rules Out Judge Now Judged But WADA Case Against Sun Yang Is Not About Cruelty To Dogs But To Clean Athletes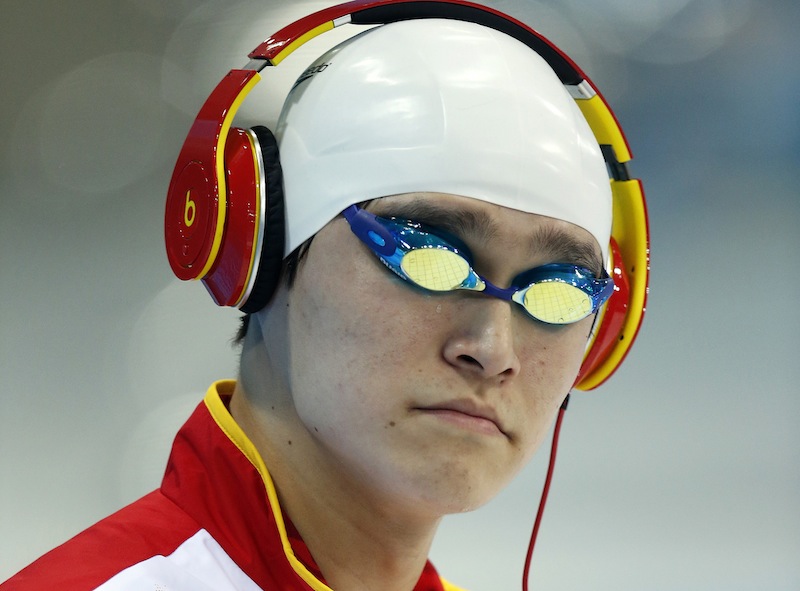 Editorial: The Court of Arbitration for Sport (CAS) has been ordered by the only court above it, the Swiss Federal Tribunal, to retry the case of Sun Yang and his eight-year suspension by WADA for manipulation of a blood-test sample during an acrimonious and unique four-hour argument with testers near his home in China in September 2018.
Brace yourself: not for the rise of Sun once more but for the speculation, the wrong-footed thoughts based on the hopes and prayers of those who would have us believe in his innocence or in the unfairness of the anti-doping process while turning a wilful blind eye to what actually happened on the sorry night in question, let alone what happened in 2014, let alone the abuse of under-age athletes over many years in Chinese sport.
Let's be clear: the SFT has not issued one word of support of a case for overturning the decision of the CAS and the arguments of the World Anti-Doping Agency (WADA) when it comes to the substance of the arguments that landed Sun Yang an eight-year ban.
Those arguments have nothing to do with the reason the case is heading back to retrial on February 20; those arguments cannot be a reason for sending the case back for retrial because the SFT can only judge matters based on matters challengeable in Swiss civil law and cannot comment on the application of sports rules, such as manipulation and other anti-doping offences.
Further, the key reasoning of the SFT is based on an important issue that has no bearing on the case WADA out to a panel of judges at a hearing in Montreux in November 2019.
What is at stake is not the reputation of WADA, not the merits of its argument. As WADA notes in its response to the decision of the SFT:
"The Swiss Federal Tribunal's decision upholds a challenge against the Chair of the CAS Panel and makes no comment on the substance of this case. In the CAS award, WADA clearly prevailed on the substance of the case as it was able to show that there were a number of aspects of the original FINA decision that were incorrect under the World Anti-Doping Code and the related International Standard for Testing and Investigations. WADA will take steps to present its case robustly again when the matter returns to the CAS Panel, which will be chaired by a different president."

WADA
Precisely.
The SFT is primarily concerned about one complaint: that chairman of the CAS Panel, Franco Frattini, a Roman and Italian politician who was twice foreign minister of the Berlusconi cabinets (in 2002–2004 and 2008–2011) and once European Commissioner in the first Barroso Commission (2004–2008).
Frattini joined the list of CAS Arbitrators and Mediators in January 2018. It was later the same year that he tweeted his disdain of cruelty to animals in China: if his sentiments are shared far and wide around the globe and highlight atrocities and behaviour that adds up to the committing of criminal offences in many other parts of the world, Frattini's language was both racist and unacceptable.
Worth making the point: all of the events in the paragraph above took place before Sun clashed with testers in a career and life-changing episode, one that needed no CAS or WADA verdict for many in swimming to believe that he is unfit to compete in clean sport; that those around him are unfit to be anywhere near young athletes.
Even so, the issue matters, a ruling from the SFT that calls into question standards, vetting procedures and much else at CAS. A case of a judge finding himself being judged is one that demands answers to serious questions.
Among them is: why do Frattini's tweets about cruelty to dogs matter in the case of a swimmer from China who, in the eye of two other judges, in the eyes of WADA, in the eyes of myriad world-class swimmers and coaches around the world and even in the eyes of a FINA Doping Panel that let him off with a warning, the leniency of which led to the WADA challenge at CAS, did wrong?
My instant answer: you cannot one day refer to Chinese people, even those who are engaged in acts of obvious cruelty in the images being retweeted, using words that refer to their ethnicity and then the next expect people to believe in your neutrality and fair-handedness when faced with a Chinese team defending the position of a swimmer in an anti-doping case, no matter how indefensible that case may or may not be.
And that is the case even when we consider that Frattini was not only judging Chinese people opposing WADA but judging Chinese people supporting WADA and its arguments and standing their ground in the face of threats from people with power over them.
Another question: did Frattini show contempt for any in his CAS 'courtroom' in Montreux in a case held in public by agreement of all parties?
Answer from one who was there: no, as far as I could tell. There was, of course, a well documented clash between Franco Frattini and Sun Yang – I link not to my own piece but to the words of the Associated Press (AP) that day, for the sake of understanding that the proceedings were witnessed and interpreted by many there that day – and many more around the world via livestream.
As AP puts it today: in "one of the most dramatic moments in a 10-hour CAS hearing in Montreux, Switzerland in November 2019 that was a rare instance of a CAS process held in open court and live-streamed online. The hearing ended with Sun surprising his own legal team by waving his arms and calling another translator from the public seats to better articulate his closing statement."
"Who is this guy?" asked an incredulous Frattini. "It is not up to you to appear before the court. There are some rules."
That had nothing to do with racism and everything to do with how we feel – and in his court how he felt as the man in charge – about someone leaping into the dock and insisting – in a manner that suggested he, not the judges would decide – that he would now take on the role of translator to Sun and entourage without the court ever having been introduced to him, without him ever having provided any explanation about his relationship with Sun and team, without any credential or screening having been issued or taken place.
Quite frankly, it was bizarre and unacceptable – and it was the judge's place to point it out, which he did.
AP also notes this day:
Frattini has upset Sun Yang and his legal team for a series of past tweets, including one from April 23, 2019 that read: "Those horrible sadic chinese are the shame of mankind !! For how they torture animals they deserve the evil every day! And the chinese authorities tolerate and encourage."
Sun, of course, was partly responsible for having Frattini there as chairman: he and his legal team had established something of a pattern when it came to them objecting to lawyers involved in hearing the case.
The swimmer's legal team, which had a right, in common with other parties, to nominate one of the three judges from a list of arbitrators, had persistently objected to WADA's original choice of Michael Beloff from England.
Beloff has an outstanding professional record. He stepped aside from the case "solely to assist in an expeditious hearing, and not because the challenge (from Sun) had any merit whatsoever," the CAS ruling in February noted.
Sun's team also tried to have WADA's lead prosecutor, Colorado-based Richard Young, removed from the case for alleged conflict of interest because he previously worked for FINA, even though it was FINA who had let Sun off with a warning on the basis of a secret report of its Doping Panel that was exposed by this author and The Sunday Times in January 2019 and led to the WADA challenge at CAS.
Young, who previously prosecuted doping cases involving American big-fallers-from-grace Lance Armstrong, Marion Jones and others, remained and played a key role in securing the Sun suspension on grounds of manipulation in a case where a test sample had quite clearly and in extraordinary and unique circumstances, been removed from the chain of command after it had been signed over to testers willingly by the swimmer.
The Swiss Federal Tribunal's role is to consider whether CAS judgements infringe any aspect of Swiss civil law: all institutions based in Switzerland, including CAS, the IOC, FINA and many other sports organisations, are also subject to the same controlling force of Swiss law, an avenue not yet pursued in full by athletes finding their voices.
As WADA noted, the SFT did not call for retrial on the basis of the arguments that secured the suspension of Sun Yang. It can and has, however, considered arguments suggesting an eight-year suspension is unreasonable – and the original hearing represented mis-trial because of the bias of the chairman of the panel. Such issues speak to the fairness of procedure upheld in Swiss law.
Since the SFT ruling, one can turn to social media and see many an over reach, a poor interpretation and even falsehood, including that it is now "likely" Sun Yang will take to his blocks at the rescheduled Tokyo 2021 Olympic Games.
Unlikely, in fact, and while it is possible for a new judging panel to hear the same case and come to a different conclusion, the opposite is already of this world, namely a CAS verdict can be – and has been – overturned in the federal court but the retrial still resulted in the same outcome and verdict. Case in point: in 2007, tennis player Guillermo Canas of Argentina was initially banned for two years by the ATP Tour's anti-doping tribunal before CAS reduced the penalty to 15 months. Canas turned to the federal court because, he argued, he had not been given a right of hearing. The SFT sent the case back to CAS – and a second CAS hearing also applied a 15-month ban.
In other words: the SFT does not judge the merits of sports and anti-doping rules and their application. Those arguments stand. What it looks at are issues of fairness and how procedures and hearings stand up under scrutiny on aspects of Swiss law.
The Damning Sun Yang Verdict WADA Secured
What the SFT is not judging is this damning verdict from three judges considering matters far removed from the cruelty of dogs:
"The athlete failed to establish that he had a compelling justification to destroy his sample collection containers and forego the doping control when, in his opinion, the collection protocol was not in compliance."

CAS Verdict
CAS must now come up with a new panel: perhaps Beloff will make the stand after all. Perhaps not. Whoever sits on the panel, they will know full well the arguments of November 2019, including allegations and witness statements that speak to the oppression of witnesses attempting to give their version of events that took place outside the home of Sun Yang in 2018 that many athletes around the world believe could not possibly have happened in their part of the world without the most serious of consequences to their careers and reputations.
They will also know this: the original verdict did not only take into account the arguments of one set of Chinese people but was based on the testimonies of the Chinese testing team.
A team, moreover that endured an onslaught of challenge and aggression from a man who was then one of China's top athletes and the powerful entourage about him that included an anti-doping leader and a twice-banned doctor with strong professional connections to each other and the head of a Chinese Swimming Association who admitted to resorting to issuing threats against the Doping Control Officer.
The young woman in question had been attempting to do nothing more than collect a blood sample and a urine sample from a swimmer who had gone through the same procedure many, many times before without objection but on this occasion chose to take a very different path. That included a choice: Sun Yang chose not to report to the mechanism open to him and all athletes, namely to register any objections and observations he had on the form designed for that very purpose and fairness for all who face the scrutiny of anti-doping procedures expecting their competitors to observe the same even-handedness in the fight for clean sport, without which sport is nothing but a circus in which cruelty and abuse of under-age swimmers have long played a part.
Under those circumstances, WADA was right to challenge FINA, had right on its side in the original verdict and will now return to making the same argument all over again after clean sport was let down by the very court there to deliver fairness.
The impartiality of judges is essential – as is the commitment to clean sport and playing by the rules that apply to all in consistency fashion by every athlete who wants and claims to want fair competition.