Qin Haiyang's Road Unparalleled To World Supremacy on Breaststroke: WR 2:05.48 Makes Him 1st Ever 50-100-200 Treble Champion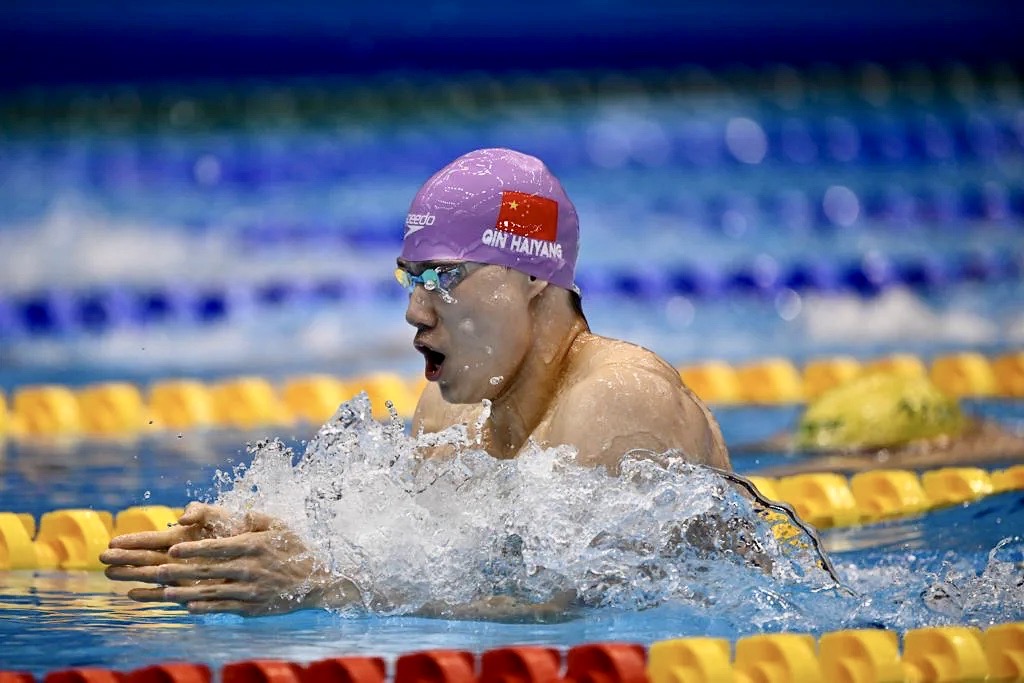 Qin Haiyang will head home to China after the 20th World Championships are done on Sunday the first man to lift all three breaststroke titles, 50, 100 and 200, the latter secured in a crushing 2:05.48 World record ahead of Olympic champion and former holder of the standard Zac Stubblety-Cook.
The Australian, stunned by the lead Qin built by the 100m mark in 1:00.72 (1.17sec inside Stubblety Cook's world-record pace) took silver in 2:06.40, the bronze to American Matt Fallon in 2:07.74, which was slower that Qin's best time when he was 17 going on 18 and heading for six years of leaner times.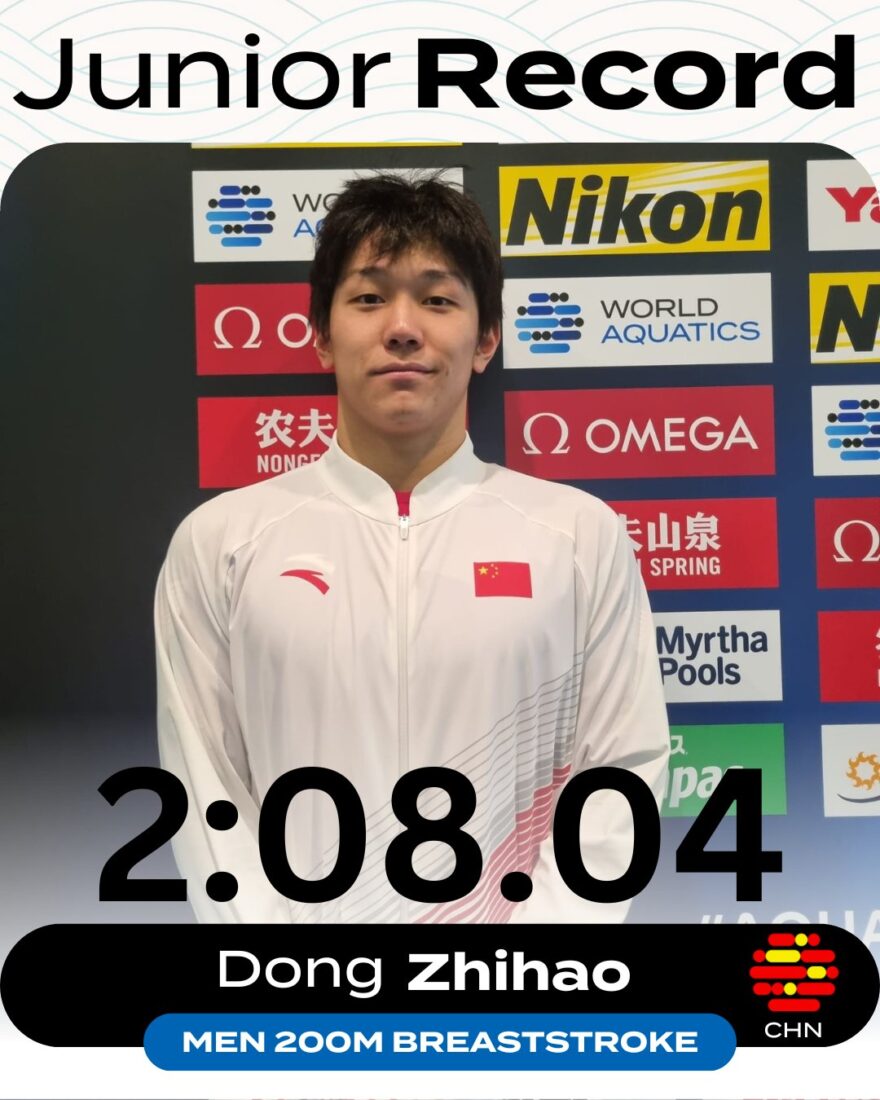 Just off the medals was 18-year-old Dong Zhihao in a World junior record of 2:08.04 and doubtless hoping he won't be following the same trajectory as Qin because we'd be in 2029 by the time he clocks a best time again.
World Aquatics has not record of Qin's best in 2022 but it does register the 2:13.35 he clocked in heats of the 200m at the World Championships a year ago in Budapest. Perhaps he was ill or training through. He was almost 8 seconds faster today.
The result in full: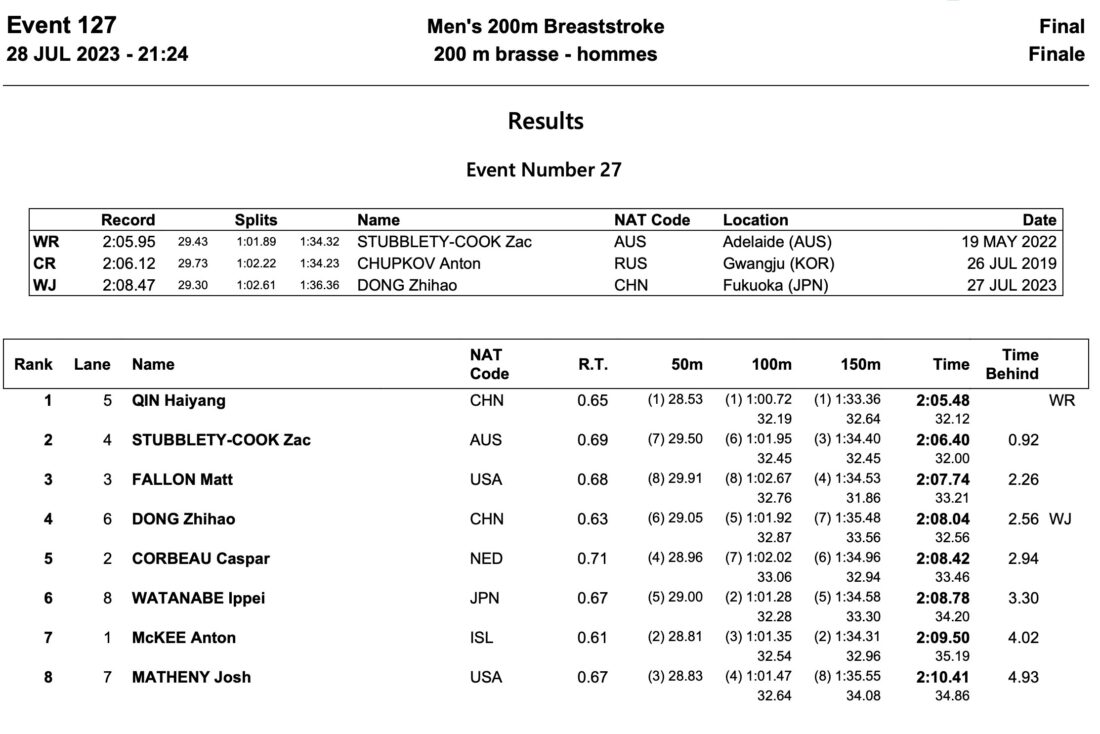 Qin the Unprecedented On A Trajectory Of Qin the Unparalleled
Qin is now all-time No1 in the 200, No2 behind Britain's Adam Peaty in the 50 and the 100 and emerged to correct the poolside mike when he pointed to the scoreboard and asked how he felt now he'd lived his dream". Qin took the mike and said "no, that was not my dream, the 100 is my dream".
That's 56.88 and Qin is on 57.69 as a 2:05.48 man. Interesting. Obviously some way to go and 0.81sec progress in the 100m at 24 to 25 years of age would write a new line in the book of the unprecedented.
It's hard to define where Qin fits in the gap between pure sprinter and 200m man. His results across all three events lead us down a rare pathway that ends unexpectedly at the top of the podium over three events in Fukuoka.
It is not unknown among women in their development from juniors to seniors to plateau, fall off and only return to best form or exceed it when maturity kicks in and work has honed the equilibrium between such measures as strength and angles of buoyancy. Among men, a very different pattern is more usual because of the effects of testosterone and the pace of male development from boy to man.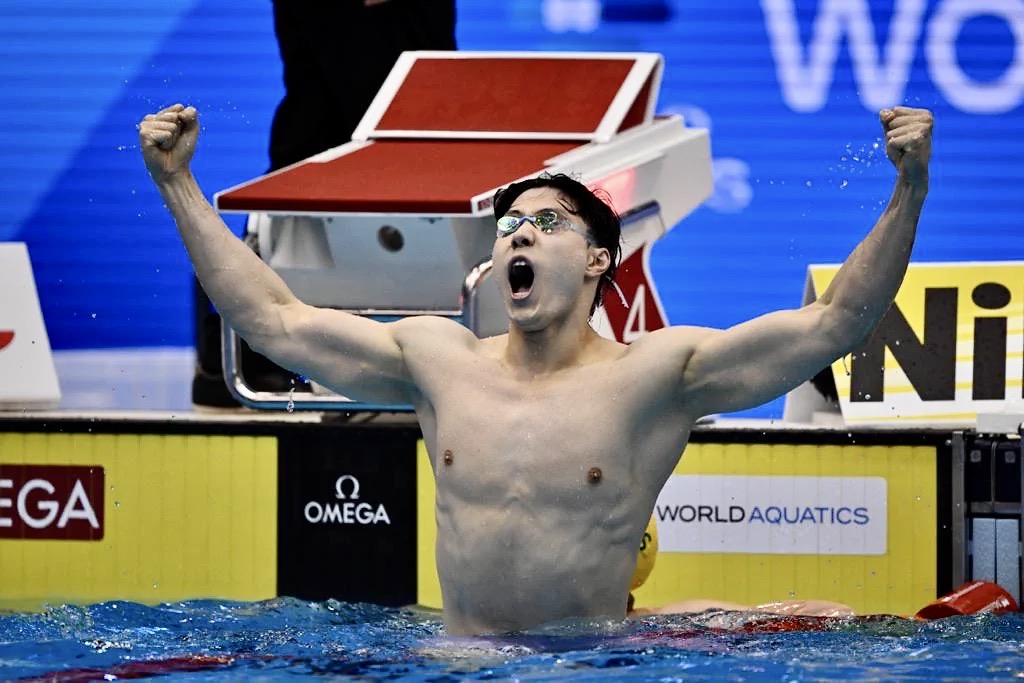 Qin's 50 and 100m career roller-coaster is a chaos of unexplained highs and lows, his latest highs way ahead of those from previous seasons and speedy enough not only to take gold in both events in Fukuoka but rise to No2 all-time. A note on the word 'unexplained': among possibilities fair or otherwise is the fact that China has never felt it necessary to explain anything to any of us and when under pressure to do so at live events has suggested sums that don't add up.
Meanwhile, in the 200m, there's a more consistent and concrete path to follow but, agains, no explanation (Qin is due at a press conference and we'll see what emerges) for why he was at his career fastest at 18 but went slower with every passing year until 2021 aged 22, and then on a time slower than he was at 18, 19 and 20. Why he clocked 2:13 at Worlds last year and how he can be 8 seconds quicker this year.
Compared to the trajectories of his contemporaries and opponents, Qin's is noticeably irregular and worth noting on the way to Paris because on almost every occasion where such patterns have emerged in Chinese swimming, turbulence lies ahead.
Perhaps there is a perfectly plausible explanation for Qin's u-shaped, steep-sided uplift after downturn, including the possibility of him having been hot-housed as a young swimmer, a reality of many a Chinese swimmer down the decades; perhaps through illness; perhaps through school and study. The question is reasonable and if there's an answer, I'll place it here with a note later -and if there were enough questions and enough answers, I'll publish what Qin had to say.
Meanwhile, coaches are already asking questions about Qin's physiology. Yes, world-class 50m men can race very fast to 100 and swim a fast 200, the words very fast and fast relative to elite standards. Qin is the first we've seen capable of 26.20, 57.69 and 2:05.48. It's unprecedented and as yet, we have no word from the coaches, scientists and team working with the swimmer. Perhaps we'll get the information that explains it all; perhaps we won't.
Here's what he has had to say in the water over 200m breaststroke since he clocked 2:07 as a 17-year-old:
| | | |
| --- | --- | --- |
| Time | | Age |
| 2:05.48 | | 24 |
| 2:13.35 | | 23 |
| 2:09.01 | | 22 |
| 2:10.25 | | 21 |
| 2:08.66 | | 20 |
| 2:08.07 | | 19 |
| 2:07.35 | | 18 |
| 2:11.41 | | 17 |
German TV commentators, noted what a nice chap Qin appeared to be but added that "hopefully" all the doping tests would "come back in order". Quite. In all likelihood they will just as they are for the vast majority of swimmers, including those who end up being caught out of competition when the risks of detection is far greater.