Qin Haiyang Leapfrogs 58s To Join 57sec Club With 57.93 Asian Record In Hangzhou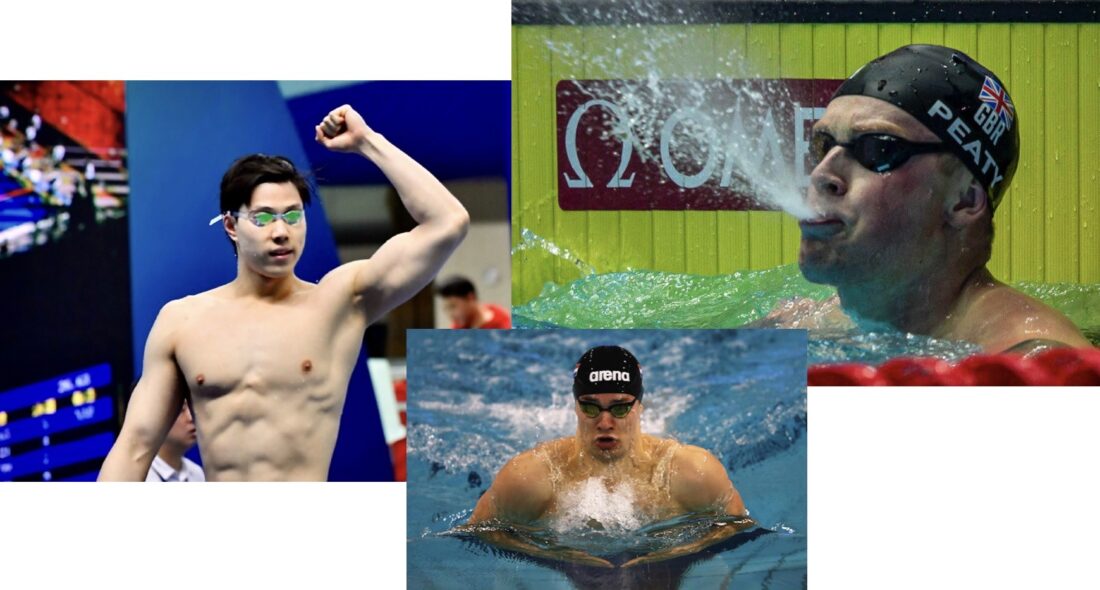 China's Qin Haiyang has become the third man in history to crack the 58sec mark over 100m breaststroke, eight years after Britain's Adam Peaty broke the dam.
On the second day of a Chinese National Championships in Hangzhou notable for the speed of the men's winners and those closest to them, Qin set an Asian record of 57.93 after reaching half-way in second place. Yan Zibei's was the fastest split on his way to silver in 58.79, the first domestic sub-59sec podium completed by Sun Jiajun in 58.99. Qin, who clocked 58.76 in heats to break 59sec for the first time.
The all-time top 3 and sub-58sec club – splits compared:
26.63; 30.25; 56.88 WR Adam Peaty (GBR)
27.14; 30.66; 57.80 NR Arno Kamminga (NED)
27.04; 30.89; 57.93 AR Qin Haiyang
The next two on the all-time list are American Michael Andrew and his 58.14 national mark from 2021 and Italian Nicolo Martinenghi, the 100m man of the year in 2022, with World and European titles in Peaty's absence topped by a 58.26 national record.
The race in Hangzhou:
Qin's journey inside 58sec is highly unusual. At 18, he made his breakthrough with a 59.57 at the All-China Games. He then had season bests of 1:00.20 in 2018 and 59.63 isn 2019. His next sub-minute efforts, in 2021, produced a matched best of 59.57 in heats at nationals and then a second personal best on the day, of 59.51. In Budapest at World titles last June, he clocked 1:03.88 and was out in the rounds.
Today, he rattled Yan's Asian record of 58.63, from 2019 Worlds before shadowing the Chinese champion to the turn in the final before sweeping past him for victory in a time he'd never been anywhere close to before. His effort followed a 1:57.79 in the 200IM behind Olympic champion Wang Shun, on a sizzling 1:55.55, in the 200m medley, the two the only sub-2-minute men, bronze going to Deng Ziqi in 2:00.84.
Back to breaststroke and Peaty made his international breakthrough aged 19 in 2014, while Qin at the same age had reached mid-59 but then stayed there until today, with a drop of 1.6sec at 24 years of age. Until today, Yan Zibei had the best 29 performances in China. Now, he's No2.
No other swimmer has a 100m advantage on the clock over his rivals than the gap Peaty has build on breaststroke. He has raced inside 58sec 20 times, 17 of them faster than Kamminga's best and all 20 of them faster than Qin's new Asian record.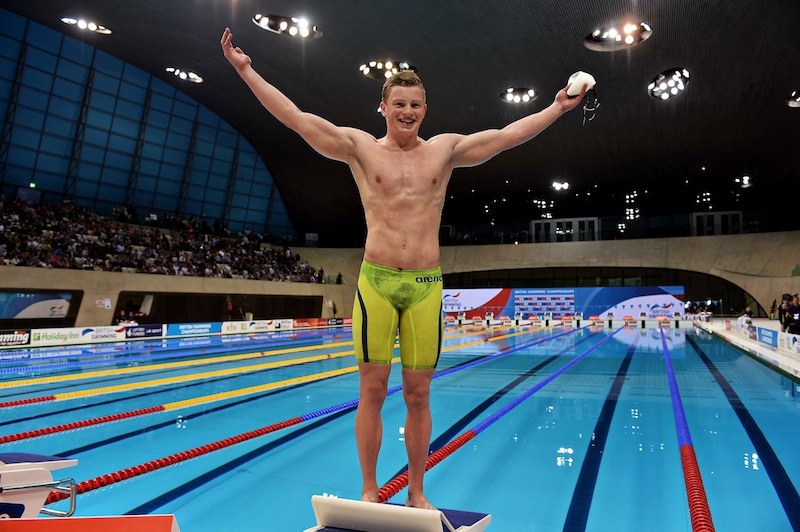 The British ace first cracked 58sec in 2015 with a 57.92sec blast at the London Aquatics Centre that brought breaststroke sprinting up to the pace of Johnny Weissmuller on freestyle. Tarzan and all that. Sensational. He would then wipe a second off that time in the four years that followed.
Until today, Peaty, who is currently taking time out of racing to get back on track for Paris 2024 and a possible shot at a record third Olympic 100m breaststroke title, had swum inside Qin's previous best no fewer than 74 times. It took him between July 2013, aged 18, and July 2019 to go from a debut sub-minute 59.92 down to his World record of 56.88, with more than 120 races, each a practice of his art and a rehearsal for his goal. His trajectory and that of Qin are strikingly different.
47.22 100 Free Win For Pan Zhanle
Beyond Qin's blast, nationals in Hangzhou has witnessed several other super swims in the first two days of action, the sensation of day 1 a 47.22sec Asian record for Pan Zhanle, off splits of
22.96 and 24.26, in the 100m freestyle. Pan is 18. Last year, aged 17, he clocked a best of 47.65 at World titles in Budapest and a second sub-48sec effort of 47.79. He had shown remarkable speed in his youth with a 48.74 at Chinese nationals aged 16 in 2021, his first year inside 50sec.
Today in Hangzhou, silver er went to Wang Haoyu in 48.15, the bronze to Yang Jintong in 48.94.
In other action, Day 2:
Women 200 free
Li Bingjie 1:55.62
Li Jiaping 1:56.92
Ai Yanhan 1:56.94
Cheng Yujie 1:57.02
-Liu Yaxin 1:57.62
Women 200 IM
Yu Yiting 2:08.34
2.Ye Shiwen 2:10.70
Ge Chutong 2:12.41
Men 50 free
Wang Changhao 22.01
Pan Zhanle 22.08
Shen Jiahao 22.38
Women 50 back
Wan Letian 27.51
Wang Xueer 27.62
Chen Jie 27.70
Men 50 back
1.Xu Jiayu 24.54
Wang Gukailai 25.08
Wang Yutian 25.23
Day 1
Men 100 back
Xu Jiayu 52.47
Wang Gukailai 54.48
Wang Yutian 54.60
Women 1500 free
Li Bingjie 15:51.21
Gao Weizhong 16:01.13
Ma Yonghui 16:14.48
Women 200 fly
Zhang Yufei 2:07.99
Yu Liyan 2:08.33
Zhang Yifan 2:09.79
Women 50 breast
Tang Qianting 30.88
Yang Chang 31.09
Yu Yiting 31.23