Qin Dreams Of Peaty's Pioneering Pace After 26.29 Dash Win For Breaststroke Double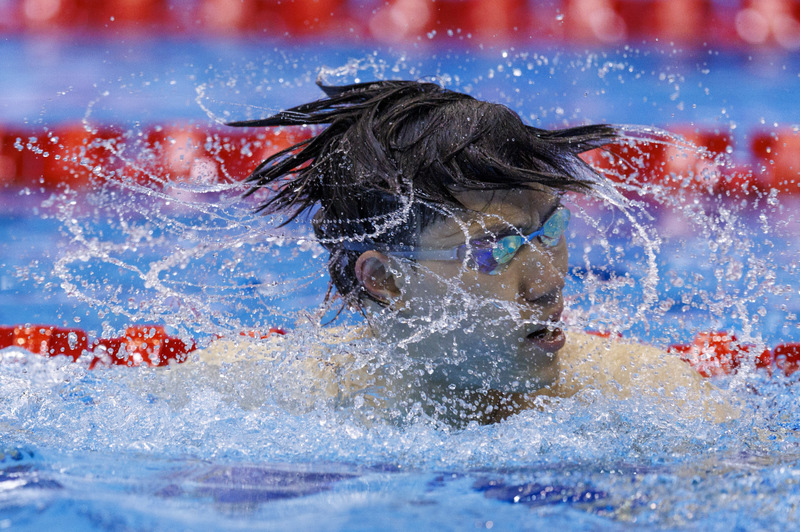 Qin Haiyang heads into the last year of preparation for the Paris Olympics as a double sprint breaststroke World champion dreaming of the speed he needs to cope with the last man to achieve that feat, three times – Adam Peaty.
The Chinese bolter made the dash his own today at the 20th World Championships in Fukuoka in 26.29sec, after a 26.20 that entered him on the all-time list as second fastest man with the seventh best performance ever, behind Peaty's fastest six efforts, topped by his 25.95 World record from 2017.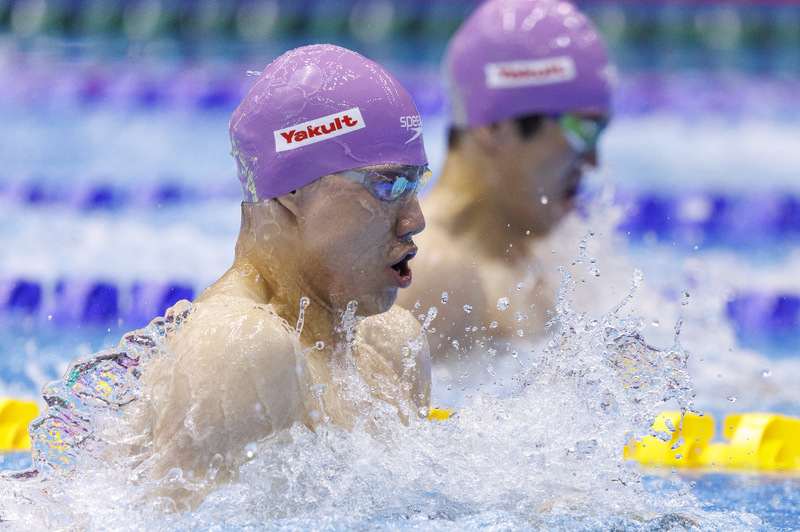 The silver went to defending champion Nic Fink, of the USA in 26.59, the bronze also to China, Sun Jiajun, 22, on 26.79, having held the China record at 26.61 since May, long-term national champion Yan Zibei now overhauled by two of his countrymen. It was the first time China had had two men in the dash final – and both emerged with prizes, Qin the first Chinese contender to claim gold, and that on a day when he celebrated a second title as a member of the victorious Chinese 4x100m Mixed Medley relay (potted report below).
Peaty is taking time away from top-flight racing this summer while he works on being the best version of himself with a view to more pioneering lines in Paris after he became the first British swimmer ever to retain a swimming title in Tokyo a Covid-delayed five years after Rio 2016.
Qin made hay in Fukuoka, his 57.69 win in the 100m also making him the second swiftest man ever after Peaty, who still holds the best 14 times in history and a World record of 56.88 second to none in terms of 100m dominance over contemporary opponents.
The Race:
Unusual Patterns In The Pool
The odd fact about Qin is this: at 24, an age by which you'd expect to see a consistent history of progress through the ranks from late teens to today, we find this that all his best 11 50m times, between his Asian record of 26.20 in semis yesterday and his slowest of the 12 at 27.31 were clocked this year. All this year.
Before that, his best was a 27.98 as a 20-year-old with the 144th best Chinese performance of all-time. Whatever explanations there may be and whatever might be said about such an approach to a double World title campaign at 24 a year after he was not selected for China's team bound for Budapest Worlds, it can be said to be highly unusual.
Skip across to the 100m rankings and we find a similar pattern: at 18 his best was ranked as the 55th best performance in China at 59.57, a debut sub-minute. At 20, he swam 59.63. This year he laid down his best seven career efforts, between his winning 57.69 in Fukuoka to his 58.94, one of four 58s before he laid down a sub-58 at China nationals in Hangzhou and followed up with two more high 57s this week.
Such patterns may well leave men like Arno Kamminga, Nic Fink and Nicolo Martinenghi, as and perhaps even Peaty, scratching their heads and wondering why their approach reads like this:
Kamminga, 25: 29 sub-59s and 53 sub-minutes between 2017 and 2023
Martinenghi, 23: 16 sub-59s and 59 sub-minutes between 2016 and 2023
Fink, 28: 9 sub 59s and 27 sub-minutes between 2015 and 2023
And, for the record, Peaty's reads like this:
Peaty, 27: 44 59s, 37 58s, 19 57s and 1 56.88 between 2013 and 2023
That pattern is one the sport is fairly familiar with across a wide range of swimmers and events at elite level.
Qin emerged to say that it was his dream to take down Peaty's World records. His curve of progress to Paris will be well worth watching.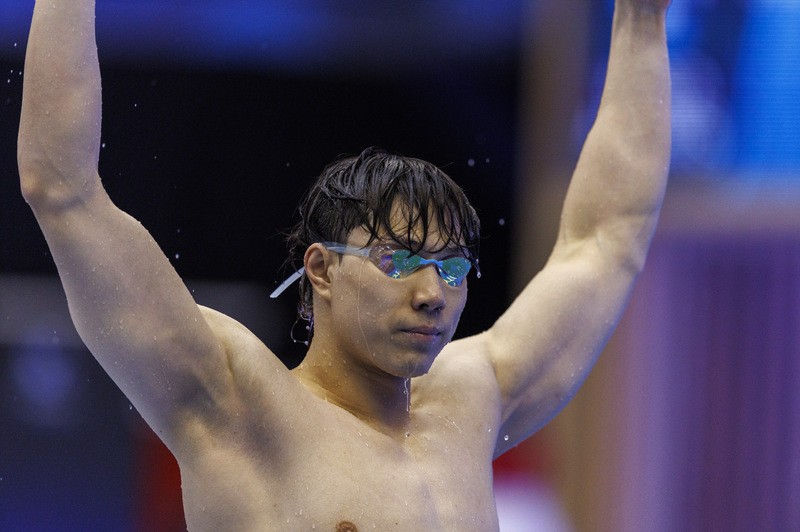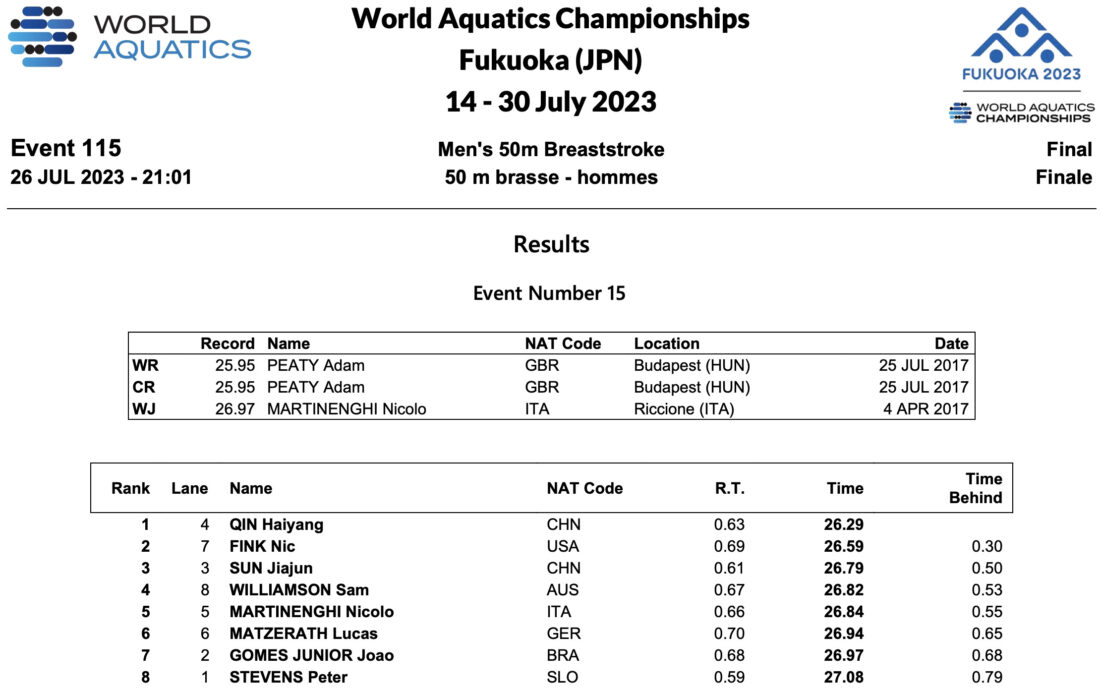 Mixed 4×100 Medley Final – Gold No 2 For Qin
Qin picked up a second gold on the day when China claimed the mixed medley crown ahead of Australia and the USA.
Xu Jiayu, Qin, Zhang Yufei, the Olympic champion who bypassed the 200m butterfly today, and Cheng Yujie clocked 3:38.57 for the win.
Kaylee McKeown, Zach Stubblety Cook, Matt Temple and Shayna Jack* took silver in 3:39.03, with Americans Ryan Murphy, Fink, Torri Huske and Kate Douglass claiming bronze in 3:40.19.
– * – swimmer tested positive for a banned substance and served a contested suspension