Precocious Popovici Fit To Make A Porpoise Blush At School Of Rădulescu Thinking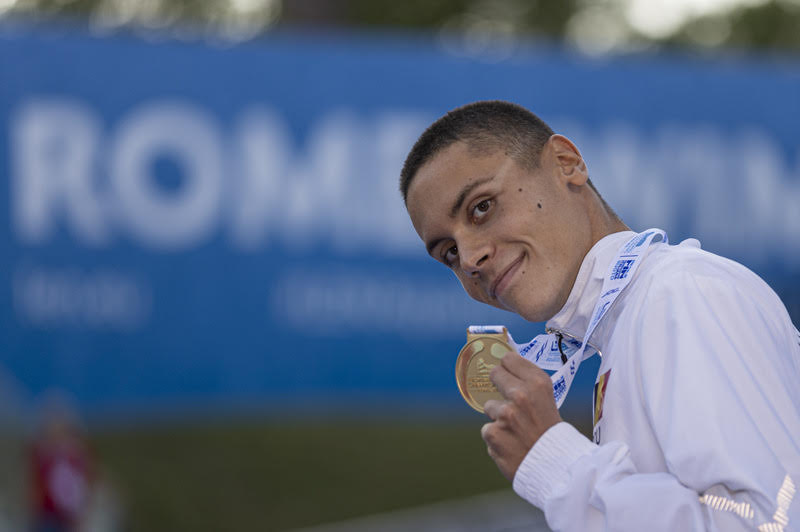 When David Popovici was 10, coach Adrian Rădulescu, then 25, invited his team of Romanian tadpoles to have some competitive fun: the game would be simple, a matter of all lining up, swimming 25m: last home sits out; repeat until there's only one boy standing.
Young David is the smallest and skinniest of the tadpoles and, as a photo shared with former gymnast and L'Equipe gym and swim writer Celine Nony shows, he looks as if he's strayed from the set of Mowgli as he poses next to a special guest and medal giver, gym legend Nadia Comaneci.
About the third fastest of the string of swimmers stretching across the pool as the game begins, Popovici has not only taken on board the basic instruction, he has extrapolated, calculated and plotted a tactical course that could deliver gold, against the odds.
Rădulescu explains: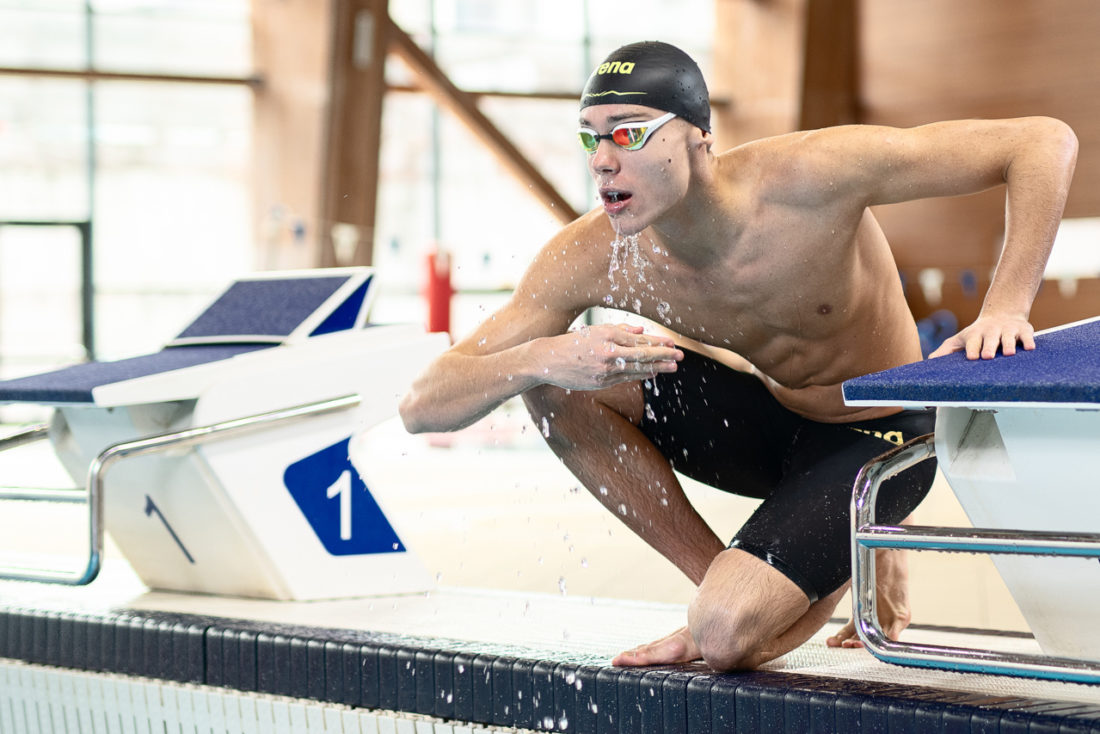 "Two boys were better than him, we started the game. Each time, David finished second to last. In front, they wanted to prove that they were good; they got tired. In the final, the last one had no more energy; he was so tired, David won. He already had the intelligence and the talent."

David Popovici – by Matei Buta, courtesy of arena
Since then, Popovici, who takes on the 200m free heats in Rome this morning, has stood out, on every level, technical, mental, scale of dedication, discipline and determination.
And now with the titles and his first World record in the pantheon:
All of that, the work, the singular focus, just the part known about Radulescu's care and cautious handling, and the story of where the swimmer came from and how he is a product of home as well as pool, does not prevent the question at the media gathering arranged by the swimmer's kit sponsor, global brand arena: how do you account for your progress in the past two years?
"When football player Erling Haaland was asked the same question, he replied 'hard work'," says Popovici, reflecting on his time as a 16 and 17-year-old. He adds: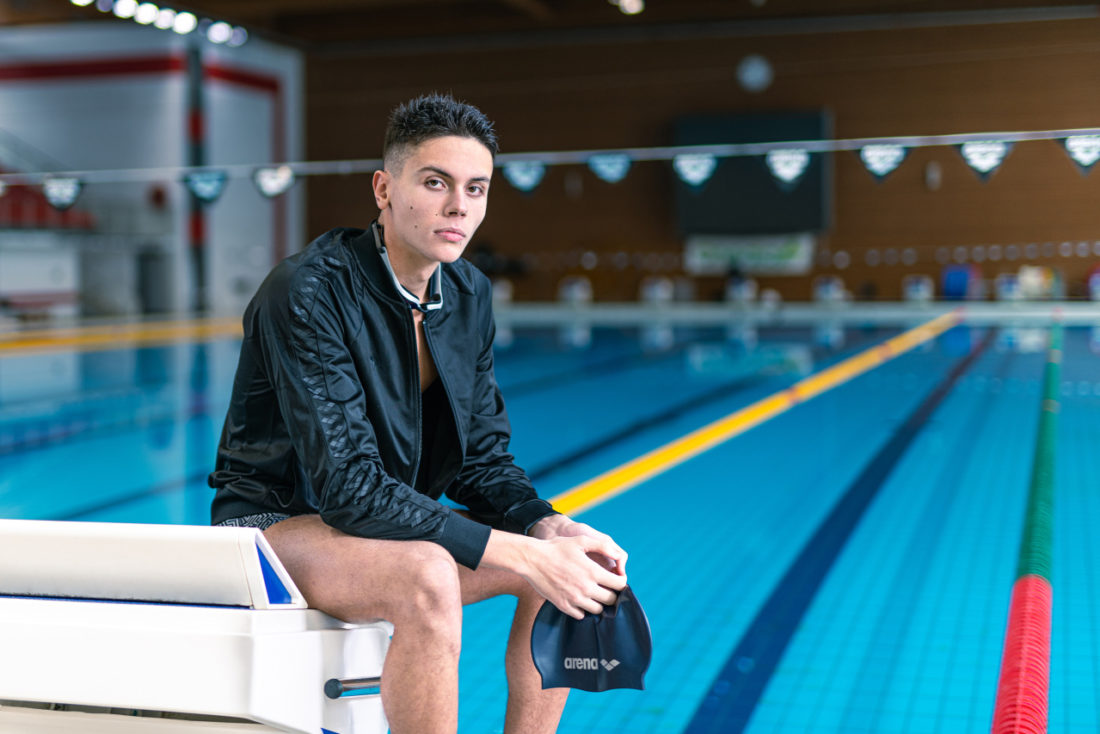 "So, it's just really a lot of hard work and a lot of sacrifice and it all comes down to the question of how badly do you want it; and I really do want it, badly!"

David Popovici – By Matei Buta, courtesy of arena
He's asked 'what is fun in swimming?' "Everything in sport is fun. Getting extremely tired and then wanting to vomit … and having all sorts of lactate problems and [a rush] of the blood to the head; that's fine. It's not fun at the time but after half an hour you don't want to kill yourself anymore and you feel as if its all worth it."
Good answer. I take him back to "sacrifice". Can he define it? What does it mean in his perspective and the context of the pursuit of excellence in the pool?
"Well, I think sacrifice simply means that you lead a life that others…." He falters, pauses, thinks. "I mean, I think sacrifice for me is living a hard lifestyle, in which I have to get up in the morning even if I don't feel like it, a lifestyle in which I have to push myself over the human limit almost at one point making myself, er, … I got lost in words."
Popovici is a student of the sport, the water, a young man with a keen mind and a beyond-his-years cut to his jib. He's not satisfied with his answer. "It's simple, it's er … it's a great question". He digs deep in mind the way he digs deep into all his reserves heading in for the kill in the decisive moments of battle in the pool. Popovici backtracks and then nails his definition with a perfect finish: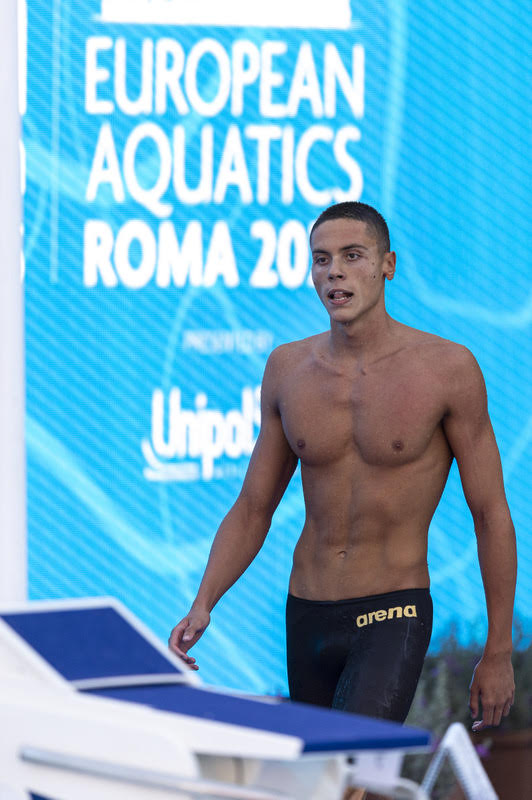 "What are you willing to do that others aren't? This includes living a completely different lifestyle in terms of nutrition, sleeping, partying; you just can't do things others can. I don't mind. At one point I might like to go to a party and then I have training at 7 or 6 (am) and I remember what I'm doing it for – and then I humble myself back to my urges."

David Popovici – photo by Patrick B. Kraemer
Popovici met Jim Montgomery for the first time this summer and in an interview with the Romanian federation, Montgomery made a string of great observations.
Those included the reply from Popovici's coach Rădulescu when the first sub-50sec man in history and 1976 Olympic 100m champion from the United States, asked him what he thought the greatest advances in the sport were (having access to a library of information on the subject of how to coach a swimmer):
Asked about his meeting with Montgomery, Popovici said: "It was nice for him [Jim M] to come to Romania. We had dinner and we got to talk a lot. He has amazing stories because he lived through an amazing period in swimming history and sport in the U.S. It was really nice chatting with him and learning a lot of things, which will be kept secret." [laughter] … "I got to talk with him. He's a great person and a great athlete."
It's the eve of racing in Rome as he speaks. No-one knows, not even Popovici for sure, that a 46 high, is on the cards (a reasonable wager would suggest it would be on, some day when…): after all this is the third of his four internationals, two senior, two junior, in the past six weeks.
What is clear is that Popovici brought a new 47.13 best to Rome and the way his two lengths balance out and time in poses a particular challenge to the established order of there and back:
The 100m World record is brushed over. Popovici is asked if he sees the 2009 World 200m freestyle record as breakable. He says: "I think it's a little bit harder than the one in the 100, for sure. What Paul Biedermann did in Rome 2009 was an absolutely amazing race, a very weird race from the technical point of view [as were most of the 43 world records set in eight days as a result of shiny suits banned from January 1, 2010]. In terms of the splits: they were almost even splits, if not equal splits. It's a hard record but I don't think it's impossible."
In time, man will overcome even the biggest technical tremor to ever shake the swimming record books, Popovici suggested: "Paul is a human as well and he was a human when he did it; and we are all human as well – and I think it's as simple as that."
Popovici The Pragmatist, The Stoic, The Philosopher
Popovici takes a keen interest in psychology, his mother's profession, and the "mental game" of sport. Was he as well read and has been suggested? "Its a field that I like and in the future it's an idea of what I'd like to study after high school. I could even use a lot of that knowledge, too, in sports and the mental game."
He speaks with a wisdom beyond his years. A swimmer AND philosopher? cadulecu had recommended he dip into the thoughts of others to expand his own. Says Popovici: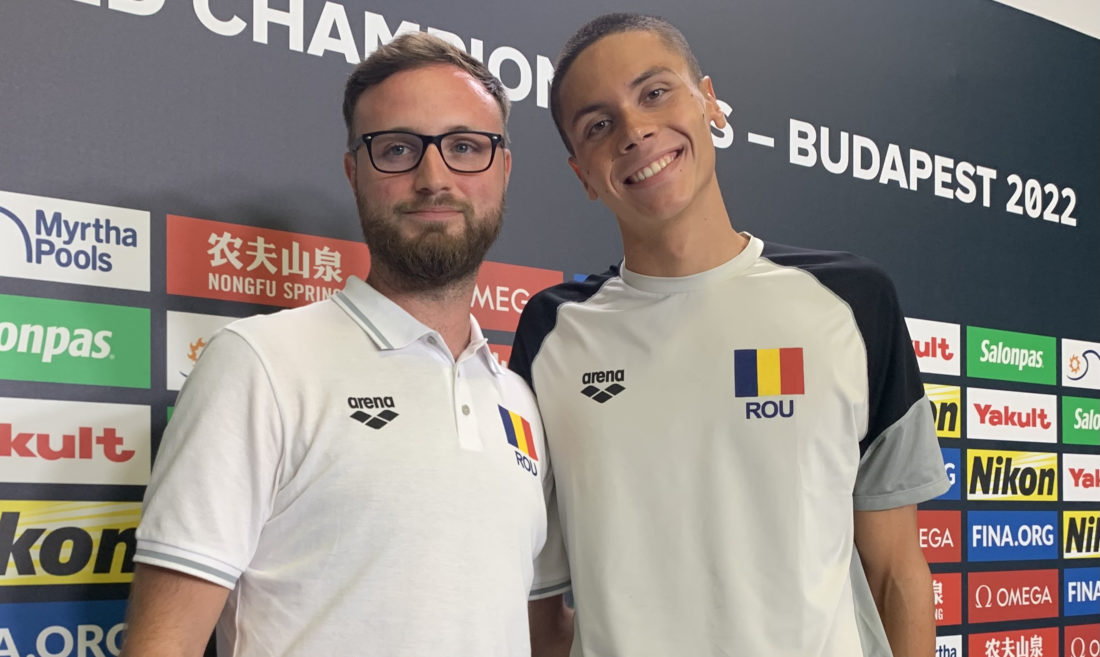 "It was my coach who told me a lot about stoicism and philosophy in general. There is really a lot to learn from it and I think its a great connection – especially stoicism – and sports."

How did he use it?

"Well, I use it in everyday life. I use it when I want to motivate myself to jump in the cold water; or I use it whenever I don't feel like doing anything. At the base of stoicism, its simply just 'live a a happy life'; so it helps me to do that, live a happy life."

David Popovici with his coach Adrian Rădulescu – by Craig Lord
Rădulescu: "… he has acquired a lot of knowledge about swimming. He was ready to understand swimming from the start"
Rădulescu confirms that he gave his young charge a steer towards the cerebral food store. Asked what made the boy-to-man special, the coach says: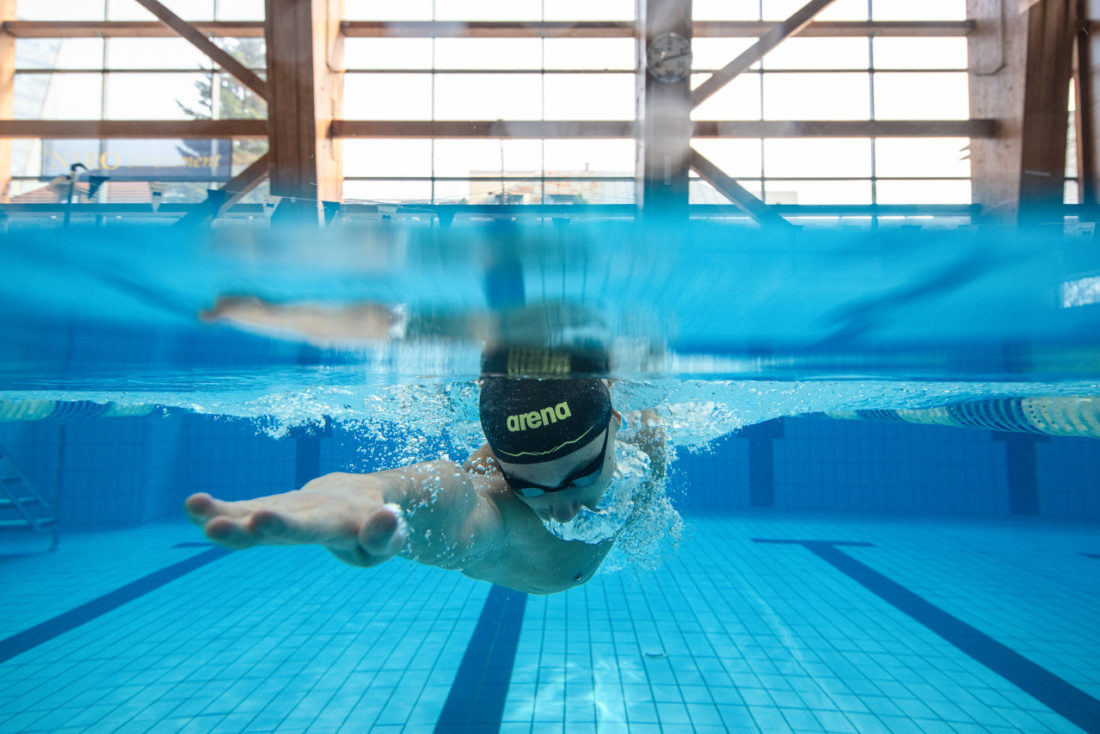 "He is ready to listen. But he needs information, arguments. It means that over time, he has acquired a lot of knowledge about swimming. He was ready to understand swimming from the start. When he was 13 or 14, I lent him documents on what swimming was, training. But he doesn't just have a global vision, he is focused on his sensations, his fatigue, technique… I imagine that not everyone can do that.

He is also ready to make the sacrifices necessary for any professional athlete; when it comes to planning outings, vacations, family, he always keeps the competition program in mind. When he leaves, he is always the first to come back in; he is the type to ask the guy who organises to bring forward the time of the evening session so he can stay a little longer. He has his personal goals, but he also thinks of others, bigger. It's not just about winning medals but about becoming an inspiration to other swimmers and proving."

Adrian Rădulescu – photo – David

Popovic

i – by Matei Buta, courtesy of arena
Lofty thoughts and ideals for a 17-year-old? "Yes, it's amazing that it happened so soon, says Rădulescu, who is then asked about the responsibility that comes with handling a precocious phenomenon and world-class prospect while still a young man himself (32).
Being young is rather an advantage. First, I think I have more energy to study, I'm ready for that. I also don't have any fundamental ideas, any certainties because I used things that worked. It gives me more freedom to try, and correct. And it also helps me to be closer in terms of states of mind. It is a particular generation, with a certain way of thinking. For swimmers and parents too,[ my] being young is therefore an advantage, it allows me to be a relay."

Adrian Rădulescu – photo – David

Popovic

i – by Matei Buta, courtesy
A conduit of forward-thinking, too. Rădulescu is already running calculations in his mind: Popovici is slight, light, with much meat to put on bones but at 46.86 in that condition, the swimmer and coach must figure out what natural growth and that worked for will do to the equilibrium and angle of buoyancy that has worked well under current conditions, measures, the power-to-weight in the sum.
Asked what emphasis is placed on technique in preparation, Popovici says: "The technical part is huge. It matters a lot. It's something we work a lot on. A lot of the other guys are bigger, stronger, taller than me, but what differentiates me from the rest of the pack is any technique, efficiency and also, of course, the mental game."
The same might be said of Britain's Adam Peaty, a leader thinking his way through his game but not "overthinking it". And there's not just the one brain, of course.
Peaty is surrounded by sports scientists working with his coach Mel Marshall. They replicated his head in silicon in an effort to work out in the lab the angle of least resistance in those parts of the body that hit water like a brick wall and make breaststroke the slowest of the four strokes. A 56.88 World record, like Popovici's 46.86 on freestyle, is, of course, nothing to do with any word with 'slow' in it. The appliance of science, however, contributes to making sure.
It's with equilibrium in mind that Rădulescu reveals his awareness when asked how he works on technique with Popovici with the swimmer's 'slim and slender' morphology in mind?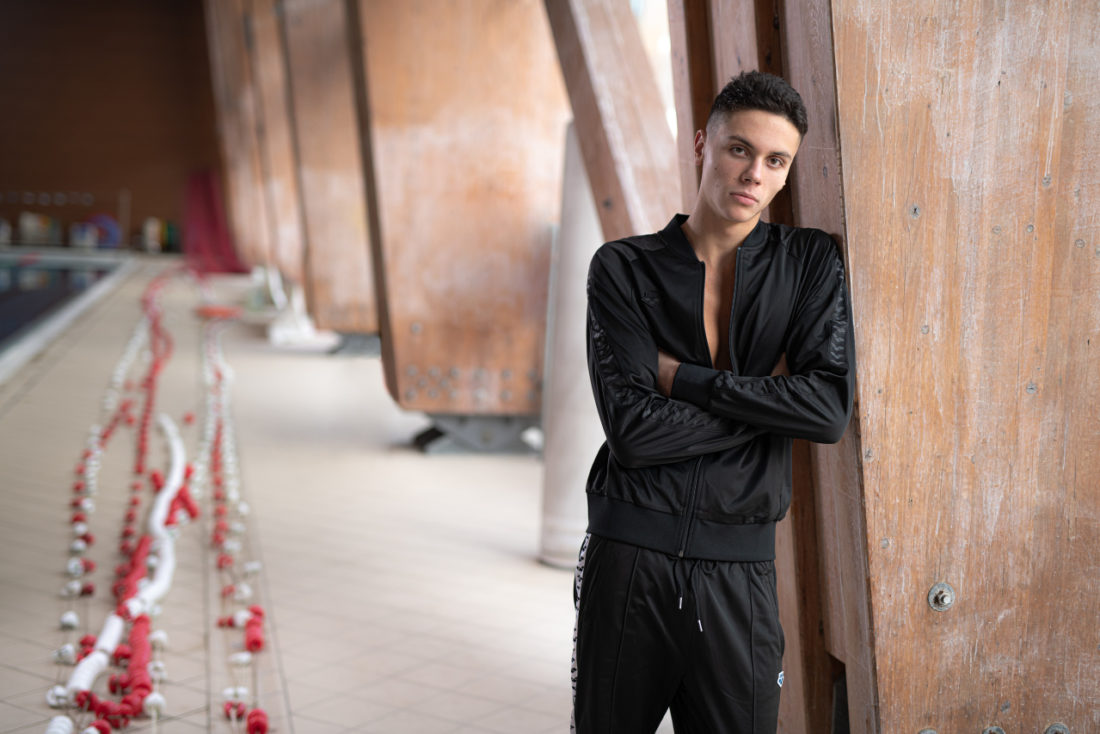 "David has a keen sense of water. It's a discussion we had with the video-analyst: it's not about the force you can generate, but how you can put it into the speed you develop. So, yes, he is very thin, but he has enough strength to swim at higher speeds. I don't know if he was stronger, if he could swim faster. Most likely. But his technique and the way he feels the water should be adapted.

"He will be 18 in September, his body will grow, evolve towards a man's size. It is a challenge to find the right way to achieve the right balance between strength and efficiency. We will see in the next 5 or 6 years."

Adrian Rădulescu – photo – David

Popovic

i – by Matei Buta,

courtesy of arena
The lengthy, consistent and constant emphasis on technique at the heart of the Alex Popov and Gennady Touretski story, was that something he followed any lead from? Says Rădulescu: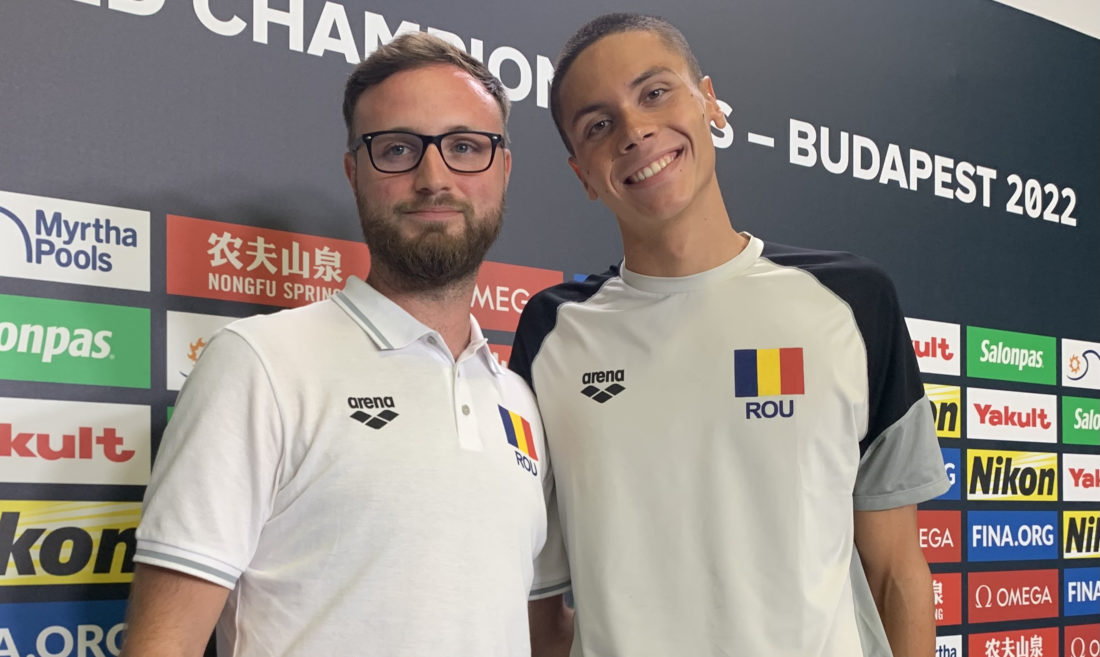 "I obviously tried to get as much information as possible about Gennadi Touretsky, his vision of swimming. Of course the names are similar, there are similarities in their technique, but this is not justified. I think there is more Michael Phelps in freestyle in David. But there are many athletes with whom we can compare him."

Adrian Rădulescu – with David Popovici – by Craig Lord
Comparisons have been made with Ian Thorpe, the Australian great, and the two who battled with him in the 200m free "Race of the Century" at Athens 2004, Pieter van den Hoogenband, and Michael Phelps. Likeness has even been made with Alex Popov.
The prospects of another "Race of the Century" grow with each passing meet of late. The 100m World record today suggested a keen battle of Popovici, Dressel and Chalmers, possibly Milak, too, and by 2024, others. Then there's the new 200 Race of the Century in prospect: there's the defenders of 2021, Tom Dean and Duncan Scott, then Popovici Vs Milak Vs Leon Marchand? Who knows. They all have an idea and intent and a passion for making it so.
Popovici, who after the 200m today and tomorrow in Rome, will take on the 400m freestyle on the last day of the championships on Wednesday, is honoured by the comparison with legends, two of whom raced to their last Olympic honours in the years Popovici was born. Even so, the teenager says he intends to be "the first David Popovici".
"It's an honour to be compared to [Popov and all the rest]," says Popovici. "I looked up to them but I just want to be the first David Popovici … I just do me. Everyone can do themselves. If I manage to do me correctly, I'm probably going to win."
If his pupil oozes smartness, so too does the coach. Had he been inspired by other mentors? "Yes," says Rădulescu. "But I can't speak to one in particular. I look at everyone, see what they are doing. I always try to read between the lines. I observe and define my own method. If it can work for my athletes. This is not necessarily a recipe, you have to adapt constantly."
Honesty is fundamental to trust – Coach Rădulescu
Adaptation includes the relationship between swimmer and coach. Says Rădulescu: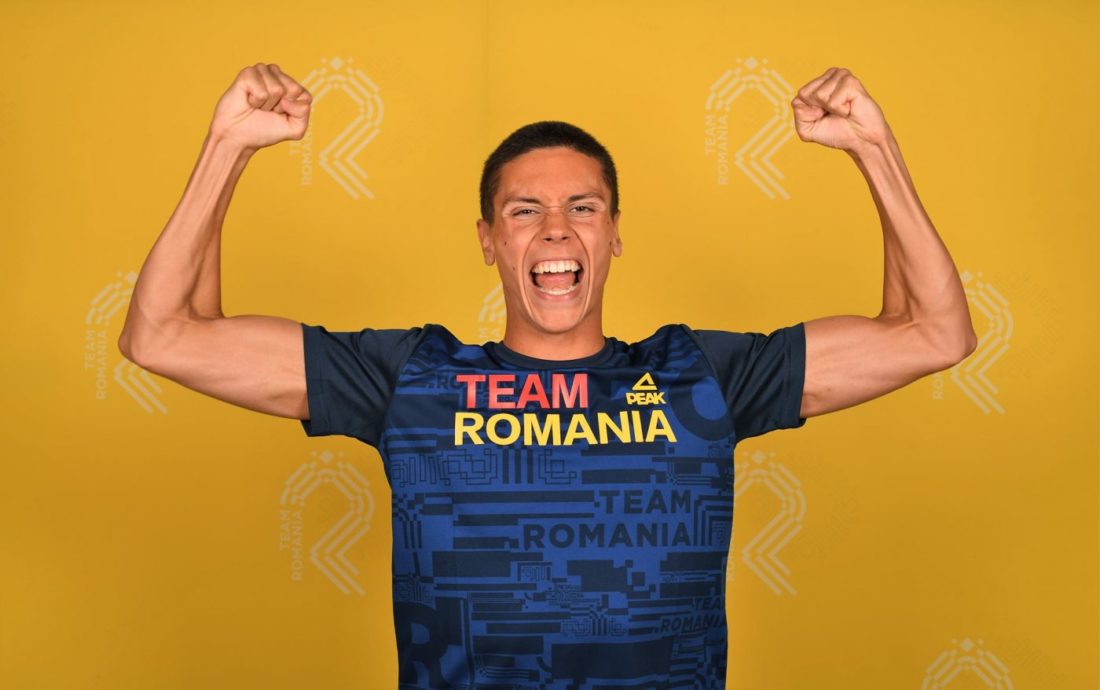 It's not always the same. Sometimes the pedagogue must be in front, sometimes behind, sometimes at his side. Sometimes we can spend time as friends, have fun, laugh… Sometimes I have to listen more to what he says, what he thinks, sometimes it's the other way around, it's up to him. listen to my ideas.

I don't think it's an autocratic move, more of a friendly training relationship. You also have to accept that you are not always right. It is important for the athlete's confidence to recognize that maybe you did not find the right direction, that it was not the best thing to do at that moment. Honesty is fundamental to trust."

David Popovici – courtesy of the Romanian Olympic Committee
Popovici On Handling Fame
A European Junior champion on his way to his Olympic debut at 16 last year, Popovici its a household name who gets approached in the street back home, for selfies, for plaudits, for a little of everyone's attention. Did he 'enjoy' it, he's asked. He barely hesitates: "It is tiring. It's a little more difficult than doing the actual swimming but … well, how do I handle it? Simple: I just ignore it. I'm not talking about this type of encounter [with the media in Rome]: I ignore it in the sense that I never watch any interviews of myself. I never even watch myself on TV. I'm on the TV daily. I just turn the TV off and don't watch.
"Plus, I took a break from social media," he adds. "If there weren't people who recognised me on the streets in Romania and we didn't have encounters like this [with media], I'd forget that I am famous in Romania and in the world of swimming."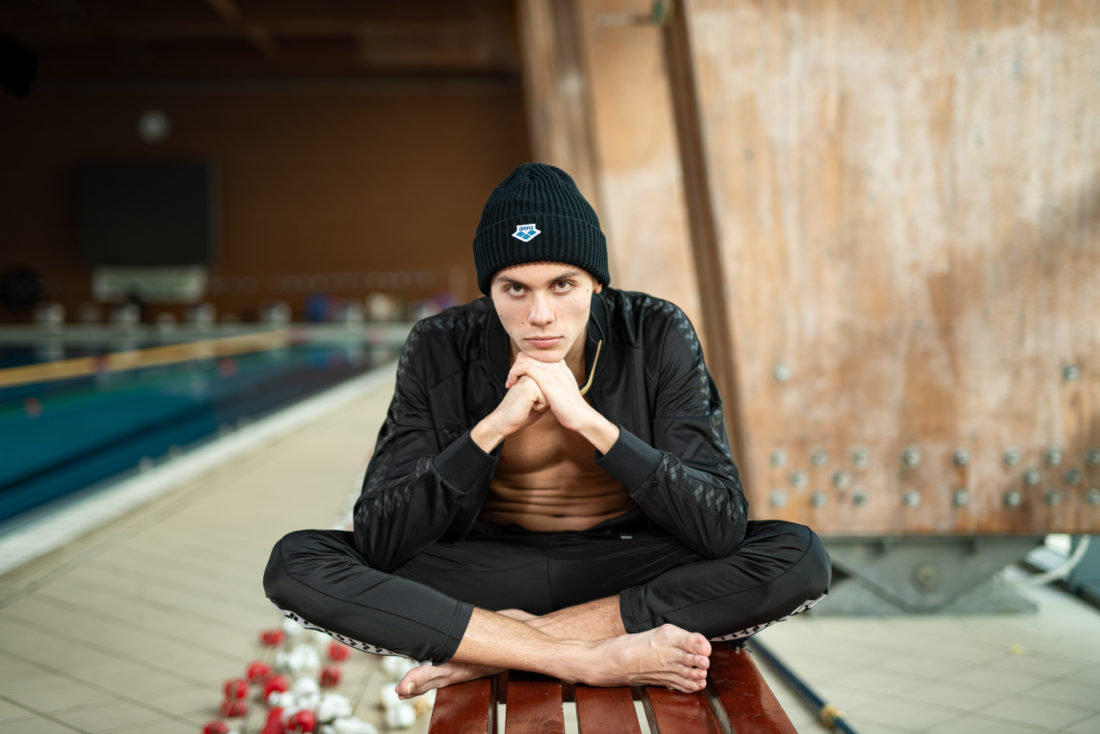 So, how famous is he in Romania?

"Very. It's weird because if I want to walk on a crowded street, I have to prepare myself for pictures. It comes with it and that's ok; I really don't mind. I like the fact that people appreciate me but if I have to get somewhere, I'm going to pho on a bike; or with cap, sunglasses and a mask on."

Had that changed since Budapest (world 100 and 200m freestyle titles)?

"Yes. It changed a lot. I was a little bit famous in Romanian, like 3 or 4 in 10 people recognised me. Now it's 10 out of 10. On the street or wherever. In a restaurant or wherever."

David Popovici – by Matei Buta, courtesy of arena
That's what comes of excelling in the realm of Ian Thorpe. The 400? What did he expect on his international senior debut over the distance and was he 'curious' about how the others swim it, what their tactics may be?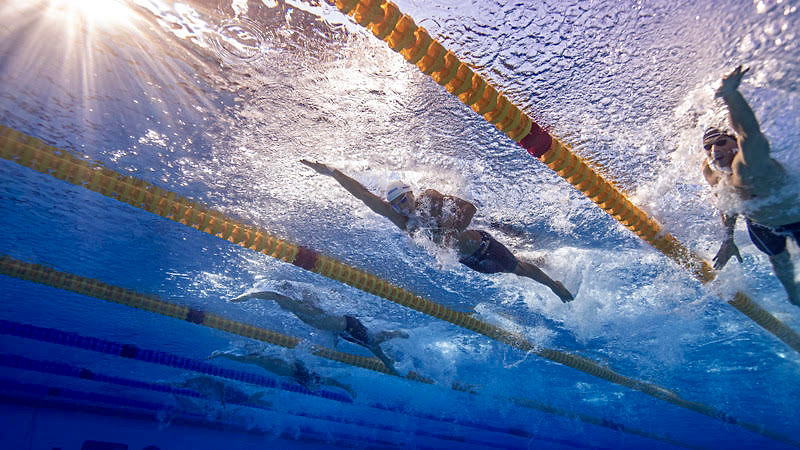 "I truly don't know [what to expect] … for the 400 I really don't know because it's a new challenge. We wanted to try it and what better place to try it than here, where I have some competition and the pool has this much history.

"Especially when doing a new race, it's important to know what to expect from the others but at the end of the day, and I think this is what swimming is about: it's about racing yourself and the clock. When trying something new, it's important to know what the strategies of the others more or less are.

David Popovici – image: David Popovici, of Romania, on his way to gold in a new 100m free World Record of 46.86 in Rome, (Photo by Patrick B. Kraemer / MAGICPBK)
Popovici Will Be Staying In Romania Until The Swimming Is Done
Rădulescu is aware of the impact two World titles had back home. The World record will only serve to increase the attention. The coach reflects on what happened after Budapest in June on the way to a home European juniors in Bucharest: "There was indeed a huge boost in his popularity. Everyone in the street recognises him.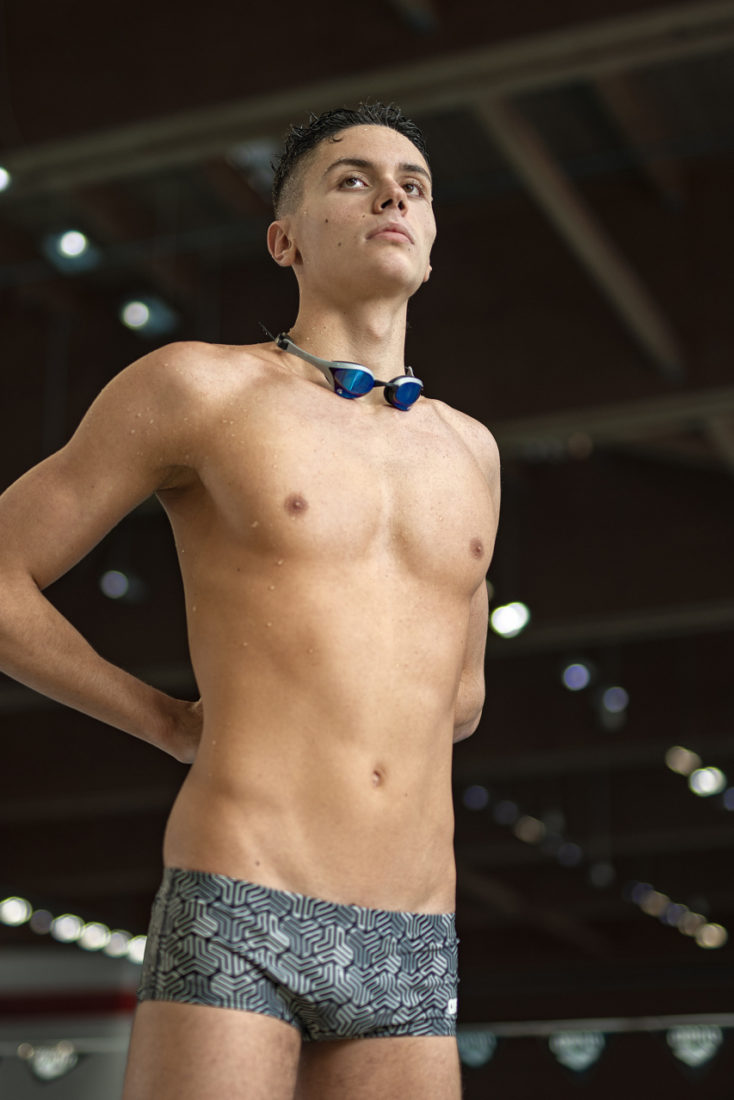 "But there are moments of great emotion too, like … when we arrived in Rome . There were workers working on the roof above the grandstand. For a moment, everyone was silent and one of the guys, who was working on the poolside, said: "It's David! It's David! Please win the medal. We want to be there when you win it." They were Romanians. These kinds of encounters are very encouraging."

David Popovici – by Matei Buta, courtesy of arena
Given the attention, was he planning to stay in Romania, Popovici is asked. He answers: "I prefer to stay in Romania, support-wise and [for] professional [reasons]. I think I will always be in Romanian because that's where I have my team, a team I couldn't do anything without. That's the priority for me … that's the recipe of my success: staying in Romania and working with my people.
But after my swimming career, I don't know: who knows, maybe I'll want to live here (in Rome) or another continent. I really don't know."
Rădulescu notes: "Certain American universities began to want to recruit him when he was fifteen years old. Emails were received to find out what his plans were for the future. Fortunately, we have enough help from the federation, the Olympic committee, the government, to have access to good infrastructure, good staff.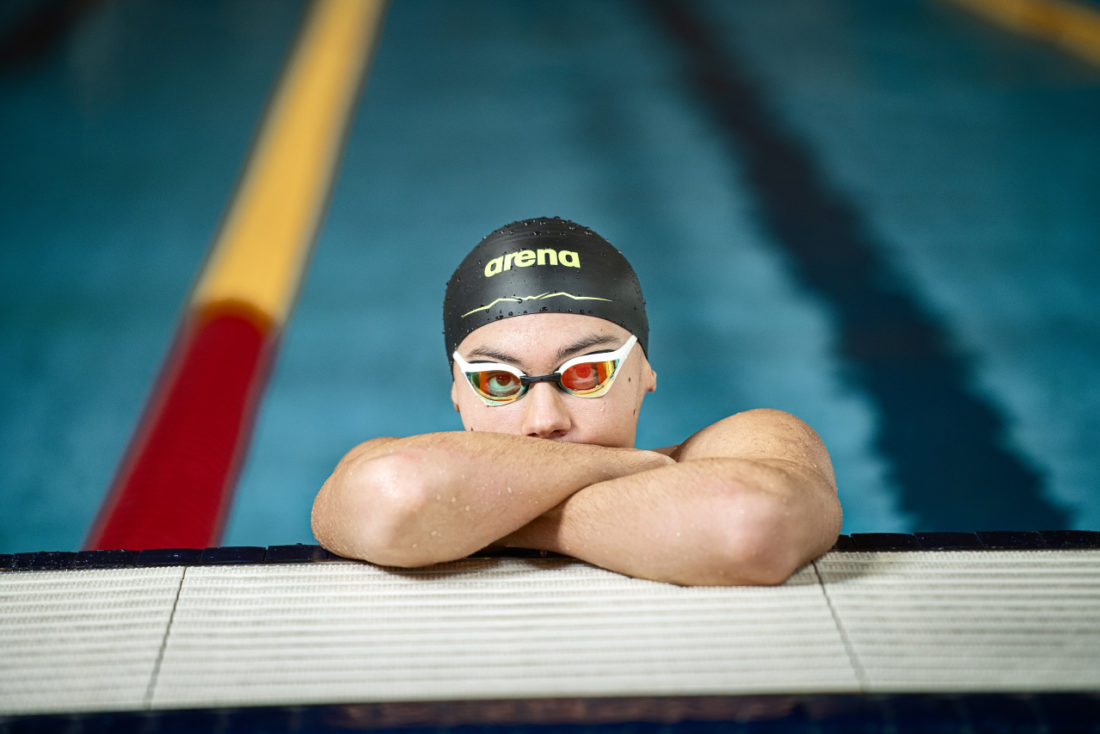 "It is a privileged situation that would be difficult to give up. If he wants to train at 2 a.m., it will be possible. He benefits from all that is necessary to become better. Abroad, you have to prove your worth, without having the comfort of home. He has a strong relationship with his family. All these conditions are important and it is an essential factor."

David Popovici – by Matei Buta, courtesy of arena