Popovici Pulversises WJR For 1:43.21 Victory In 200 Free Ahead Of Hwang & Dean In The Race, Phelps & Thorpe & In Textile Just 0.07 Shy Of Agnel's Apex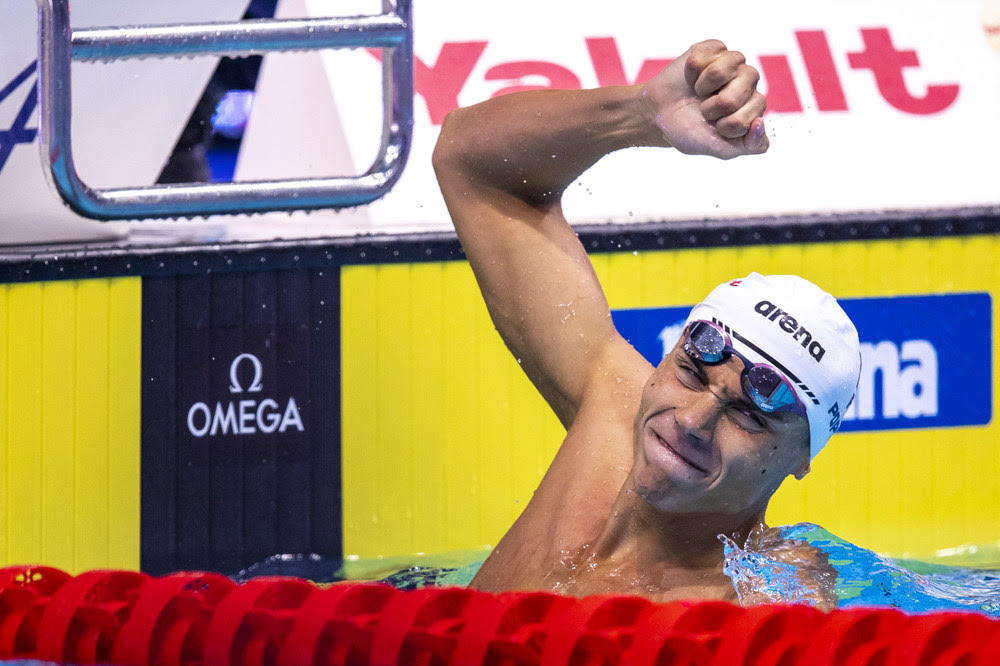 Two towering teenage talents who finished behind Tom Dean in Tokyo last year turned tables on the Olympic champion last night in Budapest, the sensational 1:43.21 speed of 17-year-old Romanian David Popovici a pivotal moment that drew comparisons with Australian legend Ian Thorpe.
Dean, the 22-year-old who claimed Olympic gold 0.04esec ahead of teammate Duncan Scott last year when the pair punched the first British gold-silver success in the Olympic pool since 1908, served as pacesetter to Popovici's sensational 1min 43.21sec victory.
Popovici's smooth, rolling, flowing performance pulversised his own World junior record and stands as the second fastest ever in a textile suit just 0.07sec shy of French Olympic champion of 2012 Yannick Agnel at the height of his powers.
Faster than Thorpe ever went; faster than 2008 Olympic champion Michael Phelps at Melbourne 2007 in the midst of what was arguably the most complete and comprehensively excellent World-titles campaign in history; faster than Phelps ever raced without the edge (how significant we will never know but on the slight end of the scale relative to what unfolded in 2008-09) of a non-textile booster body suit of the kind banned from January 1, 2010.
All-Time Rankings Shuffle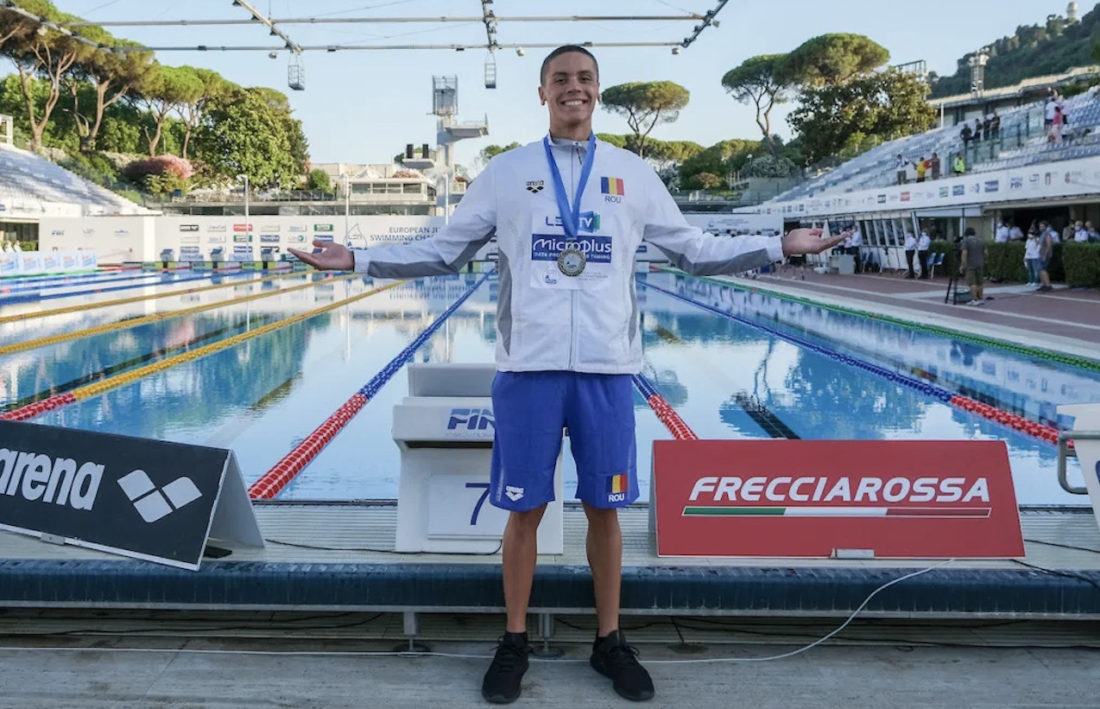 Textile Only
1 1:43.14 Agnel, Yannick, FRA LCM2012
2 1:43.21 Popovici, David, ROU LCM2022
3 1:43.86 Phelps, Michael, USA LCM2007
4 1:44.06 Thorpe, Ian, AUS LCM2001
5 1:44.22 Dean, Tom, GBR LCM2021
6 1:44.26 Scott, Duncan, GBR LCM2021
All Suits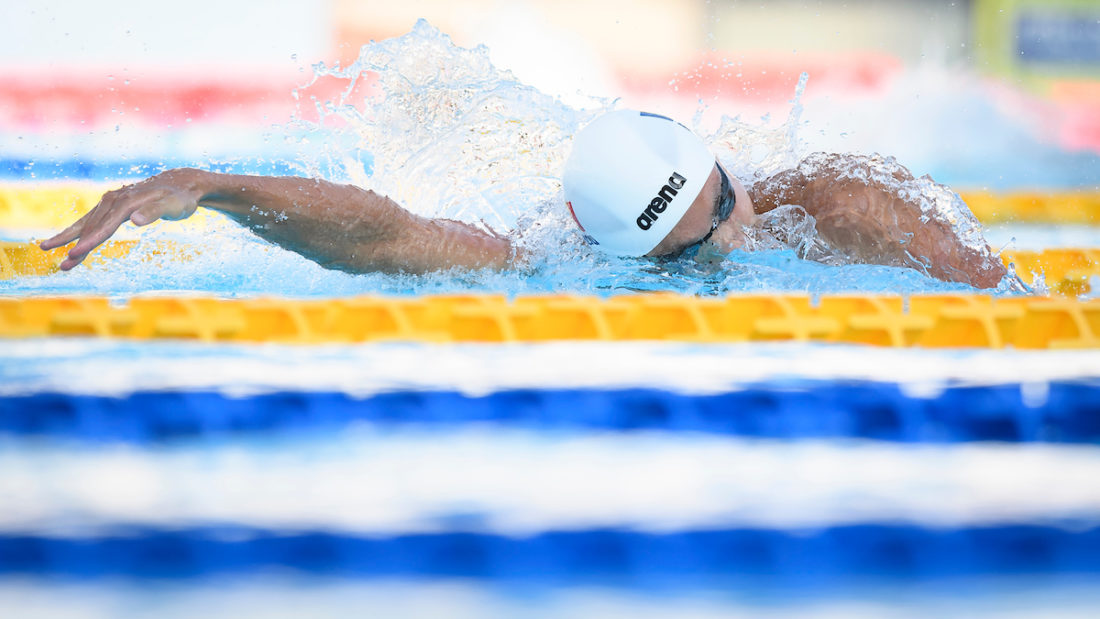 1 1:42.00 Biedermann, Paul, GER LCM2009
2 1:42.96 Phelps, Michael, USA LCM2008
3 1:43.14 Agnel, Yannick, FRA LCM2012
4 1:43.21 Popovici, David, ROU LCM2022
5 1:43.90 Izotov, Danila, RUS LCM2009
6 1:44.06 Thorpe, Ian, AUS LCM2001
7 1:44.22 Dean, Tom, GBR LCM2021
8 1:44.26 Scott, Duncan, GBR LCM2021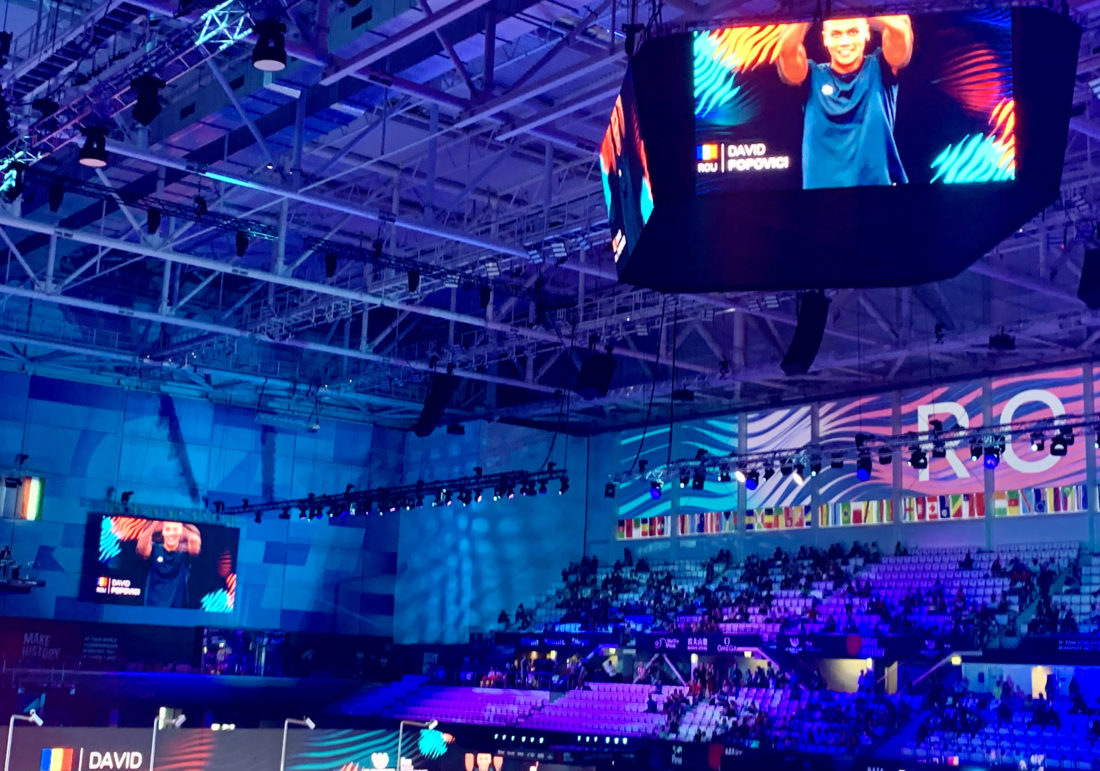 After Popovici had struck a Usain-style Bolt pose on introduction to the crowd, the gun went off a day after the teen has left the global junior standard at 1:44.40 in semis, just 0.18sec shy of the speed at which Dean claimed Olympic gold in Tokyo 0.04sec ahead of Scott.
In that Olympic final, then 16-year-old Popovici finished fourth just 0.02sec shy of the podium behind Brazil's Fernando Scheffer.
Dean reached the first turn on 23.72, 0.51sec inside the World-record pace set by Germany's Paul Biedermann in a non-textile booster body suit of the kind banned from January 1, 2010. Popovici was just 0.05sec away. Stroke for stroke to the 100m mark, the gap was 49.81 to 49.96 at the 100m mark, Dean leading and now 0.31sec inside Biedermann's 2009 split on the way to an other-worldly 1:42.00 World record.
That's when Popovici's prospects became clear: on the way to the last turn, the Romanian scorched a 26.31sec third length, passing Dean and his 27.10. The new leader was 0.03sec inside top shiny suit pace. Imagine that. Popovici last lap: 26.94. Biedermann 2009: 25.70. Either way, it was Game Over for gold, in Rome then, in Budapest today.
Hwang Sunwoo, the Korean teenager who had led Dean and Scott (absent from Budapest as he recovers from Covid) for three lengths in Tokyo before they piled past him for the podium, started to roll towards silver in 1:44.47, Dean taking bronze and what was also his first individual World-Championship medal in 1:44.98, Olympic gold having been his entry to the club of big solo medals winners.
Popovici's third lap is the fastest in history among those who have got under 1:44 or rattle the mark. What had been running through his mind as he ploughed past Dean on that sizzling third length? "I knew I was the stronger, that's all I can say," said Popovici.
Questions of Balance & Progress: splits significant to Popovici's trajectory to the top:
24.81, 51.45 (26.64) 1:18.26 (26.81) 1:44.06 (25.80) Ian Thorpe AUS 2001
24.55, 50.64 (26.09) 1:17.16 (26.52) 1:43.14 (25.98) Yannick Agnel FRA 2012
23.77; 49.96 (26.19) 1:16.27 (26.31) 1:43.21 (26.94) David Popovici ROM 2022
24.47, 51.00 (26.53) 1:17.73 (26.73) 1:43.86 (26.13) Michael Phelps USA 2007
Non-textile
24.31, 50.29 (25.98) 1:16.84 (26.55) 1:42.96 (26.12) Michael Phelps USA 2008
24.23, 50.12 (25.79) 1:16.30 (26.18) 1:42.00 (25.70) Paul Biedermann GER 2009 WR
Tokyo 2020ne Olympic Games:
24.21, 50.46 (26.25) 1:17.38 (26.92) 1:44.22 (26.84) Tom Dean GBR Gold
24.81, 51.38 (26.57) 1:17.80 (26.42) 1:44.26 (26.46) Duncan Scott GBR Silver
24.24, 50.25 (26.01) 1:17.28 (27.03) 1:44.66 (27.38) Fernando Scheffer BRA Bronze
24.23, 50.73 (26.50) 1:17.97 (27.20) 1:44.68 (26.71) David Popovici, 16, ROM, 4th
23.95, 49.78 (25.83) 1:16.56 (26.78) 1:45.26 (28.70) Hwang Sunwoo, 18, KOR 7th
Budapest 2022
23.77, 49.96 (26.19) 1:16.27 (26.31) 1:43.21 (26.94) Popovici
24.36, 50.72 (26.36) 1:17.33 (26.61) 1:44.47 (27.14) Hwang
23.72, 49.81 (26.09) 1:16.91 (27.10) 1:44.98 (28.07) Dean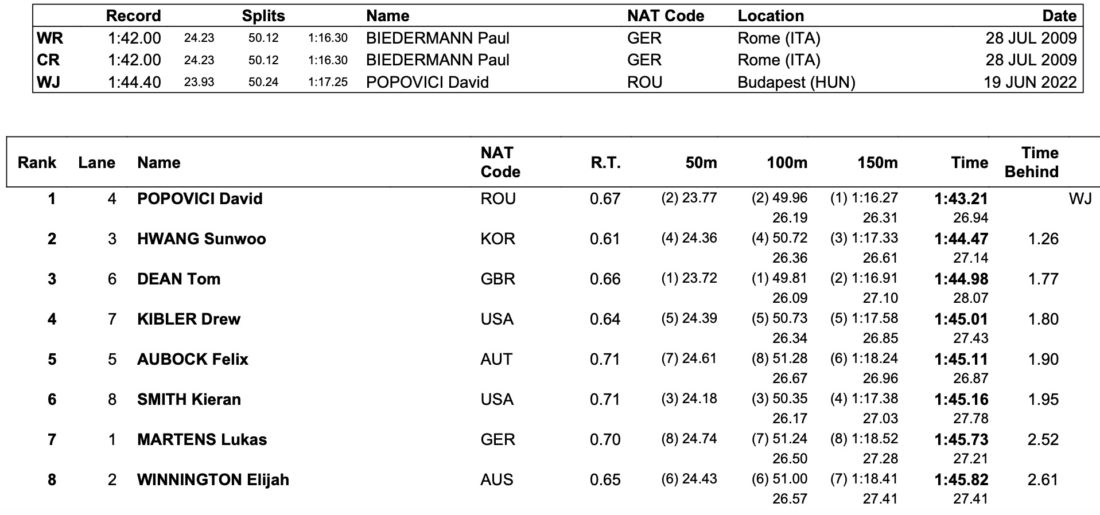 Popovici Draws Parallels With Thorpe Before Aussie Legends Hands Him The Gold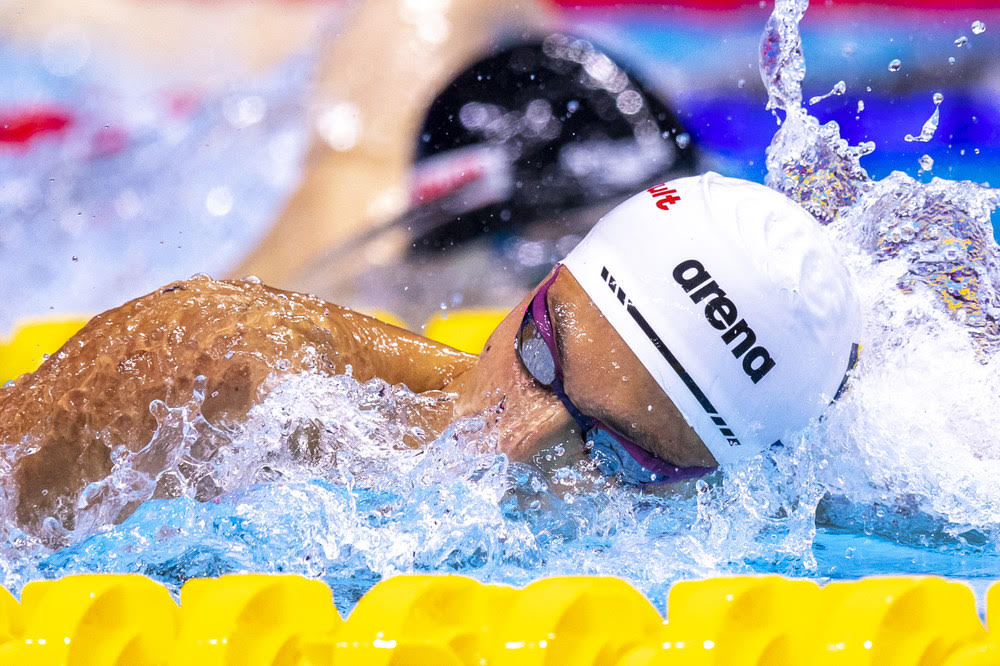 Swimming hasn't seen a teenager winning senior races at world level by such commanding margins since the days when Thorpe became the youngest male World champion in history at 15 with a sensational 400m victory at home in Perth in 1998.
It seemed back then that Thorpe, two years out from claiming three golds and two silvers at a home Olympics in Sydney at 17, was made for swim superstardom. Great expectations will hold hands with Popovici all the way t Paris and a second Olympics in three years after his debut at a delayed Tokyo Games.
By the time Popovici, a David built to slay swimming Goliaths, was born in September 2004, The Australian had just added two golds, a silver and bronze to one of the greatest pantheons in the pool at an Athens Olympics that would turn out to be the last time we would see the Thorpedo at the height of his powers. And Michael Phelps had just collected then first six of his 23 golds atop 28 Olympic medals.
Was Popovici aware of the junior-sensation parallels with Thorpe? In perfect English honed at international, bilingual schools in Bucharest since he was 10, the Romanian, seemingly as sharp in mind as in the water, said: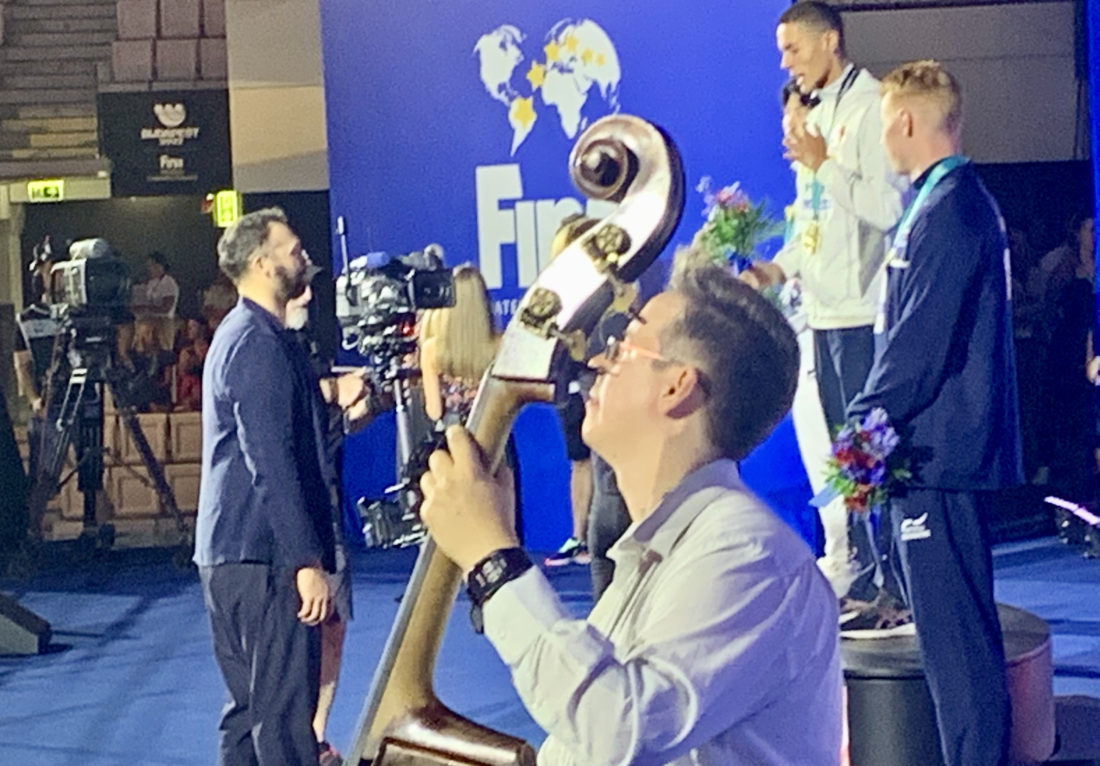 "Its an honour and very flattering to be compared to Ian Thorpe. I just met him [Thorpe] two days ago. He said if I win gold he said he would try to make it possible for him to present the medals, so I guess I'll see him soon. He's been an idol for me and just like Michael Phelps, they're just like any other kids; that's the same for me."

David Popovici – image – Ian Thorpe presents the Romanian with his gold medal – by Craig Lord
The legend and the legend-in-the-making got their wish and Dean also got his medal from Thorpe.
Asked about the calm-collectedness of his demeanour, the teenager replied: "The most fun is racing because on the last lap I was saying to myself 'this is the biggest moment of my life so far and I want it to make it memorable for me and everyone else'.
On his 49.9 split, Popovici said: "The plan was to go out fast, not this fast though. But, yes, I can surprise myself."
A huge summer stretches ahead of the teen: after more action in Budapest this week, he is down to race at home European junior championships in Bucharest, senior European Championships in Rome in August and then the World Junior championships later in the summer. Those four events have never fallen in the same calendar year before: a first, courtesy of Covid and the chaos caused.
SOS asked his coach Adrian Radulescu to describe what kind of pupil he had on his hands. Said Radulescu: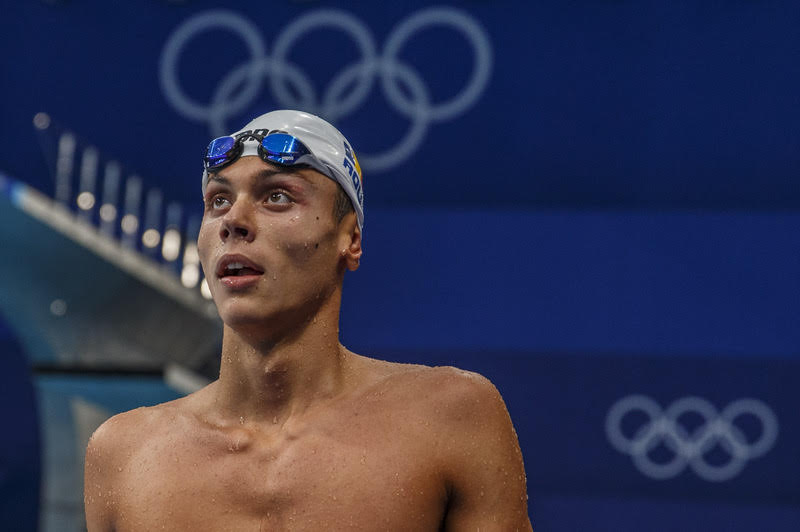 "He is self-motivated, so easy to work with. He's obviously very talented and he's he's really dedicated to his work and his dreams to be better every day. He always trains for his goals and he know where he is during a race and afterwards he assess whether he's done well, a good job, or not."

David Popovici – image – David Popovici on his Olympic debut at 16, now a World Champion at 17 – by Patrick B. Kraemer
Dean – who already has what Thorpe has and what Popovici is still hunting for – an Olympic 200 free gold – had used the moment to experiment with an opening pace he had never been close to before. Coached by Dave McNulty at Bath, Dean emerged from delivering Britain's first medal in Budapest, to say: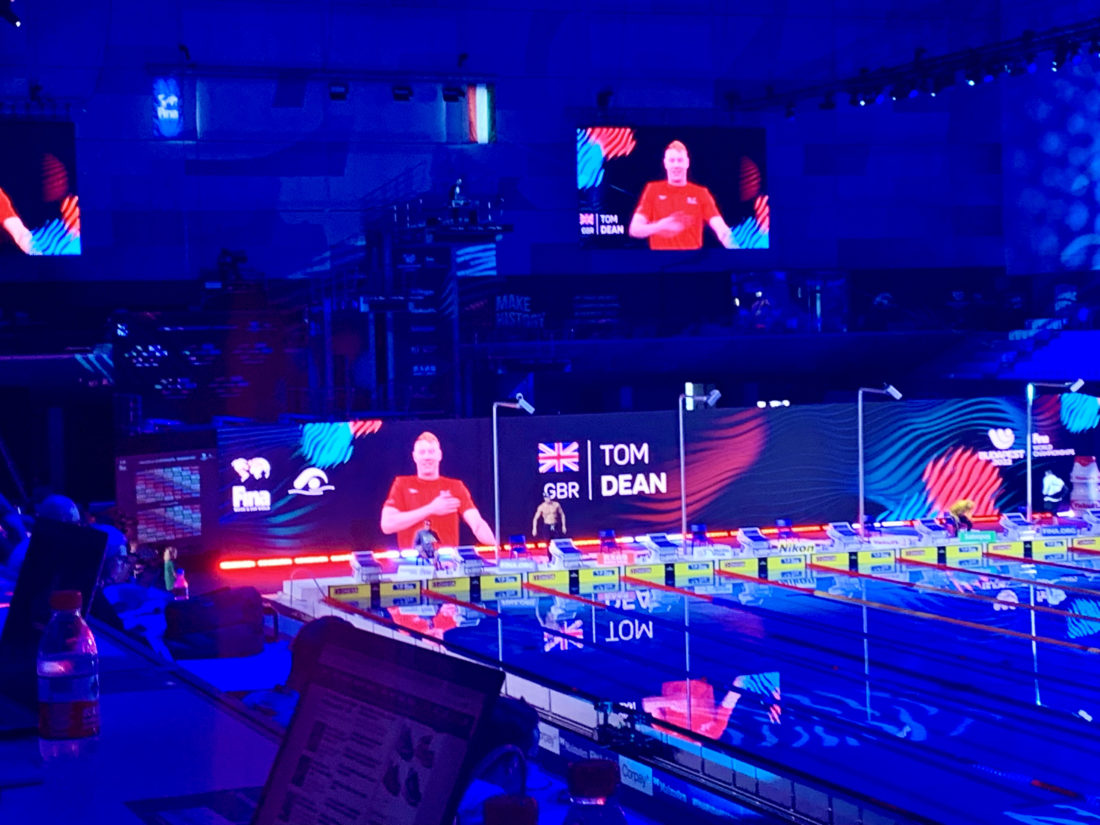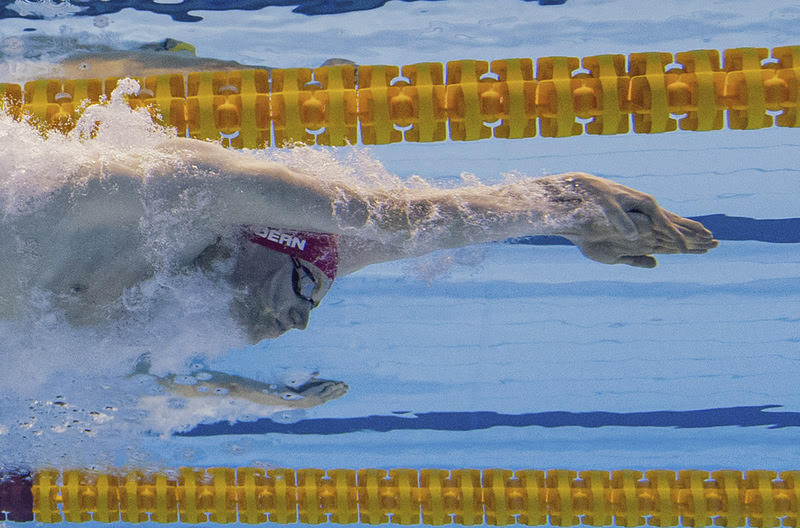 "You've just gotta give it to him, there's nothing you can do about it: 1:43.2, bloody hell. I never thought I'd see that for years to come but that's been the case at these championships, like that 400 medley (France's 20-year-old Leon Marchand's 4mins 04.23sec World textile best for gold). The impossible seems impossible until it's done and these youngsters are doing just that."

"I took a gamble and went out quick and I felt every single metre of that last 25. The atmosphere, the occasion, that's what carried me out. The back end is coming but you can't go out in world-record pace and expect be [fresh] at the back end. It's a learning experience. I thought I had all the learning experiences behind me now but we never stop learning. I'm just going to keep doing what I'm doing: the speed's there and to suffer and to hurt and still go 1:44, that's a positive."

Tom Dean – by Patrick B. Kraemer
Popovici's win was a first for Romania, gold and medal of any colour, in the 200m freestyle, since World Championships got underway in 1973.
Budapest 2022: Schedule; Prize Money; Start Lists & Results; Where To Watch; FINA Pay-Per-View; Tickets; Covid Regs