Popovici Pops The First Worlds 100-200 Freestyle Double Gold Since Montgomery 1973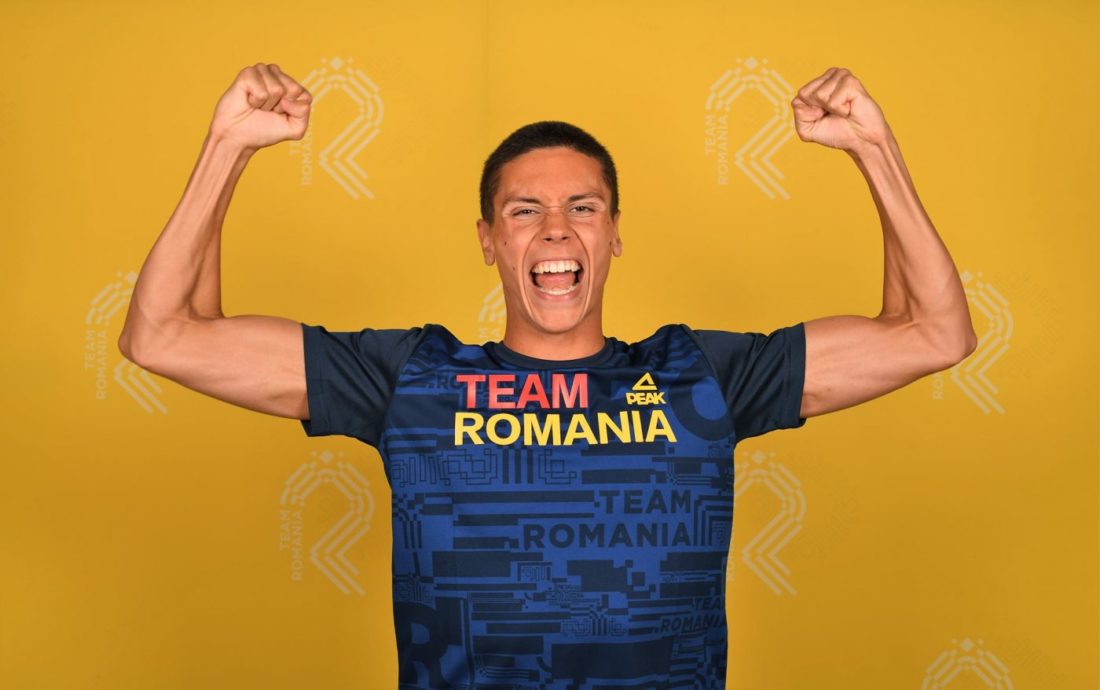 David Popovici, the 17-year-old Romanian super-swimmer, is only the second man ever to claim the 100-200m freestyle double at the World Championships, his 47.58 victory unfolding 49 years after American Jim Montgomery took both golds at the inaugural 1973 event.
Montgomery was three years out from history as the first man ever to race inside 50sec over 100m freestyle for Olympic gold in 1976. Popovici has two years to go before Paris and a date with Olympic destiny; two years and a lot of meat on bone to go after he added a 47.13sec World Junior Record in 100m semis to the 1:43.21 youth standard with which he dominated the 200m.
Facing the final had made him a "little bit more nervous" and the 47.58 had "hurt a little bit more" than the 47.13 stunner but it was good for gold by 0.06sec ahead of Frenchman Maxime Grousset and Canadian Josh Liendo, on 47.71, after he led at the turn, on 22.53, Popovici through in 22.72.
The Romanian teen, who turns 18 in September, is the youngest World 100m freestyle hampion since American Andy Coan claimed the crown in 1975 16 weeks shy of his 18th birthday. Sadly, Coan is no longer around to see the next wave after the next: he was temporarily paralysed by Guillain–Barré syndrome in 2014 and died from liver cancer in 2017.
The Budapest 2022 battle at the Duna Arena went without Olympic champion Caeleb Dressel, who withdrew on medical advice after a 47.90 effort in heats on Tuesday morning. On the cusp of the final today, USA Swimming issued a statement to say Dressel has been withdrawn from the rest of the championships, which end on Saturday.
No details of his condition were given but a statement noted: "Our priority is and will always be the health of our athletes and we will continue give Caeleb the assistance he needs to recover quickly."
The Romanian, who said that he was more nervous for the final than the semi and that it had "hurt a little more", while adding: "I feel good, I'm glad I get to have two golds."
The time on the board was not his best but precisely matched the time in which Australian then 17-year-old Kyle Chalmers claimed 100m freestyle gold at the Rio Olympics in 2016. A student of the sport he excels in, Popovici said: "That's exactly the first thought that came to mind when I saw the time on the board. Not the best I can do but still fast. We'll analyse it and see where I can make improvements."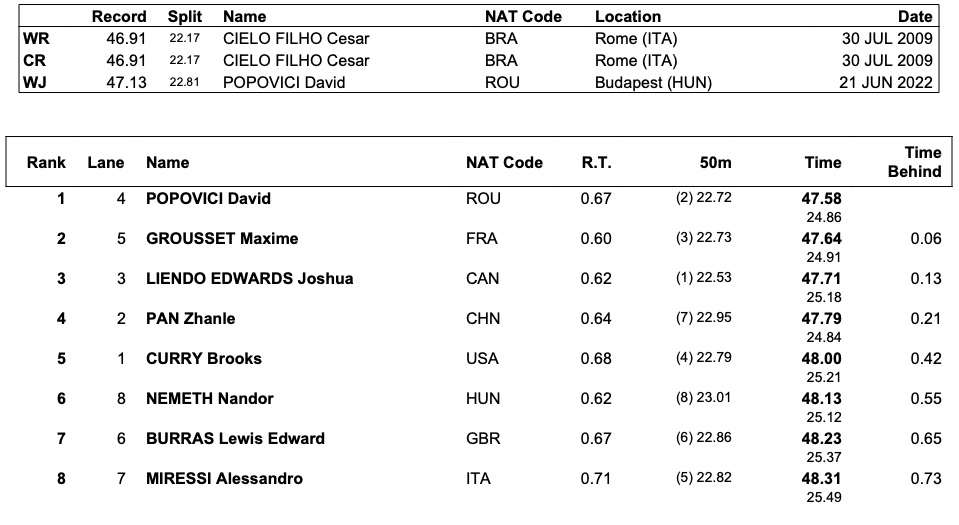 At 17, Popovici is a relative veteran compared to the ages at which many girls have claimed World titles in the pool. In the final before Popovici's, Summer McIntosh, a 15-year-old Canadian, claimed the 200m butterfly crown in 2:05.20, a World junior record (mored on that later).
If Popovici has Paris in high sights for Olympic glory, Paris has Leon Marchand in its sights. The 20-year-old is coached by Bob Bowman, mentor to Michael Phelps, in Arizona, and this week rattled the Olympic legends World record for gold in the 400m medley, took silver in the 200m butterfly behind Hungarian World-record setter Kristof Milak, and tonight made it the medley double with a 1:55.22 victory in the 200m.
In claiming the 100-200m double, Popovici achieved a feat that none of the "Race-of-The-Century" trio of Ian Thorpe, Pieter Van Den Hoogenband and Michael Phelps managed, though all placed impressive doubles, triples and even quadruples in their pantheons down the years. Hoogie landed the more highly prized 100-200 double as Olympic champion at Sydney 2000.
On freestyle, there are questions of balance along spectrums and scopes, as Radulescu noted (article coming soon).
If there is a trio fit to take on a new Race of the Century during their careers, Popovici, Marchand and Milak may well be it.
Asked for his thoughts on Montgomery, 1973 and all that, Popvici said: "Well, history does repeat itself. That's a fact. And I'm glad we got to write a small page in the history of swimming, some would say a huge page, but we keep it low key.
Popovici's coach Adrian Radulescu added: "At least for Romanian swimming it is, just one medal was fantastic but two is much more and we dream to do it again: why not?"
The sprinter described the 100m freestyle as "fantastic" but his pupil's 200m was his favourite in the double delight: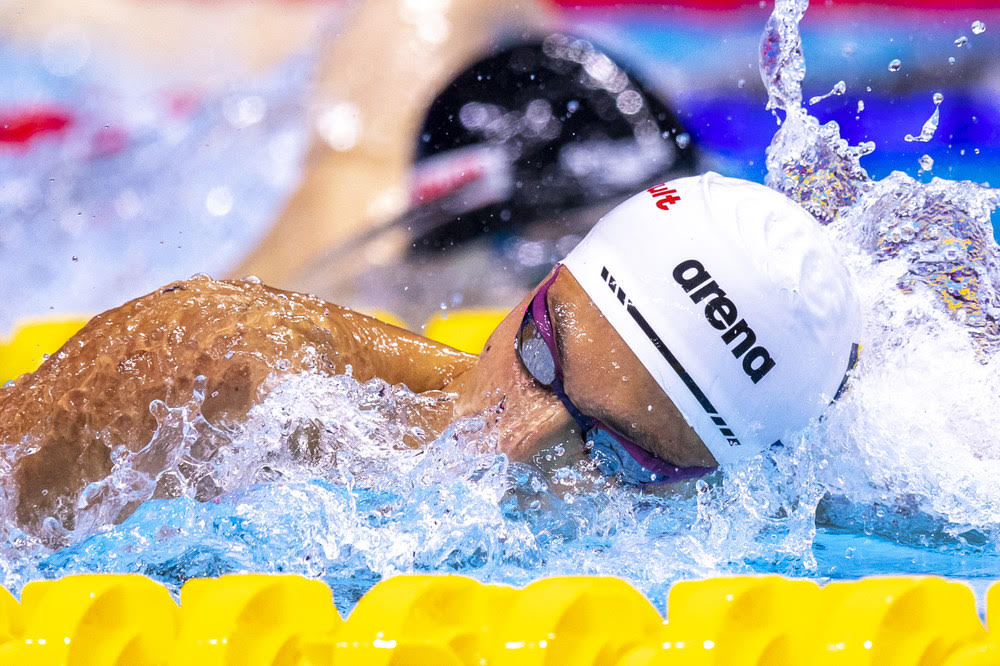 "The 100 was fantastic but I think I do like the 200 more because especially because it's more of a tactical race. It's a race you have to have well thought out and I guess I like a bit of a challenge for myself more and I consider the 200 to be more of a smart race, I guess, just in terms of what it takes to prepare for it. Even though the 100 has earned all my respect, it's a hard race."

David Popovici – Photo: David Popovici – technically, tactically a towering prospect for Paris 2024 (Photo by Patrick B. Kraemer / MAGICPBK)
At 17, a boy in a man's world and a double World champion. Was this a new era of young guns? Popovici replied: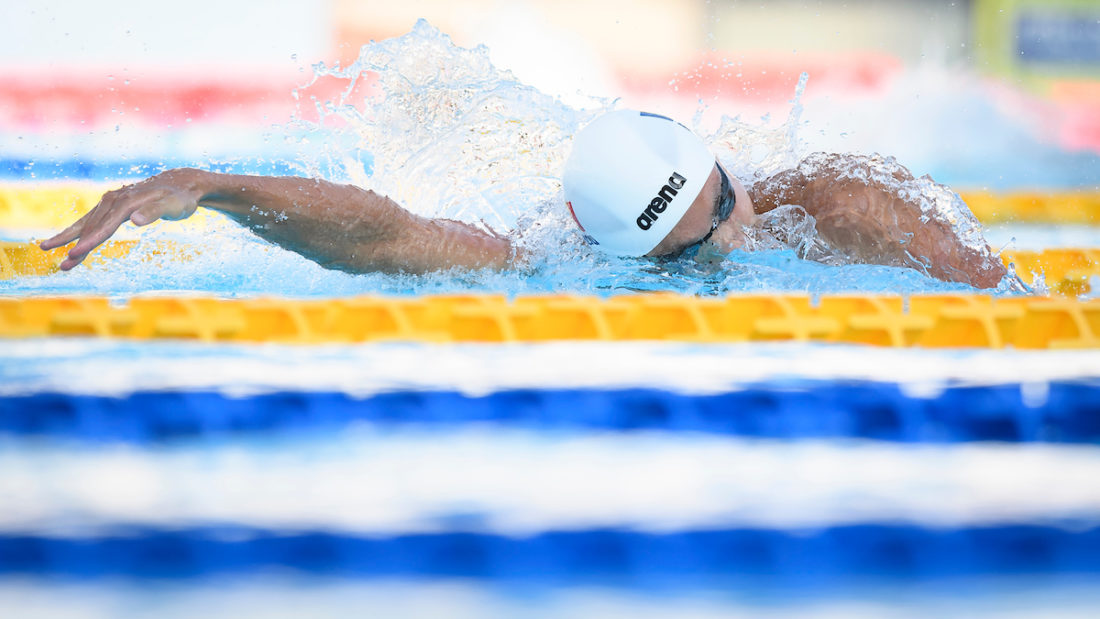 "I like to think it's sort of a new age of newcomers. And I feel like we young ones have got to represent and try to change the sport as much as we can because 10, 15 years ago those who are considered to be in prime age. And that was, I don't know, 20, 24 years old. But it's just a matter of proof that age doesn't really matter. It matters how much you work.

"I know that's basic, but it's basically what it is. It's a matter of how much you work and how hungry you are for a medal, how hungry are for success, how passionate you are and how much sacrifices you're willing to make.

"And if you're willing to do that at 15, like Summer, or, or 17, like me or, I don't know, 41, 40 to look at Nicholas Santos [Brazilian 'fly sprinter] is amazing and we are at opposite ages in terms of swimming careers. It's simply great that there's really people that can even like me, without putting myself that hype, because I don't like that. It's amazing that we can prove that no matter our age, we can do interesting things. And in terms of swimming because we love it."

David Popovici – Photo: David Popovici in full flow at the Stadio del Nuoto, Foro Italico, in Rome – Photo by Andrea Masini / Deepbluemedia / Insidefoto – courtesy of LEN
The titles were won in Budapest without all big guns in the water, though at 47.13 (semi) and 1:43.21, there was no wriggle room for suggesting Popovici was lucky. Asked if he felt Caeleb Dressel, the Olympic 50-100m champion who is out of the championships through illness and flew home sick today, had "run away from you", Popovici laughed and said: "I don't think those kind of guys run away from anyone let alone someone like me [he made a gesture towards his body as fig to say 'I'm a bit smaller than Dressel'."
Did he regret not having had the opportunity to race Dressel and Kyle Chalmers, the two bug guns split by 0.06sec for Olympic gold and silver last summer? Said the new double champ: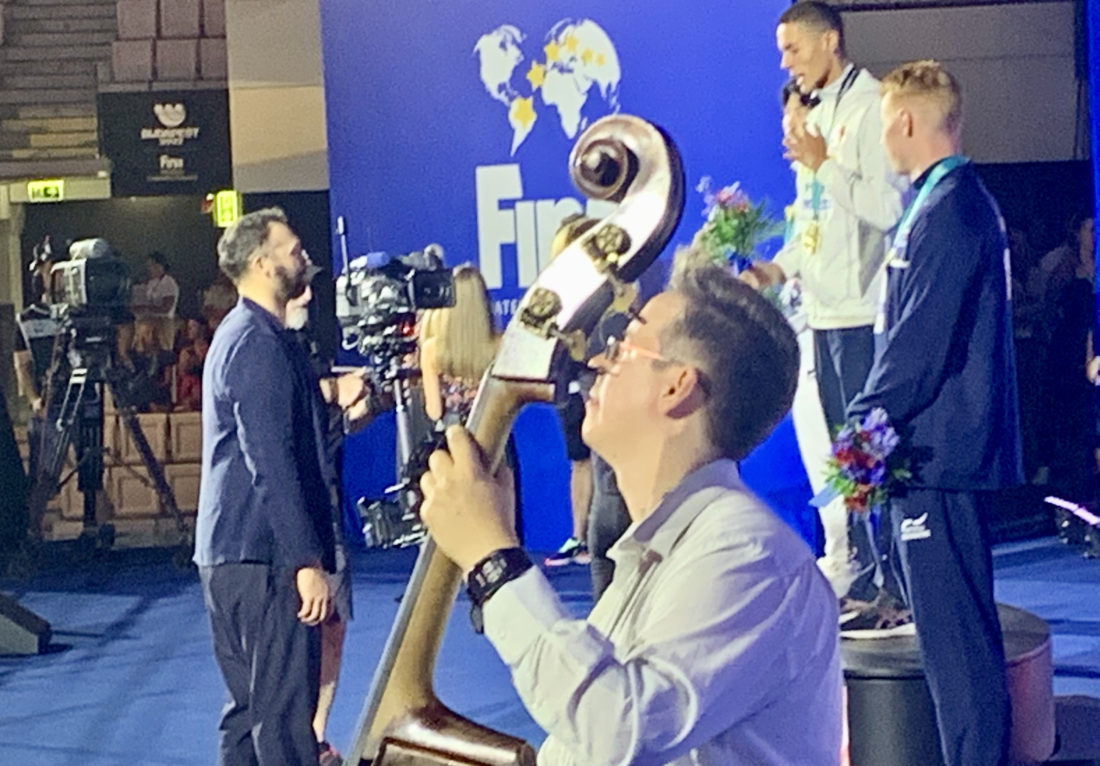 "It's sort of a shame that they weren't here as well. I'm sure they have their reasons. Some medical, some not. I miss the presence of Kyle, Caleb and Kliment [Kolesnikov, banned by virtue of being Russia as part of sanctions against the war on Ukraine].

"I can't wait to race against them. And I think it's an honour in itself to race against them. And I think it's a better challenge and I like a bigger challenge. So we both sort of saw it as something that could have happened better in terms of who we would have liked to compete against all of them. But it is what it is. I'm sure they have the reasons, like I said, and I'm sure their teams and themselves have decided the best for them."

David Popovici – Photo: Ian Thorpe presents David Popovici with the gold medal after the 200m freestyle at the Duna Arena – by Craig Lord
As things stand, the chances of Kolesnikov making it to Paris by 2024 are slim, a full withdrawal and reparations paid to Ukraine possibles for the list of obligatory outcomes before Putin and the Pariah State he runs have any chance of being accepted back into the international fold.
Popovici Summer Of Fast Freestyle Just Getting Started
Popovici's summer is just getting underway: after Budapest, he has the European Junior Championships at home in Romania, then the European Senior Championships in Rome, followed by World Junior Championships in his last season os eligibility. The year will then end at the World short-course Championships in Melbourne, the Covid pandemic and its impact on calendars and contracts having left the race schedule in chaos.
Or, opportunity to gain as much experience and take all challenges in their stride, for both student and mentor, as Radulescu sees it.
Popovici said: "I've still got three big major competitions this summer. And another one short course. A big one. Worlds in Melbourne. I can't wait for all of those, but for the moment I got to have a moment of rest and then, I don't know, work on little errors because not a race is perfect. And I'm just glad we have of course, we have a lot of room for improvement. And we want to come back stronger. "
Aussie mentor of mentors Bill Sweetenham once said: "No swimmer who just achieved a great result is ever truly surprised. They worked for that result, they planned for it, dedicated themselves top the process of improvement in lots of areas over time needed to put together the whole swim". Popovici confirmed that approach applied to him when asked if his results had come as a surprise: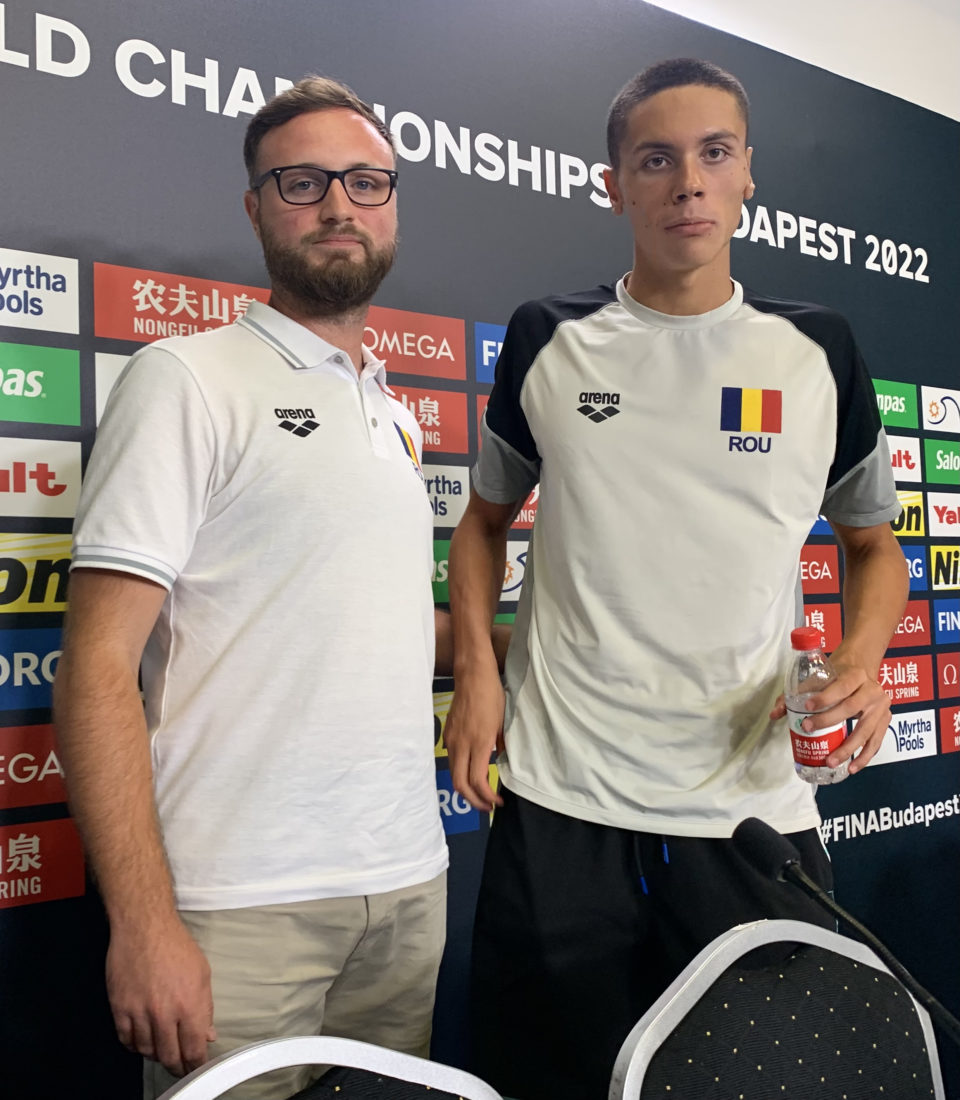 "We trained for the races. We trained for the times. I don't know if we thought necessarily of medals but we definitely thought of doing the race, the plan. And obviously they were competitive races and competitive times."

David Popovici – Photo – Adrian Radulescu, left, and David Popovici – by Craig Lord