Popovici 22.22 – Fastest 16-Yr-Old Dasher Ever On Way To Olympic Debut A David Among Goliaths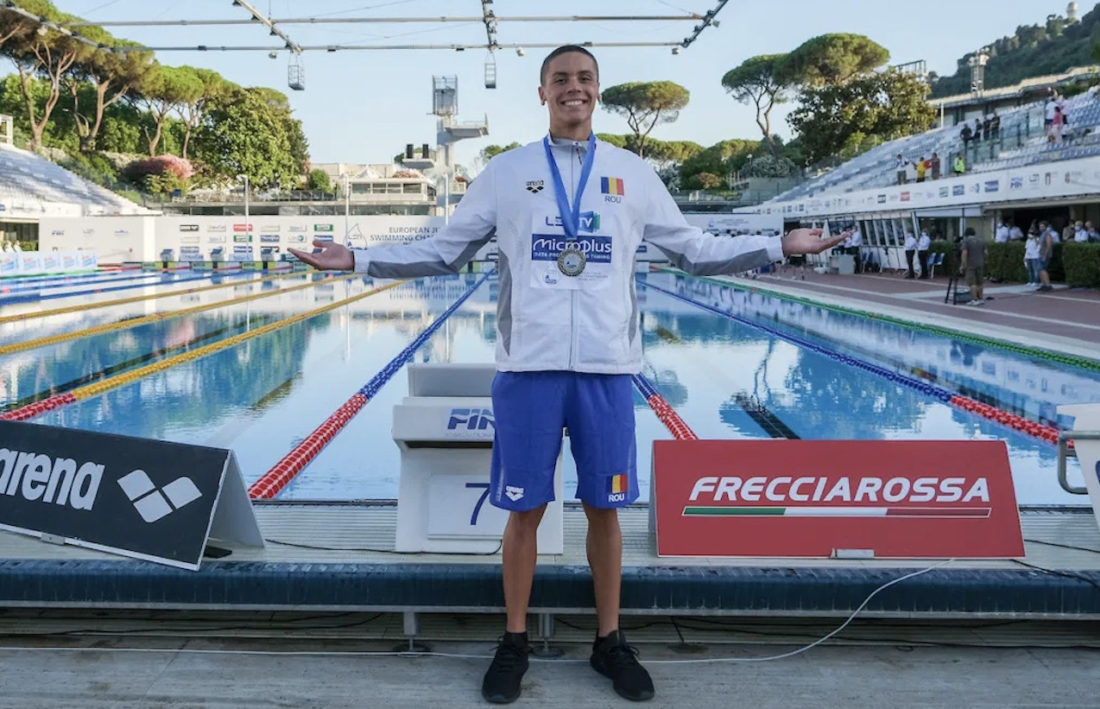 David Popovici will arrive in Tokyo for the Olympic Games sporting new career high bars of 22.22, 47.30 and 1:45.26 over 50, 100 and 200m freestyle respectively: excellent under any circumstances but at 16, sensational, his dash speed the swiftest ever by one so young.
On the final day of action at the European Junior Championships in Rome, Popovici collected his third freestyle sprint gold in 22.22, which apart from being a best time that compares to a personal bests of 22.74 in 2020, 23.03 in 2019 and 25.57 as a 13-year old in 2018, towers above the best at 16 of these giants of sprint, among others.
The Power Of Popovici
22.65 Ben Proud at 17
22.87 Alex Popov at 19
23.40 Gary Hall Jr. at 17
22.83 Florent Manaudou at 19
21.80 Anthony Ervin at 19 – Olympic gold, 2000 (23.28 at 17)
In Junior ranks, Popovici did not break the European youth nor championship mark: at 17 and two months, Germany's Artem Selin clocked 21.83 for the 2019 title. Where will Popovici – 17 in September – be by the time he races as a 17-year-old at the next European juniors… assuming he feels a need to.
Ervin, the Olympic champion of 2000 and then 2016 as the oldest swimming gold medallist among men in history, gives a hint of the potential longevity and pace gains ahead for Popovici.
At 22.22, Popovici was in a dash league of his own in Rome today, the podium completed by Russian Nikita Chernousov in 22.83, 0.09sec ahead of Israel's Martin Kartavi, who grabbed bronze by 0.02sec over two other challengers, Nikolas Antoniou, of Cypress, and Mykyta Kolesnikov, of Ukraine, both on 22.94.
Popovici was not the only triple triumpher on the day: Turkey's Merve Tuncel, who turned 16 at the start of the year, was a class apart on her way to a third distance freestyle gold in 4:06.25 over 400m freestyle, just shy of the 4:05.89 championship record set by Hungarian Ajna Késely in 2018.
Tuncel raced through splits of 59.22, 2:01.70, 3:04.29 and 4:06.25, good for the freestyle triple after her wins in the 800m and 1500m earlier in the meet in times that place her at the edge of contention for Olympic finals at Tokyo 2020 later this month. If she makes it, Tuncel will write new lines in Olympic swimming history.
Closest to her today was Hungarian Bettina Fabian, on 4:10.16 for silver, the bronze to Italian Giulia Vetrano, on 4:12.23.
Team Turkey has been on fire this week in Rome, Tuncel's success backed up by her male mates on distance freestyle, with Yigit Aslan and Mert Kilavuz making it a 1-2 Turkish delight in the 800m freestyle ion respective times of 7:51.20, a championship record, and 7:52.19.
Turkey, which some years ago entered into a consultancy arrangement with American coach Bob Bowman, in a deal brokered by FINA vice-president Dale Neuburger through his directorship of a company that has had several big partnership deals with the international federation, is not known for producing swimmers of that calibre. Now it is. Luca Di Tullio, younger brother of distance ace Marco, took bronze in 7:58.10.
The sole European Junior and Championship record on the last day was a swift 24.97 from Daria Tatarinova, of Russia, in the 50m free ahead of challengers who are respectively three and two years younger than her: Croatia's Janis Pavalic, on 25.35, and Britain's Eva Okaro, on 25.45. Pavalic just turned 14, while Okaro does not turn 15 until November.
Snap Reaction For Twins On Way To Historic Gold and Silver For Four-Titles Poland
Polish twins Krzysztof and Michal Chmielewski made history with a 1-2 finish in the 200m butterfly: they are the first siblings to take gold and silver in the same race in European Junior Championship history since the event was launched in 1967 (annual event since 1982).
The siblings, born on June 8, 2004 – in the year Otylia Jędrzejczak raced to Olympic gold in the 200m butterfly at Athens 2004 and silver medals in the 400m freestyle and 100mn butterfly – shared a reaction time of 0.61sec. Here's where the twins differed after that:
26.18 55.88 (29.70) 1:25.94 (30.06) 1:56.29 (30.35) Krzysztof
26.32 56.35 (30.03) 1:26.56 (30.21) 1:57.09 (30.53) Michal
The bronze went to Russian Vadim Klimenischev in 1:57.49.
Poland celebrated more gold when 100m back champion Ksawery Masiuk added the 200m title in 1:58.41 ahead of Turkey's Berke Saka, on 1:59.02, bronze to the leader for the first three lengths, Bulgarian Kaloyan Levterov, in 1:59.13.
In the women's e equivalent final, it was more Polish gold: Laura Bernat led from gun to fun aloft the podium in 2:10.14, her closest challenger double medley champion this week Katie Shanahan, of Britain, on 2:11.27, with Italian Erika Gaetani on 2:11.46 for bronze.
Poland were not done yet: in the championship curtain-closer, the men's 4x100m medley, Masiuk led the Polish quartet, with Chowaniec on the end, to victory over Russia, 3:37.46 to 3:39.30. The bronze went to Ukraine in 3:39.43.
In the women's 100m butterfly, Lana Pudar of Bosnia and Herzegovina took gold down the opening length, turning in 26.74 on her way to the sole sub-58sec in the race, a 57.56. Russia's Daria Klepikova returned in 30.63 but that left her half a second shy of gold, a 58.07 her silver lining ahead of teammate Anastasia Markova, on 58.73 for bronze.
Germany's Cedric Buessing raced as a role model for caution when calling medley races: 8th after 'fly, he was 4th after backstroke, then second going into freestyle and still second at the last turn. Momentum was with him and a 27.90 blast left him with gold by a comfortable margin, on 4:17.40.
The Czech challenger who had set the pace from half-way to the last turn, Jakub Bursa, took silver in 4:19.20, the podium completed by Artem Vortobev, of Russia, in 4:20.21, with Israel's Eytan Ben Shitrit and Hungarian race leader to the 200m mark, Zalan Sarkany close on 4:21s.
The youngest swimmer among those with a shot at making an Olympic final at Tokyo 2020 at the end of the month, Eneli Jefimova, who will only turn 15 a few days before the end of the year, claimed gold in the 100m breaststroke. The Estonian teen clocked 1:07.24 to grab victory from Elena Bogomolova by 0.01sec in the closing stroke after having made up a 0.83sec deficit to the Russian at half-way. Their homecoming splits settled the argument: 35.21 for Jefimova, who has a 1:06 best, and 36.05 for Bogomolova. The bronze went to Poland's Karolina Piechowicz in 1:08.93.
The championships came to a close with the medley relays, Poland's men denying Russia but Russian women on 4:02.72 to hold off France, 4:03.69, and Britain, on. 4:07.49, the quartet led by Katie Shanahan, who returns home with golds in the 200 and 200m medley atop a six-medal haul.