Poggio Pips Martinenghi As Ceccon Cruises Through To World-Title Defence In Fukuoka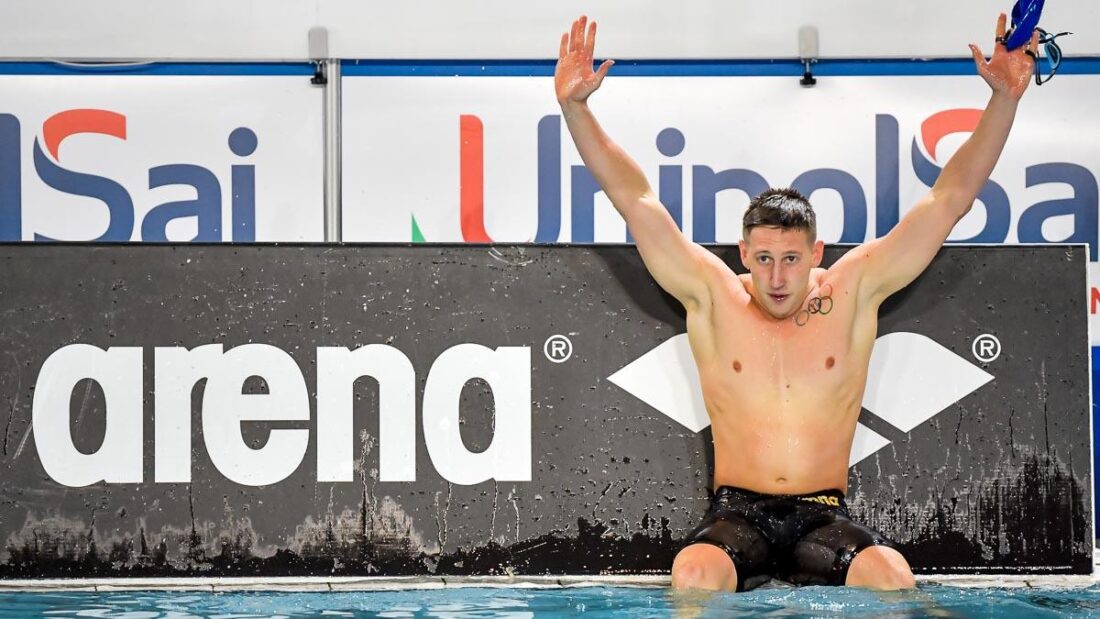 Federico Poggio delivered the upset of the Italian Championships on day 2 of action in Riccione when he clocked a 58.73 best to take the automatic berth for the World Championships ahead of a 59.06 from World and European champion of 2022 Nicolò Martinenghi.
Poggio, of Fiamme Azzurre/Imolanuoto, and Martinenghi had a time target of 58.98. Martinenghi will doubtless be on the plane to Fukuoka for the defence of his crown in July but this day belonged to Poggio.
He was one of only two automatic qualifiers (first to the wall inside the tough cut on the clock) for World titles today, taking the total assured a place on the Italian squad to eight, after six made it on day 1.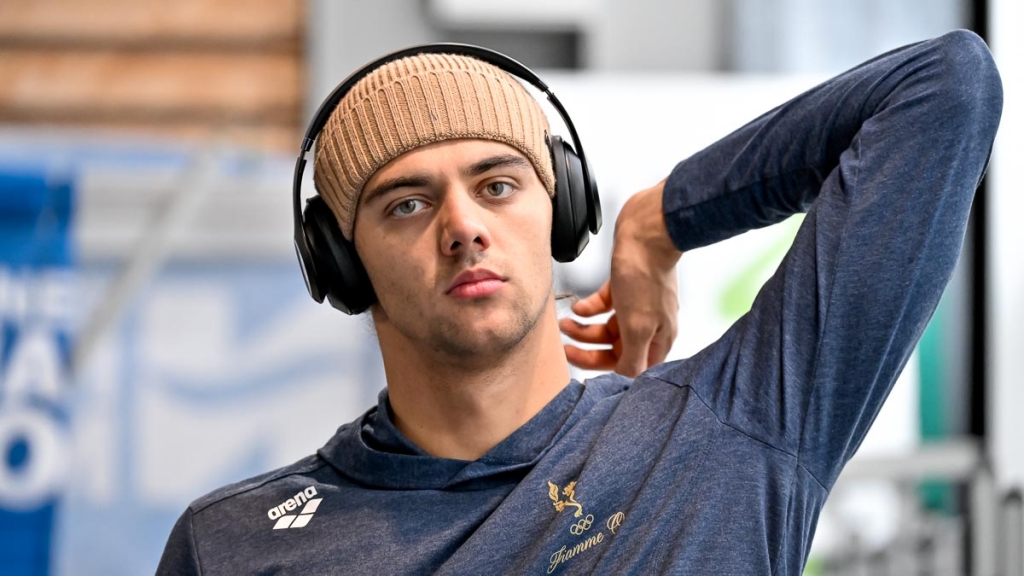 Thomas Ceccon, who claimed two golds and a bronze at World Championships in Budapest and four golds and two silvers at European titles last year, was the first qualifier on day 2 with a 53.36 dominant blast in the 100m backstroke. That's the crown he will now defend in Japan this July.
Poggio and Ceccon Top Day 2 in Riccione
50 back Junior W
1. Benedetta Boscaro (Team Veneto) 29″55
2. Martina Zanet (Team Veneto) 26″91
3. Chiara Lamann (Aurelia Nuoto) 26″68

50 back W
1. Silvia Scalia (Fiamme Gialle/CC Aniene) 28″04
2. Costanza Cocconcelli (Fiamme Gialler/Azzurra 91) 28″19
3. Federica Toma (Carabinieri/IN Sport Rane Rosse) 28″33

50 'fly Junior M
1. Daniele Momoni (Aurelia Nuoto) 24″51
2. Andrea Candela (Canottieri Tevere Remo) 24″59
3. Alfonso Della Morte (Time Limit) 24″64

50 'fly M
1. Federico Burdisso (Esercito/Aurelia Nuoto) 23″52
2. Christian Ferraro (Mongtebelluna Nuoto) 23″68
3. Giovanni Izzo (Imolanuoto) 23″83

100 fly junior W
1. Alice Dimaggio (Olimpica Salentina) 1'00″72
2. Camilla Pica (Aurelia Nuoto) 1'01″58
2. Caterina Santambrogio (Nuoto Club Seregno) 1'01″65

100 'fly W
1. Ilaria Bianchi (Fiamme Azzurre(Azzurra 91) 58″45
2. Viola Scotto Di Carlo (Napoli Nuoto) 58″84 pp (precedente 59″51 4/08/21 Roma)
3. Giulia D'Innocenzo (Carabinieri/CC Aniene) 58″94

100 back junior M
1. Davide Lazzari (Sport Club 12 Ispra) 56″88
2. Jacopo Barbotti (Amaga Sport Legnano) 57″11
3. Daniele Rosa (Aquatic Center) 57″24

100 back M
1. Thomas Ceccon (Fiamme Oro/Leosport) 53″36 qualificato per Fukuoka 2023
2. Michele Lamberti (Fiamme Gialle/GAM Team Brescia) 54″52
3. Lorenzo Mora (Fiamme Rosse/Amici Nuoto VVFF Modena) 54″75

200 breaststroke junior W
1. Clarissa Savoldi (GAM Team Brescia) 2'33″89
2. Giorgia Crepaldi (Libertas Nuoto Novara) 2'33″98
3. Elisa Branca (AMGA Sport Legnano) 2'35″42

200 breaststroke W
1. Martina Carraro (Fiamme Azzurre) 2'24″22
2. Lisa Angiolini (Carabinieri/Virtus Buonconvento) 2'25″65
3. Sara Franceschi (Fiamme Gialle/Livorno Aquatics) 2'25″73 pp (precedente 2'24″86 17/03/23 Firenze) 

100 breaststroke junior M
1. Christian Mantegazza (Team Trezzo Sport) 1'02″69
2. Tommaso Grandini (Nuotatori Milanesi) 1'02″99
3. Alessandro Giamberini (Tedam Insubrika) 1'03″19
100 breaststroke M
1. Federico Poggi (Fiamme Azzurre/Imolanuoto) 58″73 pp (precedente 58″98) qualificato per Fukuoka 2023
2. Nicolò Martinenghi (CC Aniene) 59″06 qualificato per Fukuoka 2023
3. Simone Cerasuolo (Fiamme Oro/Imolanuoto) 1'00″10
200 freestyle junior W
1. Chiara Sama (Rinascita Team Romagna) 2'03″07
2. Aurora Zanin (Nottoli Nuoto 74) 2'03″15
3. Emma Giannelli (RN Florentia) 2'03″76
200 freestyle W
1. Simona Quadarella (CC Aniene) 1'59″41
2. Matilde Biagiotti (Fiamme Oro/RN Florentia) 2'00″00
3. Giulia Vetrano (RN Torino) 2'00″24
4×200 free M
1. Circolo Canottieri Aniene 7'15″10
Marco De Tullio 1'47″61, Filippo Bertoni 1'48″20, Mattia Mosconi 1'49″67, Pietro Paolo Sarpe 1'49″62
2. Centro Sportivo Esercito 7'17″11
3. Gruppo Sportivo Fiamme Oro 7'17″89
Results in full