Pioneer David Popovici Unleashes Fastest 200m Free Swim Ever – 1:42.97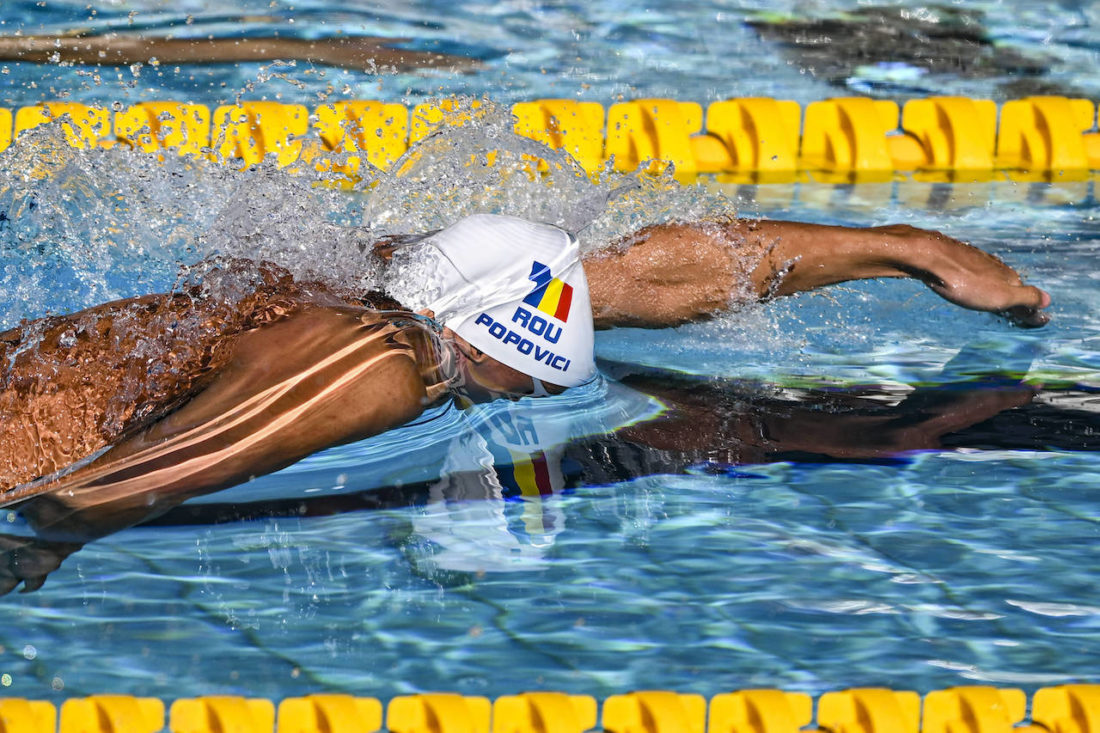 David Popovici, the 17-year-old Romanian sensation who cracked the 100m World record in a blistering 46.86sec last Saturday, is the fastest swimmer ever seen over 200m freestyle, the European crown his in 1:42.97, the first textile-suit sub-1:43 is history.
World and European Junior records fell, the time is also a Championship record but not "the" ultimate standard.
What he had to say: In The Calm Beyond The 1:46.9 Storm, Stoic David Popovici Says "Crazy Swim … Really Killed Me – All Part Of The Experience"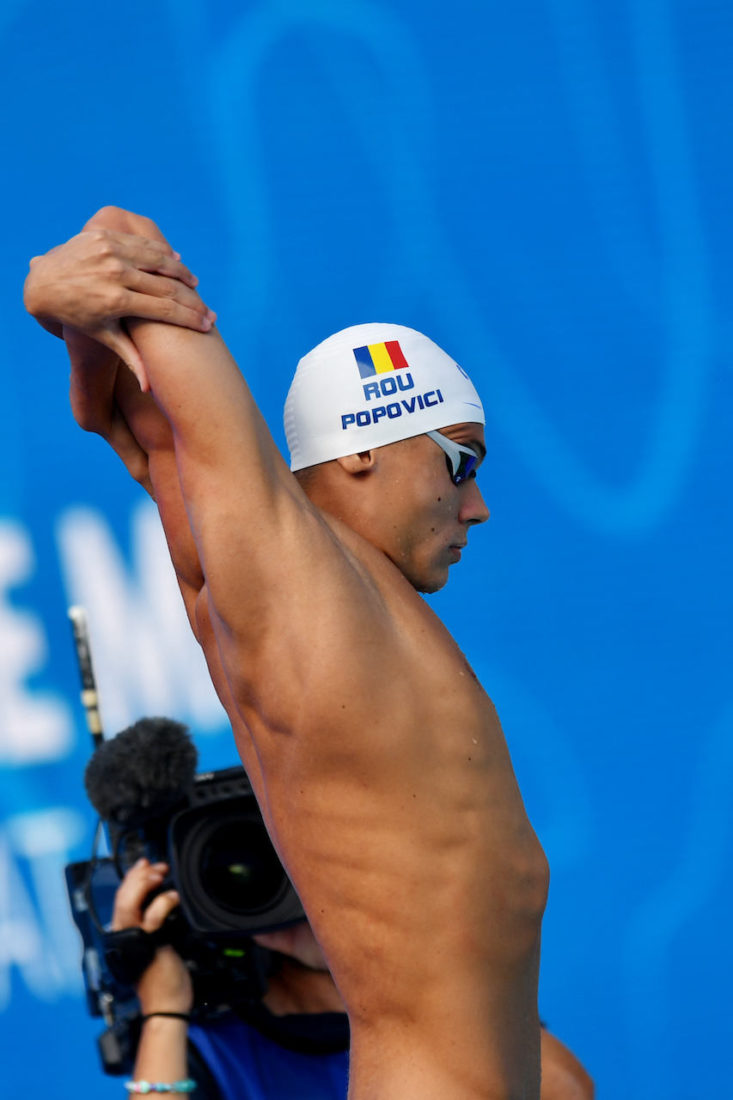 The otherworldly 1:42.00 shiny suited world record will take longer, as Popovici predicted, but Frenchman Yannick Agnel's stunning 1:43.14 victory for London 2012 Olympic gold is now second-swiftest in circumstances where the swimmer and swimming are in full control of the pace.
Popovici had understood that when Paul Biedermann, of Germany, clocked 1:42.00 for the 2009 World title in the same Stadio del Nuoto here in Rome, and when Michael Phelps, of the USA, clocked 1:42.96 for one of his record eight Olympic golds at Beijing 2008, they had varying degrees of assistance from non-textile suits that changed angles of buoyancy, reduced fatigue and allowed swimmers to drop crushing times down home-coming lengths. On the eve of the championships, Popovici called the 2009 race "weird".
For Biedermann, in 100% Polyurethane at the shiny suits circus in 2009 – when 43 World records tumbled in eight days of farcical, assisted speed – that meant a last lap of 25.70. That remains the split to beat, the Romanian schoolboy on 26.01, an effort that sent spray flying off the tips of fingers and elbows up into the sunlit air over waters that have been graced with far more than those 43 World records down the decades.
Today in Rome, Popovici was down on his best pace over the first three lengths but then unleashed a maelstrom of technically brilliant, flowing freestyle to nail the first unassisted sub-1:43sec 200m freestyle in history (see more own the race and the moment below).
The significant splits compared:
Textile
1:42.97 – 24.10; 50.36 (26.26) 1:16.96 (26.60) 1:42.97 (26.01) David Popovici ROU 2022
1:43.14 – 24.55, 50.64 (26.09) 1:17.16 (26.52) 1:43.14 (25.98) Yannick Agnel FRA 2012
1:43.21 – 23.77; 49.96 (26.19) 1:16.27 (26.31) 1:43.21 (26.94) David Popovici ROM 2022
1:44.06 – 24.81, 51.45 (26.64) 1:18.26 (26.81) 1:44.06 (25.80) Ian Thorpe AUS 2001
1:43.86 – 24.47, 51.00 (26.53) 1:17.73 (26.73) 1:43.86 (26.13) Michael Phelps USA 2007
Non-textile
1:42.00 – 24.23, 50.12 (25.79) 1:16.30 (26.18) 1:42.00 (25.70) Paul Biedermann GER 2009
1:42.96 – 24.31, 50.29 (25.98) 1:16.84 (26.55) 1:42.96 (26.12) Michael Phelps USA 2008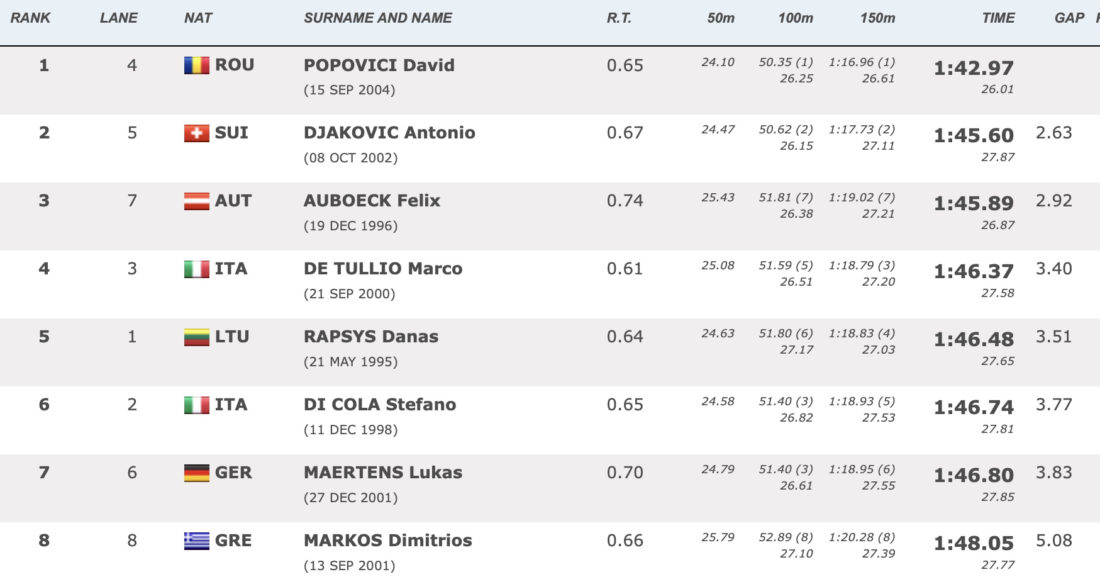 Where Popovici First Into The All-Time Textile Giants Of 200 Free
1:42.97 Popovici, David, ROU, 2022 European title
1:43.14 Agnel, Yannick, FRA, 2012 Olympic title
1:43.21 Popovici, David, ROU, 2022 World title
1:43.86 Phelps, Michael, USA, 2007 World title
1:44.06 Thorpe, Ian, AUS, 2001 World title
1:44.20 Agnel, Yannick, FRA, 2013 Olympic title
1:44.22 Dean, Tom, GBR, 2021 Olympic title
1:44.26 Scott, Duncan, GBR, 2021 Olympic silver
Top 3 all-time including shiny suits 2008-2009, Popovici On the Tale Of Phelps '08:
1:42.00 Biedermann, Paul, GER, 2009
1:42.96 Phelps, Michael, USA, 2008
1:42.97 Popovici, David, ROU, 2022 European title
David & The Goliaths Of Four Laps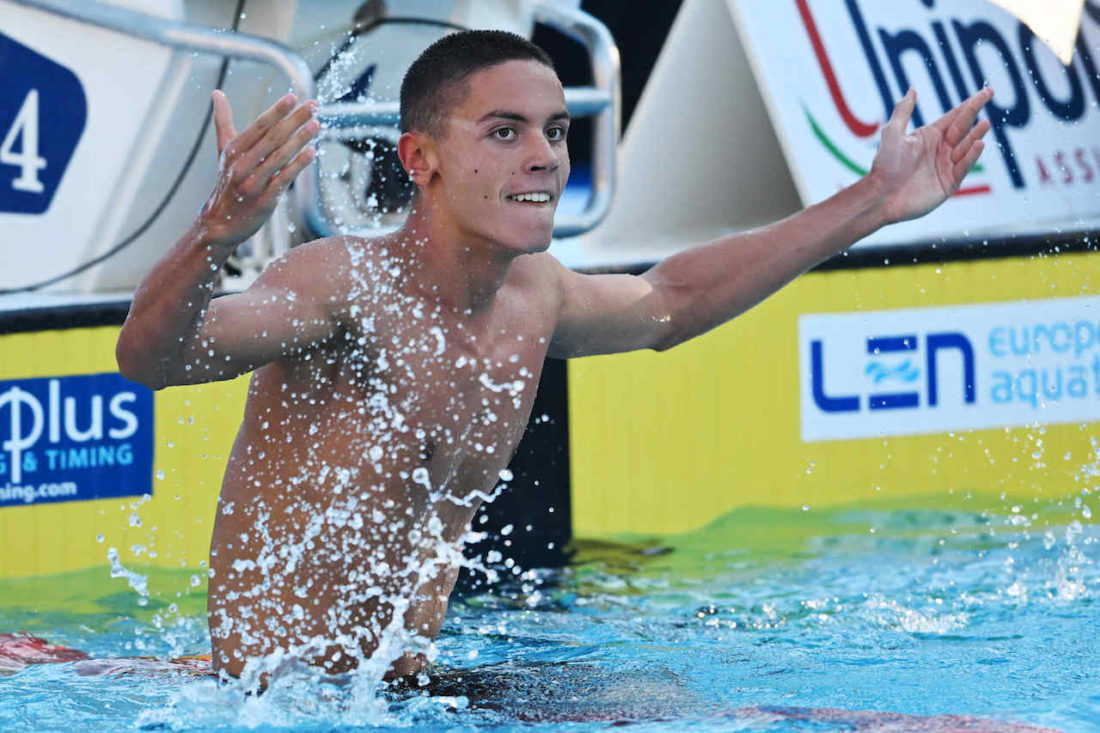 Worth repeating: In 1mins 42.97 over four lengths of the Olympic pool at the Stadio del Nuoto in Rome, the dextrous, lanky, flexible and technically brilliant Popovici whistled past the 1:43.14 textile-suit standard set by Yannick Agnel when he claimed the London 2012 Olympic title for France. Sinking in.
In one summer at 17, the Bucharest schoolboy has swept aside the other four who had set the all-time pace over 200m freestyle in textile: giants of the sport Michael Phelps (1:43.86 in 2007, then 1:42.96 in a LZR, and no, we will never truly know the answer to the obvious question on how much of an aid, and where would have been without it by the summer of 2008?) and Ian Thorpe (1:44.06 in 2001 in a textile bodysuit, snap on the obvious questions; we will never truly know).
Their respective best textile times from 2007 and 2001 still have the edge on the next two in the top five best ever: Britain's Olympic gold and silver medallists from Tokyo, Tom Dean and Duncan Scott, who were split by 0.04sec on 1:44.22 and 1:44.26 last year.
In that Tokyo tussle, Popovici, then 16, missed the medals by 0.02sec but it was clear that swimming was looking at a superstar being born.
Popovici set the pace from go to gold here in Rome but it was the speed he mustered down the last length that highlighted how far the Bucharest schoolboy is ahead of the curve of his contemporaries. One swimmer was still within a second of him and six others within two seconds of him. By the time the Romanian watched the rest roll home, he was 2.63sec clear of silver and the 1:45.60 of Antonio Djokovic, of Switzerland, and 2.92 ahead of bronze and the and 1:45.89 of Felix Aubock, Austria's Loughborough-based ace and the only connection to Britain in the battle. The rest were left trailing in a bygone world between 3.4 and 5.08 seconds back.
And yet, at 26.01sec down the last length, just 0.06sec shy of Adam Peaty's blistering one-length, 50m breaststroke, World record, from a dive, Popovici was still 0.31sec slower than a quirk of the sport that makes the Romanian the fastest swimmer ever but his time a World textile-suit best not a World record.
Biedermann, 1:42.00, a year after Phelps swam 1:42.96. Biedermann, a second inside the height of Phelps a year after the German had been forced top race at the Beijing Olympic Games at a disadvantage as one of those who had no access to the Speedo LZR that FINA – or perhaps a couple of blokes and a bucket of water, as the metaphorical tale goes – approved without understanding.
It was all enough to set a date for a ban on the lot of it. Both efforts, Phelps' and Biedermann's were swum with varying degrees of artificial assistance: not their fault but the story of their sport they were left to cope with in different ways and with different outcomes at different moments.
Popovici was only five years old when 43 World records were set here at the Stadio del Nuoto in Rome in 2009 after a decision to ban the imposter suits I dubbed "shiny" because of their balloon-like sheen and propensity to burst and split when snagged by a fingernail. The suits, banned since January 1, 2020, changed angles of buoyancy, reduced fatigue and allowed swimmers to drop crushing times down home-coming lengths.
Strip the shiny out and we see Popovici for what he is: the speediest 100 and 200m freestyle 'swimmer' in history, travelling over a second faster than Dean and Scott a year after he finished fourth in the Olympic 200m final behind them and just 0.02sec shy of the podium.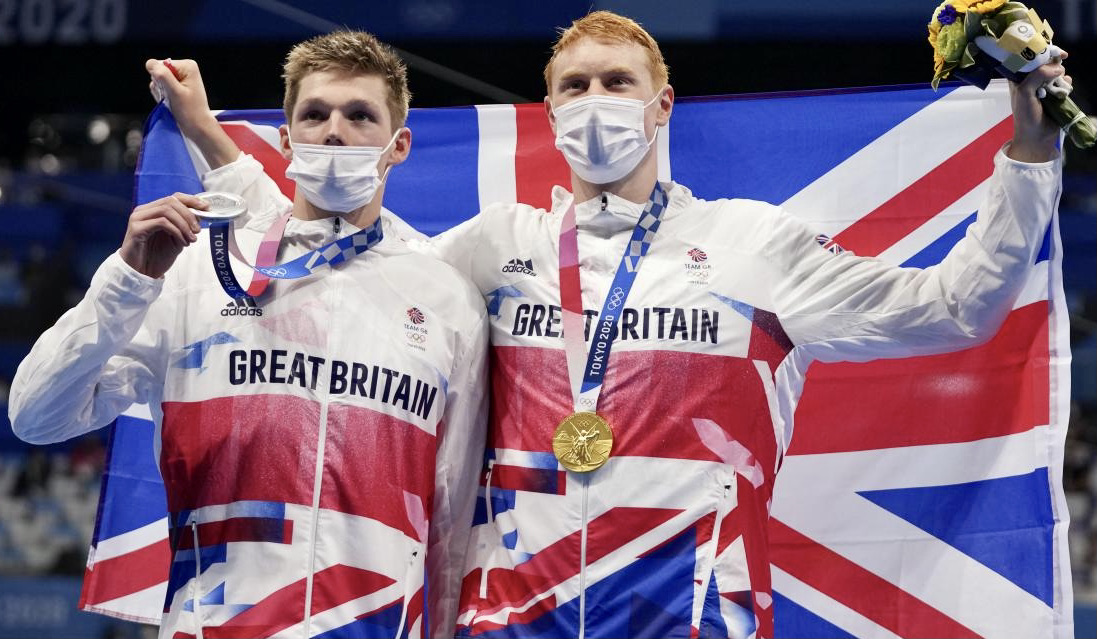 How to respond? How do any of them respond. Dean has already been taking tips from the Britain teammate who has been the Popovici-plus of breaststroke swimming since 2014: Adam Peaty.
"On the way to Paris and the defence of the 200m title, I wanted to know more about Adam's mentality, his approach to his own successful defence of the 100m breaststroke title in Tokyo. What came across was that he doesn't put any limits on himself."
After finishing third behind Popovici and a 1min 43.21 World title in June just shy of Agnel's 2012 peak, Dean said he did not think "we would see that kind of place for a few years yet". Popovici has change the game, set a new high bar that all must get over to stand a chance of coping with a phenomenon.
"But that's the point says Dean, who last night added a silver to his own collection with teammates Matt Richards, Anna Hopkin and Freya Anderson in the Mixed 4x100m freestyle relay behind behind France. "In Britain, we've kind of seen 'Olympic champion' as the ceiling. It gets capped there. Even within the sport in TeamGB were asking 'surely he can't do that again' after he won in Rio – and then he goes and breaks the world record again, then goes and wins another World title, keeps the whole world at bay time and again.
"It's that relentless ability to stay sharp and stay competitive that the greats of sport, the Phelps', the Thorpe's, the Peaty's, are able to find again and again and again."
And the Popovici's, perhaps.
Says Dean: "No-one has ever successfully defended an Olympic 200m freestyle title. It's never been done before, and that's a great source of motivation for me. We have a chance to write our names in the history books, so what are we going to do about it? I'm going to make sure I work as hard as I possibly can of in the next 24 months into Paris and I'll try to put my neck on the line and know I could have done no more. It's that focus on not putting a limit on what I'm capable of that I've taken away from from my chats with Adam."
The very essence of sport. Come. What. May.
Popovici A Tale Of Two Summers & Where They Came From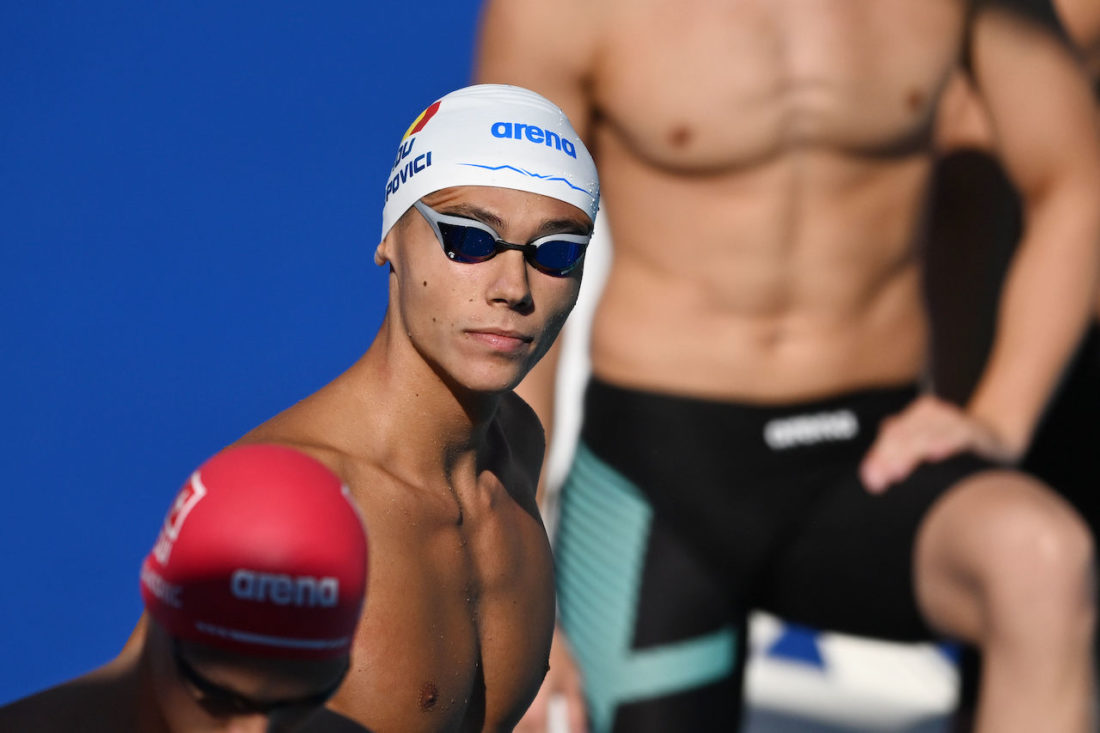 The home team and performance pathway of a pioneer:
The performances:
Questions of Balance & Progress: