Pilot Open Category To Be Tested In 50 & 100 races At Berlin World Cup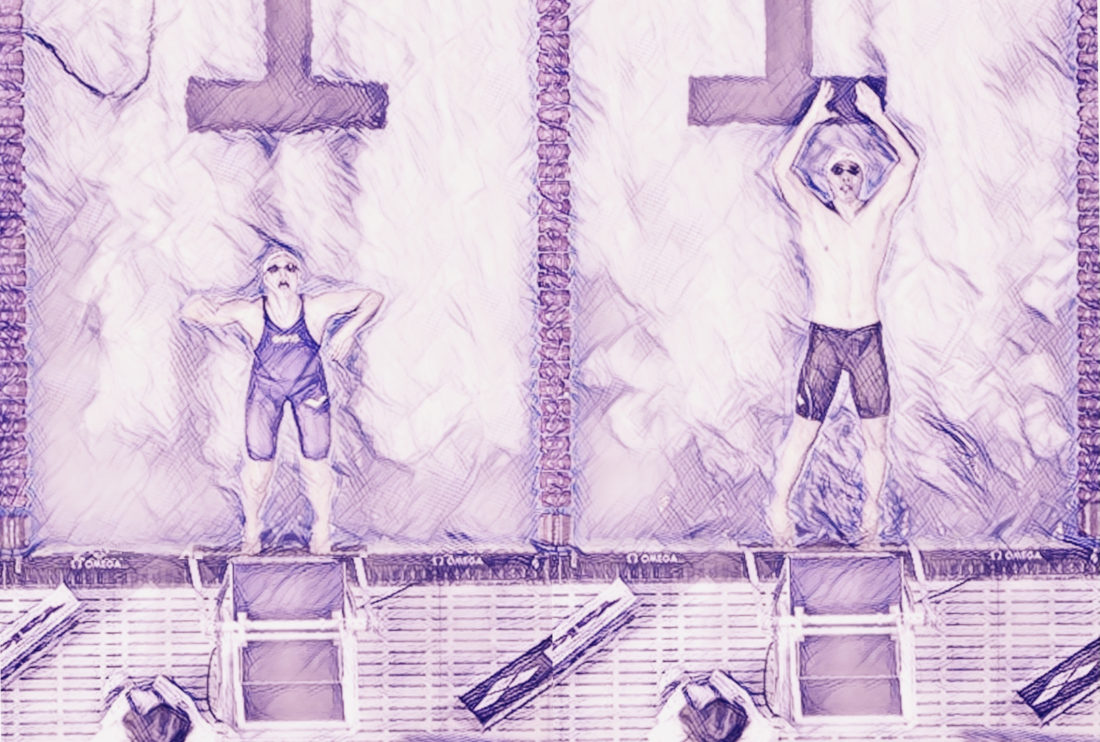 World Aquatics, the global regulator that introduced rules in June 2022 aimed at ring-fencing women's sport for females in June 2022, will test a new Open category at the Berlin round of swimming's World Cup in October.
Eligibility for the pilot reported by SOS last month requires athletes to be registered with their national federation, with races of 50 and 100m open to all swimmers who wish to avail themselves of "the flexibility to participate individually, for their club, team or as national federation members" (statement in full below).
The Open category will include any transgender athletes who wish to participate but appears to be open to any athlete. Those interested need to email World Aquatics at opencategory@worldaquatics.com for further information and details of the registration process for a pilot scheme aimed at deciding what an Open category in the sport will eventually look like.
That category is part of World Aquatics "unwavering commitment to inclusivity, welcoming swimmers of all sex and gender identities". It is not clear if the Open section will be one category or divided by identity or even included the controversial "non-binary" definition.
The latter is an important question if the Open category is to avoid being labelled as one that grants mediocre biological males more chances than biological females in sport. It is unlikely that swimming will create races for athletes who identify as "non-binary", given the huge significance in the sport of the binary nature of sex.
Some sport-event organisers, marathons a case in point, have opted to introduce a "non-binary" category for those who don't wish to identify exclusively as male or female, even though their biology cannot be changed and males, however they wish to identify, have a clear and unfair advantage over females, however they wish to identify.
In June 2022, World Aquatics (then FINA before a December 2022 rebranding) announced that exploration into a new Open category would begin after it voted to ring-fence the women's category for females by excluding any athlete who had experienced Tanner Stage 2 male puberty. Many of the advantages that males have over females because of testosterone-driven development are irreversible, regardless of identity and T-reduction therapy.
Despite Rugby's pioneering stance in 2020 and similar protection of the women's category for females in Aquatics, Athletics and Cycling since, many sports continue to discriminate against women, powerlifting in Canada a prime example in the past week:
Junior rowing also came under fire this week over its policies but gave Dr. Emma Hilton, a biologist and founder member of SexMatters.Org a chance to respond:
Some further reading on the theme:
Male Puberty Rules Out Access To Female Racing As FINA 'Gold-Standard' Policy Safeguards Fair Play For Women & Creates Open Category For Transgender Athletes
Unfair Play Out Today – Why Males Don't Belong in Female Sport
Time For IOC To Renew Its Vows With Sex-Based Sport & End Sorority Struggle For Fair Play
World Cycling Joins Aquatics & Athletics: No Ticket To Female Races For Post-Puberty Males
World Athletics Bars Males From Female Category (Restricted Access For DSDs)
Fond Of Women's Sport: Dr. Emma Hilton & The Science That Shows Why Biological Sex Not Gender Choice Says Who Swims As Man Or Woman
Tucker & The Fallacy Of "T" When It Comes To Reasons Why Transgender Athletes Don't Belong In Women's Sport
Nancy Hogshead-Makar To Trans Champion Lia Thomas: 'Sports Not Based On Identity But Biology … Advantages Of Male Puberty Cannot Be Rolled Back – It Isn't Fair"
The World Aquatics Statement On the Open Category in Full:
The forthcoming World Aquatics Swimming World Cup 2023 event in Berlin, scheduled for 6-8 October, will include the debut of the World Aquatics open category. This pioneering pilot project highlights the organisation's unwavering commitment to inclusivity, welcoming swimmers of all sex and gender identities.
The open category will spotlight races in the 50m and 100m distances across all strokes, with the possibility of introducing additional events. All competitions will take place in a 50m pool, adhering to international standards. Participants in the open category will compete over two days in timed finals. To be eligible, swimmers need an affiliation with a national federation and will be given the flexibility to participate individually, for their club, team or as national federation members.
Detailed entry requirements and entry times and process information will be available soon. For this inaugural event, the emphasis is on gaining further experience for future development and celebrating diversity.
"When World Aquatics instituted its Policy on Eligibility for the Men's and Women's Competition Categories, we committed to exploring the creation of an open category," said World Aquatics President Husain Al-Musallam. "True to our word, a team of experts has diligently worked to make this a reality. I would like to thank all those who have helped World Aquatics to deliver this opportunity."
Deutscher Schwimm-Verband Vice President, Kai Morgenroth, expressed his enthusiasm, stating: "Berlin is thrilled to champion this groundbreaking initiative with the full endorsement of the German Swimming Federation. We're proud to host an event where swimmers can compete without barriers. Berlin is Germany's hub for diversity and inclusion and therefore the perfect location for such a progressive project."
Held across three days, the Berlin Swimming World Cup promises a stellar lineup, featuring many top performers from the recent World Aquatics Championships in Fukuoka 2023. Moreover, it serves as a pivotal stepping stone towards the World Aquatics Championships in Doha 2024 and the Paris 2024 Olympic Games.
For further details, registration information, and more, please reach out to the World Aquatics team at: opencategory@worldaquatics.com.