Pigree A French Pioneer; Steenbergen Takes Gold No4 & Italy's Men Romp Home To Another Roman Roar In 4×100 Free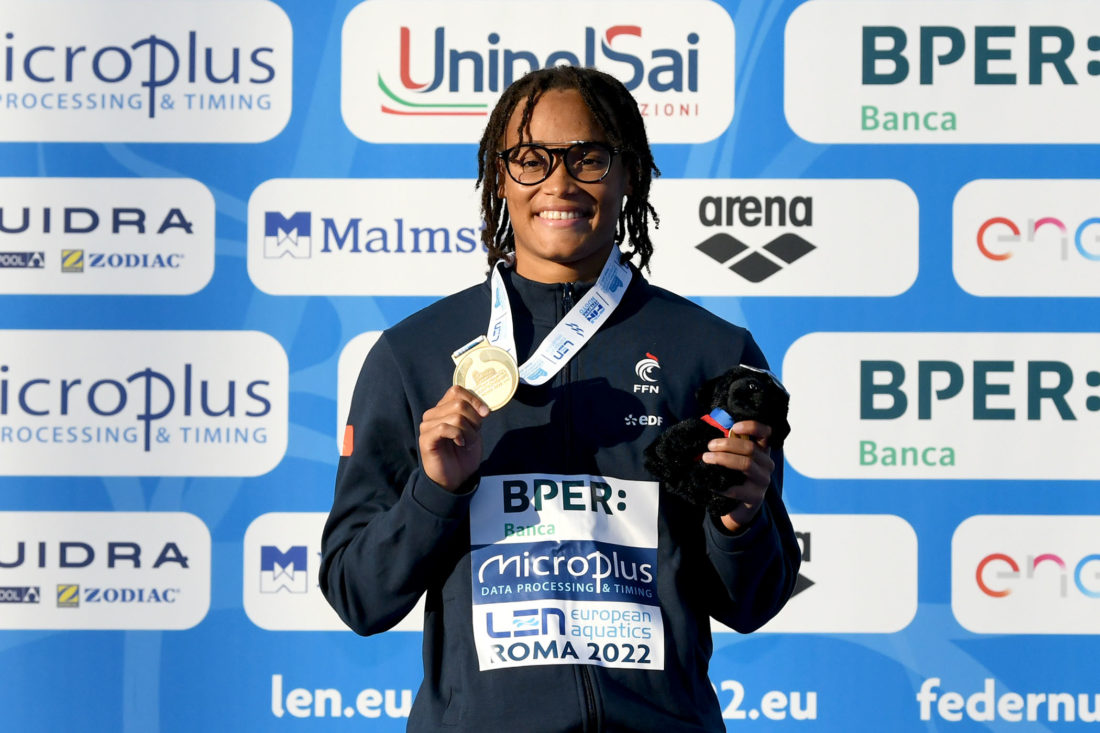 Each passing race writes several lines in history at the European Championships here in Rome, day 4 witnessing a French first when Analia Pigree took gold in the 50m backstroke, a fourth gold for Marrit Steenbergen in a tight fight with Britain's Freya Anderson, and the Italian men claimed the 4x100m freestyle crown ahead of Hungary and her splitter of the day, Kristof Milak, who had earlier retained the 100m butterfly title.
Britain's James Wilby produced the golden thriller of the session as an outside smoker in the 200m breaststroke.
Women's 50m backstroke – Analia Pigree, 1st Gold & Medal For France
Analia Pigree kept French backstroke fortunes rolling with a dominant 27.27 victory over Italy's Silvia Scalia, 27.53, and, only 0.01sec away, the first of two Dutch challengers, Maaike de Waard, on 27.54. Fourth went to Dutch defender Kira Toussaint in 27.73.

A day after Yohann Ndoye Brouard became the first Frenchman to claim the 200m backstroke title, 21-year-old Pigree, who made the Worlds podium with bronze back in June in Budapest, cut 0.13sec off her best time to become the first Frenchwoman not only to claim gold but a medal of any hue since the backstroke dash was added to the program in 1999.
"I'm absolutely happy," Pigree said. "I'm in shock. This is my best time. I wanted to take the first place and I did what I had to do. I beat the French record. When I was preparing, I had good feelings and I said: 'Why not?' It's my first long-course championships and my first medal, and this gives me strong motivation to carry on."
Next up for Pigree, the 100m backstroke, the event she is targeting for Olympic selection to a home Olympics at Paris 2024.
Women's 200m freestyle – Steenbergen Pips Anderson For Her Fourth Gold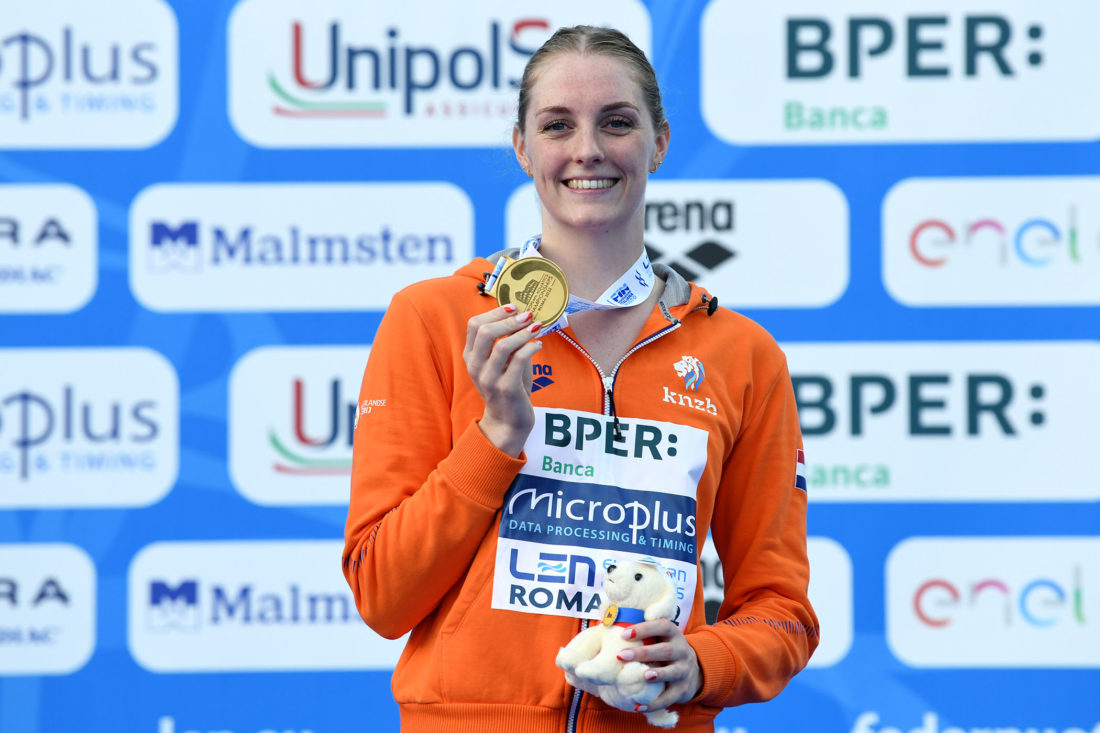 Marrit Steenbergen continued to race her way out of the shadow of retired Dutch sprint aces Ranomi Kromowidjojo and Femke Heemskerk with a fourth gold of the championships, this one in a tight tussle with Britain's Freya Anderson.
Steenbergen clocked 1:56.36 with Anderson a hand away on 1:56.52 and Germany's Isabel Gose completing the podium in 1:57.09.
"It's a tough week for me, swimming almost all day, all night," Steenbergen said. "I cannot beleive that I swam a personal best in this race, so I cannot describe properly my feelings right now. It was an amazing race, a crazy one, very fast with an amazing swim. I'm extremely happy. This is a PB and a gold. What else do you need?"
Anderson, racing at her third international in seven weeks, said: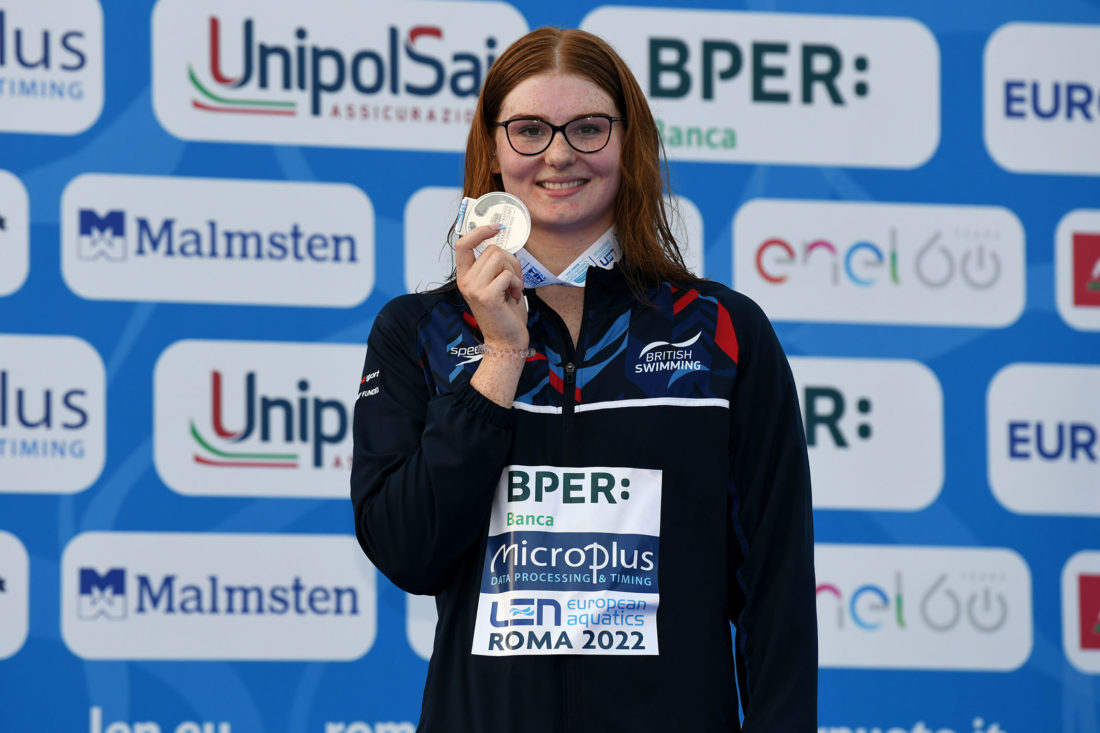 "The body is very sore right now. I cannot complain with a medal, I'd have loved to have won gold but it's the third meet this season and I can't complain at that. I've been learning a lot every time I race, learning how to manage the physical and emotional energies surrounding meets. I've got a lot in my back pocket to take forward from here."

Freya Anderson (image courtesy of LEN)

Men's 4x100m freestyle – Italy Dominates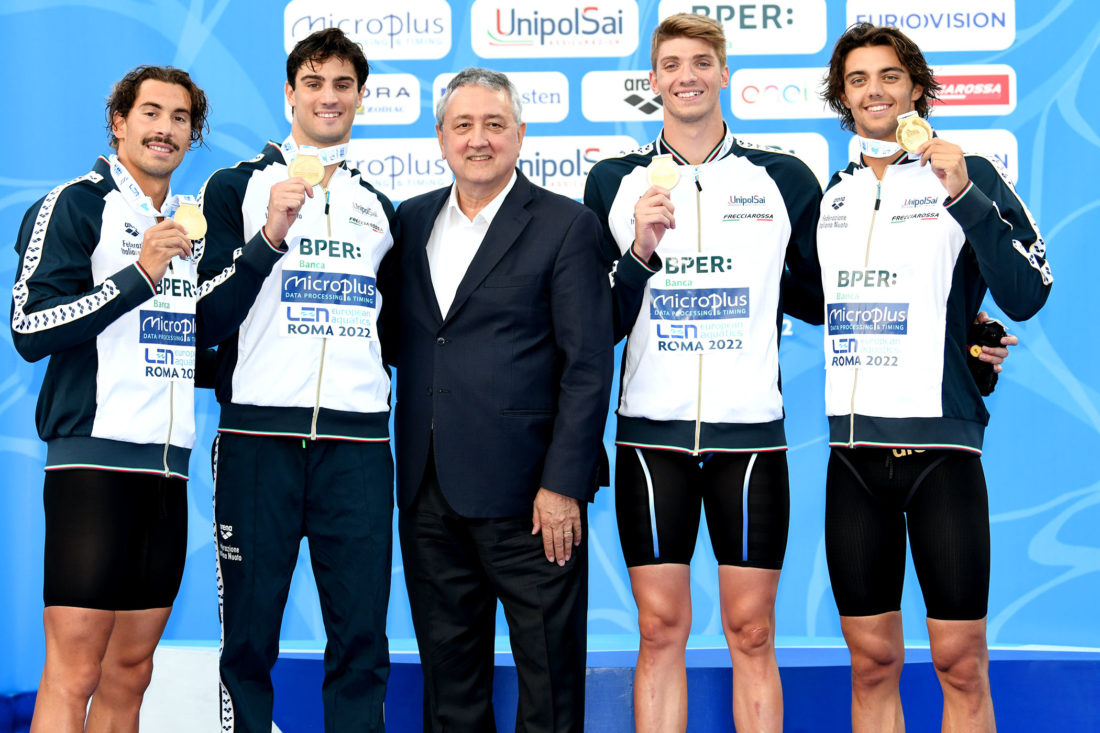 Italy took yet another relay gold at home in Rome, Manuel Frigo anchoring in 47.26, the second-fastest of the field, after Kristof Milak, for Hungary, with a 47.24.
Alessandro Miressi (47.76), Thomas Ceccon (47.88), Lorenzo Zazzeri (47.60) and Frigo were ahead at the halfway stage, a lead they extended to win gold by a fine margin in 3:10.50. The Stadio del Nuoto rocked to the roar of the Roman crown once more.
Milak entered the fray last for Hungary for his third challenge of the session and in third overall behind Britain. He and Britain's Ed Mildred fought hard for the spoils behind the Italians, Hungary – with Nandor Nemeth, Szebasztian Szabo and Daniel Meszaros – taking silver in 3:12.43,. Britain – with Jacob Whittle, Matt Richards, Tom Dean and Mildred – third in 3:12.70. Closest was France but a DQ for a takeover too fast knocked them out of the result altogether.
For Italy, it was gold number 3 in history, after wins in 2004 and 2006, and the sixth successive podium finish at the European showcase. In Budapest last year, an event shunted forward a year by the Covid pandemic, the Italians claimed bronze behind Russian gold ahead of a blanket ban on that country as part of sanctions imposed over Putin's illegal war on the sovereign country of Ukraine.
Miressi, who led the team off in 47.76, said: "I'm happy, our time was a bit better at the World Championships. Still, it's close to our best time. Not all of us were in their best shape but we all did well. Our task to finish first, as we are at home, and we just made it."
Milak had mixed feelings about his triple challenge.
Dean said: "We are so happy with this medal, this is a long summer for us. We had the Worlds, the Commonwealths and now these Europeans but it's great to have this medal and I'm proud of how the team performed today. I really enjoyed myself out there, I'm really glad with the season we have had as a team. We keep on winning medals almost every day and especially today, when Freya (Anderson) claimed another individual medal (silver in the 200 free)."