Pernille Blume Cuts A Dash In Marseille As Yohann Ndoye Brouard Makes It A Backstroke Triple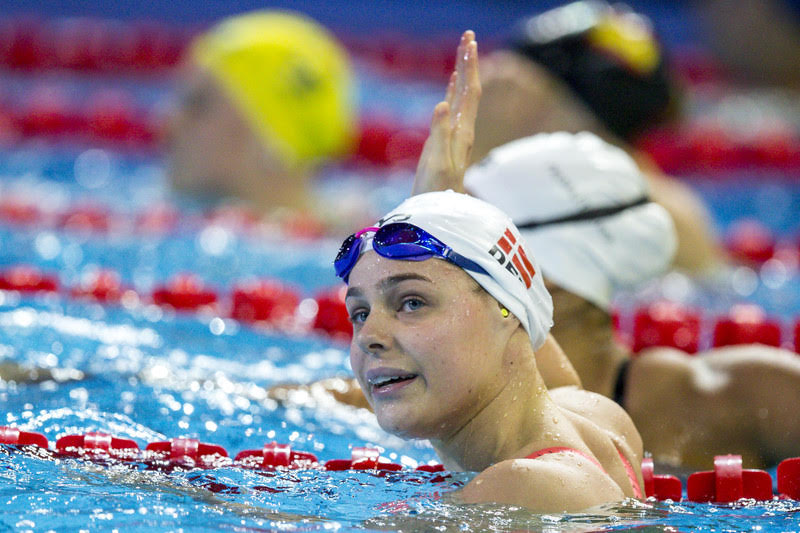 Olympic champion Pernille Blume has come through Covid season in fine fettle, if a 24.28 victory over 50m freestyle in the closing season of the Golden Tour in Marseille is anything to go by.
Matching her 18th career best and 0.21sec shy of the speed in which the Danish sprinter claimed Olympic gold at the Rio 2016 Games, Blume soared well into the 900-point-plus performance range with a triumph over Dutch challenger Femke Heemskerk, 24.72, and Marseille teammates Mélanie Henique, 24.73, and Marie Wattel, 24.93.
Blume broke 24sec for the first time in a stellar 2018 season with a 23.92 at the Seven Hills Meet in Rome on the way to efforts of 23.75 in the European-title final (won by Sweden's Sarah Sjostrom 0.01sec ahead of her), after 23.85 in semis for the Rio.
The time on the clock today was encouraging for Blume: around 24.1 is her best ever at the equivalent time in any season as she heads towards the defence of her Olympic crown a year late at the Covid-delayed Tokyo Games in July.
Wattel, meanwhile, was back in battle half an hour later, a 58.04 in the 100m butterfly granting her the win over Dutch challenger Make de aWard, on 58.99, third place to Georgia Damasioti, of Greece, in 1:00.48.
The women's 200m freestyle produced a duel between Charlotte Bonnet, of Olympic Nice, and four-lap legend Federica Pellegrini, the Italian racing for Circle Canottieri Aniene with Olympic gold and silver and a record eight World-Championship podiums, including four crowns, to her credit . At half way, Bonnet, on 56.01, had a 0.5-sec advantage on Pellegrini before going on to extend her lead for a 1:56.77 to 1:57.64 victory. Third place went to Slovenia's Janja Segel in 2:00.18.
The spotlight in the last session in Marseille was on another dash event as man-of-the-meet Yohann Ndoye Brouard made it three victories in three backstroke finals. After 52.97 in the 100m to become the third Frenchman ever to break the 53-sec mark, Ndoye Brouard set a French record of 1:56.10 in the 200m yesterday. This evening he added the dash in 25.04sec, a touch ahead of the rival he says has helped to make him so competitive , Mewen Tomas, on 25.21 in a match for second place with Greek visitor Apostolos Christou.
In fourth place was one of the two French sub-53 pioneers, comeback trailer Jérémy Stravius, on 25.51. Back in 2011, Stravius lifted the World crown over 100m backstroke in an historic snap for gold with teammate Camille Lacourt, who holds the French dash mark at a sizzling 24.07, a time he established in 2010 in the first season of a return to textile after the shiny suits saga.
The meet came to a close with the hosts celebrating victory for their own Clément Mignon, on 48.78, ahead of Maxime Grousset, of Amiens, on 48.85. The hunt for Olympic 4x100m freestyle is always keen in France. Today, third place went to Mehdy Metella, Marseille, in 49.05, fourth Charles Rihoux, of Olympic Nice, on 49.18.
Earlier, in distance finals, Joris Bouchaut, of Dauphins Toulouse, dominated the 400m freestyle in 3:48.14. The battle for the minor spoils was keen, Lithuanian visitor Danas Rapsys on 3:51.01, Tunisia's Mehdi Lagili, for Antibes, on 3:51.37, and Swiss 'fly ace Noe Ponti on 3:51.47.
The women's 800m, like the 400m had been, was a Russian duel between Anna Egorova, racing for Clichy 92, and Anastasia Kirpichnikova, for Montpellier: they finished in that order on 8:27.51 to 8:27.79, third place to Austria's Marlene Kahler in 8:39.70.
There were also wins for Dutch visitor Kira Toussaint, whose 2:12.06 in the 200m backstroke granted her a triple success, after wins in the 50m and 100m; Dutch teammate Arno Kamminga, on 59.20 in the 100m breaststroke after a 59.09 in heats; Léon Marchand, on 1:56.33 in the 200m butterfly a day after he set the French 400m medley standard; and Lithuanian Kotryna Teterevkova, on 1:07.81 in the 100m breaststroke.