Pan Zhanle 1:44.65 Rattles Sun* High Asian Mark To Add 200 To His Paris 2024 Ambitions

Pan Zhanle turns 18 this year and is well on the way to becoming a title contender in sprint freestyle at the Paris 2024 Olympic Games, his 47.22sec Asian record in the 100m on day 1 of China nationals in Hangzhou now bolstered by a 1:44.65 Sun-Yang*-rattler-of-a-swim over 200m on day 4.
At that speed, he won, his pace now 4.29sec faster than he was 2 years ago as a 16-year-old promise; well shy of the favourite for the Paris crown as things stand, age-peer David Popovici, the Romanian on a sensational textile world best of 1:42.97 for the European title in Rome last August; and an arm-swims shy of the 1:44.22 and 1:44.26 pace of Olympic gold and silver at Tokyo 2020 in 2021, courtesy of Brits Tom Dean and Duncan Scott. Popovici, then 16, was 4th a fraction shy of the podium, in Tokyo.
Sun Yang*, currently serving a four-year-and-three-month WADA suspension as a second anti-doping violation, claimed Olympic gold in 2016 and the World title in 2017 in his lifetime best of 1:44.39, the Asian record and 11th swiftest ever all suits. At Budapest World titles last June, Korean teen Sunwoo Hwang clocked 1:44.47 to come closest to Sun at the helm of the continental rankings.
Now Pan, who clocked 22.08 over 50m in Hangzhou this week, is the latest teen to add his name to contenders over 100 and 200m at Paris 2024, his new best equal 14th all-time with Japan's Katsuhiro Matsumoto, whose Tokyo Games, along with Sunwoo's, offers insight to the difference between domestic waters and an Olympic final.
Here's how Pan swam it:
24.56; 51.29 (26.73); 1:18.59 (27.30); 1:44.65 (26.06)
With that he kept at bay Olympic 200IM champion Wang Shun, on 1:45.71, Hong Jihuan, 1:46.67 and Zhang Ziyang, 1:46.77, all of which makes China an outside contender for a 4×200 free medal in Paris, assuming improvement and an outstanding day in the heat of the moment.
Zhang Yufei On 56.48 100 'Fly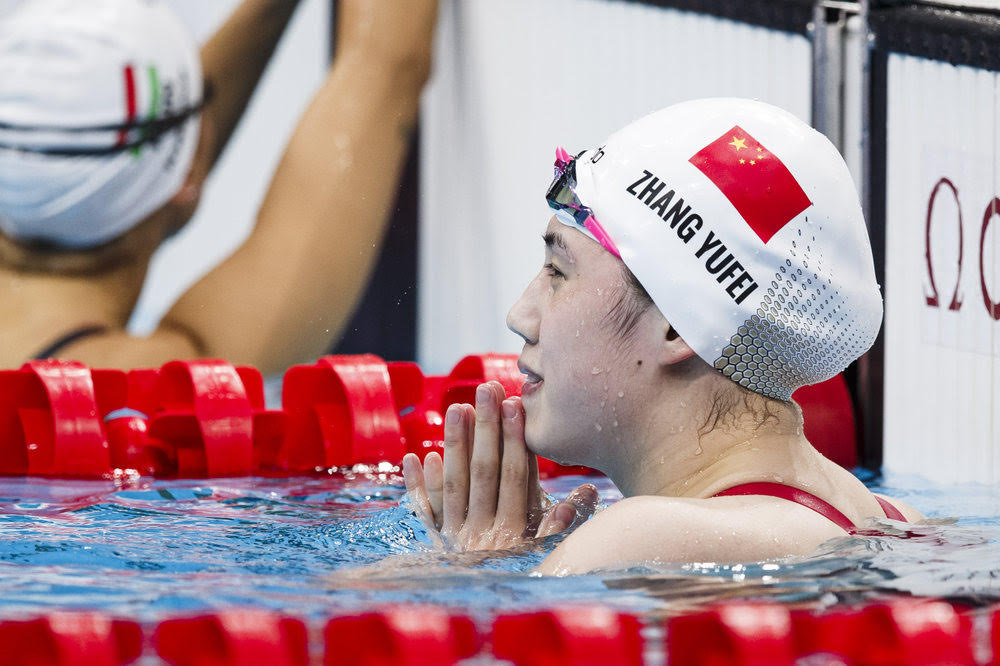 The best of the rest of the action came from Zhang Yufei, the most decorated China teamster at Tokyo 2021 and Olympic 200 'fly champion.
In the 100m butterfly, the Olympic silver medallist cracked out a 56.48sec victory ahead of Yu Yiting, 57.51, and Wang Yichun 57.85.
In other action on day 4 in Hangzhou
Women 100 backstroke
Wang Xueer 58.99
Wan Letian 59.19
Peng Xuwei 59.32
Women 400 medley
Yu Yiting 4:35.61
Ge Chutong 4:40.08
Ye Shiwen 4:43.85
Women 100 breaststroke
Yang Chang 1:07.80
Zhu Leiju 1:08.33
Liu Ziyi 1:09.30
Men 100 butterfly
Wang Changhao 51.73
Sun Jiajun 51.74
Chen Juner 51.88
In other news from China, Pierre Lafontaine, former head of the Canadian swim program, is the latest western coach to take up a job as a national-team coach for the Chinese national swim team.