Paltrinieri Leads Italy To Victory In First President's 4x1500m Open Water Battle, Hungary & Germany Completing European Podium Sweep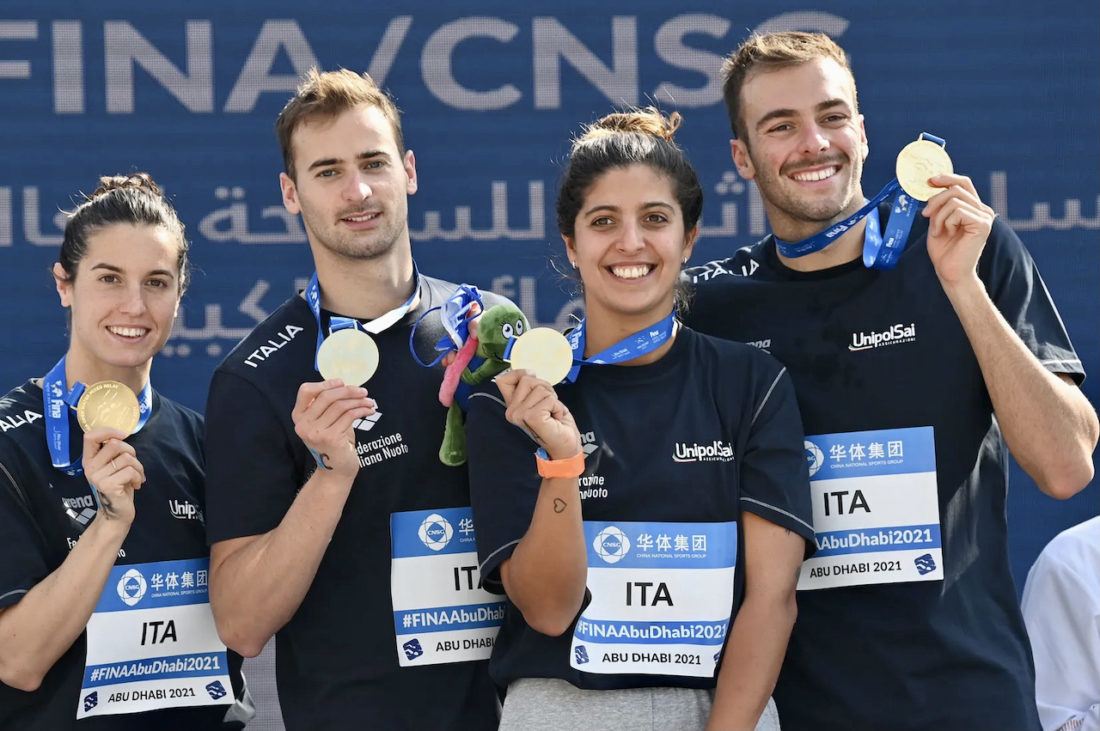 Gregorio Paltrinieri today led Italy to open water victory and European to a podium sweep in the first ever Mixed Relay contested over 6km as swimming as part of the aquatics festival being held in conjunction with the World Short-Course Championships in Abu Dhabi.
Action gets underway in the pool tomorrow at the start of six days of racing but the fight was out in the open today as ten relay teams entered Yas Bay for the first 4x1500m freestyle relay initiated by Husain Al Musallam, who was elected FINA president back in June.
By the end of battle, Europe celebrated a sweep, the Italians taking gold in 1hour 06mins 49.1sec, ahead of Hungary, 1:06.51.7, and Germany, 1:07.29.0.
Paltrinieri's efforts as an Olympic 1500m champion of 2016, World and European champion over 1500m was key to Italy keeping Hungary and Germany at bay. After Rio, Paltrinieri announced his intention to add open water to his targets for the Tokyo 202One Olympics. His form was locked by a bout with mononucleosis before the Games but Paltrinieri still emerged with silver in the inaugural 800m freestyle, bronze in the 10km marathon and the memory of a hard-fought fight to frustrating fourth in the 1500m.
Today, he was back in top form at the start of a new chapter in open water swimming. The "President's Relay" at the first World s/c showcase to feature open water, consists of two men and two women, each racing 1500m. FINA explained: "The order of the swimmers is determined by each of the 10 national federations. Interestingly, of the two teams that led off with a male athlete swimming the first leg, the team from Ukraine will be anchored by a male swimmer while a female athlete will anchor the Kazakhstan relay. The Brazilian team will also be anchored by a female swimmer."
Martina De Memme led off the Italians in 17:23.8 for sixth before Giulia Gabbrielleschi clocked 17:24.60 to move her team up to fifth. Domenico Acerena's 16:10.6 was second-swiftest on the third leg before Paltrinieri split 15:49.1, the swiftest of all swims and a decisive 3.2 seconds faster than Hungary's Kristof Rasovszky, who provided challenge all the way to decision.
The Italians share a US$20,000 prize, Hungarians $16,000 and the Germans $12,000.
Paltrinieri said: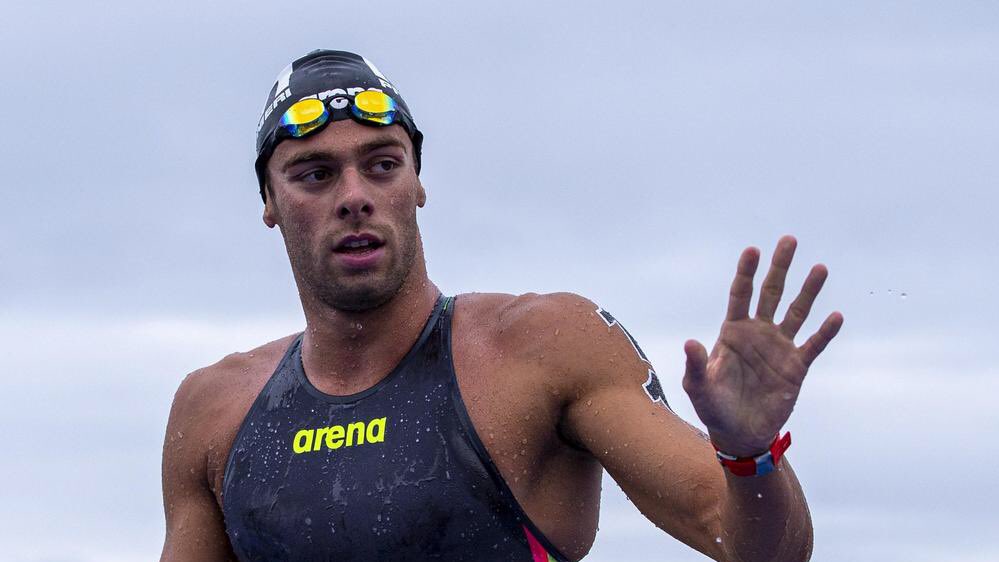 "It was a tough race. Since Tokyo, I have been focusing on pool training, mostly on the 1500m. Today was a race in the sea but it was also a 1500m race so I decided to swim the relay. Relays are always fun. I won't be swimming the 10km tomorrow. I battled with Kristof for the last 200m and he was trying to stay close to me. After the last bouy I gave it everything I had and he wasn't able to pass me."

Gregorio Paltrinieri – image courtesy LaPresse

for Arena
Rasovszky noted: "It was a fine race. Too bad that the others did their best to set up a fantastic finish between Gregorio and me but I spoiled the party. Seriously, it was a great duel with Gregorio, he has definitely a better speed for a 1500m free, I tried to go with him and launch an attack at the finish but he could also switch gears and apply the same tactics as I had done against him in Tokyo, shutting down the paths on both ends. On one of his kicks, I swallowed a great deal of saltwater and that didn't help me for the last 200m. In the end, it was great, we achieved what we wanted, we are on the podium, and can't wait for the 10km now."
Florian Wellbrock, Olympic marathon champion and 1500m free bronze medallist for Germany in Tokyo, added: "All in all it was a good race. It's not just about me, it's a team effort, we did our best, good for the bronze now. Reaching the podium is always great, especially when you have Hungary and Italy in the race, they are all outstanding swimmers. Now I'm getting ready for the 10km, we won't have Gregorio in that event, perhaps that makes things just a bit easier but it's going to be a big race anyway."