Open Water Shoal Feel The Slow-Burn Heat Of Progress In Gregorio Paltrinieri As Olympic 1500 King Takes Euro 5km Title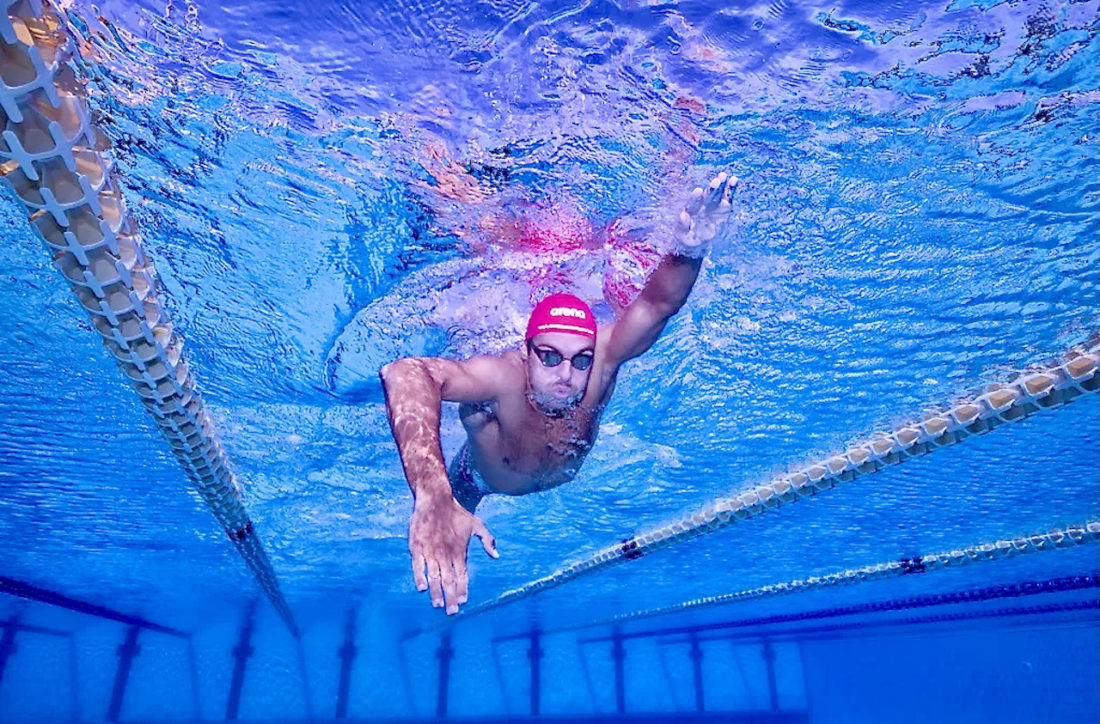 Gregorio Paltrinieri, the Italian 1500m freestyle champion, has been building open water strength since he made a change as good as a rest after becoming the first Italian man ever to claim the 30-length title in the Olympic pool at Rio 2016.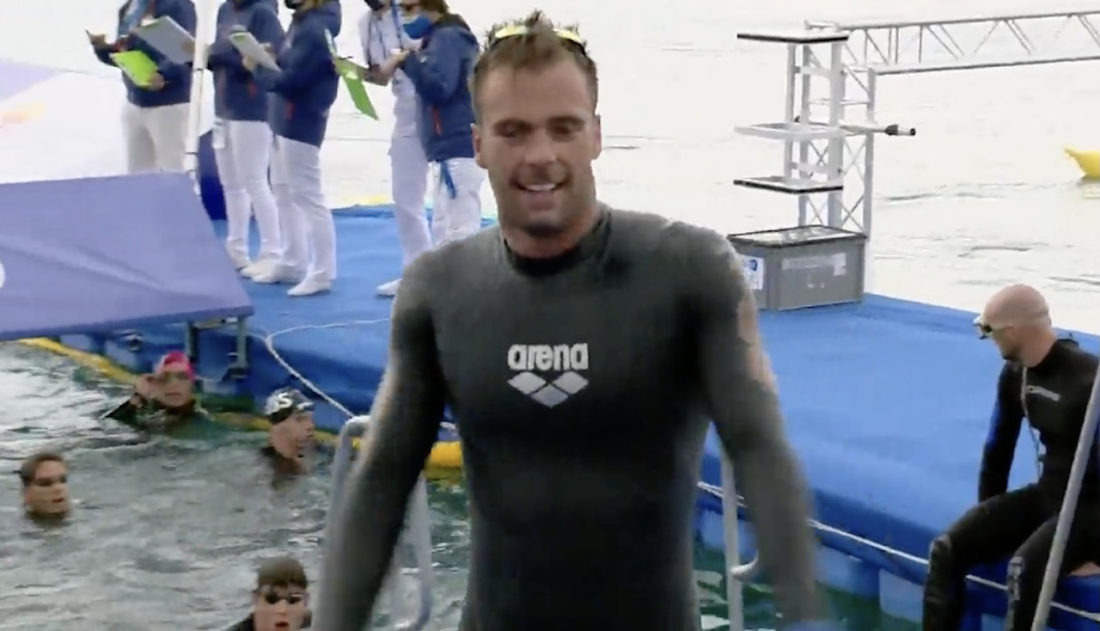 Today at Lupa Beach in Budapest, he drove his pool-to-open-water ambition home with a 55min 43.3 victory in the European 5km title race over France's Marc-Antione Olivier, on 55:45.1, the bronze delivering an Italian 1-3, Dario Verani on 55:46.6.
Just 4sec split the first six men home in a blanket finish that left the leader for most of the race, Hungarian home hope Kristof Rasovszky in fourth place by 0.7sec, 4sec behind Gregorio Paltrinieri, who punched the air after his win as the sound of Coldplay floated on the breeze across the beautiful but crowd-less setting of Lupa Beach in a Covid-safety bubble.
The Italian swam a fine tactical race: much open water experience in the vault this past four years, Gregorio Paltrinieri, Italian 1500m champion in 14:40 at Trials last month, knew that if he was with the leaders going into the close of a race held in pool-like/millpond conditions, only one man was likely to be able to stay with him: Florian Wellbrock, the World marathon champion and 14mins 36 1500m World and European champion in the pool.
Wellbrock was in the top 3 and 5 for large stretches of the race but fell back from the lead group a touch after 4km and could not get back into contention, finishing 9th on 55:50.2, 7.2 sec adrift Paltrinieri's win.
Gregorio Paltrinieri, who will take to his blocks among favourites in the 800 and 1500m in the pool next week, emerged to say: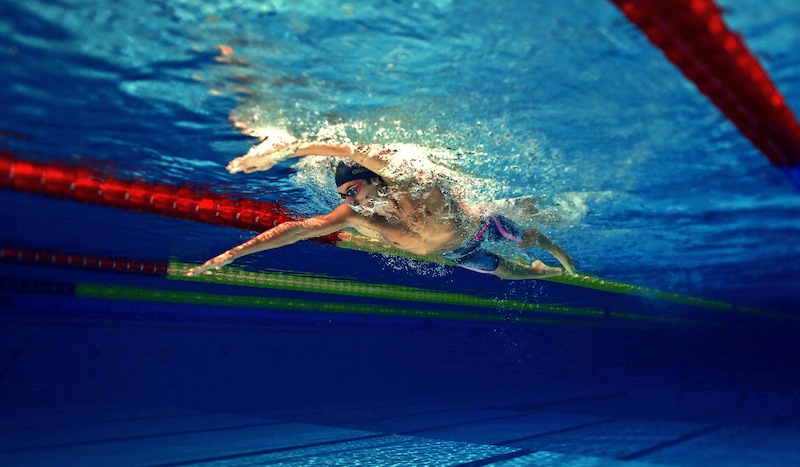 "This is my first European Championships in open water so it was a challenge but it feels pretty good. Over the last lap I saw the other guys close to me but I just wanted to push to the limit. Earlier, it wasn't enough what I did in trainings so I practiced a lot, more in Italy in open water where the weather is good. Every little step you take counts and now all these little pieces came together."
The sub-56min finishers:
P
No
Nation
Name
DoB
Time
Gap
1
108
ITA
PALTRINIERI Gregorio
05 SEP 1994
55:43.3
2
117
FRA
OLIVIER Marc-Antoine
18 JUN 1996
55:45.1
1.8
3
124
ITA
VERANI Dario
01 JAN 1995
55:46.6
3.3
4
101
HUN
RASOVSZKY Kristof
27 MAR 1997
55:47.3
4.0
5
111
FRA
FONTAINE Logan
25 MAR 1999
55:47.5
4.2
6
107
ITA
GUIDI Marcello
06 MAY 1997
55:47.7
4.4
7
114
FRA
WALLART Jules
13 NOV 2002
55:49.5
6.2
8
118
RUS
ABROSIMOV Kirill
22 NOV 1991
55:50.2
6.9
9
119
GER
WELLBROCK Florian
19 AUG 1997
55:50.5
7.2
10
112
GER
STRAUB Ruwen
08 DEC 1993
55:51.3
8.0
11
125
GER
MUFFELS Rob
08 DEC 1994
55:57.5
14.2
Marc-Antoine Olivier noted the difference in racing in full body suit and standard kit: "I felt I was in good shape so I'm really happy that I could win this medal. It was a good race, it was a very tight finish but a great way to start the championships. I had some problems as I'm not really fond of these full body suits but this time I could overcome this. Of course, the focus is on the 10km, that's what really matters."
Dario Verani was 'extremely happy' with his podium place in such fine company: "I try to attach myself to the pack and go with them as long as possible. It was a huge battle and at the end I was astonished to see that only two others were in front of me. I told myself, oh, I couldn't believe it, let's try it – and I'm extremely happy that I could win a medal, especially in the company of Gregorio. This is a huge boost to me."
Other Day 3 Action
Patrick Hausding Takes Euro Title Tally To 16
In the men's 1m diving final, Germany's Patrick Hausding added another title to his impressive collection of honours: the vault now includes 16 European golds. Report below includes notes from the LEN Media Service:
The first individual men's final lacked the usual tensions as the living legend from Germany Patrick Hausding used all his experience to stay calm and sail away with another gold medal. Once he took the lead after the third round, he expanded the gap dive by dive and retained his 1m title comfortably. His tally stands at 16 European golds as of today, a brilliant record.
Jack Laugher was way ahead of the rest in prelims but the British contender wobbled in early dives in the final before pulling off a big last dive to pass Italy's Giovanni Tocci for the silver by 0.4 points.
The Italians did not end the day without gold. Chiara Pellacani and Matteo Santoro, who is just 14, offered the most balanced performance in the mixed 3m synchro. Santoro turns 15 in October. The pairs' lowest marks were 6.5 in the whole event (appeared only twice among the scores). Germany's Lou Massenberg and Tina Punzel held the second position throughout the event, while Russia's Ilia Molchanov and Vitaliia Koroleva made the same mistake as their team-mates on the platform yesterday: they led after three rounds but errors in two dives cost them and third place it was.
Russia celebrated gold elsewhere. In the solo synchro final, Varvara Subbotina, world junior champion in the same Duna Arena venue back in 2018, took the crown ahead of Marta Fiedina of Ukraine, silver a fine addition to her gold from the solo technical. Evangelia Platanioti also claimed another medal, a bronze after her silver, which represent the first two Greek diving medals at the European Championships since 2006.
In the team technical final, Russian topped the podium, Ukraine taking silver, bronze to Spain.