Open Water Golds For Acerenza & Beck (10Km), Paltrinieri & Van Rouwendaal (5km) As Rome 2022 Draws To A Close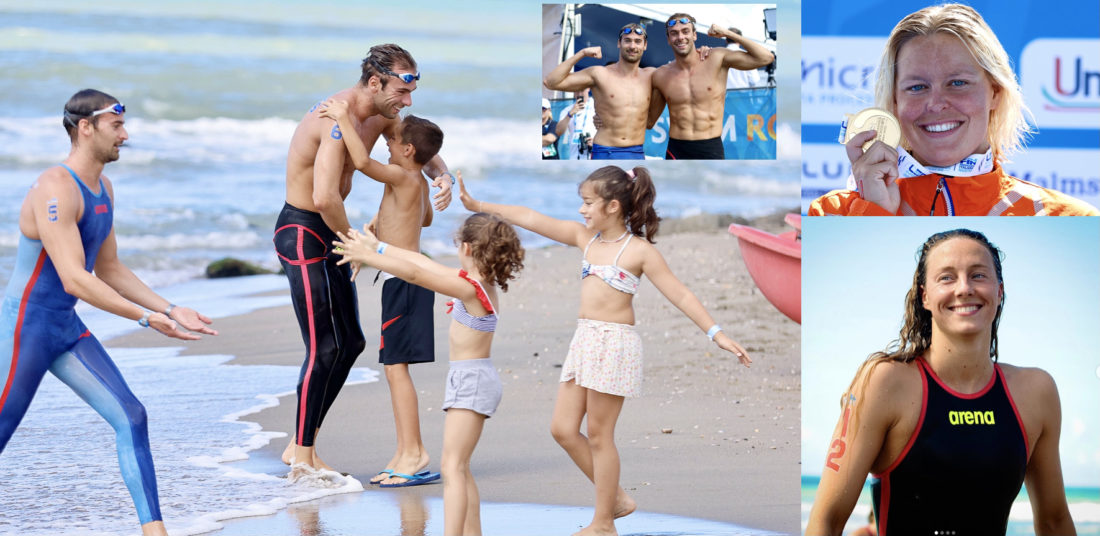 Rome 2022 drew to a close with two golds for the hosts Italy in the men's 5km and 10km, landed respectively by Gregorio Paltrinieri and his training partner Domenico Acerenza in the very waters where they train on a regular basis, and, in the women's battles, 5km gold for Sharon van Rouwendaal, of The Netherlands, and 10km gold Leonie Beck, of Germany, on the final weekend of action.
In choppy conditions off the coast at Ostia that saw 4 men and 2 women leave the race and 5 men and 1 woman not show for the start, the 10km battles were washing-machine challenges in which the ability to handle the swell, walls of waves, head on and sideways played a big part in the outcome.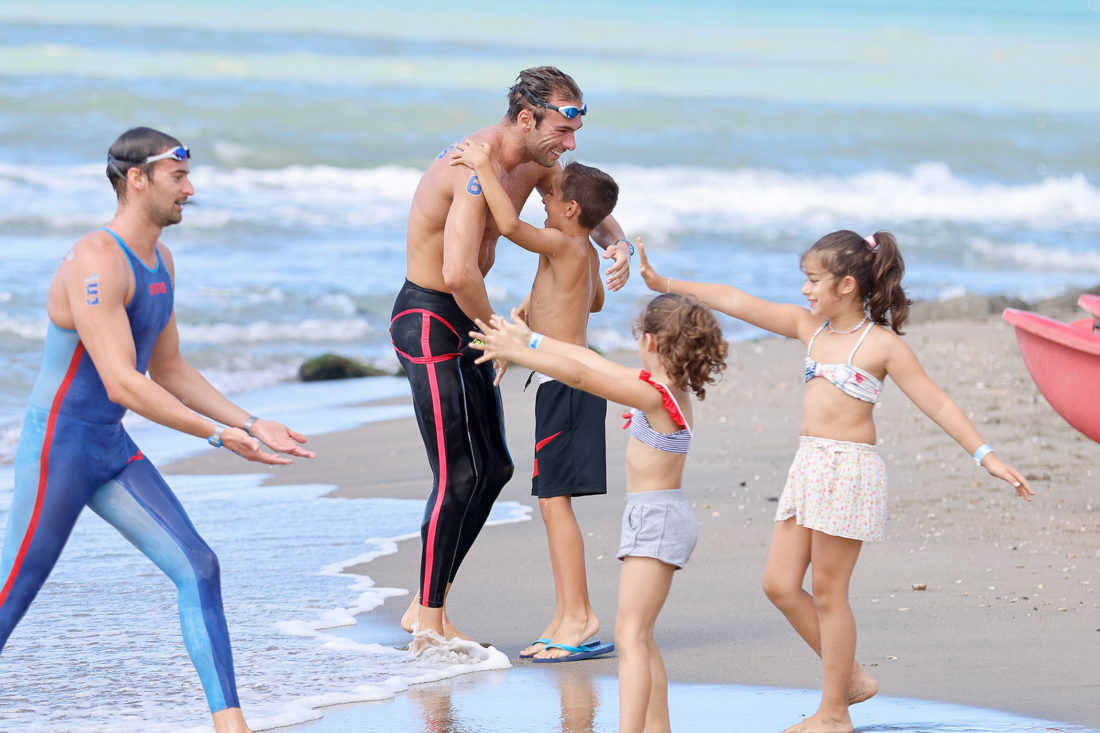 Paltrinieri and Acerenza, coached by Fabrizio Antonelli, coloured the men's open water a local, Azzurri hue of blue, with a gold apiece (the prospect of another prize, shared in the 4x1250m, on the horizon at 4pm), Paltrinieri's pathway and pattern, 2021 to 2022, mirrored to some extend by Dutch ace Sharon van Rouwendaal, coached by Bernd Berkhahn in Magdeburg, Germany.
Both Olympic champions in 2016, Paltrinieri (1500m) and Van Rouwendaal (marathon) arrived in Rome defending champions in the 5 and 10km; both emerge as successful defenders of the 5km (Van Rouwendaal for a second time); neither were able to made the medals the day after in the 10km at the end of a long summer of peak racing that delivered another batch of top honours to their pantheons.
Paltrinieri's 1500m victory at Budapest 2022 World titles in June provided the highlight of all his swims: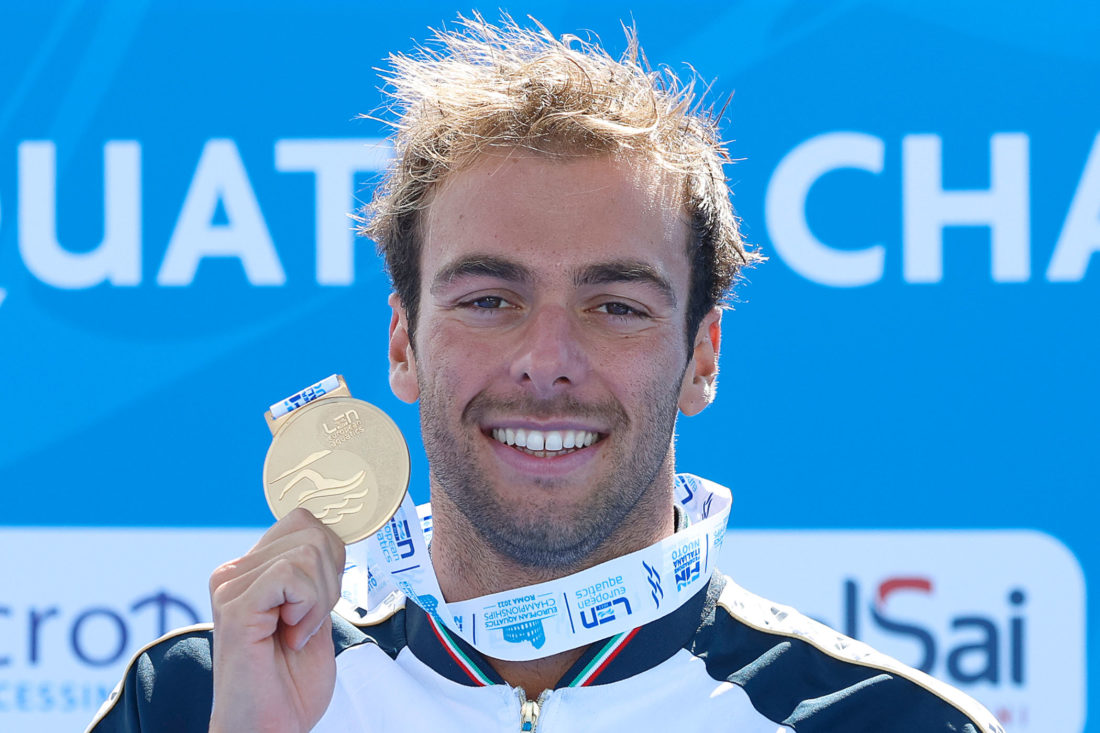 World Titles Budapest – June
European Titles Rome – August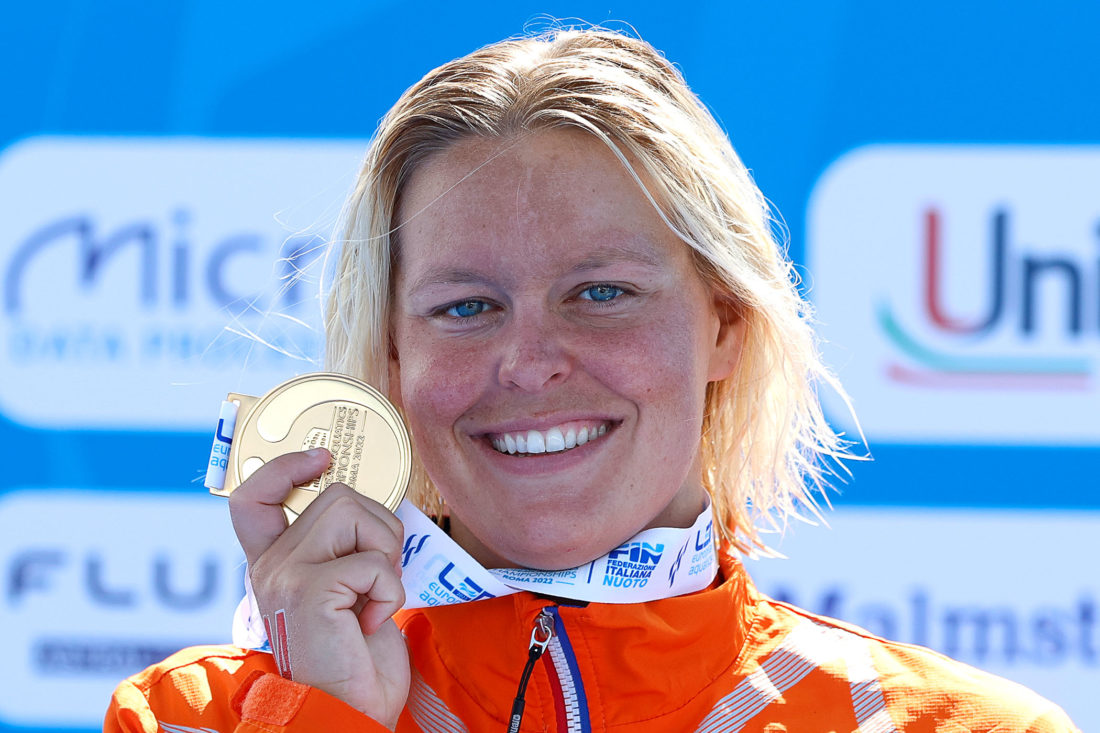 Van Rouwendaal's 5km victory in Rome followed the 10km World title in Budapest in June. There was also bronze in the 25km on Lupa Lake in Hungary in June, the longest championship race won buy Lea Boy, of Germany. Van Rouwendaal's marathon journey at a time of pandemic has been charted by coach Bernd Berkhahn.
His Magdeburg group – including Olympic marathon champion Florian Wellbrock, with silver and bronze in Budapest at Worlds before illness knocked his Rome campaign, Lukas Maertens and Isabel Gose, 400m European champions in Rome – have racked up enough success this summer to surely merit nomination for their coach come the moment later in the year when Germany nominates its top mentors for year-end honours.
World Titles Budapest – June
European Titles Rome – August
Gold – 5km
Men 10km: Gold To Domenico Acerenza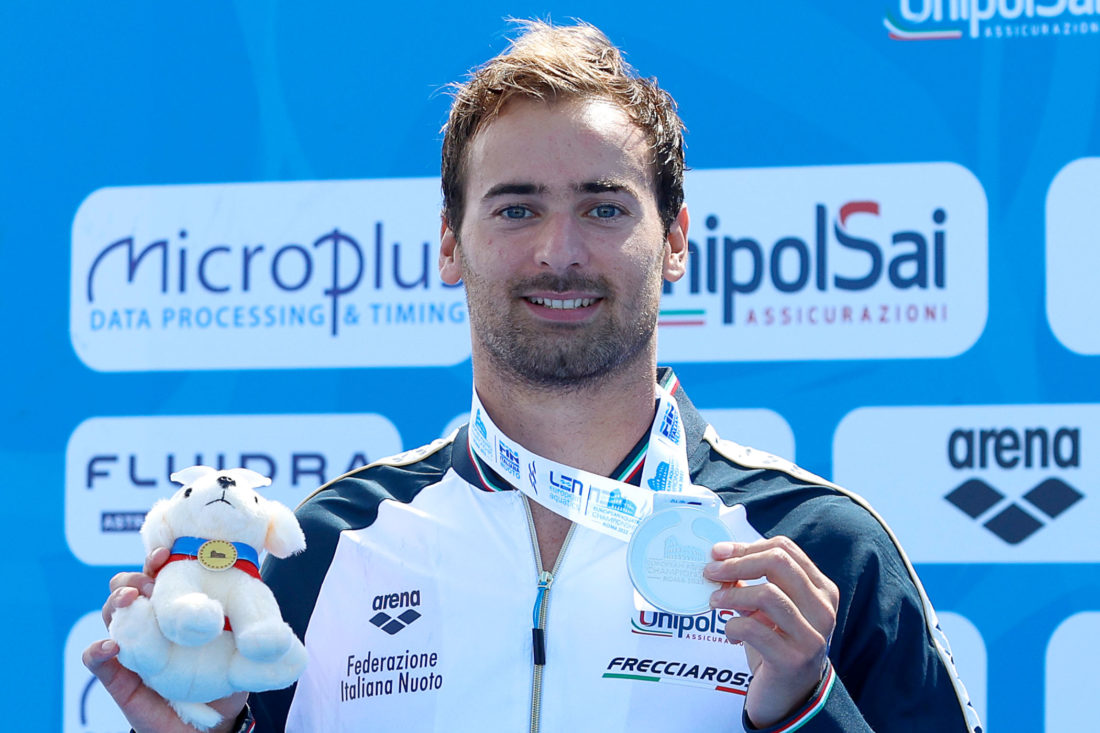 A day after winning the 5km yesterday, Italian showstopper Gregorio Paltrinieri was unable to make it two successful defences of the 5km and 10km crowns he claimed in Budapest a year ago. The hosts were not left without gold, however, as Paltrinieri's training partner Domenico Acerenza kept the rest of the best at bay by 3.7 sec to keep the crown on Italy's head.
The podium was completed by Frenchmen Marc-Antoine Olivier and Logan Fontaine, a fine result as they prepare for the Olympic marathon at a home Games in Paris in 2024. Paltrinieri finished 7th 39.1sec adrift Acerenza's winning pace.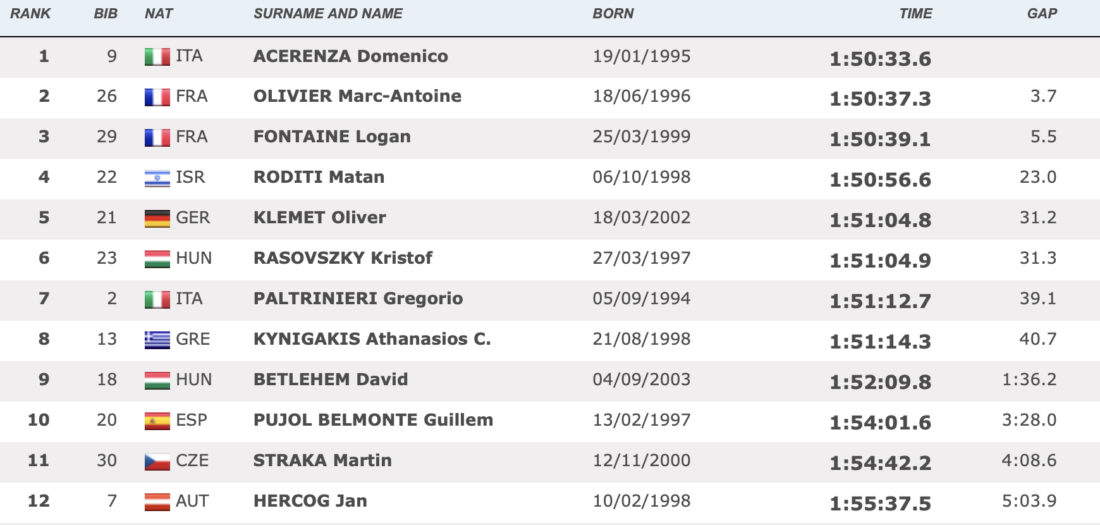 Women 10km: Gold To Leonie Beck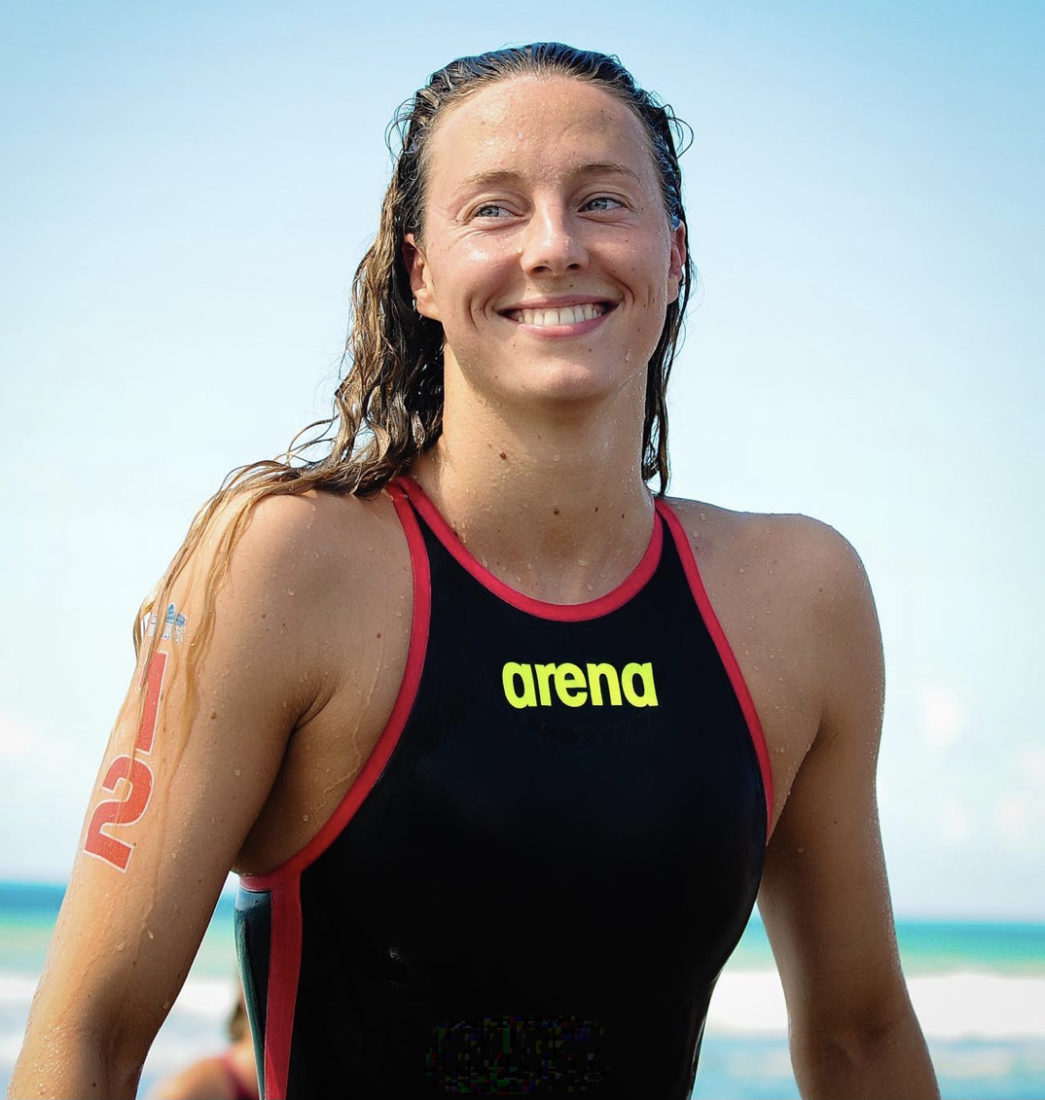 Not far off the medals in the 5km yesterday, Germany's Leonie Beck took the 10km title 1.8sec ahead of Italy's Ginerva Taddeucci, with Angelica André making Portuguese history with a first open water medal of any colour for women from her country in major intentional championship competition.
André's finish was such that even defending champion Sharon van Rouwendaal was forced to succumb, the Dutch ace finishing fourth 0.2sec outside the medals.
On a personal note: André is coached by José Manuel Borges, a former youth teammate of mine at F.C. Porto many moons and memories ago.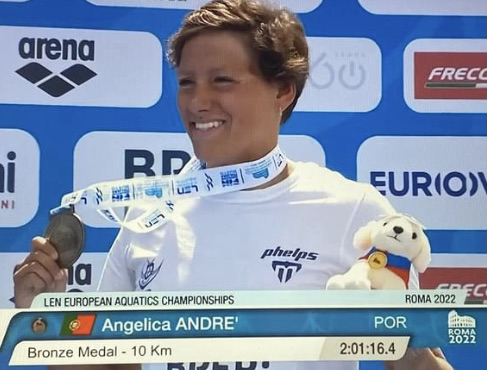 It is always good to feel the faintest of ripples in an ocean of such in swimming: Zé was coached by my dad, who passed on some values that can be seen at the heart of the André-Borges success story this fine day in Rome. A question of determination, discipline and dedication of the athlete holding hands with the good guidance of a trusted mentor.
For Beck, former training partner of Thomas Lurz, one of the most decorated open water swimmers in history, victory marked the first international solo gold of her career and second ever, after her role in Germany's 4×1.5km Team gold at the World Championships in Budapest in June.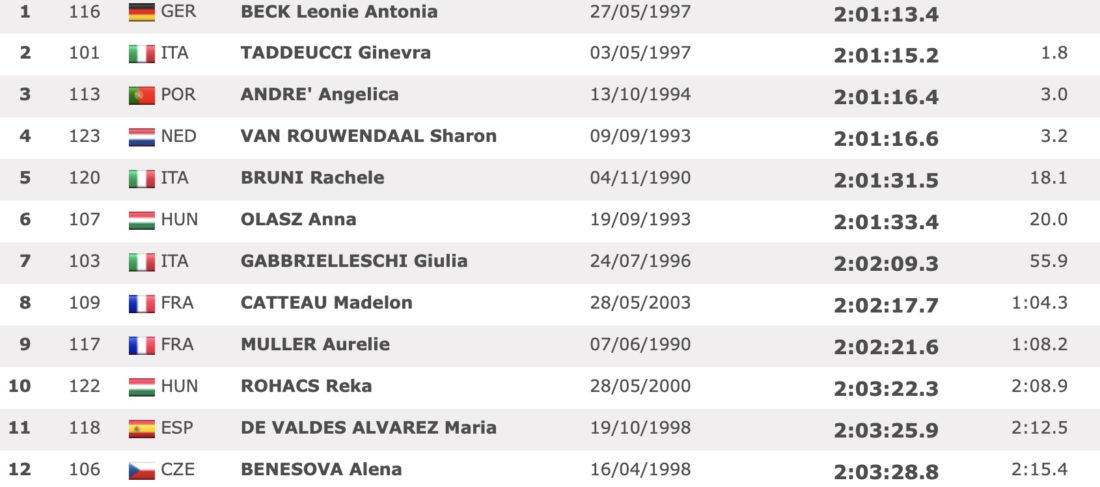 After gold in the 5km yesterday, Van Rouwendaal alluded to the long season and the weather conditions as factors that took the edge off her finishing power this day in the 10km:
Men 5km – Gold For Gregorio Paltrinieri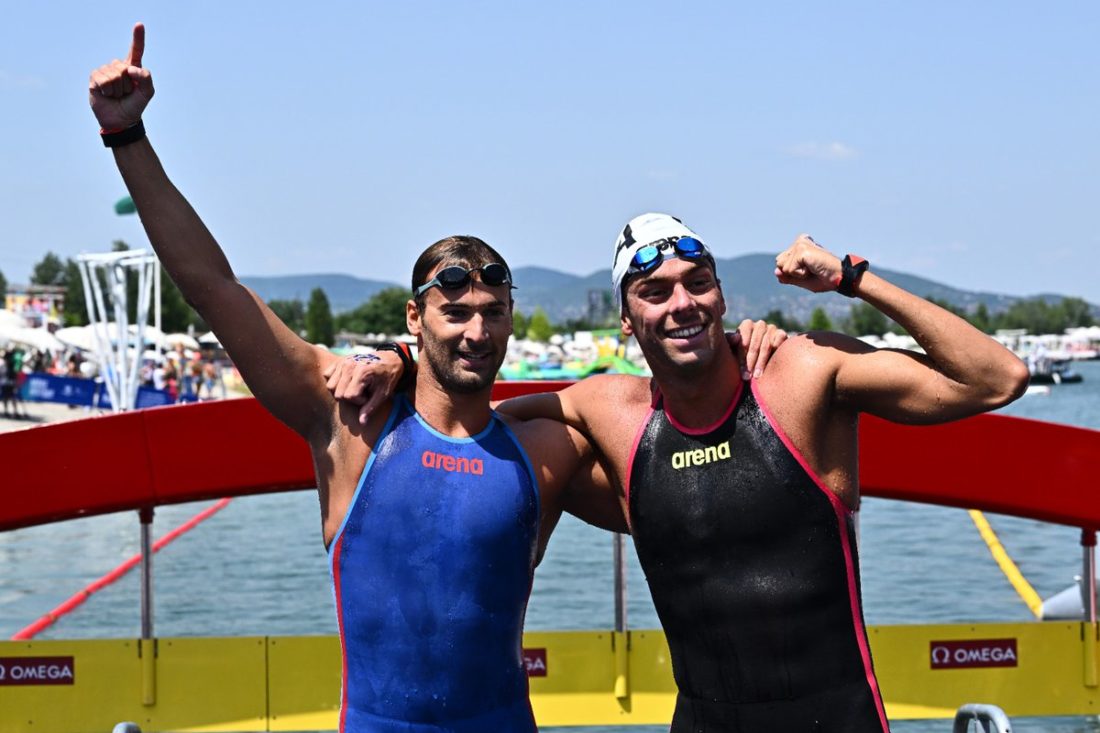 Another one bites the dust! Over 5km in home waters off the coast of Ostia, Gregorio Paltrinieri claimed the sixth gold and 10th career medal in open water since his 2017 debut.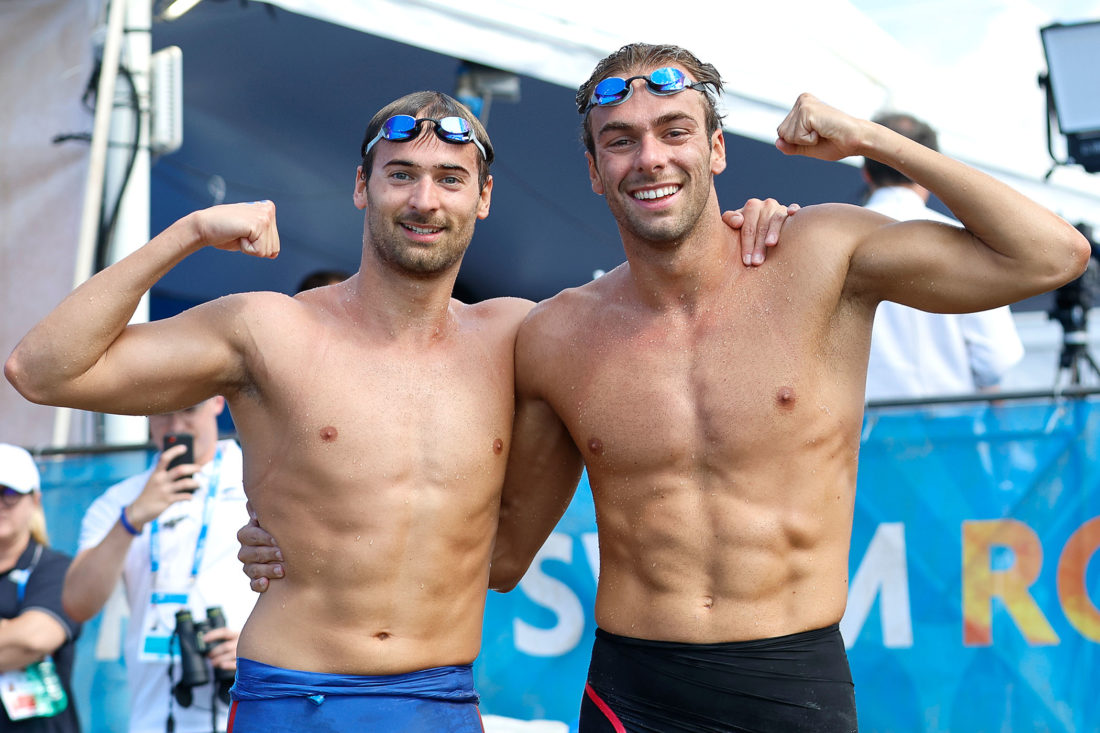 Teammate Domenico Acerenza punched the Italian 1-2 to the delight of the local crowd.
The bronze went to France's Marc-Antione Olivier.
Since opting into open water in the wake of 1500m gold at the Rio 2016 Olympic Game sunder the guidance of coach Stefano Morini, Paltrinieri has piled up an impressive collection of honours on the wave.
The Paltrinieri Pantheon In Open Water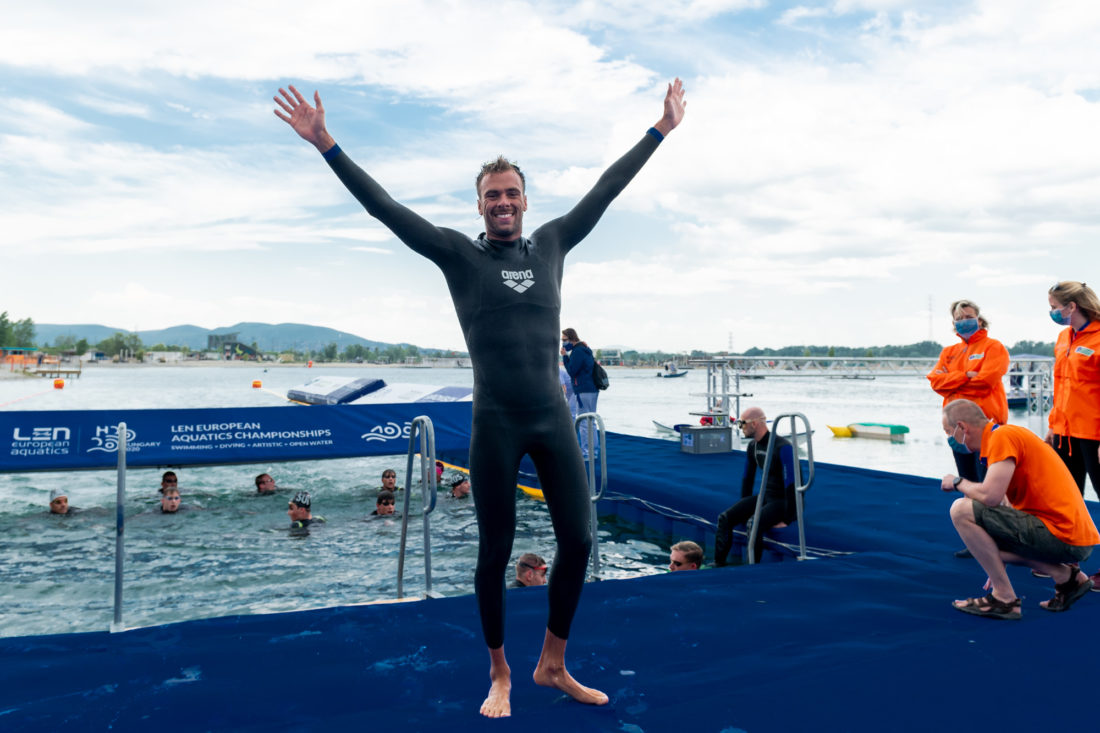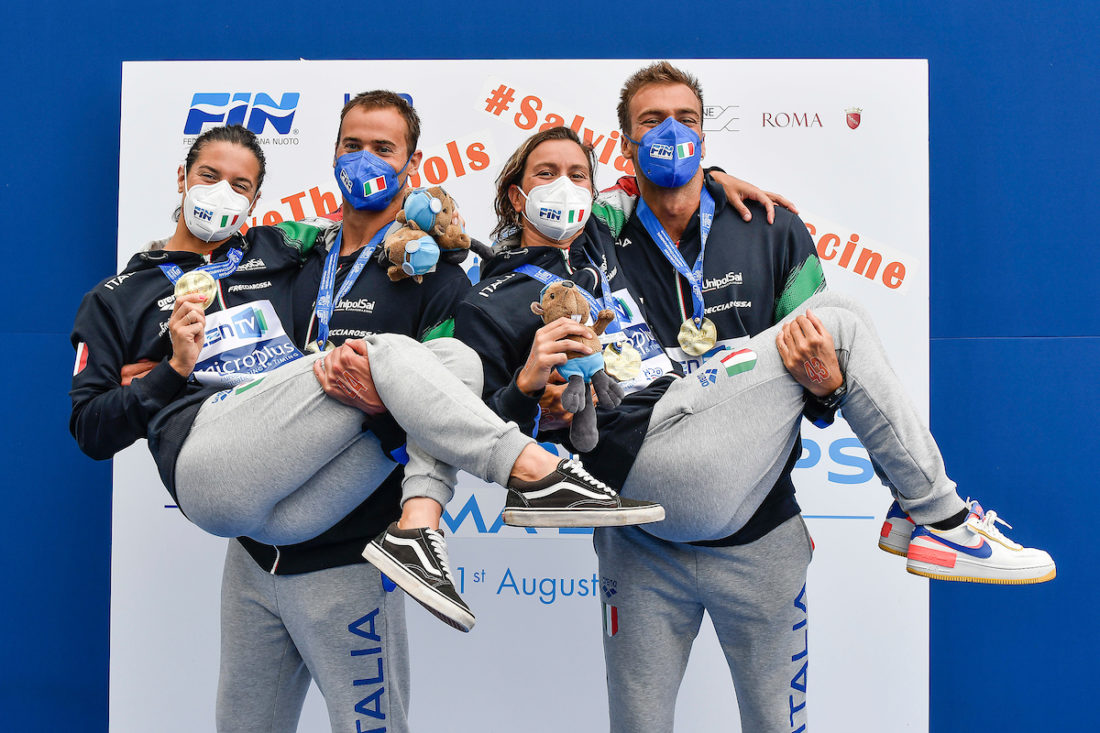 Olympic Games:
Bronze, 10km, Tokyo 202one
World Championships:
Gold – 10km – Budapest 2022
Silver – Team – Gwangju 2019
Silver – 5km – Budapest 2022
Bronze – Team – Budapest 2022
European Championships
Gold – 5km – Budapest 2020
Gold – 10km – Budapest 2020
Gold – Team – Budapest 2020
Gold – 5km – Rome 2022
Universiade
Gold – 10km – Taipei 2017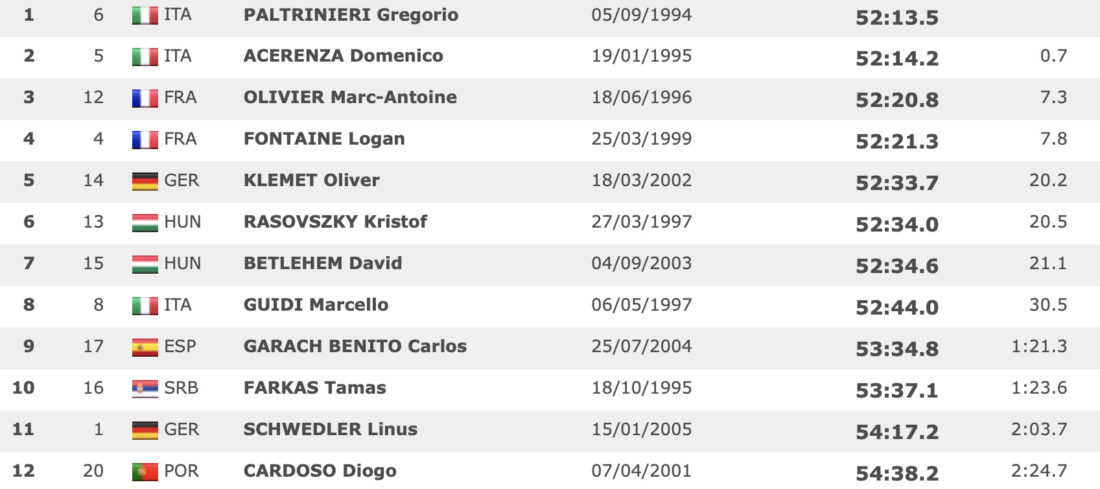 Women's 5km – Third Straight Gold For Van Rouwendaal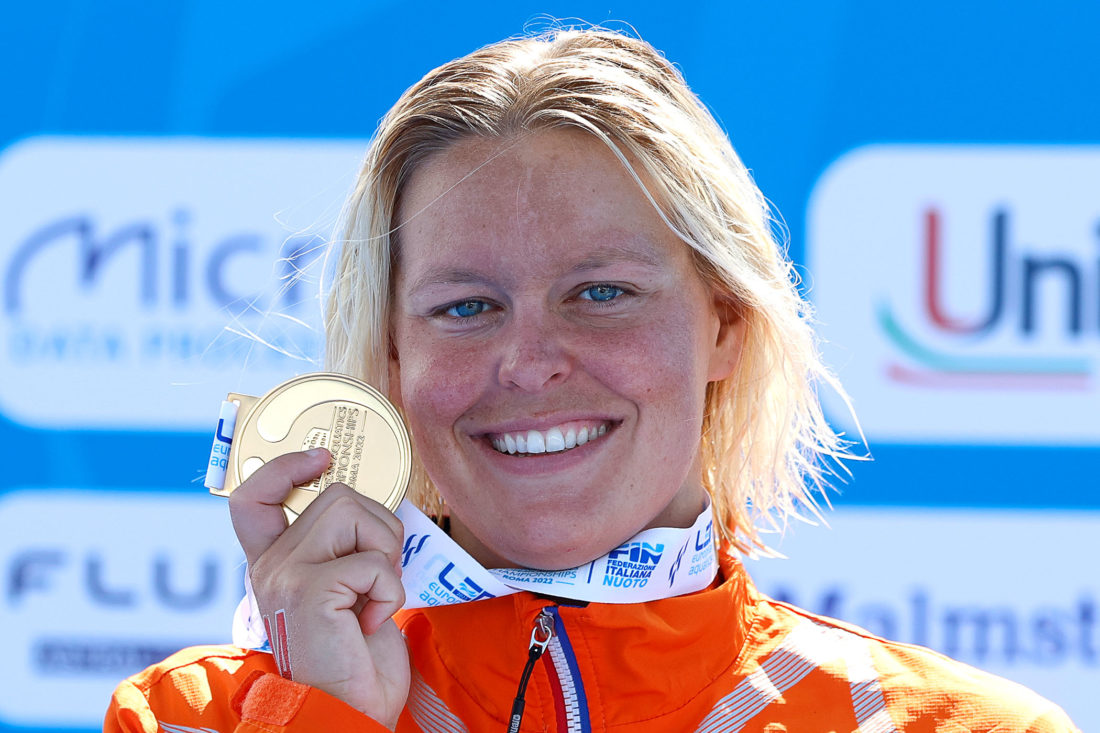 Sharon van Rouwendaal's open water treasury now includes 10 international titles for The Netherlands, topped by the Olympic marathon crown in 2016 and marathon gold at World titles this year.
In the 5km off the coast at Ostia, Van Rouwendaal held off Spain's Maria Alvarez and Italy's Giulia Gabbrielleschi, who took the minor spoils as the first two home in a row of three swimmers split by just 0.2sec, Portugal's Angélica André fourth home ahead of Germany's Leonie Beck, France Aurelie Mueller and Germany's Lea Boy, all tough folk with big podium prizes in their vaults. At this stage, André had yet to land one. One day to go…
Meanwhile, a pool medallist for The Netherlands over 200, 400 and 800m freestyle and 200m backstroke, Van Rouwendaal has built one of the biggest Open Water pantheons in the past decade since venturing beyond the pool: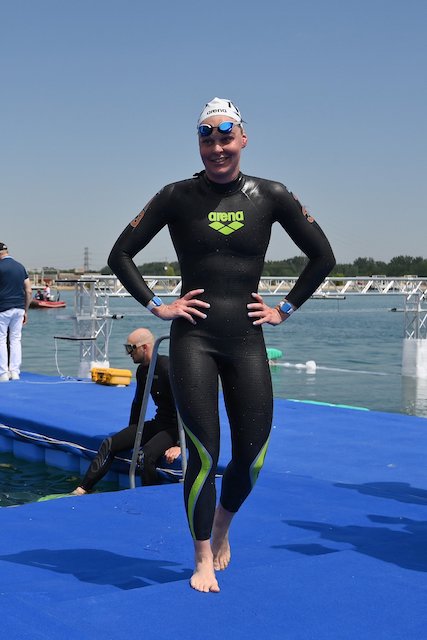 Olympic Games
Gold – Marathon – Rio 2016
Silver – Marathon – Tokyo 2020ne
World Championships
Gold – 10km – Budapest 2022
Bronze – 25km – Budapest 2022
European Championships
Gold – 10km – Berlin 2014
Gold – Team – Berlin 2014
Gold – 5km – Glasgow 2018
Gold – 10km – Glasgow 2018
Gold – Team – Glasgow 2018
Gold – 5km – Budapest 2020ne
Gold – 10km – Budapest 2020ne
Gold – 5km – Rome 2022
Silver – 5km – Berlin 2014
Silver – 25km – Glasgow 2018
European Open Water Championships
Bronze – 5km – Hoorn 2016