Olympic Diary – Heartbreak At Games As Britain's Amber Hill Has Dreams Shot Down By Covid Positive; Polish Swimmers – Why Six Go Home; & The First Knee Is Taken In Tokyo
The SOS Olympic Diary is where you'll find news lines, snippets and commentary, with relevant links to the colour and coverage of the Games in Tokyo 57 years after the Japanese capital first hosted the showcase event all in one file updated daily. We couldn't care less about SEO and hits and clicks at SOS because those who wish to read know where we are and w2e have no advertisers nor sponsors nor partners. That's true independence for you. The diary spills beyond our core focus of fast swimming, which gets underway in heats on Saturday evening, July 24, with the first session of finals and semi-finals scheduled for 10am Tokyo time at the Olympic Aquatics Centre, where I'll be for the nine days of action, Covid-negatives allowing (and hopefully not in a hotel room).
Olympic Diary, July 21
"No words to describe how I'm feeling" – Amber Hill
Olympic Diary, July 21: Heartbreak stories are already a part of the Tokyo Games, the likes of Britain's Olympic silver medallist in the 200m medley at Rio 2016, Siobhan-Marie O'Connor, having retired in part because of a health condition that took her out of the water for too long in what might have been a post-Olympic, nor pre-Olympic winter.
More sad stories will emerge throughout the Games as athletes and others fail COVID tests and find themselves out of the Games. Today brought news that British World-champion shooter Amber Hill has withdrawn from the Tokyo 2020 Olympic Games after testing positive for COVID-19 in the UK, prior to her departure.
Hill, 23, was due to compete in the Women's Olympic Skeet competition, in which she was a finalist in Rio 2016. No replacement athlete will be selected in Amber's place.
Currently number one in the world in her discipline, Hill said: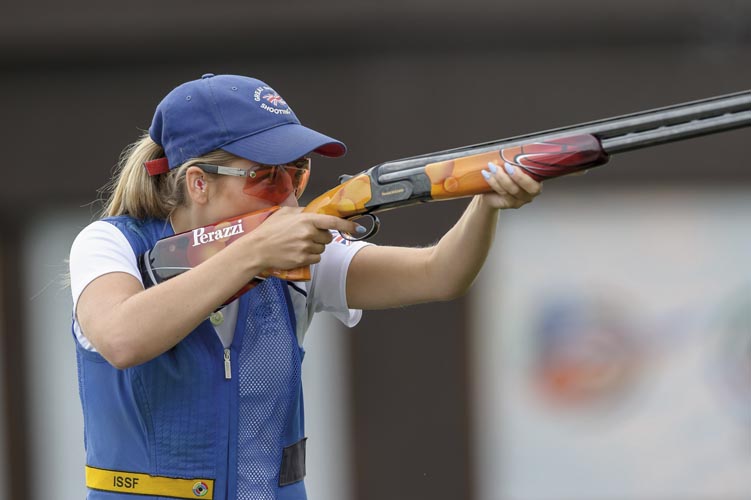 "There are no words to describe how I'm feeling right now. After five years of training and preparation, I'm absolutely devastated to say that last night I received a positive Covid-19 test, meaning I've had to withdraw from Team GB's shooting team. Although I don't have any symptoms, I will now isolate as per the Government guidance. I would like to wish the best of luck to all of Team GB who are out in Tokyo, especially the shooting team who have supported me massively throughout my career. I will be back from this, but right now I need some time to reflect and take in what has happened."

Amber Hill, image – at 2015 World titles in Gabala, Azerbaijan – Photo by Nicolo Zangirolami, courtesy of the ISSF
Team GB Chef de Mission, Mark England, said: "My heart goes out to Amber, and we're just sad for her that she is unable to join us in Tokyo. She is an incredibly gifted athlete and we dearly hope to see her again at a future Olympic Games."
Shooting Team Leader, Steven Seligmann, said: "This is an incredibly sad situation for Amber after she's worked so hard to earn her Olympic place for Team GB. Our focus is to now make sure Amber is kept safe and well, both physically and mentally, and we have the support in place to help her through this difficult period."
Six Polish Swimmers Go Home After Bureaucratic Bundle That Hurts … The Athletes
Olympic Diary, July 21: Poland have been forced to send six swimmers home from the Tokyo Olympics after it exceeded its team-size allocation in a bureaucratic blunder. The Polish Swimming Federation (PZP) selected 23 athletes for the Games, even though its allocation was 17, a number calculated by the size of the overall meet and the number of A qualification times and B qualification times achieved. A times are automatic, B times, in effect, depend on the size of the competition as a whole and where swimmers fit in a ranking.
Slominski said: "I express great regret, sadness and bitterness about the situation. Such a situation should not take place. The reaction of the swimmers, their emotions, the attack on the Polish Swimming Federation is understandable to me and justified."
Slominski said he made his mistake with good intention: though a 'desire to allow as many players and coaches as possible to take part in the Games.'
If every nation did that, the Games would boast more than a million athletes, perhaps.
A majority of the Polish swimming team have signed an open letter to the PZP demanding the board resign for their blunder
Alicja Tchorz – who represented Poland at London 2012 and Rio 2016 – took to Facebook to slam Slominski and Co:
"Imagine dedicating five years of your life and striving for another start at the most important sporting event, giving up your private life and work, sacrificing your family… And your dedication results in a total flop."
The First Knee Is Taken in Tokyo
– GB and Chile In Women's Football
Olympic Diary, July 21: Before Team GB women's football team claimed their first victory of the Games with a 2-0 win over Chile in their opening group match in Sapporo, both goals scored by Ellen White, the squads, British and Chilean took the knee, just as England did during Euro 2021. Their point as the world tuned in: support for those who suffer discrimination and are affected by equality issues.
Steph Houghton, the 33-year-old captain from Durham, explained:
"As players in Great Britain we've been taking the knee in club and international matches and we felt strongly as a group that we wanted to show support for those affected by discrimination and equality. It was a proud moment because the Chile players took the knee too to show how united we are as sport.
Irish Swimmers Full Of Beans Ahead Of Racing But Their Bags Are Empty
Olympic Diary, July 21: Swim Ireland performance head Jon Rudd is a man who tends to leave no stone unturned when it comes to delivering the environment most conducive for swimmers to deliver of their best. That includes a place to sit around the team massage and prep area at the Tokyo Aquatics Centre.
Rudd, wanting to ensure his charges are full of beans come the hour when action gets under way on Saturday, noticed a lack of easy seating in the Ireland zone so he ordered a couple of bean bags online. The bags duly arrived… but in a note on social media Rudd lamented the missing trick: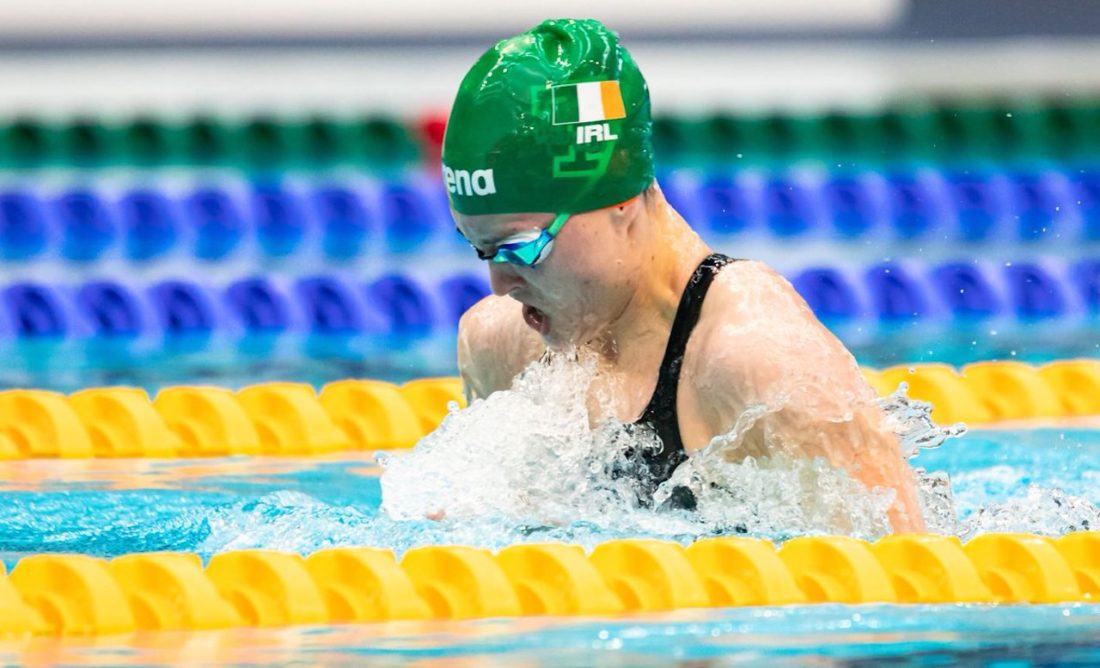 "… Ordered two bean bags from Amazon Japan for the team area. Bean bags arrived. Apparently you have to order the beans separately. So basically ordered two bags…".

Jon Rudd … image, breaststroke ace Mona McSharry – courtesy of Swim Ireland
Irish eyes on the swim team are not so much sailing as streaming through the laughter.
Olympic Diary, July 20
How Wilful Blindness Hurts; The Heat Is On, The Covid Bubble 'Has Burst', Tokyo 2020 Composer Quits Over Historic Bullying & More Firms Pull Out Of Opening … Let The Games Begin!
Becca Meyers, the latest victim of Leadership Failure At USOPC
Becca Meyers, a three-time Paralympic champion and six-time Paralympic medallist, has withdrawn from the Tokyo Games after being informed by the United States Olympic and Paralympic Committee (USOPC) that she could not travel with her mother or personal care assistant. Meyers is deaf and blind.
She was named on Team USA's 34-strong swim team recently but now tells the Washington Post: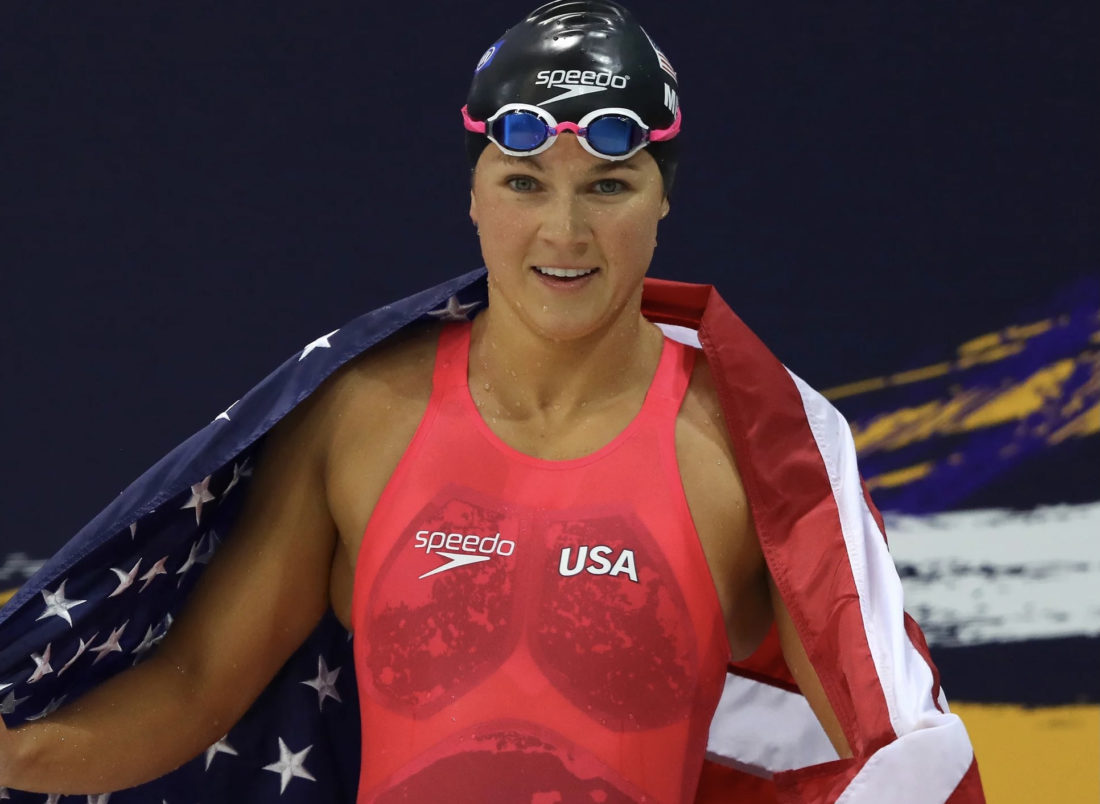 "I would love to go to Tokyo. Swimming has given me my identity as a person. I've always been Becca the Swimmer Girl. I haven't taken this lightly. This has been very difficult for me. I need to say something to effect change because this can't go on any longer."
Meyers took to Twitter to note her frustration and sadness. Her decision brings to mind the way Open Water swimmers were treated in the USA (and elsewhere) at the time of Fran Crippen's preventable death: they were sent to represent their country overseas without the necessary support and back-up of experts and professionals in management and logistics.
Meyers has always travelled with a personal care assistant, out of absolute necessity, not only on sports tour. However, USOPC says that she cannot have one for Tokyo because of limits imposed on the number of staff each country can have at the Games.
Those limits appear not to be an issue when it comes to USOPC officials and even spouses. It can be argued in many cases across many nations that such officials actually have no essential function or job at an Olympic Games.
Calls for change are as reasonable as their are essential and growing:"
Meyers says that she is being penalised not because of limits set by organisers but because USOPC opted against using one of its staff allocations for a care assistant to help Meyers. Japanese authorities have confirmed that USOPC failed to request extra allocations for care assistants.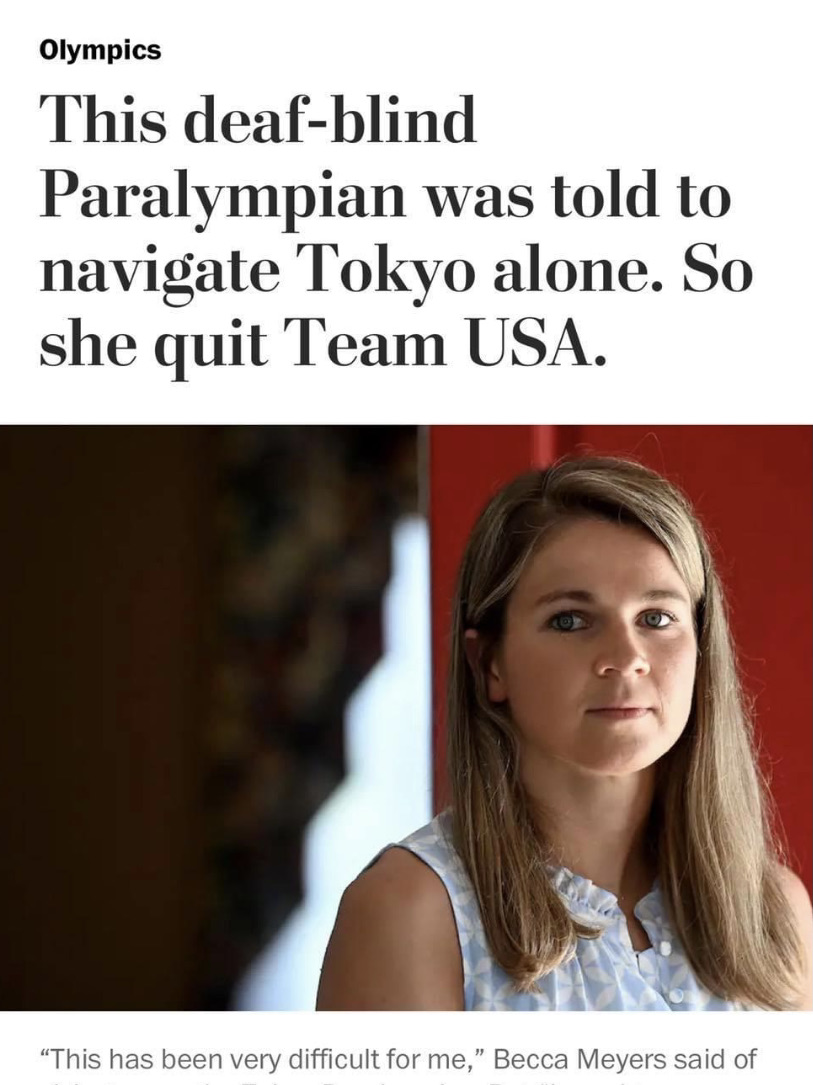 The USOPC issued the following a statement to the Washington Post:
"We are dealing with unprecedented restrictions around what is possible on the ground in Tokyo.
"As it's been widely reported, [the Tokyo Organizing Committee of the Olympic and Paralympic Games], at the direction of the government of Japan, is not permitting any personnel other than operational essential staff with roles related to the overall execution of the games, into the country."
Speedo, which sponsors Meyers, noted:
"Becca has been forced to make a decision that no Paralympian should ever have to make and Speedo fully supports her decision to withdraw from the Tokyo 2020 Paralympic Games.
"As a valued member of Team Speedo, we continue to stand alongside Becca and support her journey and all that makes her an inspiring role model for the next generation of swimmers."

Image – The headlines USOPC could do without, this on in the Anchorage Daily News
The Heat Is On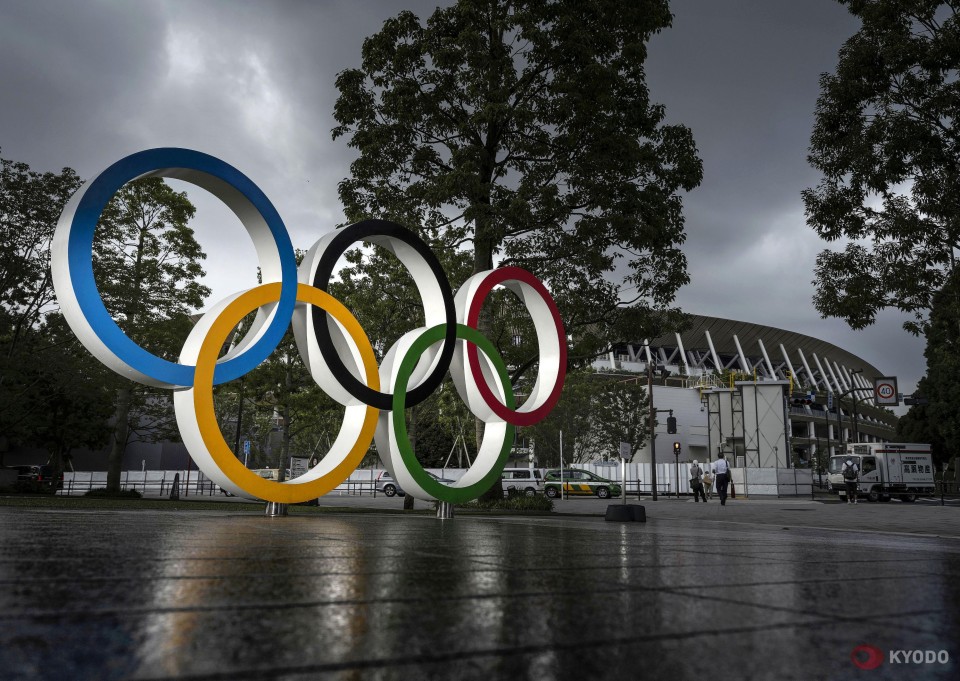 Olympic Diary, July 20: Tokyo is living through a hot summer, a 33C, full-sun day in the Olympic-host city set through the first few days of action when the Games get underway from Friday.
"The Mei-Yu Baiu front, which is also known as the plum rains, reached Tokyo in late spring and lasts through July. In addition to heavy rain and flash flooding, this front can bring the hottest temperatures and most oppressive humidity of the year, from mid-July through August." the CNN weather service reports.
It matters to those who need to acclimatise, particularly in sports in which performance is affected by natural conditions. Open Water swimming is one of those sports. The 10km races will be held at Odaiba Marine Park in the second week of the Games, in August.
In August 2020, when the Games would have been going on before postponement due to the pandemic, temperatures in Tokyo regularly exceeded 40C. From Tuesday next week, a week of warm, overcast weather is forecast, before the sun returns to take daily temperatures back up closer towards the mid-30s.
Tokyo's July heat is compounded by high humidity. Dewpoints climb into the 70s this time of year. CNN notes: "For some athletes, like long-distance runners, the heat can be dangerous. But some are unfazed by the extreme weather."
In 2019, the International Olympics Committee acknowledged the potential for extreme heat in Tokyo by moving the runners' marathon and other outdoor events 500 miles north to Sapporo, which can be around 15C cooler at this time of year, though heatwaves in the 30s have also been more frequent of late.
The swimming marathon was left in Tokyo, however.
Comment: Test events held in Tokyo before the pandemic raised concerns about hygiene and the cleanliness of waters around the bay where the open-water swimming will be held. Temperature is significant: any reading of water temperatures over 31C and the races would need to be called off under FINA safety rules written in the wake of the death of Fran Crippen. The world is watching. Air temperatures are truly significant, too, as is over-head heat. Fran Crippen suffered heat exhaustion (to a point where the body, in water as warm as it was, with no relief in the air, was no longer able to sweat nor cool down), as did at least seven other swimmers who were taken to hospital for recovery treatment on the day the American ace died off the coast of the United Arab Emirates in 2010. The waters in which they swam in a FINA World Cup event were well over the upper limit since imposed, while air temperatures exceeded 35 and even 40C from pre-race through to the end of what would turn out to be a fateful event that ended in preventable tragedy.
Since the death of Fran Crippen and despite the new rules put in place, international open water events overseen by FINA officials have been held in temperatures that exceeded the upper-heat bar, which is in itself a matter of debate: water must not be higher than 28C for a swimmer racing one length of an Olympic 50m pool but asking a marathon swimmer to race at peak-performance speed over 10km in waters of 31C with sun on his or her back appears to be acceptable.
SOS understands that coaches and agents representing some world-class marathon swimmers have been asking certain leading federations and Olympic committees what their policy is in Tokyo if the water temperatures exceed the upper limit. Apparently they have asked in vain: there was no response to a question of fundamental importance. Hopefully, the question will be overtaken by clement weather. The world is watching.
Brit Swimmers Off To The Village With A Fine Send Off from Local Volunteers
COVID-19 Bubble In Athletes' Village 'Has Burst'
Olympic Diary, July 20: The Covid-19 control bubble has already burst at the Olympic Athletes' Village in Tokyo and there is a risk of infections spreading to the general public in Japan, a prominent public health expert tells Reuters.
Games officials on Sunday reported the first COVID-19 case among competitors in the athletes' village in Tokyo where 11,000 athletes are expected to stay. Since July 2, Tokyo 2020 organisers have reported 58 positive cases among athletes, officials and journalists so far, with many more receiving a "contact ping" and now either in isolation or facing it, just three days out from the Opening Ceremony.
"It's obvious that the bubble system is kind of broken," Kenji Shibuya, the former director of the Institute for Population Health at King's College London, tells Reuters. n"My biggest concern is, of course, there will be a cluster of infections in the village or some of the accommodation and interaction with local people."
Insufficient testing at the border and the impossibility of controlling people's movements mean that the Games could exacerbate the spread of the infectious Delta variant of the virus, he added.
International Olympic Committee President Thomas Bach said last week that testing and quarantine protocols would leave "zero" risk of Games participants infecting residents in Japan.
Organizers of the Tokyo Olympics and Paralympics today reported that a foreign athlete at the athletes' village and eight other people related to the games have newly tested positive for the coronavirus, Kyodo reports.
The tally also included an Olympic volunteer for the first time since the committee started compiling figures on July 1, bringing the total number of games-related infections to 67, three days out from the opening ceremony.
Yesterday, a reserve member of the U.S. women's gymnastics team has tested positive for the coronavirus during her pre-Tokyo Olympic training camp. The name of the athlete, who is in her teens, has been withheld by the city of Inzai, Chiba Prefecture, where she was training ahead of the opening of the Tokyo Olympics on Friday.
Meanwhile, two Mexican baseball players tested positive for COVID-19 before departing for Tokyo, Mexican baseball authorities said Monday. The team, which faces host Japan on July 31, still plans to fly to Tokyo.
Tokyo Olympic composer quits after admitting bullying of disabled children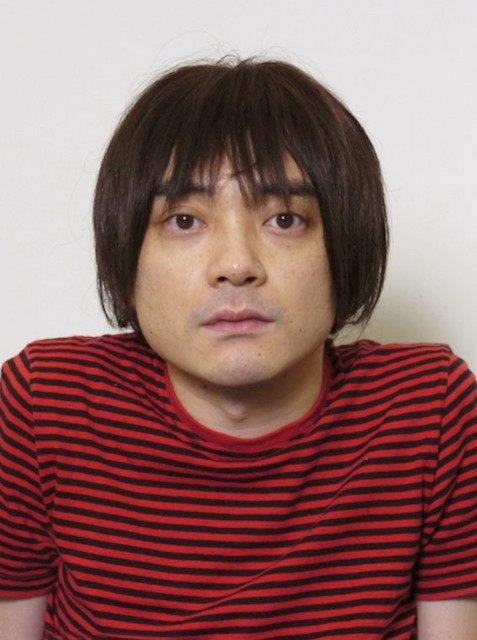 Olympic Diary, July 20: Japanese musician Keigo Oyamada resigned on Monday from the creative team for the opening ceremony of the Tokyo Olympics after admitting that he bullied children with disabilities many years ago, in the latest scandal rocking the already unpopular games.
The resignation of Oyamada, who was in charge of composing music, comes just before Friday's ceremony after sparking an outcry on social media for his past actions, with his recent apology failing to ease the uproar online questioning the appropriateness of his role in the Tokyo Olympics and Paralympics.
Oyamada, 52, said on Twitter Monday that his acceptance of the request to be part of the team was something that "lacked consideration to various people," and that he had "offered (his) resignation to the organizing committee."
Games organizers said Oyamada's part in the ceremony, a roughly four-minute composition to be played at the start, will not be used, with an alternative plan now being considered.
In Contrast … The Talented Musicians On Team USA …
Lilly King Queen Of The Ivories
And Last days On Camp – Michael Andrew Reports…
More Japanese Companies Pull Out Of Opening Ceremony Over Covid Concerns
Olympic Diary, July 20: Senior officials from Nippon Telegraph & Telephone Corp., Fujitsu Ltd. and NEC Corp. will skip the event given that organizers decided to hold the games without spectators, spokespeople for the technology giants said Tuesday, a day after Toyota Motor Corp. announced its top executive wouldn't attend.
Japan's pledge to hold a safe and secure games is coming under threat as COVID-19 cases jump in Tokyo and visiting athletes test positive for the virus.
Meiji Holdings Co. and Asahi Group Holdings Ltd. had already decided executives wouldn't go to the opening ceremony, and Nippon Life Insurance Co. bosses will also stay away, representatives said. Toyota President Akio Toyoda will miss the event, the automaker said on Monday.
Japanese public support for the Olympics is mixed at best, raising questions over the merits of marketing the competition.