O'Callaghan Topples Olympic Champ Titmus With 1:53.83 Blast In 200m Due At Aussie Trials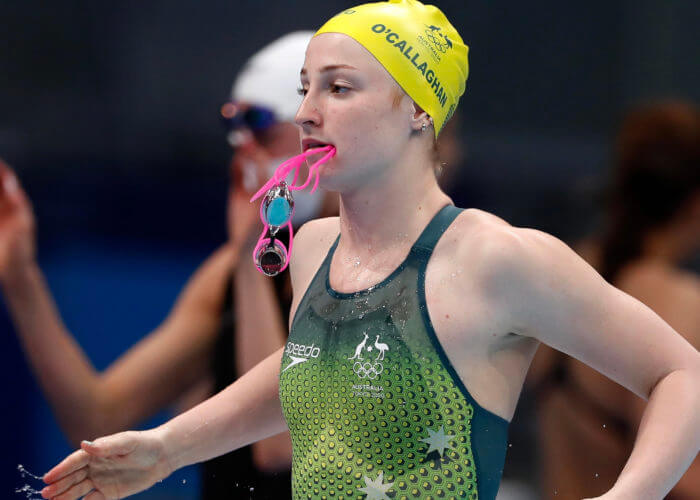 Mollie O'Callaghan, World 100m champion, nailed her colours to the mast over 200m freestyle on day 3 at Australian Trials in Melbourne with a powerful 1:53.83 victory over Olympic champion Ariarne Titmus and a 1:54.14.
O'Callaghan shadowed Titmus for three of the four lengths before overhauling the national champion on the way home to a berth alongside the defending World champion at global titles in Fukuoka next month. The ebb and flow:
27.08; 56.29 (29.21) 1:25.54 (29.25) 1:53.83 (28.29) O'Callaghan
26.88; 55.88 (29.00) 1:25.38 (29.50) 1:54.14 (28.76) Titmus
O'Callaghan said that she was "extremely happy with that" after falling shy of her aim of a sub-1:54 at nationals a couple of months back. She added:
"To do it now I'm just over the moon. There have been a lot of things I've been working on and trying to improve on, and with Dean [Boxall, coach to the top 2 in the race] and the team helping me out, it's obviously worked."
Looking ahead to Worlds in Japan, she said: "This time, I kind of have a bit more knowledge on my side. Last time [Budapest 2022] I went in absolutely nervous, I was a big wreck going into it just because it was my first international meet doing individuals [events]… and this time I kind of have some knowledge on how to work around the international stage with thinks like marshalling, preparation and the travel. This year is a big learning experience for next year [Paris Olympic Games] and I think going in with a bit more confidence this time will help a lot."
Titmus, who suggested this week in Melbourne that she might retire after the Paris 2024 Games, noted the golden strength growing for the Dolphins' 4x200m campaign: "When you look at the scoreboard at the end of the final and see that, and most of the women in the field are under the individual qualifying time which is incredible. It just goes to show the incredible depth that we have, which I feel really grateful to be a part of. To have five St Peter's Western girls in the final, it's kind of just like training."
The power in the Australian women's 200m ranks benefits not a little from the presence of the Olympic champion and World champion in the 100m one side of Titmus and the presence of Titmus as the Olympic and World 200 and 400m champion. The pressure comes from both sprint and endurance ends of the cooker. Titmus noted:
My backend has always been my strength but coming into this meet I know that I had to try and practice my front end a little bit more. So this morning, I did that in the heat and I felt quite good. I haven't checked my splits from tonight but we'll see. I think with a little bit more of a rest, hopefully my legs will freshen up a bit going into worlds. But it's just about getting on the plane [to World Championships] and doing my job when I get there."
Third place in the Melbourne 200 went to Lani Pallister in 1:56.03 ahead of three others on 1:56s and inside the target time for Worlds, Madison Wilson, 1:56.68, Kiah Melverton, 1:56.85, and Brianna Throssell, 1:56.87.
In other action, Sam Short, 19, took two seconds off his best for a 7:40.39 win over Elijah Winnington and a 7:45.75 in the men's 800m.
Asked about Grant Hackett's Commonwealth/Australian record of 7:38, Short said: "He's [Grant Hackett] got that legendary 7.38 … and that's what I'm chasing down. I think with someone next to me, I'm a racer. It definitely gives me a lot of confidence going into Worlds."
On his 1500m prospects at trials and then Worlds, he added: "I mean I won it last year at the Commonwealth Games and I don't think I'd be anywhere near as good in the events I swim if I didn't do the 1500m training, it just makes me a tougher person all round. I reckon I've got a big PB in me in two days time [1500m final], just hit that rhythm and last a little bit longer, we're already halfway there, so I'm pretty excited."
Day 3 – O'Callaghan, Short & The Rest Of The Podium Placers:
Men 200m Butterfly: 1. Bowen Gough, 1.56.01 (Griffith University); 2. Harrison Turner, 1.57.77 (Chandler); 3. William Petric, 1.58.24 (Nunawading)
Women's Multi Class 50m Freestyle: 1. Jasmine Greenwood, S1, 28.68 (Cruiz); Keira Stephens, S10, 28.79 (Southport); 3. Alexa Leary, S9, 28.14 (St Hilda's QLD)
Men's Multi Class 50m Freestyle: 1. Benjamin Hance, S14, 23.53 (St Andrew's); 2. Tom Gallagher, S10, 23.85 (Sommerset GC); 3. Ricky Betar, S14, 25.06 (Cruiz)
Women's 200m Freestyle: 1. Mollie O'Callaghan, 1.53.83 (St Peters Western); 2. Ariarne Titmus 1.54.14 (St Peters Western); 3. Lani Pallister, 1.56.03 (Griffith University)
Men 50m Breaststroke: 1. Samuel Williamson, 27.17, (Melbourne Vicentre); 2. Haig Buckinghamm, 27.53, (SOPAC); 3. Nash Wilkes, 27.72, (Southport)
Women's 50m Butterfly: 1. Alexandria Perkins, 25.92, (USC Spartans); 2. Lily Price, 25.97, (Rackley); 3. Emma McKeon, 26.09, (Griffith University)
Men's 800m Freestyle: 1. Samuel Short, 7.40.39 (Rackely); 2. Elijah Winnington, 7.45.75 (St Peters Western); 3. Matthew Galea, 7.53.33 (SOPAC).
Day 2 – Kai Taylor The Outside Smoker At The Helm Of Aussie Men's 200 Free
With Kyle Chalmers withdrawing from the men's 200m freestyle final, Kai Taylor (St Peters Western) was gifted lane 8 and took full advantage of his unexpected wildcard at the World Championship Trials at Melbourne's Aquatic Centre, Swimming Australia reports.
Taylor, the son of Olympic medallist Hayley Lewis, led at every turn and then hung on to out-touch Alexander Graham (Miami) and Thomas Neill (Rackleys).
His time of 1:46.25 was a fingernail ahead of Graham (1:46.68) and Neill (1:46.82) – in an event his famous mother won at the 1991 World Championships.
While an animated Lewis watched on from the stands, Taylor agreed he owed Chalmers, who had texted him earlier in the day telling him of his withdrawal, a six pack at the very least. His parents up in the stands:

Said Kai Taylor: "This morning was definitely a bit of a disappointing swim for me, ninth, and a little bit of tears this morning. I was very disappointed. But fortunately Kyle pulled out and that got me in eighth spot and I think that definitely took the pressure off me a little bit. I think going into this morning I was feeling a little tense, a little bit of the pressure coming off my win at nationals.
"But going into that [final] eighth and having the pressure taken off me and just sort of going, you know what, who cares, it is what it is. If it doesn't go well it doesn't go well. If it does, it does. And I think that's really what helped me in that race. Even though mum is a legend of the sport, she just wants me to be happy and do whatever I want to do. She said to me 'go do your thing tonight, just stay calm'. "She did however, mention that great things happen from lane eight… mum won 200m freestyle from lane eight."
The other day 2 highlight was the women's 100m backstroke battle between Olympic champion Kaylee McKeown and World 100m free champion Mollie O'Callaghan. It ended easily in favour of McKeown, just shy of her own global standard on 57.50, to 58.42.
"It was nice to get down to the 57 lows," said McKeown. "I wasn't expecting that tonight so it's a nice little surprise and it's always good to have Molly pushing me along especially off the turns."
O'Callaghan added: "Obviously it's quite a tough program [ahead] and I'm in such competition events. I got the backstroke against Kaylee [McKeown] and then I've got the freestyle and it's quite stacked and we've got a lot of depth. But hopefully all the training I've done will come through."
RESULTS at a glance:
Men 100m Backstroke: 1. Issac Cooper, 53.46 (St Andrew's); 2. Bradley Woodward, 53.85 (Mingara); 3. Joshua Edwards-Smith 54.52 (Griffith University)
Women 100m Breaststroke: 1 Harkin, Abbey, 1:07.20 (St Peter's); 2. Mikayla Smith, 1:07.94 (Griffith University); 3. Talara-Jade Dixon (St Hildas WA) 1:08.64
Men 100m Butterfly Multi-Class: 1. Alex Saffy, S10 (Bunbury) 57.95; 2. Ricky Betar, S14       (Cruiz) 1:01.27; 3. Nicholas Layton S15 (Melbourne Propulsion) 56.49
Women 100m Butterfly Multi-Class: 1. Jasmine Greenwood, S1 (Cruiz) 1:10.23; 2. Jasmin Fullgrabe, S9   (Marion) 1:16.33; 3. Montana Atkinson, S14  (Helensvale) 1:13.77
Men 200m Freestyle: 1. Kai Taylor 1:46.25 (St Peters Western); 2. Alexander Graham 1:46.68 (Miami); 3. Thomas Neill (Rackleys) 1:46.82
Women 100m Backstroke: 1. Kaylee McKeown 57.50 (Griffith University); 2. Mollie O'Callaghan (St Peter's Western) 58.42; 3. Iona Anderson (Breakers WA) 1:00.05
Men 50m Butterfly: 1. Cameron McEvoy (Sommerville House) 23.07; 2.  Shaun Champion, (Abbotsleigh) 23.46; 3. Matthew Temple (Marion)  23.47.