O'Callaghan Retains Crown in 52.16 As First In History To Take 100-200 Free Double At Worlds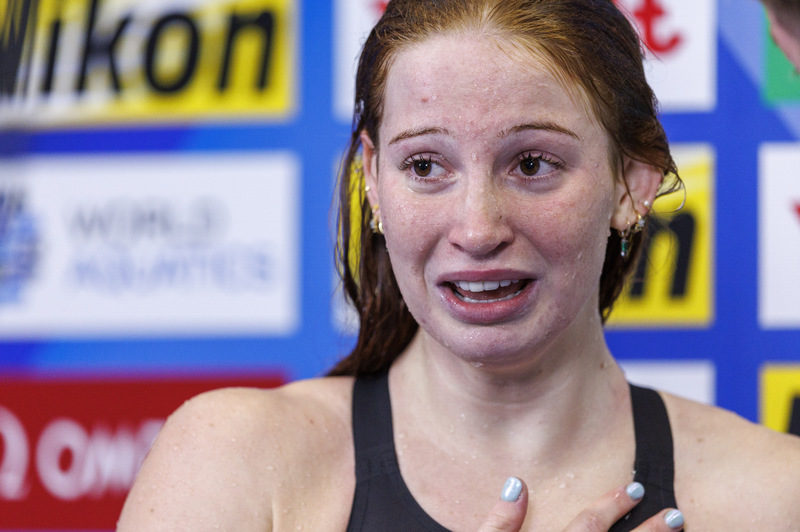 Mollie O'Callaghan, the baby of the 100m freestyle final at 19, retained the World crown in 52.16 at the Fukuoka Marine Messe to become the first in history to claim the 100-200m double as she took her tally of gold medals to four in a stellar week for her and Australia.
The 200m World champion a World-record time of 1:52.85 earlier in the week, O'Callaghan is a nightmare for any pure sprinter who fears being rolled over from turn to end wall. Seventh at the turn on 25.75, she was back in 26.41, a balance that, dive into consideration, represents the closest negative split in sprinting you are ever likely to see in a World-title final
The silver went to Olympic silver medallist Siobhan Haughey, of Hong Kong, in 52.49. She was first to the turn in 24.87, 0.04sec down on the world-record pace of Sarah Sjostrom, the absent Swedish sprinter focussing on 50m events in Fukuoka and on 51.71 back in 2017.
The bronze went to Marrit Steenbergen, the Dutch model of perseverance and steady season-by-season focus on excellence since her stellar junior days. On 52.71, she locked American Kate Douglass and Aussie Olympic champion Emma McKeon off the podium, by 0.1 and 0.12sec respectively.
The Race:
The Result in full: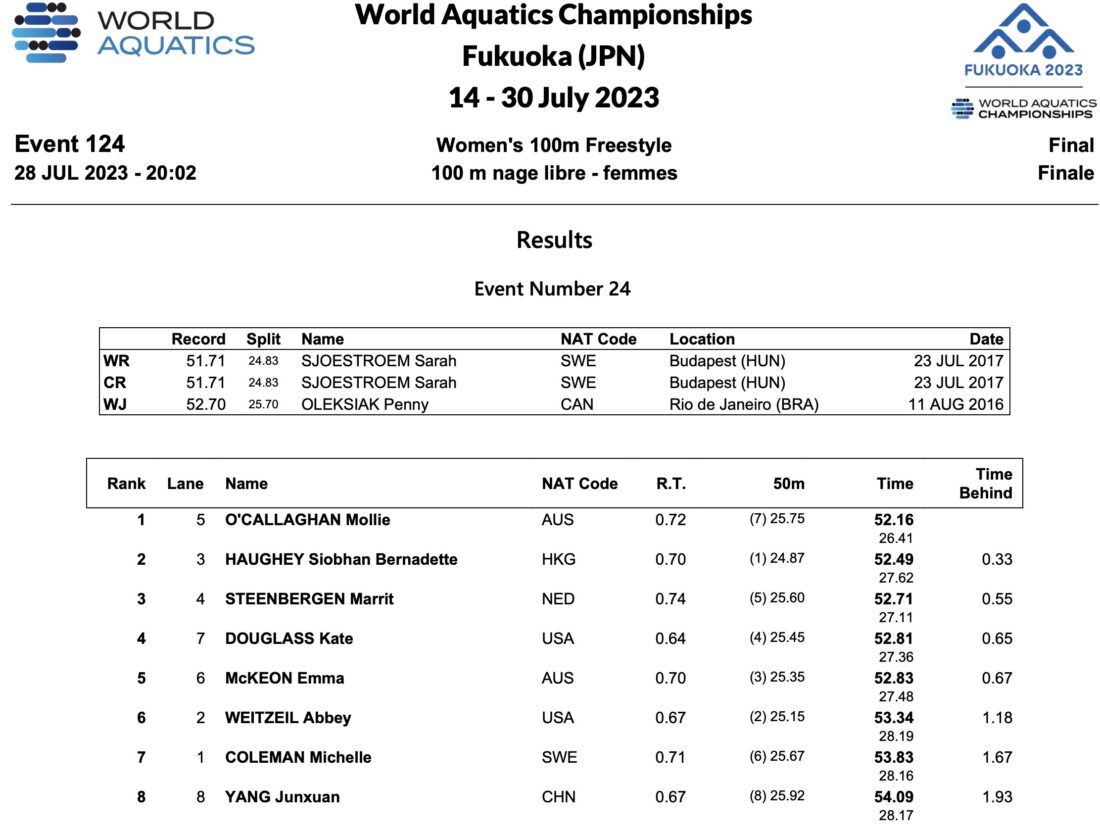 O'Callaghan took the crown a year ago in Budapest on 52.67 – ahead of Sjostrom and Torri Huske of the USA – after she turned sixth at half-way in 25.96.
Now 25.75 and 52.16. Step by step, stroke by stroke, O'Callaghan is bound for Paris a multi title contender.
She emerged to say "absolutely not": when asked if she'd expected it all to turn out to fabulously well in Fukuoka – and then made the mistake of mentioning "having fun". The poolside interviewer, seemingly short of questions to ask, leapt on the fun. Was that what it all came down to? O'Callaghan obliged and pointed to the undoubted role fun plays, along with handling nerves and great teammates.
Somewhere up in the stands or in the dungeon on the way to the mixed zone, coach Dean Boxall must have been thinking about homework, planning, preparation all the hard and smart work that had gone into it all, and other stuff like that.
O'Callaghan later told media that it was "weird" to be the first woman to do the double, 100-200:
"It's so weird, I am not going to lie, it's such a weird feeling. I didn't even know that no woman has done that. And to be the first, it's just incredible. There's no words to explain it, I am just so thrilled. I am just trying to keep my emotions in tact, and keep it controlled at the moment and taking it day by day and I haven't really thought too much about everything."

Mollie O'Callaghan, photo by Patrick B. Kraemer
O'Callaghan's four golds came in the 100, 200, 4×100 and 4×200 freestyle, both relays also in world-record times. Her victory today marked Australia's 10th gold of the meet, three short of the best Aussie outcome since the start of worlds in 1973 – from Fukuoka 2001 and Montreal 2005..

The 19-year-old then said the next 12 months to Paris 2024 was about getting better: "It's not just one thing I can do better, there is much more I can do better. I can grow so much as an athlete and individual. Heading back in to training, now I will have the mindset now that all the other girls will be chasing me. And they're all so close, so I have got to make the next step and move forward."
How O'Callaghan Wins Shifted The All-Time 100 Dynamic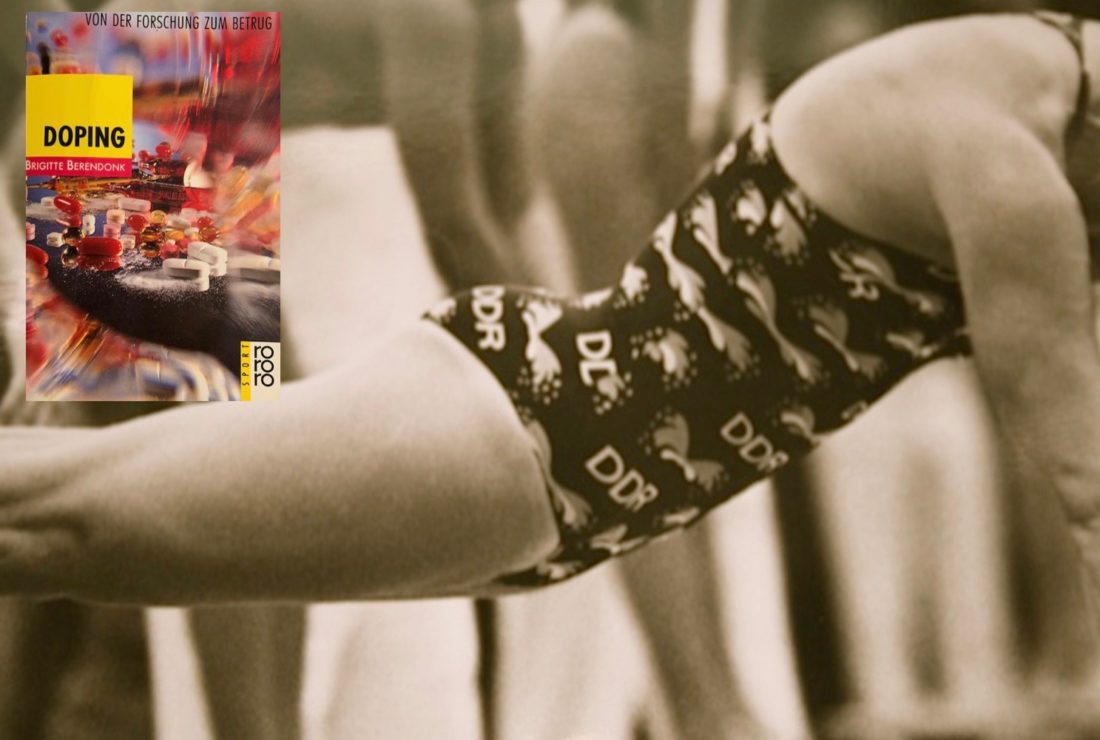 The 100-200 double might have been done in the early days of the World Championships. In 1975, Shirley Bababshoff of the USA took the 200m free title but got blocked from gold by Kornelia Ender of the GDR. Then in 1982, Dutch ace Annemarie Verstappen took the 200m title but was blocked in the 100m by Birgit Meineke.
Last year took Australia to a match with the GDR's record count of gold medals in the 100m after 36 years. East Germany claimed all five of the first 100m World titles between 1973 and 1986, Kornelia Ender claiming the first two in World records, before Barbara Krause, Birgit Meineke and Kristin Otto, the latter in a World record, took the tally to five in five.
Meineke, a medical doctor later in life, testified against her coaches and doctors in the German Doping trials of 1998-2000, helping to convict those who planned and administered East Germany's systematic doping program, State Research Plan 14:25.
O'Callaghan has now taken Australia to the top of the all-time table on gold count, with 6 golds, 2 silvers and 2 bronzes for 10 medals in all.