Nort Thornton Passes At 87, His Pantheon Of Star-Studded Sprinters Eternal, Biondi, Ervin, Arvidsson, Baron & Draganja In The Mix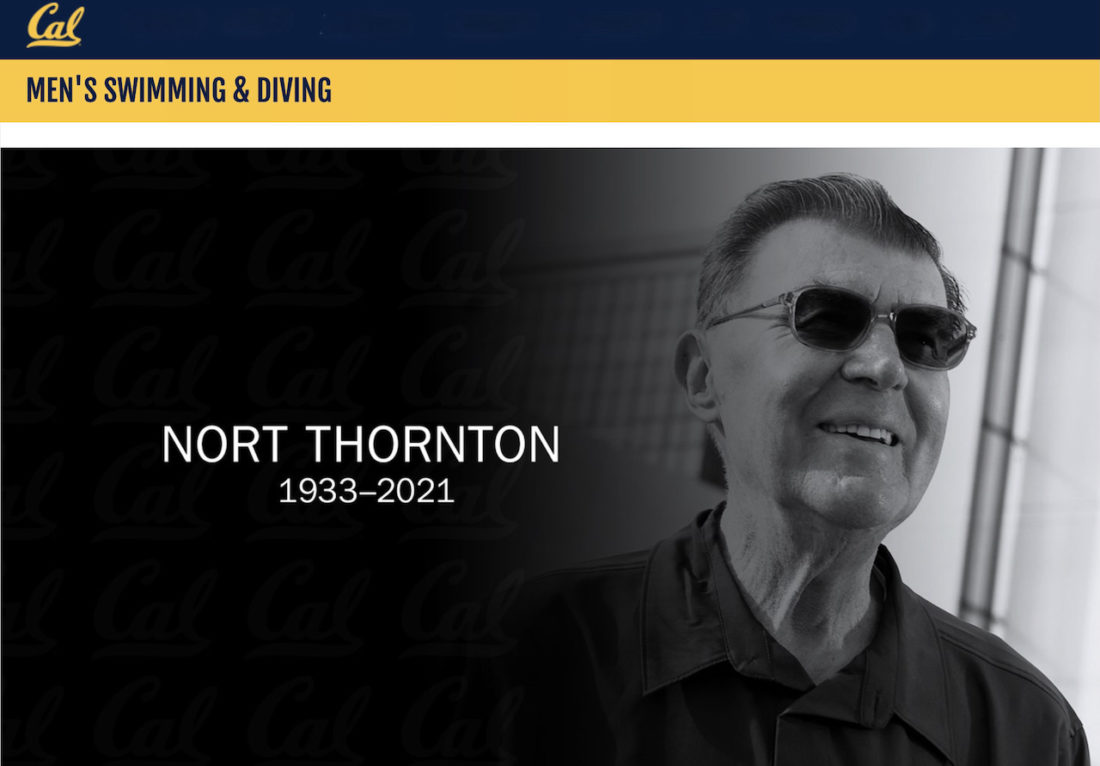 Obituary – Nort Thornton, Head Coach Emeritus as former boss at Cal to a long list of Olympians, passed away yesterday, Thursday, April 22, aged 87.
Coach Thornton's pantheon of high achievers includes Olympic sprint freestyle champions Matt Biondi, and Anthony Ervin, Sweden's Olympic gold medallists of 1980 Par Arvidsson and Bengt Baron, as well as World champion and Olympic silver medallist Duje Draganja, of Croatia, among many others who excelled in the fastest of waters.
His coaching and his program at Cal attracted towering talent that would excel in the years not long after Thornton retired, Olympic champion Nathan Adrian, and World champion and Olympic silver medallist Milorad Cavic, of Serbia, among those he recruited. As Cal noted in its tribute to coach Norton:
"Golden Bears who swam under Thornton amassed 29 Olympic medals, including 14 gold, 10 silver and five bronze, while representing several countries at the Olympic Games."
Thornton led several U.S. teams, including the 1981 World University Games squad. He was also a team coach on the USA squads at the 1983 Pan American Games in Caracas, Venezuela, the Madrid 1986 World Championships and 1997 Pan Pacific Games.
Current Cal Men's Swimming & Diving Head Coach Dave Durden, who will serve as a head coach to the USA Olympic team at Tokyo 2020ne this July, described Nort Thornton as a legend. He said: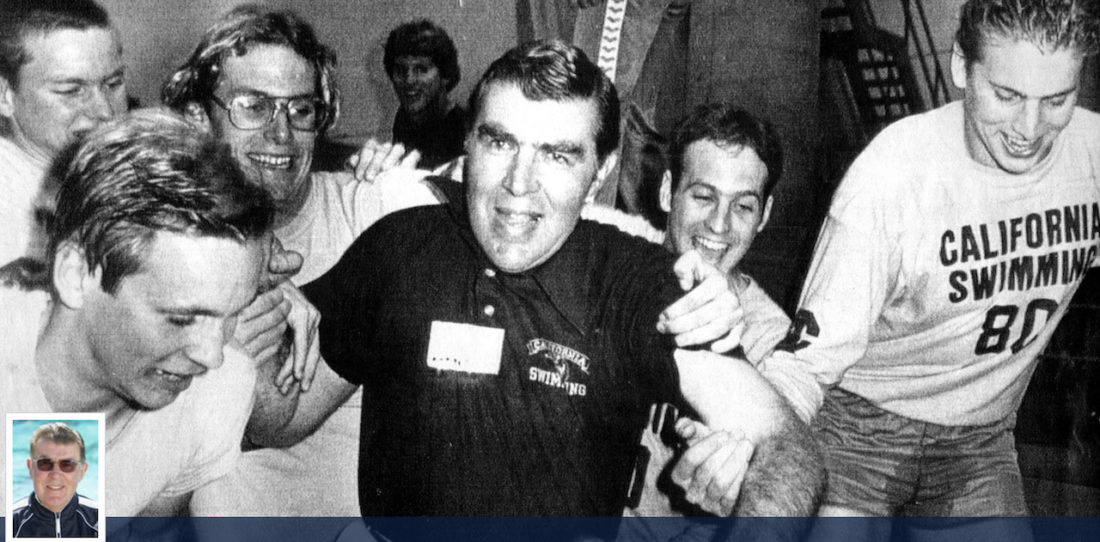 "I'm saddened by the loss of Nort Thornton, a legend who impacted our program, our Cal community and the sport of swimming as a whole in so many tremendous ways. Nort will be remembered as one of our sport's greatest coaches, but his legacy extends much further than the accolades he received throughout his career.

He was a passionate leader who made a difference in the lives of everyone who spent time with him on the pool deck. Nort will be greatly missed, and I join all members of our Cal community in sending condolences and prayers to his family."

Dave Durden – image – Nort Thornton and members of one team in many that celebrated success at Cal – courtesy of Cal
Among tributes was this from Bill Sweetenham, the Australian coach mentor, in a note to Nort Thornton's son Richard:

"Nort was a great man and coach who I learned from continually. His willingness to share. His ability to look at issues of life and coaching was excellent. Your father was an exceptional and extraordinary human being. Every hour that I had the privilege of spending with Nort provided myself with vision into the future of our sport. Nort was a giant in my world of learning. He had few equals. I had the enormous pleasure during my Churchill scholarship in 1981 of sharing, on a daily basis with Nort for a period of some 6 weeks. A fantastic time of learning for me."

"I spent everyday at the Barcelona Olympics with Nort where we talked speed and sprint events in great detail. Nort's  vision for the 100 metre events was  one that I feel fortunate to have had the opportunity to learn from on many occasions since the days in 1981.  I owe Nort much. Your father's friendship means so much for me."

Bill Sweetenham in a note to Richard Thornton – image – Nort Thornton with a gang of achievers, courtesy of Cal
The Swim Coaches Idea Exchange Group on Facebook carried many fine words about Nort Thornton. Here are a few:
Nort was one of the all-time great human beings as well as a coach – John Leonard
Nort was a great man. Innovative, quietly confident and his guys we're always ready to race! Rest In Peace Nort – Don Wagner
A legend who always made time to help others. Condolences to Richard and the rest of the family! RIP and Godspeed Nort – Mark Hesse
It was amazing time to sit down with Nort discussing training of his swimmers! He will be missed by many swimmers and coaches. Rest in peace, my Friend! – Genadijus Sokolovas
What a wonderful man and coach. Took the time with me as a young coach and felt better for having talked with him. My thoughts fo out to Rich and his family as well as all his swimming family. – Mike Sharadin
One of the deans of college coaching in the United States and Cal's longest-tenured coach before retiring after 33 years at the helm of the Golden Bears men's swimming & diving program in 2007, Nort Thornton started his Cal career in 1974-75 in an era when World Championships were new to the world.
He guided the Cal Bears to the 1979 and 1980 NCAA team championships and then, down the years, built the program into what Cal describes in its tribute to Thornton as "a consistent national contender".
How consistent? Well, Thornton's teams ranked inside the top 10 men's college swim programs in 28 of the 33 years he served as head coach. As Cal notes: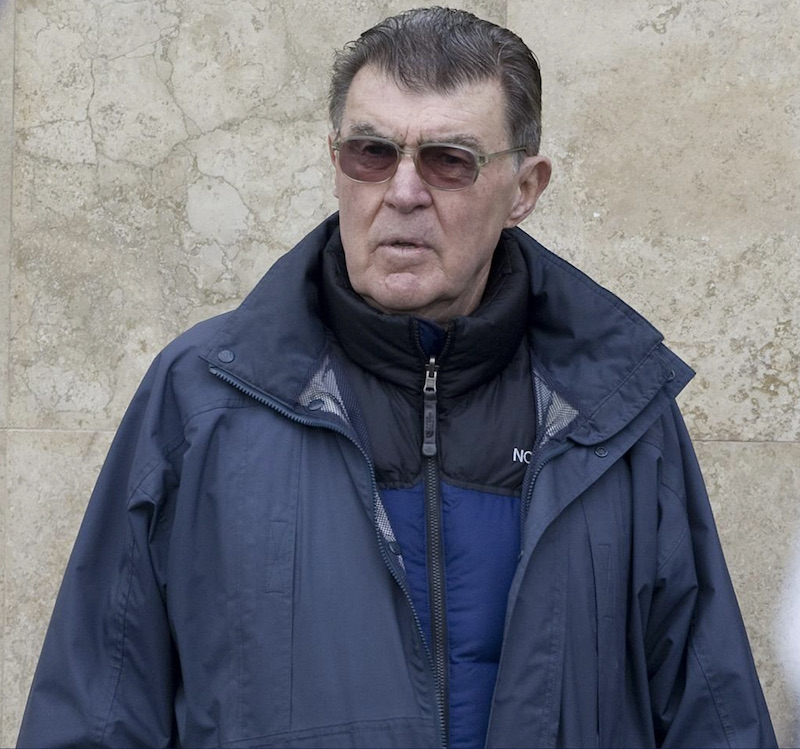 "His Cal squads won 48 NCAA individual and relay championships and 108 Pac-10 individual, relay and diving titles, while owning a dual-meet record of 231-85 (.731) during his tenure. His 1979-80 and 1980-81 teams captured Pac-10 team championships. Nort Thornton was named National Coach of the Year twice and was a four-time selection as Pac-10 Coach of the Year."

Image – Cal Head Coach Emeritus Nort Thornton – courtesy of Cal
Cal's profile on Norton notes: "It is a credit to Thornton's recruiting and coaching ability that the Bears have consistently been in a position to compete for the national crown. For more than three decades he cultivated squads that combine some of the top local California talent with national and international blue chippers. Thornton's office is a testimony to his coaching ability with Olympic banners, photos of world record holders, NCAA championship trophies and mementos that span through his long and illustrious career."
Inducted into the Cal Athletics Hall of Fame in 2010, Thornton was a past president of the American Swimming Coaches Association (ASCA) and served on the ASCA Board of Directors. He was also a member of the NCAA Rules Committee and was awarded the National Collegiate and Scholastic Award "for his contributions to swimming as a healthful recreation activity for schools and colleges".
Thornton graduated from San Jose State in 1956 with a degree in education and earned his master's degree from Stanford.