Nancy Hogshead-Makar & Simone Manuel Named Among The Unrelenting Powerhouses of Women's Sport In USA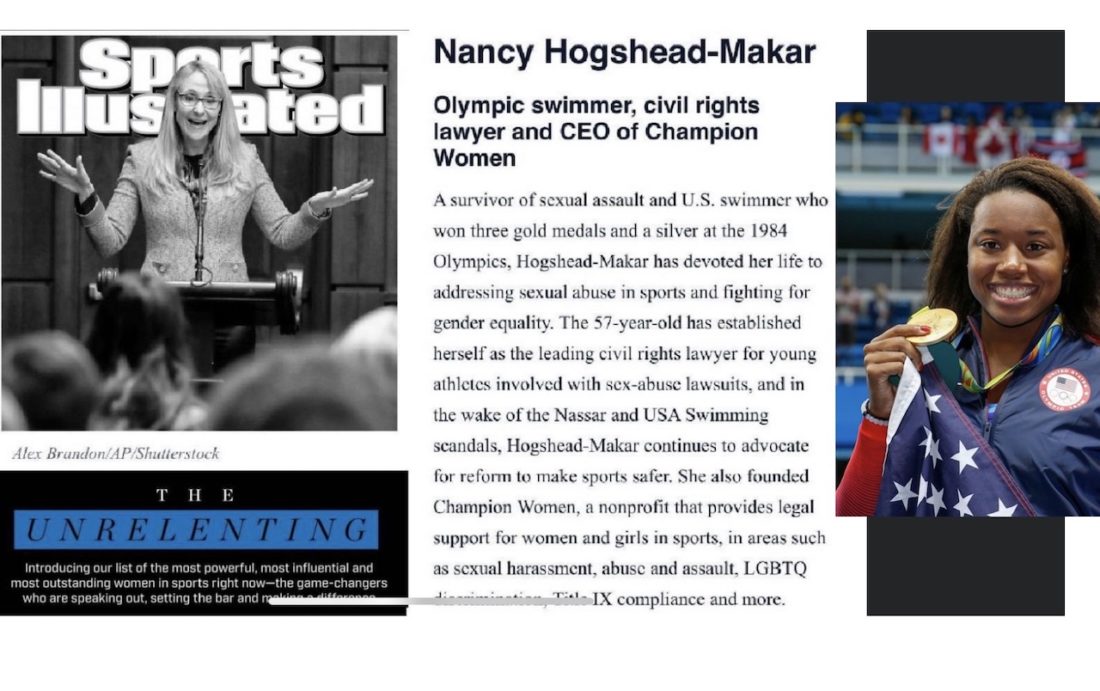 Nancy Hogshead-Makar and Simone Manuel, two of the last three American women to claim the Olympic 100m freestyle crown, have been honoured by Sports Illustrated in a ranking of "The Unrelenting", a list of "the most powerful, most influential and most outstanding women" in American sports.
In advocacy for and in the interests of human rights, health, welfare and safety, Hogshead-Makar and Manuel have both written their own headlines of late, their work decidedly unrelenting.
Hogshead-Makar, who claimed gold alongside USA teammate Carrie Steinseifer in an historic snap in the 100m freestyle at the Los Angeles 1984 Olympic Games, has devoted her professional life to addressing sexual abuse in sport, calling authorities to account and pressing for gender equality in realms such as swimming, which remains an unrelenting world of global governance that holds on tight yet to James Brown's classic as its mantra: "It's a Man's Man's Man's World".
At 58, Hogshead-Makar, rape survivor, Olympic champion and advocate for abuse victims and survivors whose ordeals stretch from events in the early 1970s through to today and involve girls aged 11 to womanhood, is a towering example of an unrelenting advocate who works combines "lived experience" to "honed skills" on a trail that has been less travelled in the realm of sports than it might have been because of the hostile response survivors and advocates have all too often faced from authorities when reporting wrongdoing down the years.
Manuel, who was a part of the next 100m free Olympic snap in women's swimming history when she and Canadian Penny Oleksiak stopped the clock at the same moment in Rio back in 2016, is working to defend her Olympic crown next year after the Tokyo 2020 Games was shunted into 2021 by the COVID-19 pandemic.
Unrelenting Forces From The Power Pool
Manuel has been a fearless and unrelenting critic of racial injustice in the United States, taking regularly to social media and using mainstream media and other platforms from the day George Floyd was murdered under the knee of a white police officer on May 25 this year to remind all and any that racism is a ball and chain every single day for many people.
The police killing of Breonna Taylor was another in a long line of tragic, avoidable deaths that sparked race riots across the United States and far beyond this year. Long before those events, Manuel could be found working alongside Cullen Jones and others in the Splash program run by USA Swimming to promote diversity, safety and swim skills for all in a predominately white sport. She once recalled:
"When I was 12 years old, I came home from swim practice, and I asked my mom why there weren't many people that looked like me in the sport of swimming. We did some research, and we looked up African-American swimmers. Obviously, I knew of Cullen Jones and Maritza Correia, but I learned about Sabir Muhammad and Tanica Jamison and so many others who didn't quite get the recognition that they deserved in the sport."
On racial injustice, a tweet this year in response to a Swimming World article that led to an apology I insisted on as Editor, hit home when it came to explaining what it feels like tom like it. The words repeated what she had told this author at the Rio 2016 Olympic Games:
"I'm just so tired … it's something you live with every single day …"
Of late, she spoke about feeling ostracized in "the climate of the world we live in." She told CBS News:
"Sadly, there still is racism that exists … and sport "definitely has a long way to go when you're talking about diversity and inclusion."
A 2019 report on USA Swimming that of its 327,337 aquatic athletes, 0.6% of men and 0.8% of women are black – and that some 34% of athletes did not complete the demographics section of the survey.
Manuel's parents understood the issues early on: they hired a sports psychologist for her when she made the USA Swimming National Team at 15 because they knew the adversity she would face. Her mother, Sharron, told Sports Illustrated:
"I knew this kid was going to have to deal with a lot. And a lot will be expected."
Champion Women …
Nancy Hogshead-Makar is the founder and head of Champion Women, a nonprofit that provides legal support for survivors of sexual harassment, abuse and assault in sport. She played a leading role at the helm of Team Integrity, the group of advocates that lobbied U.S. Congress to enshrine safety in sport into legislation this year.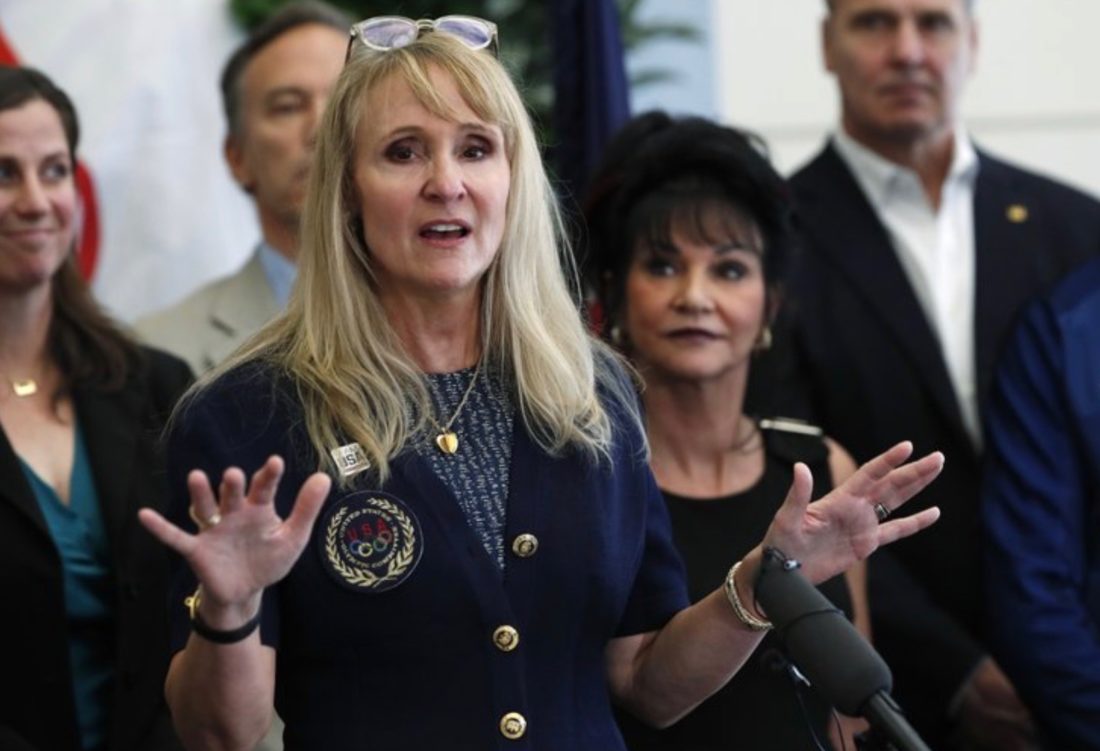 The United States House of Representatives has matched the Senate's unanimous vote in passing (in just eight minutes) transformative Olympic reform legislation – the Empowering Olympic, Paralympic, and Amateur Athlete Act (S2330) – today.
The end of the autonomy of Olympic governance is nigh: the Act, which now heads to the White House for final thumbs up and seal, grants Congress the power to dissolve the United States Olympic and Paralympic Committee (USOPC) Board of Directors.
In a vote today, The House ensured that the powers extend to decertifying National Governing Bodies (NGBs) of individual sports if federations are deemed to have failed to represent the best interests of athletes.
The Empowering Olympic, Paralympic, and Amateur Athlete Act (S2330) transcends its towering American context and is a triumph for Team Integrity advocates such as Hogshead-Makar, coach advocates such as Dia C. Rianda, and the victims of abuse, such as USA gymnasts who helped jail Larry Nasser, and others like Olympic swimming gold medallist Deena Deardurff whose 2010 public confirmation about the abuse she suffered between the ages of 11 and 15 gave others the courage to come forward to name and shame their abusers and force reform at organisations such as USA Swimming.
In the past, the International Olympic Committee has suspended nations if it perceives political "interference" in matters such as selection of (or deselection of) National Olympic Committee officials. The S2330 legislation effectively makes it game, set and match on that IOC approach, unless they ever opt for suspending the USA and waving goodbye to NBC rights contract, the vast sums of money that flow – and related arrangements.
In the United States, the need for Olympic reform legislation grew out of anger and frustration over what has widely been seen as unchecked abuse of athletes, sexual, physical and psychological, at the heart of Olympic sports. The issues are highlighted in the documentary Athlete A but date back much further to cases reported in the 1970s but ignored for decades.
Hogshead-Makar is an advocate who brings the trauma of lived experience to her job: at 19, while jogging near the campus at Duke University in North Carolina, she was raped by a stranger. It happened the year after she was denied a shot at the 1980 Olympics due to boycott. She went on to plough her anger and healing into the water and the work and mindset that made her an Olympic champion. Nancy Hogshead-Makar would later explain, however, that recovery from rape and abuse takes much more than that. Speaking of the profound impact of a crime of violence:
"I felt profoundly broken. I felt forsaken by God. I was scared all the time. I thought that I could overcome it by willing it away. I didn't talk about it for 20 years because I would have started to cry; I wasn't quite healed enough."
She recalls the advice from friend and mentor, the human rights activist Richard Lapchick, who suggested that talking publicly about her experience might help others:
"He said, 'You really need to start talking about your own experience'. And he was right. It made me a better advocate. My hope is that other, older women with great lives will disclose this part of their story."
From The Craig Lord Archive – January 2020
Unrelenting – And What It Means To "Be A Man" …
Nancy Hogshead-Makar, the 1984 three-time Olympic gold-medal winner, has issued a plea for more men "to become advocates for women in sport, including advocating to lower women's risk of sexual violence in sport".
Having spent a legal career doing both those things, Hogshead-Makar swam against the tide of plaudits for Kobe Bryant, after he died in a helicopter accident, when she recalled the rape and sexual-assault case brought against the basketball ace in 2003.
Citing an Outsports.com article that started with the words "When Kobe Bryant apologized for calling an official a 'fucking faggot' in 2011, he vowed he would start advocating for the equality of LGBTQ people" and praised the player for having followed through in admirable style, Hogshead wrote in a public Facebook post: "Reading this article crystalizes the problems I have with Kobe Bryant and figuring out his legacy.
"When Kobe called a referee a homophobic slur in 2011, he didn't offer a half-apology; it was full-throated, and he backed up these words with action.👏👏👏 Yup, we all make human mistakes, and that's how to learn from them.
"When you know better, you do better." – Maya Angelou.✊
Then Hogshead-Makar highlighted a different chapter of Bryant's life when she wrote: "But after Kobe was accused of rape and strangulation, he remained silent on the subject, despite sexual violence throughout the sports world. Worse, he allowed the press and his fans to punish this 19 y/o kid brutally."
That's where Hogshead's own history kicked in to explain one of the reasons she's been a passionate advocate for change:
"I remember being a 19 y/o bloodied rape victim, and feeling God-forsaken, lower than dirt. I can't imagine having the crush of loud male fans that legitimize the loud … commentators that would reverberate in her head; to not be able to escape her rapist's presence in her life."
It was the year after she had qualified for the 1980 Moscow Olympic Games over 200m butterfly and 400m medley, only to be denied by boycott, that the 19-year-old Hogshead was raped while out jogging around campus at Duke. The local paper headline read "Female student raped while running alone", the last word a controversy in itself, the emphasis placed not on the criminal but on what the woman might have contributed to the crime of rape being committed.
At a home Olympic Games at Los Angeles in 1984, Hogshead shared a first and historic shared Olympic gold in the 100m freestyle with Carrie Stenseifer and took gold with teammates in the 4x100m free and medley relays as well as silver in the 200m medley behind teammate Tracy Caulkins.
Hogshead has spent many years since as a high-profile advocate of gender equity in sports and a specialist on Title IX of the Education Amendments of 1972.
In her Facebook post, she writes: "Kobe did not follow-up to support the issue of sexual violence, even within sport" after the case against him was dropped and he settled a civil suit with his accuser for an undisclosed amount of money. Bryant also paid $4m for the diamond ring he gave to his wife as an apology for his adultery.
Hogshead-Makar raises the issues at the heart of decades of work conscious that she does so at a time of mourning for Bryant, his 13-year-old daughter Gianna and the other seven victims of the helicopter crash.
In a series of questions, the lawyer wonders what learning curve the player went on, when almost a decade younger that he was when he became embroiled in the homophobia controversy. Had he used his Athlete Voice for advocacy in women's sport?:
"Did he reach out to his male peer-athletes or advocates, Joe Ehrmann or Richard Lapchick or Jackson Katz or Don McPherson? What about any of the amazing women writers, lawyers, counselors, researchers doing this work?
"Did he throw his weight behind fellow-Olympians McKayla Maroney or Aly Raisman on Twitter when they disclosed being assaulted by Larry Nassar, the USA Gymnastics team doctor?
"How about the 250+ MONTHLY reports of sexual abuse reported to the US Center for SafeSport?
"How about other victims of athlete sexual violence like Brenda Tracy, Kim Rhodenbaugh Lewallen, Katherine Redmond and 100s more?
"What would it have meant for women to have Kobe Bryant – THE KOBE BRYANT – talk to a locker room about sexual violence the way he addressed LGBT hate … just once?
"What about supporting the 2011 Title IX Dear Colleague Letter, that spawned young women to become advocates, like It's On Us, End Rape on Campus, Know Your IX: a project of Advocates for Youth, The Hunting Ground. How about opposing Secretary Betsy DeVos' attempts to weaken those protections?
"How about all the national groups addressing sexual violence on campuses and in sport? CHILD USA, National Coalition Against Violent Athletes, Stop It Now!, Set The Expectation, National Women's Law Center, @Public Justice, Equal Rights Advocates, AAUW, National Organization for Women (NOW), California Women's Law Center, Women's Law Project.
She opines: "There are abundant ways to get involved with the issue of sexual violence in sport, and despite his personal experience with it, Kobe Bryant chose to remain silent. That's part of his legacy too, and a sad one, an opportunity gone with his death."
On the Athlete's Voice, Hogshead-Makar says:
"I have a lot to say about the athletes voice. Primarily, give yourself time to grow it. Find mentors. Hear others speak and all the different styles. Find your own. Think about what you want the audience to be 'left with'.
She added: "Normally after I talk [about her experiences and advocacy] people act like I'm their best friend — they KNOW me. We're peers."
It wasn't always so:
"The first few times I talked about my rape, it landed like a thud. Everyone was so uncomfortable they just left quickly. It was awful for everyone. I knew I had a lot to say…".
She listened to other victims of rape and, among may others, advocates for greater understanding of human development and how boys are raised, such as Joe Ehrmann:
"I also listened to the many stories of rape — those whose abusers were famous, those whose abusers were beloved family members or admired priests, those whose rapists also tortured them… people who were raped as kids and post-menopause," says Hogshead-Makar.
"I heard what they needed. What healing looked like – I could see healing. I thought about if I could roll back time, what would I do differently? I am still figuring out how to make sure the story is NOT, 'Nancy was raped and she overcame it to win gold in the Olympics'."
She recalled what it was like to stand up and speak about her rape: "Before you hear anyone else talk or read about it, it feels so monumental that merely saying it out loud it feels like there should be thunderous applause. But truly, there is 1 in 4 of women who've been raped, and 1 in 7 men, sooooo … there are a lot of people who have the same story. It really isn't enough to have a good story. What does it mean for the audience?"
Her message to athletes was to resist efforts to silence them when the opposite is what is required. She concludes with a special plea to male athletes:
"Come on guys … we need more men to become advocates for women in sport, including advocating to lower women's risk of sexual violence in sport."