Must The Olympic Test Be Traumatic, Australia Asks, As Matt Wilson, All-Time Top 5 Ace, & Others Race Inside A Cuts But Fall Finger Shy OF Bruising Boxing Roo Rights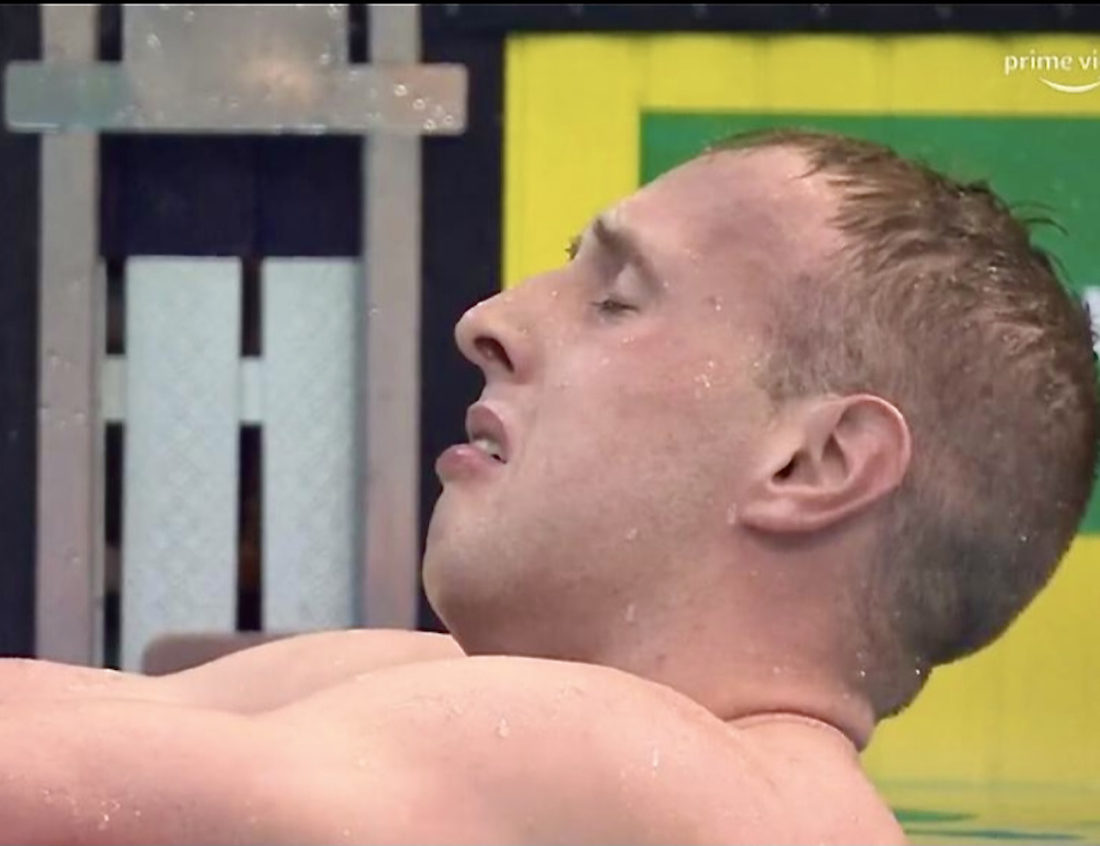 Editorial: Consider the picture above and think deeply about what it means for Matt Wilson, the sport of swimming and an Olympic culture in which to be born in a nation that invests and excels in swimming means you won't get your Games moment, even was an all-time top 5 racer, if you're a finger shy of a cut well inside the international A standard.
Context: many others from around the world will be in Tokyo with an A cut slower than the bruising boxing-kangaroo standard of a nation that aspires to put its money where its mouth is and bring home the medals. Those Australians a fraction shy of Olympian status will sit home during the Tokyo Games and watch hundreds of others on the TV next month and know they're looking at standards that would not make the final of a local youth gala: it's called the FINA B cut and it's there to serve "representation" and universality", to performance and medals.
For Australia, the question is: how do you justify leaving the likes of Wilson (among others) at home when if he were American he would make the team with a FINA A cut; how do you justify it more than a decade after Don Talbot (RIP) told Australia "drop the tough cuts" and go for national (trials) champion and second swimmer home inside International A cut? When giving advice to Bill Sweetenham when his fellow Australian was turning the Great Britain program into a competitive force and educating coaches in the ways of winning and the value of 'no compromise' in specific ways pertinent to performance sport, Talbot repeated his message and that model is the basis of the GBR team selection this year, though even then it is not the pure "national champion" + any inside the International A cut model that Talbot suggested.
Despite the challenges of COVID-19, Australia has opted to stick to the harder line. That translates to this: representation tickets will allow, as ever, some to say "I'm an Olympian" and capitalise on that for the rest of life (and even attach the letters OLY to the back of their names), while for Wilson, a 2:06 200m breaststroke swimmer (and they all know what that means and what it takes), the harder line spells the scrapheap of history in the youth of his adulthood. He was 17 when it first happened to him, now he's 22 and here we go again.
Some say 'shame, but that's performance sport', even 'what a choker' in some sick quarters. Heartache by a fingertip as all-time 5th fastest but no ticket to have a go at the Games = high potential of mental health issues for years to come after a decade of dedication.
Therapy ought, certainly, to be offered under various circumstances in swimming, as Mike Wenden, a man who went to two Games, noted all those years ago when emerging with gold from the 200m freestyle ahead of favourite Don Schollander. Therapy has not been a part of swimming-governance culture, even when crimes have been committed. Time for change.
Wilson made the podium at World Championships in 2019. His time, 2:06.67, was a World record, one reduced to 2:06.12 in the final by champion Anton Chupkov, who will be in Tokyo off a time just shy of a second from best, whereas Wilson will not because he was a touch over 1.5sec from best at trials. Wilson remains an all-time top 5 swimmer, has endured the challenges of Covid-19 season and the one-year delay to the Games in Tokyo and at trials yesterday clocked 2:08.52.
That was inside the FINA A cut of 2:09.05, a fast time that the likes of former Commonwealth and European champion Ross Murdoch just got inside of, at 2:08.98 at British trials for a place at the Olympic Games. The GB policy was not consistent either but Murdoch, for example, is not alone where it comes to qualifiers who will be in Tokyo on the strength of the international FINA A time.
Australia, apparently for 'funding' reasons, set its target time at 2:08.28. Wilson is out and a history of heartache repeated itself: at trials in 2016, aged 17, he clocked 2:09.90, the cut at 2:09.64. "Never mind, said selectors and coaches, he's young, it'll make him stronger next time." Actually, it doesn't work like that.
In The Australian Daily Telegraph, reporter Julian Linden raises pertinent issues today, when he writes "Swimming Australia is sticking by its cold-blooded selection policy for the Tokyo Olympics after revealing that some Aussies who meet the official qualifying standard could be left off the team for budget reasons."
He calls cuts that apply only top Australia, "brutal" and says they raise "fresh questions about whether administrators are putting themselves ahead of vulnerable, young athletes".
Introduced after the Australian swim team won just 10 medals at the 2012 London Olympics, the new rules, he notes, "state that to be picked for the Olympics, Aussie swimmers not only have to finish first or second at the national trials and go under the official Olympic qualifying standard – but they also need to post a time that would have got them into the final at the 2019 world championship."
It's an added hurdle that not even the United States – which has the best swimmers in the world – places on its athletes but Australian team officials insist the practice is fine because the only thing that matters is winning medals.
When approached by Linden, Australia head coach Rohan Taylor told News Corp: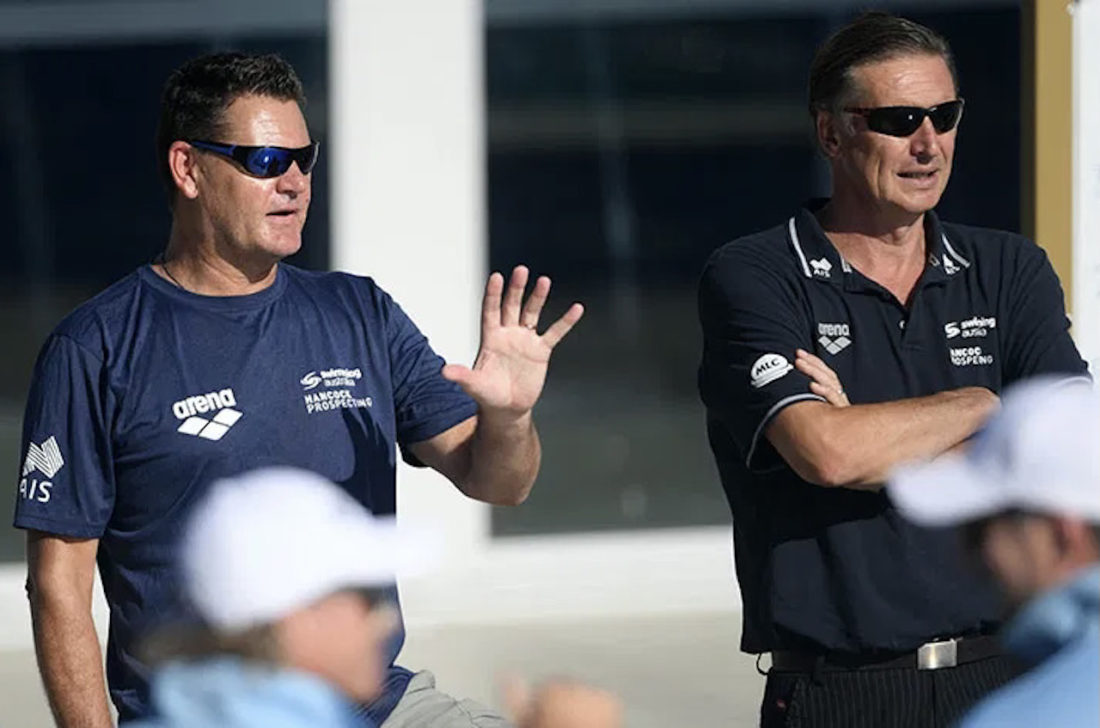 "We're employed and held accountable for the performances at the international meets through medals. Our funding is all driven by those things so we have to put in place a system to try to maximise that opportunity. When you look at it from a broader sense, of course you want to give everybody a chance but that's how we've gone down that path. If you spread it too wide, you might lose a bit."

Rohan Taylor – pictured with medley legend of the 1980s, Alex Baumann, now CEO of Swimming Australia – by Delly Carr, courtesy of Swimming Australia
Here's how Linden describes the moment Wilson was shut out once more:
"The raw emotional cruelty of the policy hit home when Matt Wilson broke down in tears after finishing second in the 200m breaststroke final at the trials … The Blue Mountains-based swimmer was inconsolable after he climbed out of the pool and collapsed into the arms of his grief-stricken parents, who have seen all the sacrifices he has made over the years."
Taylor said Swimming Australia considered ditching the policy because of the pandemic but decided to keep it, explaining: "It's heartbreaking to see that but it's been very clear for a long time that that's how we go with the benchmark meets."
Linden also notes: " … there's no proof the system even works. It was trailled for the first time at the 2016 Rio Olympics – where Australia again won only 10 medals in swimming – about half the number the Dolphins were winning regularly before the system was introduced."
There's also this: legendary coach Laurie Lawrence is among the many critics who want the Aussie-only tough cuts scrapped immediately.
He said last year that the policy "made him "want to spew" and noted what ought to have screamed lough and clear and prompted change:
Lawrence masterminded two of the greatest upsets in Olympic swimming history with Jon Sieben and Duncan Armstrong. Sieben was ranked 25th in the world when he won the gold medal in the 200m butterfly at the 1984 Los Angeles while Armstrong was ranked 46th when he won the 200 metre freestyle gold at Seoul in 1988.
Under Australia's current policy, neither would have made the Australia team. Selectors have discretionary powers, for relays, for example, but they tend not to be applied to the hard and fast tough-cut rule in solo events.
Linden notes that the policy is unpopular among swimmers. Mitch Larkin noted:
"I know we've got pretty strict qualification rules and they've been in place for a number of years. But I do sort of question the experience that they can gain as an athlete is so invaluable. Why not take them? I'm lucky I'm not a selector."

Mitch Larkin – courtesy of Swimming Australia
All of which reminds us of two things:
the Olympic Games is not a meeting of 'the best of the best' – there will be top 10 and even top 5 swimmers missing even though they made the A cut, m in part because the Olympic movement has done nothing to help professionalise its sports, its business model one in which its partners and backers maintain a status quo that often considers the athlete second, at best.
If anyone reading this thinks it fair to leave A cut athletes at home, let me know, with your argument:
craig.lord@stateofswimming.com
Some will take one view, others another and Swimming Australia and the nation's NOC may or may not like it but the theme above is a perfectly reasonable point of discussion and debate, with athlete welfare in mind.