Daniel Wiffen, Mona McSharry & Darragh Greene Get Irish Olympic Trials Party Started With A National Record & Tokyo Ticket Each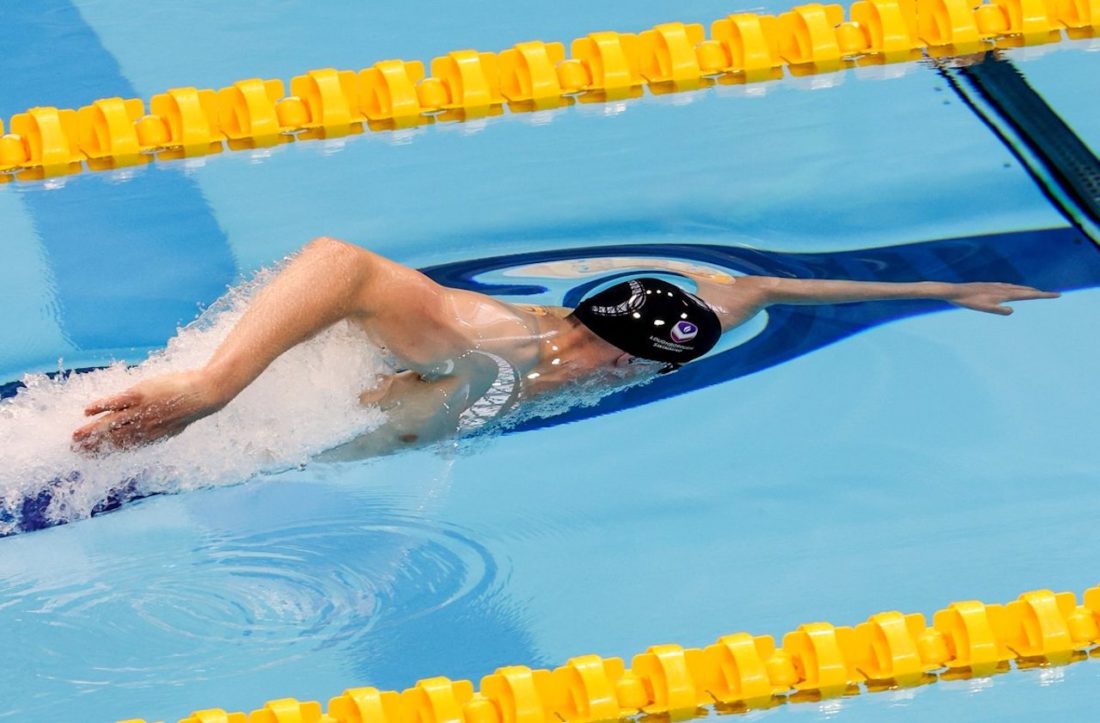 Daniel Wiffen, Mona McSharry and Darragh Greene took down an Irish record each to land tickets to the Tokyo Olympic Games this morning at Swim Ireland Trials in Dublin. There was also a Tokyo cut for Shane Ryan in the 100m backstroke.
Wiffen, 19, got the Irish party started with a 7:52.63 in the 800m freestyle before Darragh Greene clocked 59.76 and then Mona McSharry a 1:06.97 in the 100m breaststroke.
Day 1 Heats – Summary Of A Swift Morning In Dublin
The most valuable treasures that Mona McSharry brought home to Ireland after a year away at college in the United States brought forward by a Covid-19 pandemic that forced a change of plan was put on display this morning at Olympic trials in Dublin.
McSharry had spoke of conquering fear, embracing confidence in her ability to make the Olympic Games. Conquered. Embraced. Day 1 heats: 1:06.97, Irish Record inside the qualification cut of 1:07.07, the semis and the finals ahead later and tomorrow.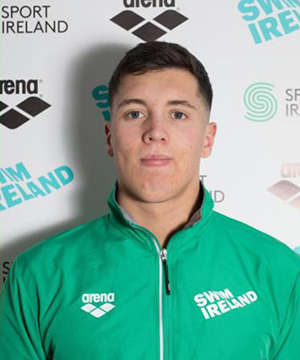 Her target at Swim Ireland's Irish National Team Trials from today until Saturday at the Sport Ireland National Aquatic Centre in Dublin, had been 0.03sec inside a best time, the previous Irish Record, of 1:07.10. Make that had a best time: it's now 1:06.97, the first Irish sub-1:07. The heats also produced a 1:08.03, 0.09sec shy of lifetime best, from Niamh Coyne.
McSharry's was not the only Irish 100m breaststroke set this morning: Darragh Greene clocked 59.76, inside the required 59.93 for Tokyo consideration and inside the 59.82 he clocked at 2019 World Championships.
Daniel Wiffen Comes Of Olympic Age At 19
The Irish record breaking got underway from the get-go: a terrific 7:52.68 from Daniel Wiffen, the Larne swimmer based at Loughborough University in England alongside his twin brother Nathan, will put him among the pioneers who will race in the first Olympic 800m freestyle for men when the event makes its debut in Tokyo this July.
Wiffen's target time was 7:54.31. The final is tomorrow – after which those with a consideration time will be nominated for selection to the Games by the Irish Olympic Committee. That's a formality: all who make the cut at trials are more than likely to be in Tokyo.
Wiffen, a computer science undergraduate, said he'd put the work in but getting the target time in heats was "still a surprise". Speaking to BBC Northern Ireland, he added:
"My old coach [Martin McGann] told me you don't just want to get the time – you want to smash it and give yourself a good chance of getting into a good heat in Tokyo."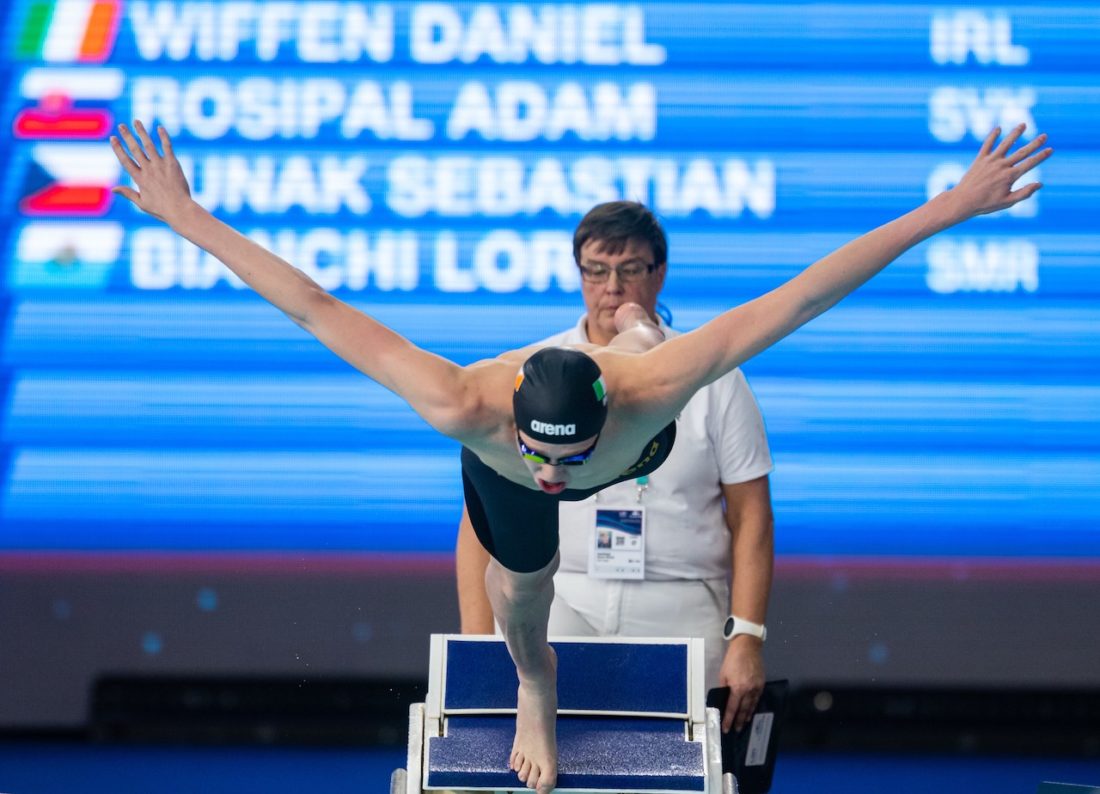 On RTE and speaking through Swim Ireland, a delighted Wiffen said: "It's probably the most nervous competition I've ever been to. I only managed to eat cereal for breakfast. I was thinking about it all day.
'It's probably the most nervous competition I've ever been to. I only managed to eat cereal for breakfast. I was thinking about it all day. I knew I had to be in and around 3:55 out on the 400m Free, so I wanted to be quite comfortable out. I kinda knew I went out the right time and towards the end I had a cheeky look at the clock on the last 50 to see where I was. I just got my head down then to get that time. It's unbelievable – 19 and going to the Olympics. I am over the moon and I just have to thank my parents, my coaches and all of my friends for helping me get here.'

– Daniel Wiffen – photo courtesy of Swim Ireland
There was more good news when In the 100m backstroke heats, Shane Ryan – based at the National centre in Dublin led by Ben Higson – matched the Olympic cut precisely, on 53.85. The first morning session came to an end with Jack McMillan on 1:47.43 and Jordan Sloan on 1:48.43 in the 200km freestyle heats, their target time 1:47.02.
Irish National Team Trials: Schedule / Entries / Results / Ones To Watch / Olympic Selection Policy
Live coverage on RTE with John Kenny and Nick O'Hare on commentary & Joanne O'Riordan poolside
Mona McSharry On Conquering Fear & Embracing Confidence
Mona McSharry tells The Irish Examiner today that the cut is what she needed but what she wanted and felt capable of delivering was a new high bar in her event in Ireland. Done.
There are just two names in the all-time top 20 Irish 100m breaststroke ranks: McSharry and Fiona Doyle, whose 1:07.15 efforts for bronze at the Universiade in 2015 stood as the national standard until McSharry claimed the World junior title in 2017.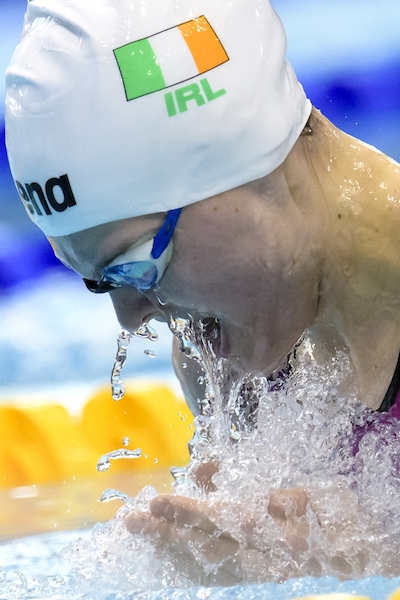 1:07.10. 0.03sec to shave off, a year of training and racing relatively under the radar of college yards swimming and the experience of a competitive environment away from home in the arsenal she took to the water with her in Dublin this morning at the start of five days of racing (In the 200m, McSharry needs to get down to 2:25 from a 2:27.44 best). She tells Eoghan Cormican at The Irish Examiner today:
"Something I have learned is not to be afraid. If you are confident and you don't make it, okay, you can try harder [as in try, try, try again], but I am not going to shy away from saying that this is something I want to do."

Mona McSharry – image courtesy of Swim Ireland
Mona McSharry has been on an unexpected adventure on her way to this moment: after completing her Leaving Certicate at Coláiste Cholmcille in Ballyshannon, in the summer of 2019, she deferred her freshman year at the University of Tennessee in the U.S. by 12 months in favour of sticking with the stability and routine of a home program with coach Grace Meade. There was a year of Olympic preparation ahead time to get ready for trials and, beyond qualification, peak performance at the Tokyo Olympic Games.
Along came a bug big enough to wash every Olympic plan and schedule down the stream and out to sea, never to be heard of again. Covid lockdowns followed. So, instead of sitting at home, Mona McSharry travelled west to Tennessee in August 2020 to learn lessons not only in the classroom but the pool.
There was a touch of homesickness to deal with, especially at Christmas away from home, but Mona McSharry seized the day, the days, weeks and months. Fine tuning and tweaking of her technique, improvements that helped her angle of buoyancy and streamlining skills showed through isn a third-place finish over 200 yards and 4th in the 100y breaststroke at the NCAAs last month.
In the midst of her first college season this spring not long before returning home to Ireland this month, Mona McSharry put her name in the University of Tennessee record books with 100 and 200 breaststroke marks that replaced 2016 standards set by American Olympic teamster Molly Hannis.
That's where the conquering of fear and the embracing of confidence come in: she surely knows she can do it. Now, she "just" has to do it. She tells the Irish Examiner: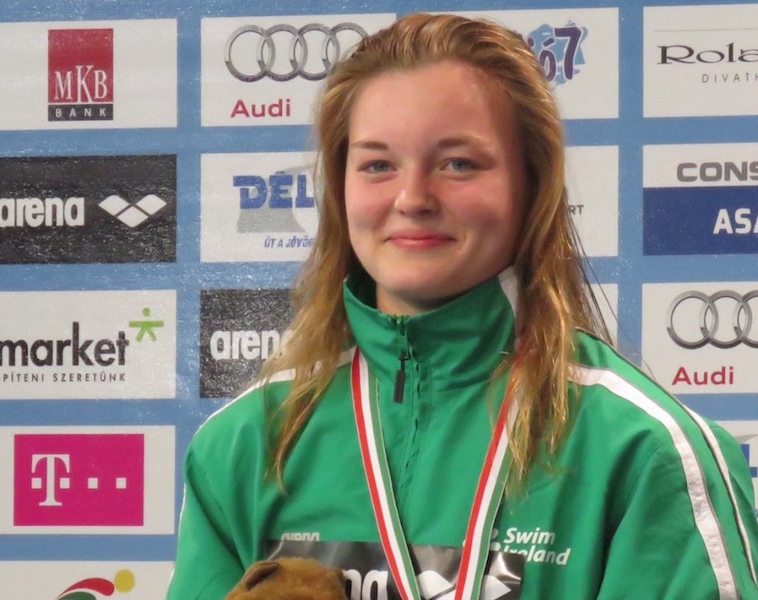 "This is something I have been talking about for so long. I think it is the fact that I know I can do it and that puts a lot of pressure on myself. And then I used to be afraid to say, 'yes, I am going to qualify, I am going to do it, I feel confident', because once you tell people that, then that is what they are expecting. But, you know, I just have to be confident and I think that's really important."

Mona McSharry in 2017 – courtesy Swim Ireland
She also says: "I don't just want to swim the qualification time, I'd love to go faster. I haven't swam my PB in quite a while so it is definitely going to be a challenge, but I know I am capable of doing it and after such a great year over in the States where I had something else to focus on in getting a chance to swim yards and learn how to compete rather than race just to get a time, I am really excited to bring that back and swim as fast as I can."
The challenge ahead is "definitely nerve-wracking", she says, adding, "but I am trying to be really, really positive and focus on all the work I have done and the fact that I think I can do it. It is important to be confident and know what you are capable of."
In December 2019, not long before news of the coronavirus started to filter through in early 2020, Mona McSharry, then 19, added her name to a list of Irish European medallists with bronze in the 50m breaststroke at the European Short-Course Championships in Glasgow. Her time, 29.87, set an Irish record.
A delighted McSharry said: "I'm just over the moon, there's no better way to start a competition than getting a medal especially when it's not something you intended to get going into the race. It really sets me up well for this week mentally, I'm really positive and just happy."
That's the spirit she carried with her this morning to get a stroke closer to living her dream: selection to race for Ireland in the Olympic pool this July in Tokyo.