Molly Renshaw Screeches Up To The Edge Of Podium Intent On 2:20.8 British Record, Training Mate Abbie Wood Also Inside Felled Mark & Tokyo Target Time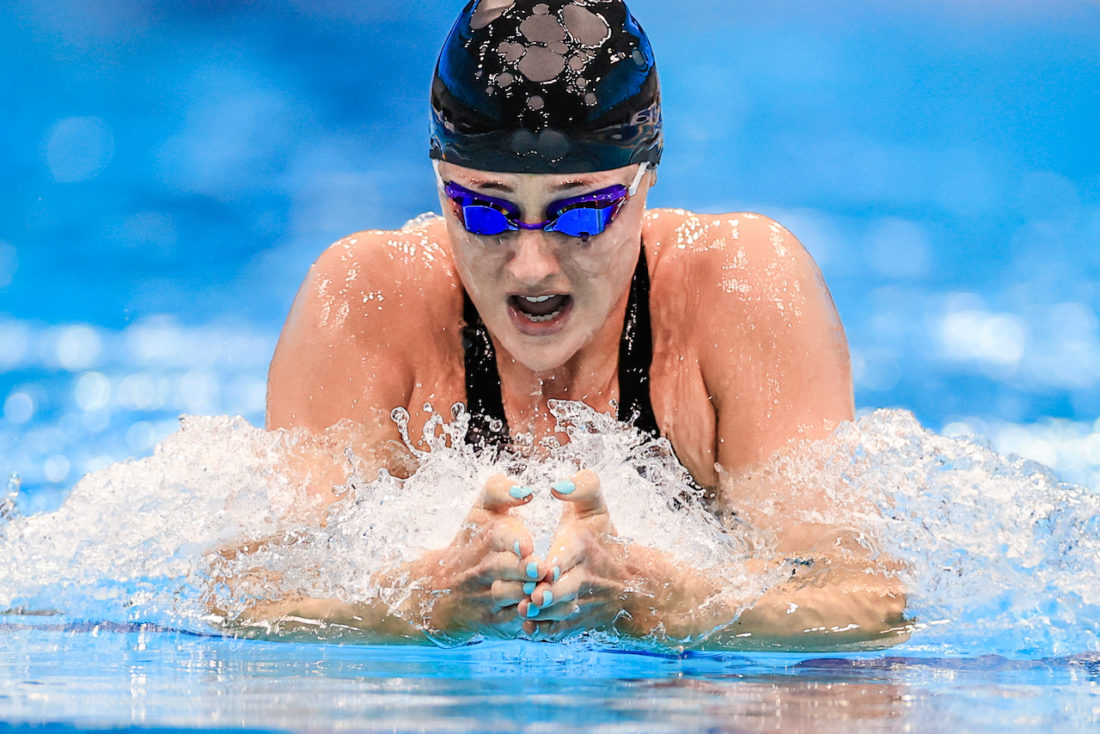 Molly Renshaw screeched up to the cutting edge of Olympic podium intent today in London with a 2:20.89 British record in the 200m breaststroke at Olympic trials, her Loughborough training partner Abbie Wood also clearing the previous British high bar, on 2:21.69 – and both inside the covid-delayed Tokyo 2020 target time.
Unrested but restless in lockdown Manchester in February, Renshaw matched the national standard on 2:22.08, Wood, as it was today, not far away, on 2:22.77. Jocelyn Ulyett, who shared the British record with Renshaw for several weeks, after having held it since 2017, finished third today in 2:24.40.
Two lifetime bests in February were both shattered in April. The beaming of Renshaw and Wood told a tale of long-term work, intentions and dreams. For Renshaw, the win and instant ticket to Tokyo laid to rest the torture of close calls. Back in 2012 she missed selection by a fingernail, washed a lost appeal away with her tears and tried again four years on; in 2016, the selection process was not only tough on the clock but uncertain for any who did not come home in a time that placed them in clear reach of the podium and Renshaw had to wait it out before being confirmed for her first games.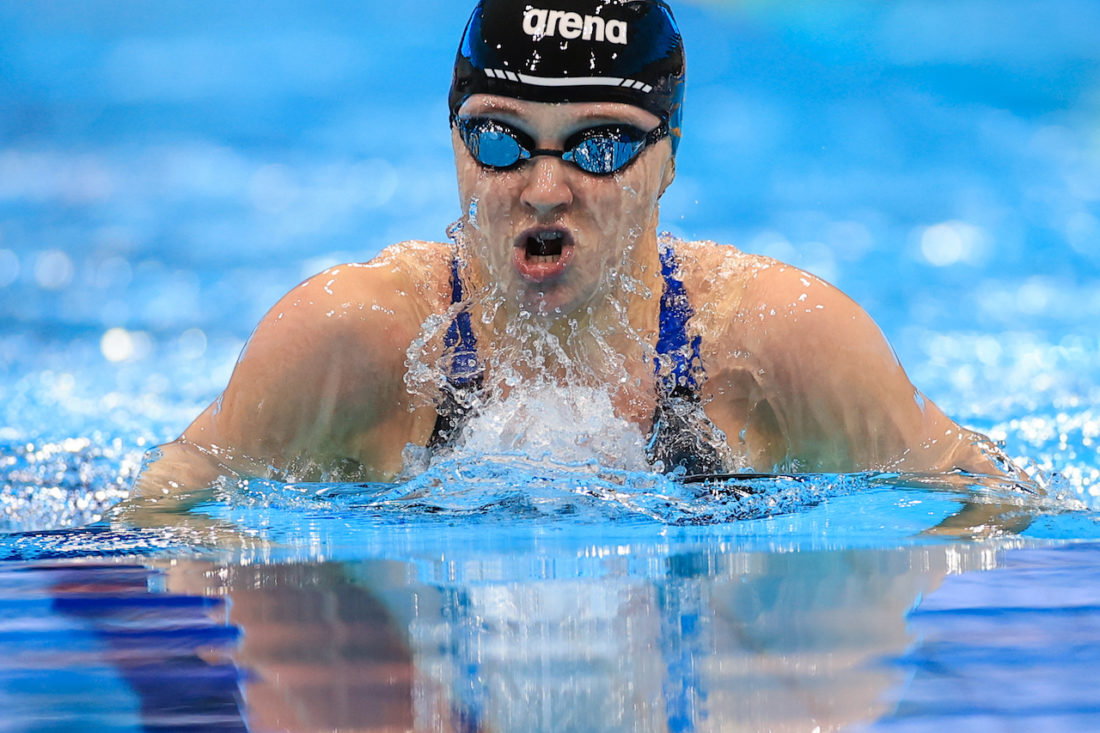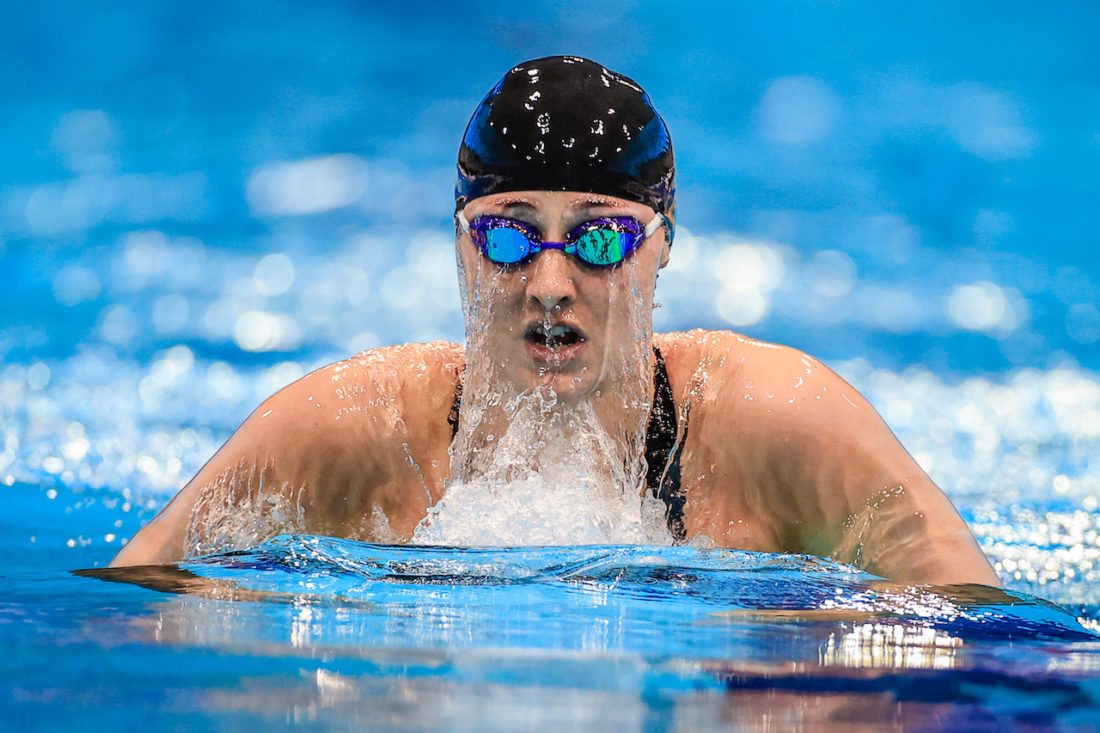 Today, she sailed on to the Olympic squad swan like, the smoothness, length and flow of it all a pleasure to behold. Similar could be said of Wood, who will make her Olympic debut in Tokyo. Both women are coached by Dave Hemmings at the Loughborough performance centre and benefitting from a no-stone-unturned approach to process and progress.
Renshaw – who matched the previous British best in February's Manchester International Swim Meet – showed her intentions from the opening strokes, leading after 50m and never relinquishing that advantage to clock a remarkable 2:20.89, more than a second faster than her and Jocelyn Ulyett's previous British mark. 
he first day of the Manchester International Swim Meet, a moment of relief and race-pace test for the best of Britain swimmers who have not experienced much action of late, produced some sterling efforts, Molly Renshaw topping the bill with a matched British record in the 200m breaststroke, on 2:22.08, Abbie Wood a stroke away on 2:22.77, both efforts personal bests. Third place went to Jocelyn Ullyett, on 2:25.26, by which time her 2017 British record of 2:22.08 had been matched.
Abbie Wood, a fine International junior career in the vault and for whom the delay in staging the Games because of a pandemic provided extra time for maturing and honing,was never far behind: she also sept well inside the 2:23.37 Tokyo consideration standard:
The flow of the fight:
| | | | | | | | | | | | | |
| --- | --- | --- | --- | --- | --- | --- | --- | --- | --- | --- | --- | --- |
| Place | Name | YoB | Club | | Time | | | Pts | | 50 | 100 | 150 |
| 1. | Molly Renshaw | (96) | Loughboro NC | | 2:20.89 | | | 962 | | 32.34 | 1:07.95 | 1:44.33 |
| 2. | Abbie Wood | (99) | Loughboro NC | | 2:21.69 | | | 946 | | 32.76 | 1:08.79 | 1:44.93 |
| 3. | Jocelyn Ulyett | (95) | Loughboro Un | | 2:24.40 | | | 894 | | 33.37 | 1:09.72 | 1:46.62 |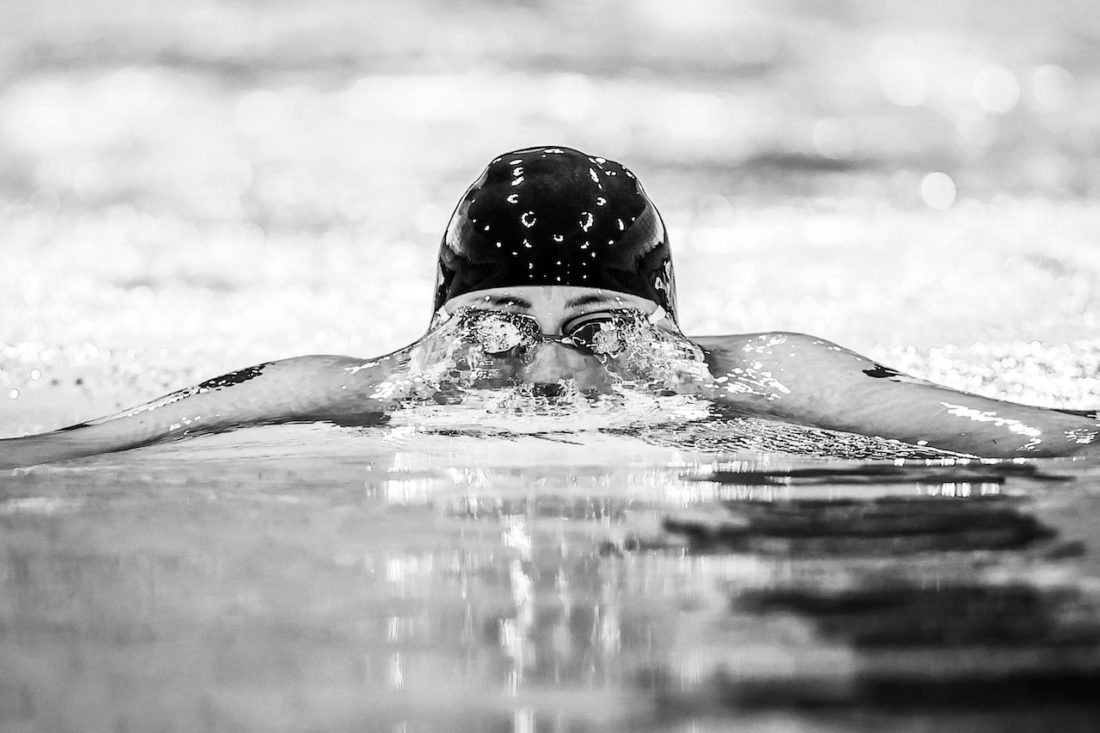 Molly Renshaw is relishing the "next step" in the process: honing further with a view to gracing the Olympic podium:
"I knew how well I was doing from Manchester, so I was excited to taper down and see what I could do. I've had bad luck with Olympic trials in the past, so that's out the way and I'm so happy to have done the consideration time. I think I'd just like to improve on what I did at the last Olympics. Going there, I was over the moon with making a final – I want to take that next step this year and aim for medals and be on the podium."

Molly Renshaw – photo by Georgie Kerr, courtesy of British Swimming
Into the all-time top 10, Molly Renshaw can look up to those faster on the clock and know that the majority of them will not be in the race this summer, either through retirement or through missing the cut at their own trials. The biggest swim of the year so far has been from South African Tatjana Schoenmaker, on 2:20.17 at her national championships last week. Trials in the United States come June may also shuffle the all-time rankings in significant fashion.
At the last time of asking possible, Renshaw finished fifth in peak-form global waters, at 2019 World Championships in Gwangju, Korea. The crown went to Yulia Efimova*, of Russian, in 2:20.17, 2:22.52 good for silver to Schoenmaker after she clocked 2:21.79 in semis, bronze to Canadian Sydney Pickrem in 2:22.90. Renshaw swam 2:23.78 in the final after 2:23.16 in the semis. Today, she finds herself, as does Wood, in much closer contention in the club of podium candidates.
Efimova is not one of them, unless her Olympic trials effort counts for nothing and her 2019 showing counts for everything six years after she tested positive for a banned steroid and was handed a 16-month ban timed to end just as trials for a home World titles in Kazan came round the bend.
Renshaw has reason to believe that she has the right support and incentive and competition around her to feel that further improvement is on the cards by July. She was delighted with the Loughborough 1-2, too, saying: "Abbie trains so hard, she's probably one of hardest trainers I know, so to be able to do that with her alongside me, it was amazing!"
Wood felt the same, relief among the emotions on display after she narrowly missed the target time in the 200m freestyle yesterday. She said:
"It's such a relief after yesterday where I wouldn't say I was gutted, but I expected a bit more from myself – so today, I was really focused on the race and obviously me and Molly pushed each other as best we could, and it worked out well. I think the improvements are down to trusting in my coaches. I never used to be a fan of the gym, but I feel like I've really bought into the programme now. It's been five years coming and I'm glad I stuck at it as long as I did, because there were times when I was ready to hang up my goggles. I'm glad I didn't now!"

Abbie Wood – photo by Georgie Kerr, courtesy of British Swimming
Team GB noted the support the loughborough athletes provide for each other:
Back in February, when Renshaw, European 200m Champion, hinted at what might come beyond rest, she said: "Training has been going really and I've been swimming faster than I ever have in training, so it's nice to reassure myself that I can do it in a race as well.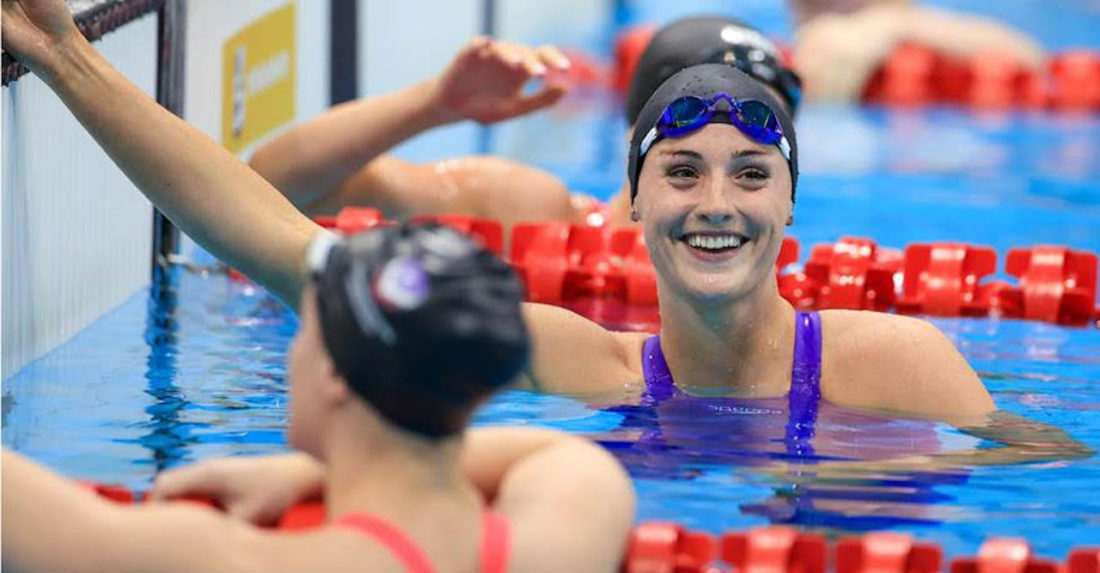 "Our whole group has been training really well and Abbie has been PBing in training too, so for the whole group, it's a chance to come here and prove we can replicate the times we've been doing in Loughborough. Abbie did amazing, and it's always good to have her to train with and see her doing well.

"It's a bit strange as this is definitely not your normal kind of competition. This morning was a nice chance to blow away the cobwebs and then refocus in for tonight and try to get a time out of myself. Hopefully we'll have spectators back on some scale soon

"At the minute, we are just having to take every opportunity we get and we're really grateful for that. I'm almost going into it feeling like a training swim so that I'm not putting too much pressure on myself and I'm not relying on that crowd to create an atmosphere."

Molly Renshaw – photo by Georgie Kerr, courtesy of British Swimming
Renshaw's coach Dave Hemmings gave the swimming community a glimpse of the attention to detail that goes into the progress being made by Renshaw, among others, when he tweeted:
– * – athlete was suspended for a doping violation