Mollie O'Callaghan 52.49 Leads Aussie 4×100 Free Force To Beat Even Without McKeon & The Campbell Sisters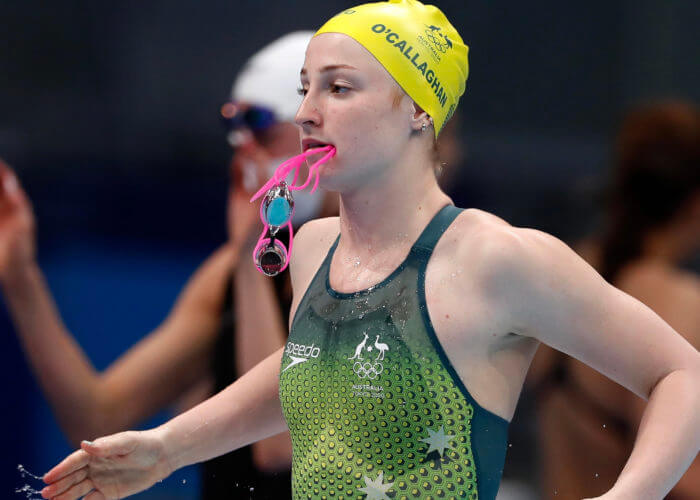 Australia will not have Emma McKeon, nor the sisters Campbell, Cate and Bronte, nor Emma McKeon nor others who have helped the Dolphins top the 4x100m free on big occasions in the past decade and more but look at the wave: one fit to make others green with envy in the race for gold and the World title in Budapest next month, its built of Mollie O'Callaghan, 18, and on 52.49 (after 52.83 in heats); Shayna Jack*, back from doping suspension and on a lifetime best of 52.60; Meg Harris, 53.09 and Madison Wilson, 53.19.
First reserve for international waters in fifth place on 53.68: Ariarne Titmus, the Olympic 200 and 400m champion who will not be in Budapest and has made the Commonwealth Games in Birmingham England, her priority this year. Several others, including seven-medals winning McKeon and the Campbell sisters will also bypass Budapest, a clash of priorities serving to water down some of the would be clash of clashes.
Plenty to scribble about, of course. The story of Cody Simpson is and will, doubtless get the bulk of headlines from the pool this day, young swimmer to well-known singer and actor and back to elite swimmer claiming a debut ticket as a Dolphin a fine story. For all the worth of that and his third place in the 100m butterfly, there is no denying where Australia's strength was to be found in Adelaide today: in the ranks of the women's 100m freestyle force, a story that includes Jack's return from a doping ban.
Australia has built and continues to build a 4x100m free tradition of bull runs and blasts at a pace significantly beyond the four-cylinder firepower of the best of the rest.
There is no other nation remotely close to having as much 51-52sec depth in 100m freestyle racing as Australia enjoys. Even in a final that went without Australia's premier sprint force of the past decade, the top 7 finished inside the FINA qualifying time for World titles, set at 54.25, inside the national records of the vast majority of the 206 countries that make up the official swim nations of the world.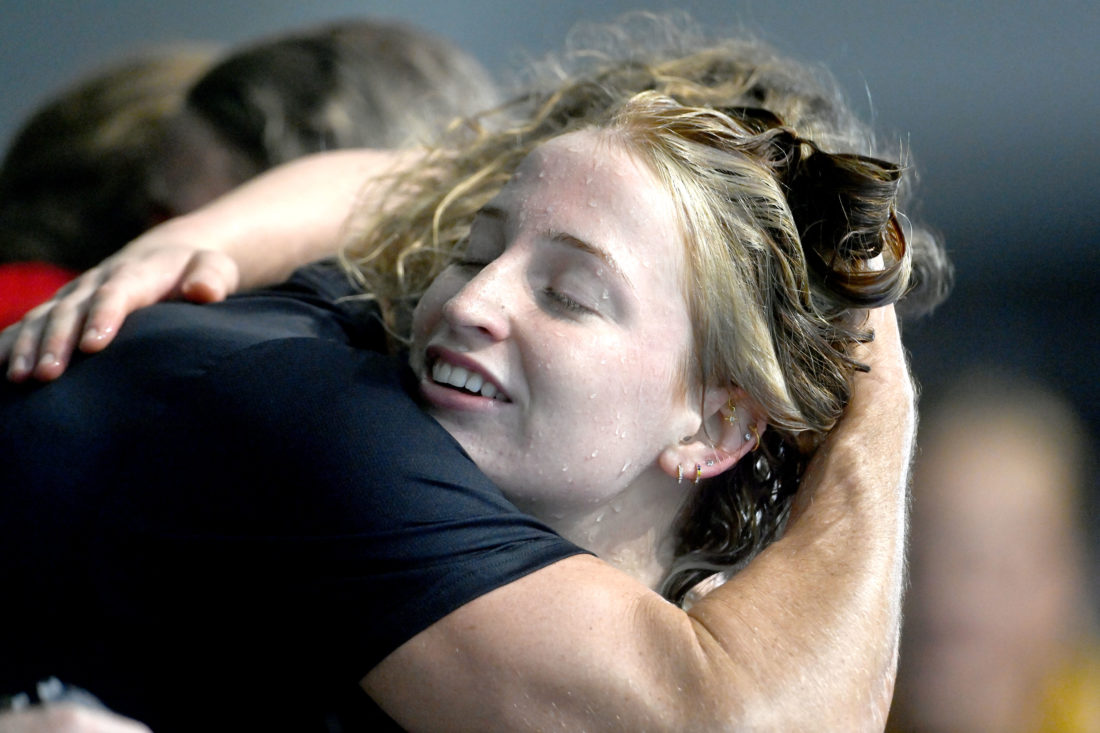 The battle up top today. a 26.57 home comer from O'Callaghan the killer split that swept her past Jack, Wilson and Harris on the way to victory:
25.92 52.49 (26.57) O'Callaghan, St Peters Western
25.39 52.60 (27.21) Jack, St Peters Western
25.84 53.09 (27.25) Harris, Marion
25.75 53.19 (27.44) Wilson, Marion
26.08 53.68 (27.60) Titmus, St Peters Western
The Rise Of Mollie O'Callaghan
O'Callaghan, like Jack and Titmus coached by Dean Boxall, leapt to 8th on the all-time World ranking over 100m freestyle and from 7th to 4th on the all-time Australia ranking with the second sub-53 swim of her career (the first was in heats). Jack is up from 8th to 5th all-time among Australians (and 10th in the World all-time), both St Peters partners demoting Libby Lenton, Olympic champion over 100m butterfly and Olympic silver medallist in the 100m freestyle in 2008, to 6th Australian all-time. O'Callaghan's 52.49 is also equal 37th on the all-time performances list.
The new Dolphin Top 10 all-time 100m free force, showing that all top four headed to Budapest are 52sec swimmers: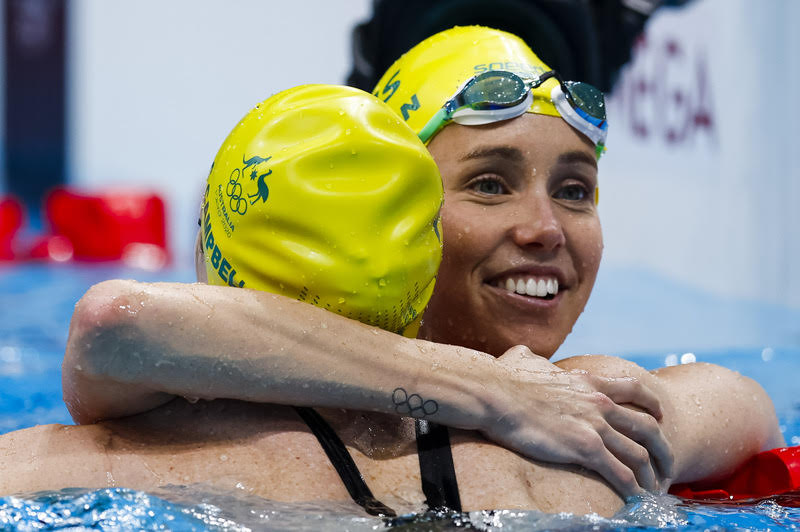 51.96 Emma McKeon 2021 (Olympic champion)
52.03 Cate Campbell 2018
52.27 Bronte Campbell 2018
52.49 Mollie O'Callaghan 2022
52.60 Shayna Jack 2022
52.62 Libby Lenton 2009
52.76 Madison Wilson 2021
52.92 Meg Harris 2021
53.52 Melanie Wright (nee Schlanger) 2012
53.52 Jodie Henry, 2004 (Olympic champion)
Jack's suspension and her struggle to clear her name is well documented. Her version of events is on the record, as is a positive test for which there has been no one-sided explanation. Whether just or not, there will forever be an asterisk that serves as a warning to all athletes turning to supplementation without cast-iron official guarantees that there's nothing in them but the ingredients listed on the tin, so to speak. Critics of Australian critics have pointed to cases such as Jacks to compare them to cases in China and elsewhere that actually don't compare, neither in terms of the circumstances of the error nor the circumstances of life in general, including the presence of coercive forces that have been responsible for abusing generations of underage Chinese athletes.
Today, Jack emerged from a swim good enough for selection to the World-Championship and Commonwealth Games teams and carrying obvious podium potential at both events to say through tears: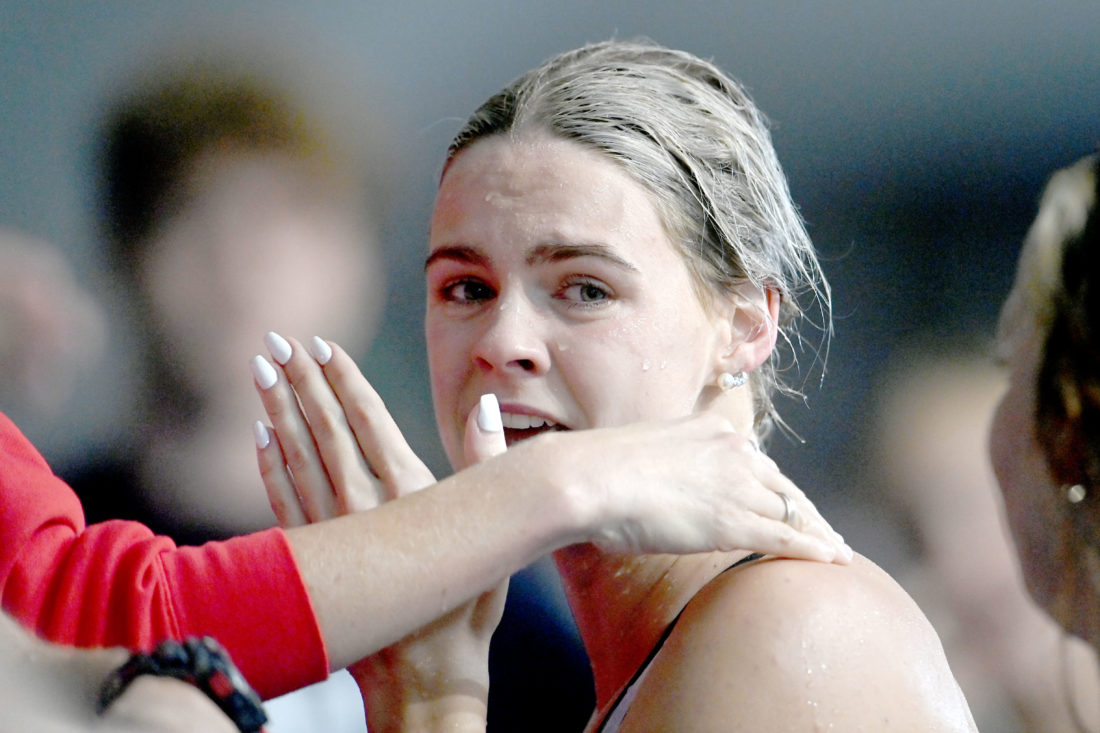 "I made a joke about not wanting any tears this week but I'm definitely going to have those tears of joy. I'm just overwhelmed with emotion. I think I proved my point … but I'll continue to fight back and continue what I do, which is racing all the way through to Paris [2024 Olympics]. I probably can't put it into words for you. Not many people knew what I actually went through during the depths of it and to be back wearing the colours again means more than anything to me."

Shayna Jack – image by Delly Carr, courtesy of Swimming Australia
O'Callaghan In The Flow Of Towering Tokyo Olympic Debut
O'Callaghan's progress is hardly unexpected: at the Tokyo Olympic Games, she claimed two golds and a bronze earned from relay heats.
She starting her campaign with a 53.08 split leading off in the heats of the 4x100m freestyle, the team gold delivered by teammates later that day; then in the 4x200m free, O'Callaghan led the heats quarter with a 1:55.11 World junior record for the 200m free, sending Australia on its way to bronze; and then she clocked a 52.35 split in the medley relay heats to send Australia on the way to gold.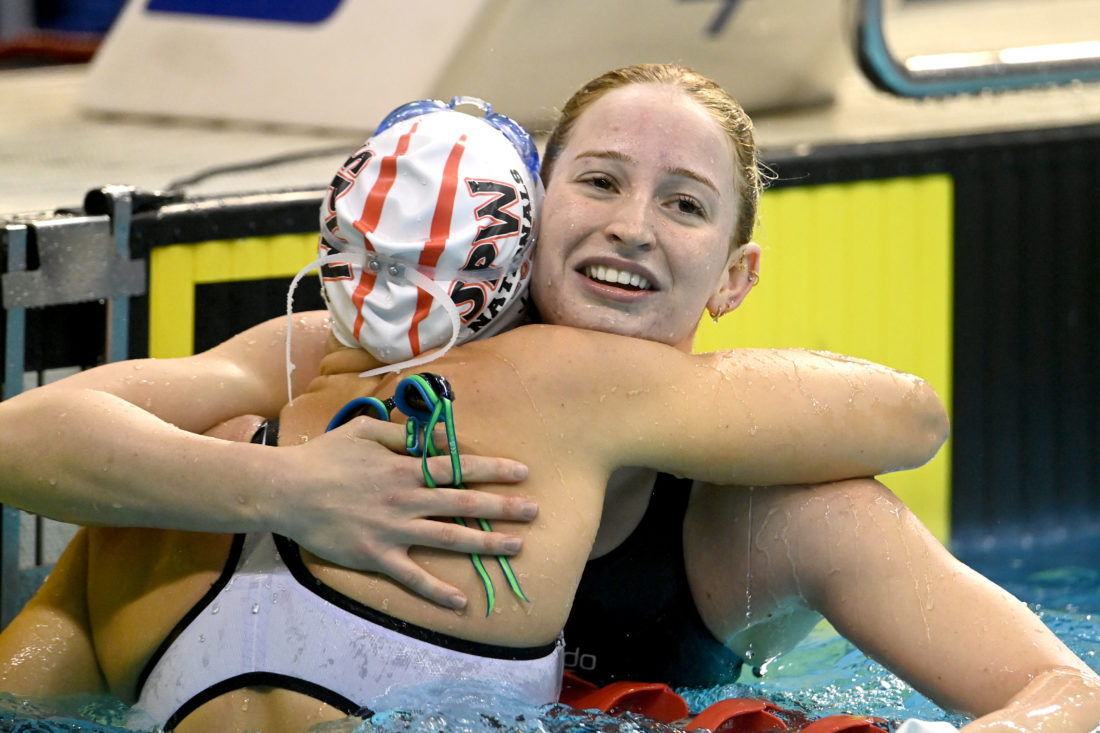 O'Callaghan's 4x200m freestyle effort made headlines not just for its record-breaking speed but because the time, had selectors placed her in the final, would have placed Australia within .2sec of the p[ace of China's gold medal.
The questions stretched to why coaches left O'Callaghan out of the final – or better still why, given that Australia took eight swimmers for the 4×200 relay, they did not keep her for the final to reflect the tremendous form O'Callaghan was clearly in, and race another of the relay-only swimmers who must race either heats and finals to avoid disqualification of the team (a FINA rule brought in for Rio 2016 requires all relay-only swimmers to race at least a heat or a final, the rule designed to help cut down numbers and avoid 'passengers' who end up not competing at all even though they have been selected to do so).
The answer to the Aussie 4×200 conundrum of Tokyo would appear to come down to a poor decision: Australia had two relay-only swimmers in heats and two ion the final, both of whom were slower than O'Callaghan's standing start time, and that by a margin that would have made the difference between bronze and gold when calculating for the additional gain from a flying start.
There was also the question of why they put Titmus, Olympic 200m free champion, up front when she is the kind of swimmer who has shown she can chase down and overhaul the likes of Katie Ledecky, one of the greatest swimmers in history. Australian coaches, Boxall appearing in the mixed zone to speak to the media, showed irritation at the questions and pointed out that the Australian quartet had swum inside the previous World record. Even so, many believed that Australia could have claimed yet another gold – and the World record, that day, to add to the soaring success of the team at a Games that delivered the best medals haul ever by a school of Dolphins in the Olympic pool.
We will never know what might have been but one thing is certain: Australia, regardless of whether it has its top three 100m women in the water at Budapest World titles (and it will not) next month, will enter the 4x100m fray as clear favourites for the crown.
Lani Pallister Follows In Mum's Masterstrokes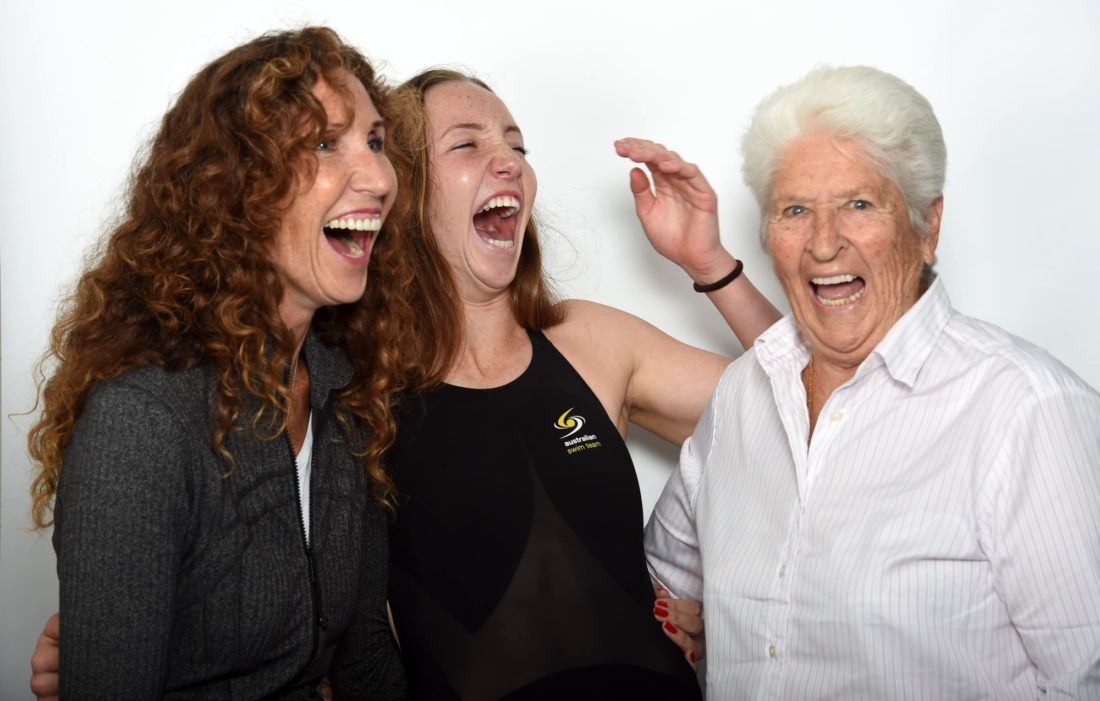 With British ace Sarah Hardcastle's Australia-trained daughter Eve Thomas (Vortex, Monday April 4) off to World titles and Commonwealth Games for New Zealand this season, the Pallister family in Australia have a similar tale to tell after Lani Pallister broke through with a belter of an 8:17.77 victory in the 800m Freestyle.
She is the daughter – and pupil in the pool of Janelle Pallister, coach and, as Janelle Elford, a two-time Olympic swimmer for Australia and the 1990 Commonwealth Games champion in the 4x200m free and winner of silver and bronze medals in the 800m and 400m free respectively for the Green and Gold.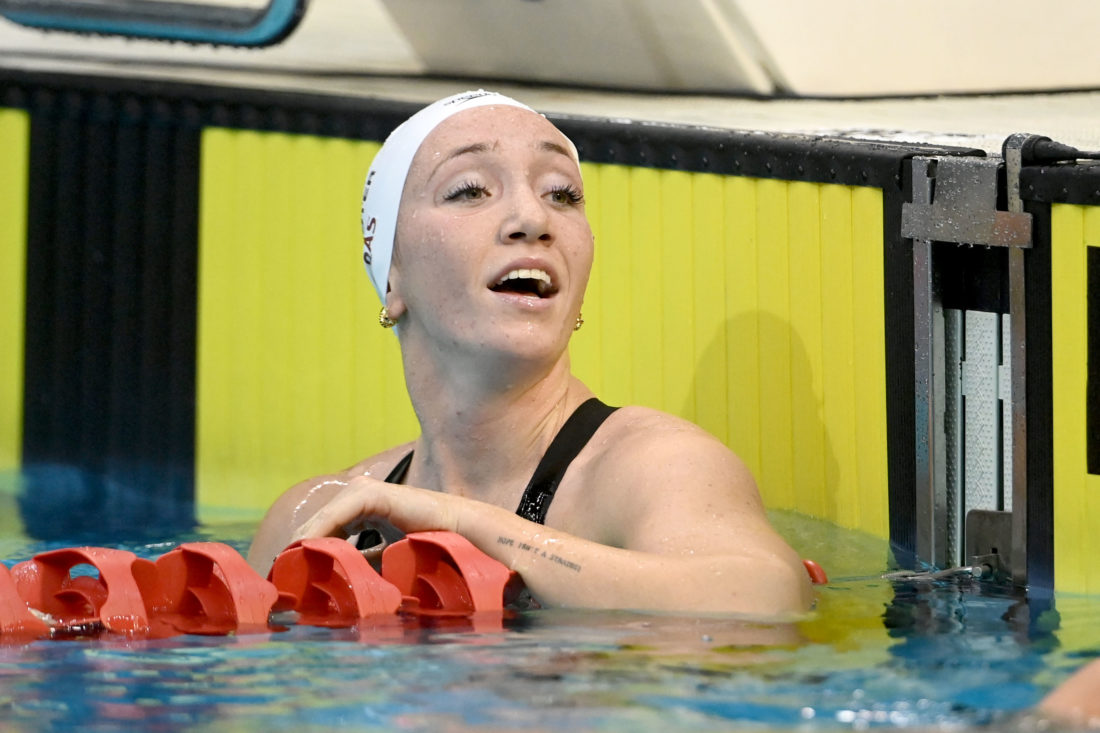 Pallister was followed home by two others inside the QT for Worlds (top 2 go) and the cut for Commonwealths (all three go), Kiah Melverton, on 8:22.64, and the champion's GUSC training partner Moesha Johnson, 8:26.35.
Pallister stole a marsh on her rivals after the 300m mark on the way to turning in 4:05.82 at half way. Her splits: 58.63; 2:00.90; 3:03.43; 4:05.82; 5:08.44; 6:11.62; 7:14.97; 8:17.77.
The time makes Pallister the second-fastest ever Australian after Ariarne Titmus, who claimed silver in an Oceania and Commonwealth record of 8:13.83 a second adrift Katie Ledecky in Tokyo last year.
On 8:22.49 for the 2019 World junior title, Pallister moved from fourth swiftest Australian all-time past Jess Ashwood (8:18.14, 2016) and Melverton (8:19.05, 2021) to become the fourth from her country inside 8:20. Only the United States has a higher count, on 6 sub-8:20s.
Despite such strength, nations struggle to find depth in distance events: with her 1971 World record, Shane Gould would have finished 12th in Adelaide today.
Temple Takes It, Chalmers On The Rise, Simpson Lives The Dream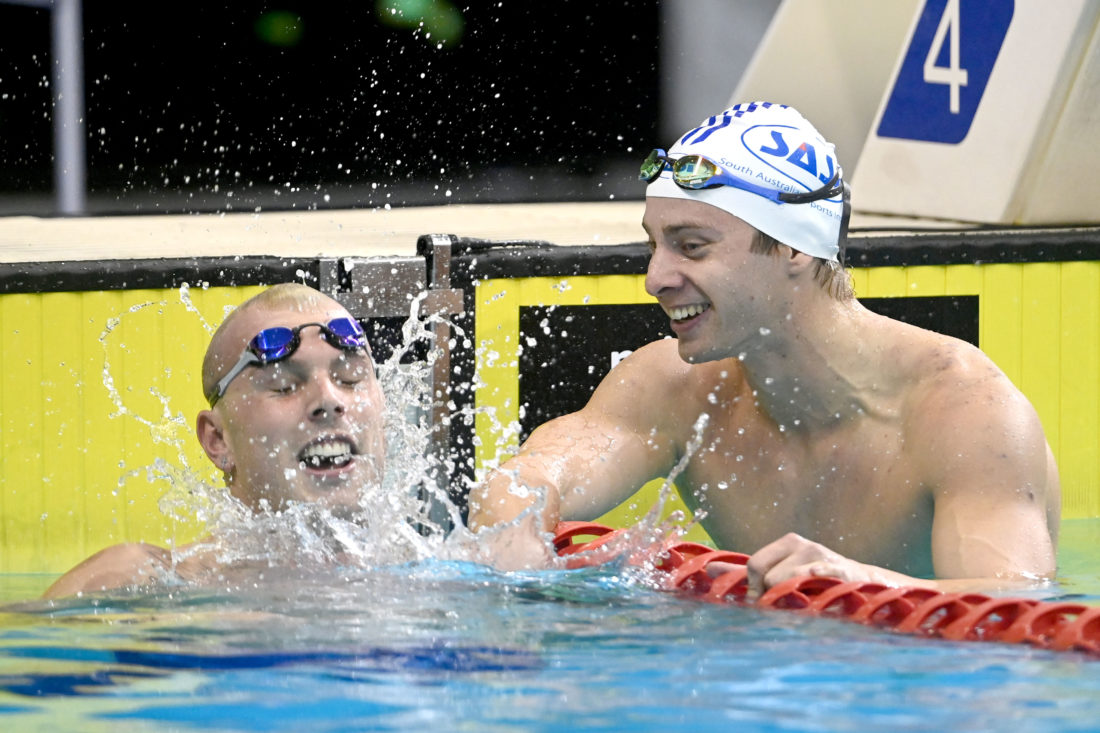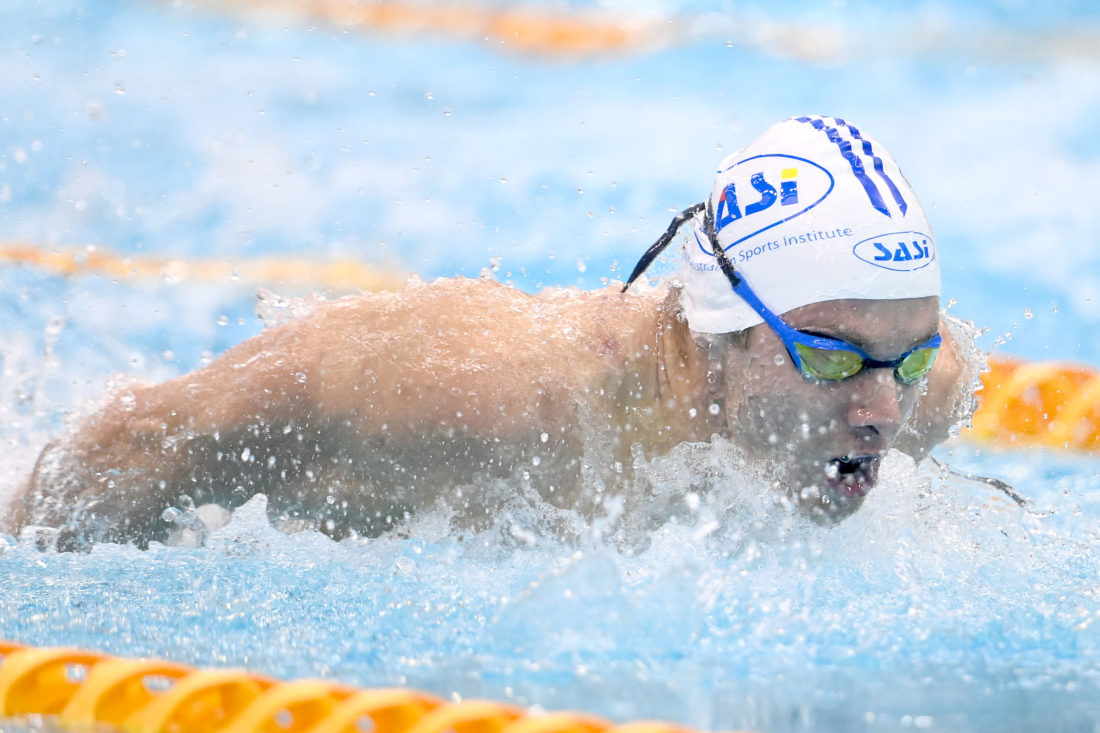 Yes, the main images on this part of the story is that of Matt Temple, which seems only fair given that he defended his Australian 100m butterfly title to book tickets to the World Championships in Budapest next month and the Commonwealth games in Birmingham from late July.
Temple's 51.50 was a good but not exceptional swim for a man who holds the Oceania record at 50.45. It kept at bay two men, one boasting a new career high this day, which made for a podium of three men who didn't have a misspent youth, Temple a teenage talent who at 21 finished fifth in the Tokyo Olympic final 0.19sec shy of the podium, Kyle Chalmers an Olympic champion in his teens, Cody Simpson a singer and actor on the road in his teens.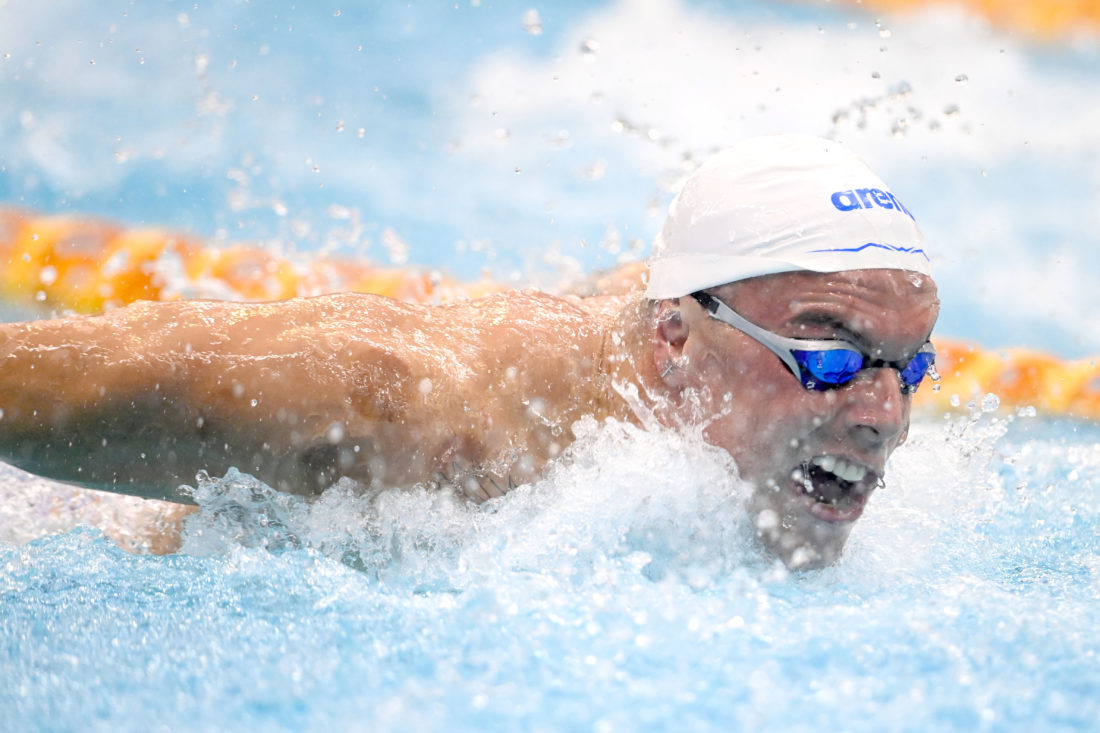 The scales fell in favour of the man who'd spent his youth dedicated to sport, Chalmers on 51.67, inside a 52.07 best that dated back to 2019 and just shy of a 51.37 best from 2020, and Simpson on 51.96, bang on the qualifying time for international selection, after a lifetime best of 51.79 in heats. Temple and Chalmers, who spoke recently about his butterfly ambitions (Vortex, May 16-22), get all-but automatic selection.
Who accepts what selection to which International event is another matter and Chalmers indicated back in January in Australian media interviews that he will bypass World titles. He emerged from racing today saying that he felt good and hadn't ruled out Worlds altogether but was still doubtful.
Even so, Australia Head Coach Rohan Taylor confirmed to Giaan Rooney on Amazon Prime Video that last he'd heard, at least, Chalmers was unavailable for World's and Simpson would make his World titles debut in Budapest next month ahead of a Commonwealth debut in July.
"It is a dream come true, I've made so much progress from last year….and I have trained so hard all year," said Simpson, who clocked a qualifying time in the heats and equalled the time in the final. "It's amazing to see results like this pay off; I was hoping to swim a little bit faster but it's a real dream.
Given the choices of Chalmers and other Australia's Olympic teamsters and their coaches in a year in which the chaos of a cluttered calendar will be significant as World titles unfold next month – and given the possibility of having three per nation in solo events at the Commonwealths – Simpson is almost certain to land the big fish he's granted a golden stare through green eyes since childhood: Dolphin status, selection to represent Australia in the pool.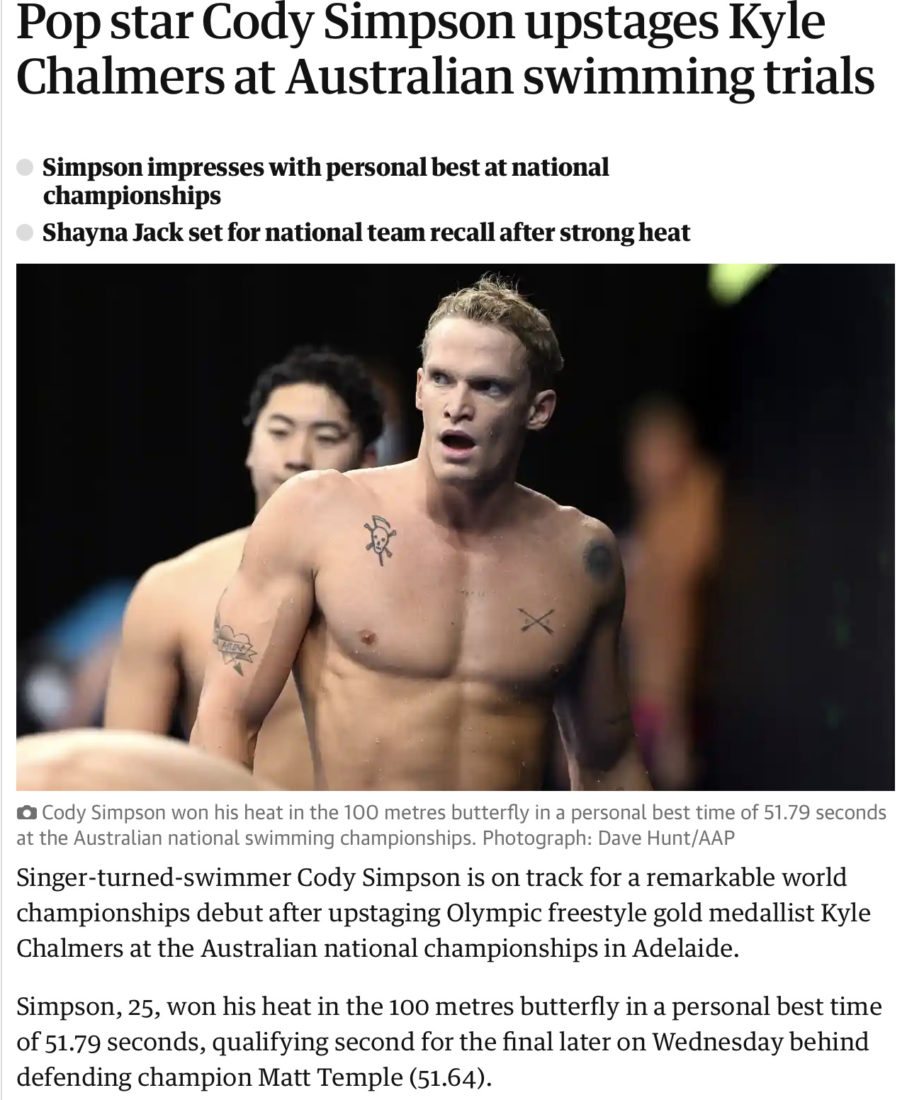 He entered the final today with a heap of pressure on his butterfly wings, the media responding to his heats swim as though it were as close as one might get to an Olympic final (image right, screenshot of a headline in The Guardian that captured the media mood of the moment).
Simpson spent a slog of his teenage years travelling the world as a singer before returning home to settle down to reacquainting himself with the dedication of following a black line in the pool day after day.
Simpson's fine progress under the guidance of coach Brett Hawke, a former Australian international sprinter, in California, left him 8th at Olympic trials in 2021, well shy of selection for the Tokyo 2020ne. Since the Games, Simpson has built on his work with Hawke by working with coach Janelle Pallister and Michael Bohl.
Today, Simpson's thirst for Dolphin status took a big stroke closer to being quenched when he put on display the work he's been doing with a career high of 51.79sec in the heats in Adelaide. The time, good as it is (0.02sec swifter than the time that Michael Klim set as a World record back in 1999 when Simpson was 2), places the singer at 38th equal among swimmers on the all-time Australia 100 'fly performances list.
Simpson's heat represented a 0.87sec improvement on the 52.66 personal best he set last month. A podium place is likely to be his next target at Commonwealth level but on a 51 high, he is likely to need to shave another second or so off his best.
The flow:
23.92 51.50 (27.58) Temple
24.16 51.67 (27.51) Chalmers
24.17 51.96 (27.79) Simpson
Meanwhile, Simpson is still making pop songs:
Elijah Winnington Gets The Top Ticket Once More, This Time With Mack Horton On Board
Elijah Winnington proved yet again that he has the speed to win 400m races on the biggest of occasions, his 3:43.10 victory in the opening final at the Australian Championships in Adelaide – ahead of 2016 Olympic champion Mack Horton, on 3:44.06 – swifter than the gold-medal-tinning time at the Tokyo Olympic Games last year.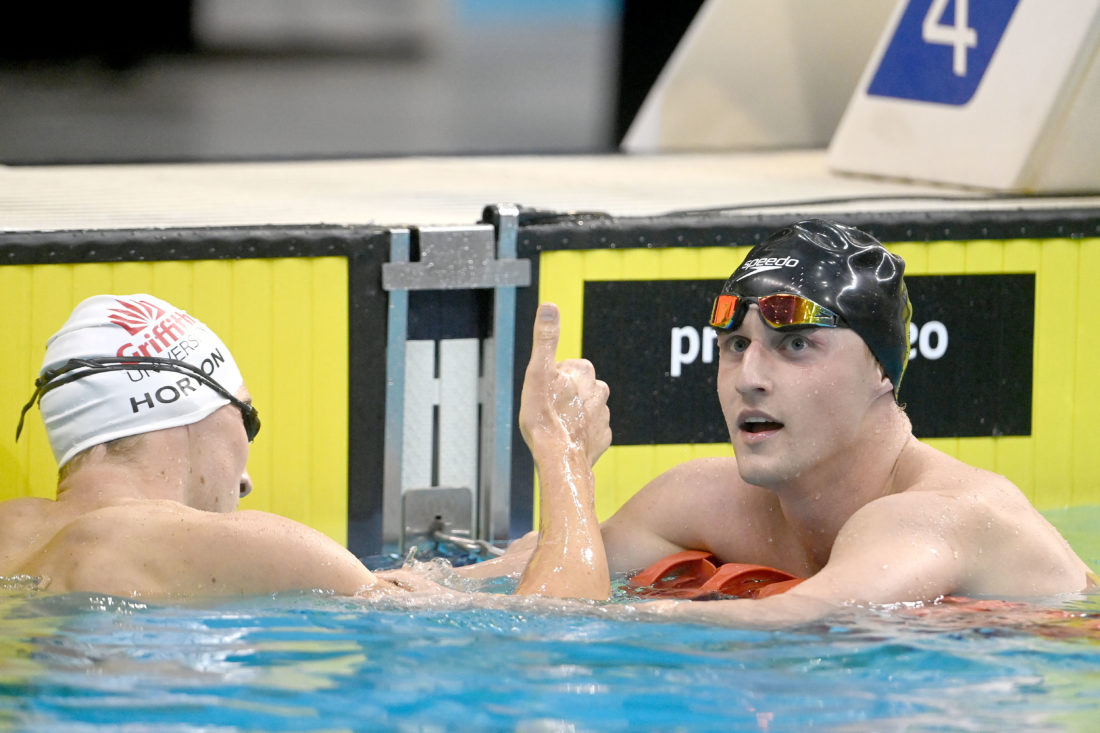 Winnington set a sizzling pace out in front at the 200m, which Sam Short and Horton chasing. Into the last 100 and then the last length, Winnington maintained the edge as Short and Horton fought back. Horton got the better of 18-year-old Short in the tussle for the wall, the bronze gone in 3:44.34. Australia has three of the best 400m swimmers in the world this year but just two go to World titles in Budapest next month and the Commonwealth games in late July in Birmingham.
The flow:
53.44; 1:50.80; 2:47.98; 3:43.10 (27.46) – Winnington
54.73; 1:51.96; 2:48.83; 3:44.06 (27.22) – Horton
53.57; 1:50.74; 2:48.37; 3:44.34 (27.77) – Short
In Tokyo last year, Winnington, of St Peters Western, entered the 400m favourite for the crown but finished seventh well down on the 3:42.65 he had clocked at trials.
In an interview with Phil Lutton at the Sydney Morning Herald today, Winnington reveals that he slipped into a "semi-state of depression" after missing his mark at the Tokyo2020ne Olympic Games, where the 400m freestyle final produced an upset victory by outside smoker and bolted Ahmed Ayoud Hafnaoui, of Tunisia, the winning time of 3:43.36 a big career high but 0.71sec shy of the Australian's best time. Winnington's 3:45.20 on the day was good for 7th, while the silver went to his teammate Jack McLoughlin in 3:43.52.
Tokyo marked Australia's biggest haul in Olympic-swimming history but Winnington was left with regrets over what might have been, not just for himself but the man he helped block from the defence of the Olympic crown, Horton: third at trials, he sat in the stands watching the Hafnaoui attack own the title with a swim that outfoxed the best of the rest,
Winnington recalls the fallout when he returned home from Tokyo, telling Lutton: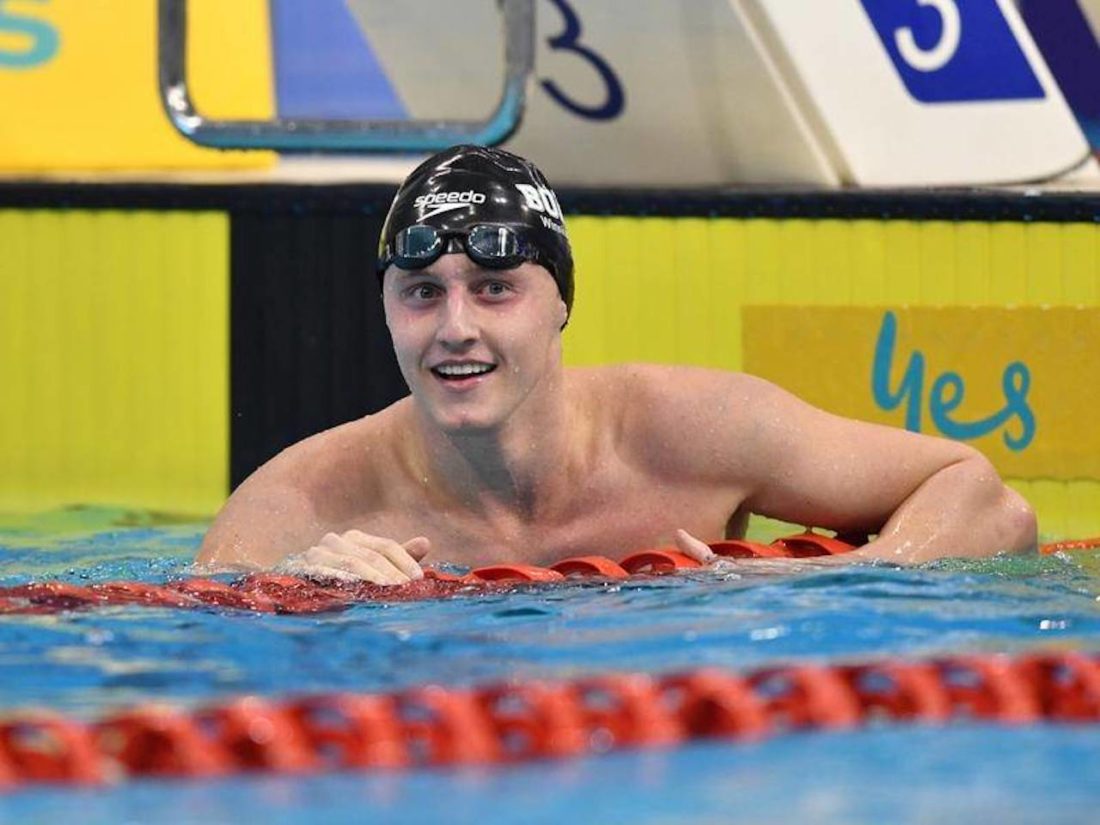 "It was very difficult. I slipped into a semi-state of depression at some point. It got really serious for me. I had about two months out of the water where I had to separate myself from swimming, which was really important. I started seeing psychologists and all that sort of stuff to help me mentally prepare to attack another major meet. I had a good break, time to mentally and physically refresh. I got back in the water properly in December and have just been hitting it for this ever since."

Elijah Winnington, image courtesy of Swimming Australia
In the women's 100m breaststroke, Miami's Jenna Strauch took the crown and first berth to international waters in 1:06:69, a touch ahead of Abbey Harkin, 1:06:88, and Chelsea Hodges, 1:06:94.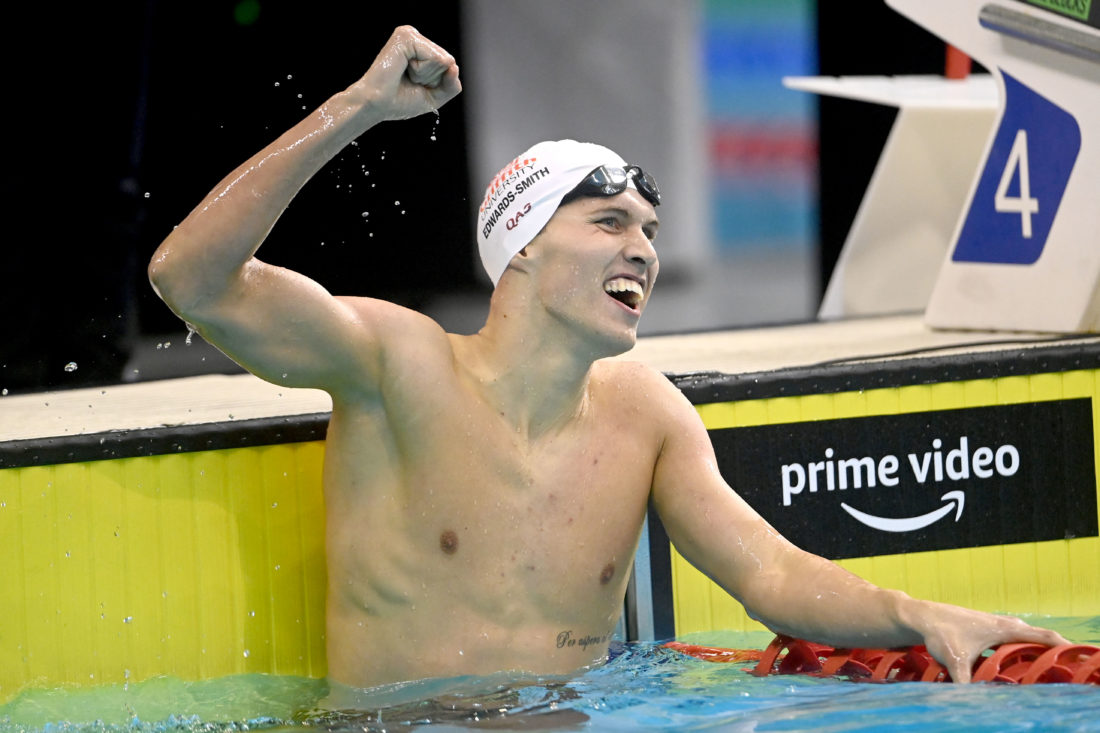 The men's 200m backstroke was topped by four men inside the QT of 1:58.07, the upset at the very top: 19-year-old Josh Edwards-Smith took the title in 1:56.71 for his first World-Championship and Commonwealth Games selections, fending off a last-length challenge from former World champion and Commonwealth record holder (1:53.17, 2015) Mitch Larkin, who was second home in 1:56.79.
Brad Woodward grabbed the third Commonwealth berth in 1:57.38, 0.28sec ahead of Ty Hartwell.
The fight for gold:
27.22; 56.58 (29.36) 1:26.28 (29.70) 1:56.71 (30.43) Edwards-Smith, GUSC
27.55; 57.20 (29.65) 1:27.08 (29.88) 1:56.79 (29.71) Larkin, Chandler
Lewis Burras, of Britain, was not eligible for the A final at a championship that doubles as trials and as such, he left his swiftest freestyle dash in the heats, on 21.93 before topping the C final in 22.04.
Australians were chasing a FINA Worlds QT of 22.04. Two made it: Thomas Nowakowski, SOMGC, took the one-length crown in 21.86 ahead of teammate Grayson Bell, 22.08, Isaac Cooper, 18, third home in 22.33 and 22.25 in heats.