Milák is Back – 'Programmed For Pain' & Hungry To Take Swimming To 'Dimension Never Seen Before'
Kristóf Milák, "programmed for pain" and hungry to get back to best and better, returned to the pool for training this morning at Budapest's Duna Arena for the first time since announcing his withdrawal from the Fukuoka 2023 World Championships due mental to burn out.
The Hungarian butterfly ace, Olympic champion and World record holder in the 200m, World champion in both the 100 and 200m in 2022 and the only swimmer ever to race (and by a rocket) inside the best pace of Olympic legend Michael Phelps over 200m, said his mental health had reached "rock bottom" by the time departure for Fukuoka came up Eoin the horizon in July.
Milák opted out. If he was going to make it to the defence of his 200m crown at the Paris Olympic Games, he would need to take a break, reset, rehabilitate and re-energise.
This morning in Budapest, the owner of the other-worldly 1:50.34 World 200m record, said: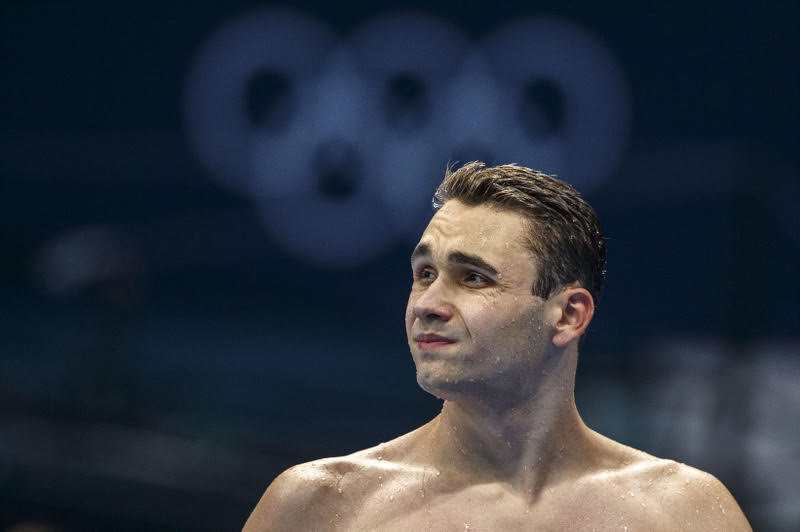 "I'm back. I needed this break as now I feel that I'm ready to continue with the same or even bigger determination than ever before. I'm feeling the hunger once again to show a dimension in swimming one has never seen before. I've restarted the practices with double determination, I've programmed myself for the pain as I know that the first weeks if not months will be gruelling but this is the path I chose and I shall go all the way up until Paris – and beyond. I thank for all the support and understanding and I'll be there to make up everything missed this summer."

Kristóf Milák – Photo by Patrick B. Kraemer
His participation in the World Cup series of three events in Europe – Berlin, Athens an d Budapest, from October, was announced by World Aquatics last Friday but contracts for those events were signed long before Milák felt he could not go on without time out.
The swimmer will talk to his coach Balázs Virth this week about whether and what might be wise when it comes to racing a little over a month after getting back into serious training. First thoughts are that Milák may race the 50m dash events at the short-course cup as a test of speed. Time will tell.
Milák gave us a glimpse of his hunger to take swimming to a place "never seen before": it wasn't so much the World record he set for the 2022 World 200m title at home in Budapest as the way he swam it that spoke volumes about where he'd like to take the pace of pioneering:
From the SOS Archive:
The Mighty Milak Mesmerises With Three Lengths Circa 2040 Before Settling On A World Record 1:50.34 Circa 2032
The flutter furious, the swim a soar, the might and fight in Kristof Milák mesmerising as the Hungarian flew towards a World record more sensational than the promise of unimaginable and otherworldly splits allowed us to fathom, the very notion of disappointment in a 1min 50.32sec blockbuster over 200m butterfly as ludicrous as it was tangible.
"It wasn't a good swim. It wasn't a smart swim": Milak's verdict, though he didn't discount what it could mean the next time round.
Let's get to the test he travelled and the timewarp twist in the tale:
24.19; 51.89 (27.70) 1:20.51 (28.62) 1:50.34 (29.83) Milák Budapest 2022
Comparisons:
24.66 52.88 (28.22) 1:21.57 (28.69) 1:50.73 (29.16) Kristof Milák Gwangju 2019 WR
24.76 52.88 (28.12) 1:21.93 (29.05) 1:51.51 (29.58) Michael Phelps Rome 2009 WR
Milák's winning margin was a match of the second biggest ever, at 3:03sec, a snap with Phelps over Wu Peng in 2007. Milak's 2019 win by 3.13sec over Daiya Seto remains the margin of dominance to beat.
The silver today went to Leon Marchand, of France and ASU, where he's coached by Bob Bowman, he who guided Michael Phelps to eight World records, starting at 1:54.92 in 2011 and ending at 1:51.51 in 2009, via a textile best of 1:52.09 in 2007 that suggested his 1:51.5 in leggings in 2009 needed no shiny assistance.
Back To 2023…
In Milák's absence, Marchand stepped up from 2022 silver to 2023 gold in Fukuoka in a stellar week of achievement that saw the Frenchman join the Hungarian in the exclusive club of those who have taken down a Phelps' global mark. Marchand claimed the World 400IM record in a week in which he also took gold in the 200m medley and the 200m butterfly in 1:52.43.
Tremendous speed … but on 'fly Milák's 1:50.34 is the next level way top in the other-worldly.
SOS 2022 coverage of that moment:
The Mighty Milak Mesmerises With Three Lengths Circa 2040 Before Settling On A World Record 1:50.34 Circa 2032 – Marchand Past Esposito, 2002