Michael Klim Charts Experience Of Living With Rare Type Of Autoimmune Disorder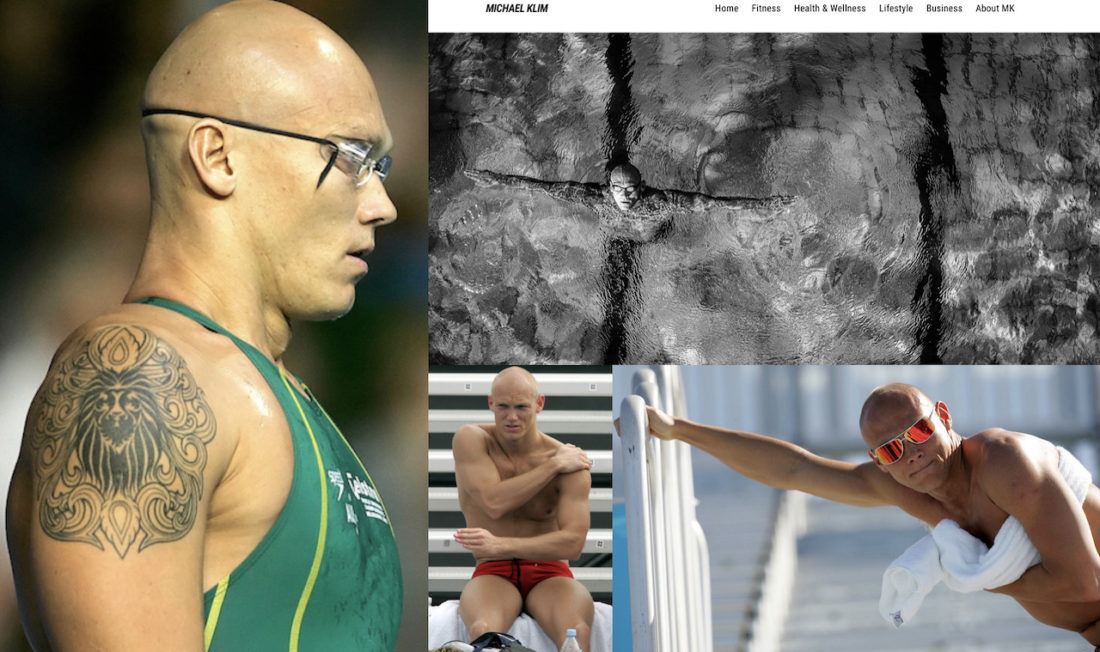 "My health began to deteriorate drastically – my strength, my athleticism – was being taken away from me and I couldn't do anything to stop it!" – Michael Klim
Michael Klim, who claimed medals for Australia in the pool at three Olympic Games and played a starring role at the home 1998 World Championships in Perth, has charted his two-year journey since being diagnosed with chronic inflammatory demyelinating polyradiculoneuropathy (CIDP), a rare type of autoimmune disorder.
During his illustrious career for Australia, Klim amassed 54 medals for self and Dolphins, topped by 2 gold, 3 silver and 1 bronze at the Olympic Games of 1996, 2000 and 2004, and 7 World long-course titles, his soaring efforts at the 1998 global showcase in Perth, Western Australia, recalled below in an extract from an archived feature published at SwimVortex on 20th anniversary of the event in 2018.
Klim led one of the greatest relay races and victories in history when he gave the Dolphins the perfect start in world-record time at the Sydney 2000 Olympics, Ian Thorpe providing the perfect finish:
Klim pens the following note on LinkedIn: "Just over two years ago I was diagnosed with Chronic inflammatory demyelinating polyradiculoneuropathy (CIDP) which is a rare type of autoimmune disorder. My health began to deteriorate quickly and drastically. I felt like my strength, mobility, athleticism was being taken away from me and I couldn't do anything to stop it. I decided to document and share my recent challenge with the hope to raise awareness of this rare condition and work towards finding new treatment methods and ultimately a cure. Head to the link in my bio to read the full story …"
From The Archive:
Perth 1998: The Meet Where Michael Klim "Let The Lion Out" With 4 Gold Atop 7 Medals
Perth 1998 World Championships – 20th anniversary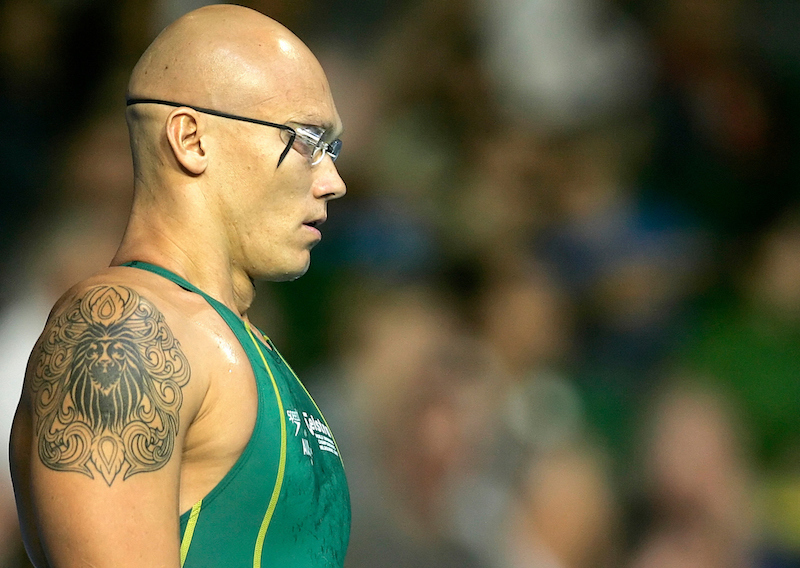 In the grand scheme of themes, and though many merit a mention and more, relatively small is the count of those who make it to the list of the outstanding in Don Talbot's autobiography "Nothing But The Best".
Michael Klim is one of them. There were moments when he was magnificent in the water: times when he looked as though he could not be beaten, his flow of speed and skill elevating him to the ranks of those who stand out for the aquatic art they master.
We'd heard of him, of course, before January 1998 and a home World titles in Perth, Western Australia. He was first selected to represent Australia in the 1994 Commonwealth Games in Victoria, British Columbia, Canada, while still a student at Wesley College, Melbourne.
A year later, he made his first international podium as a Dolphin, taking silver with mates 4×100 m freestyle mates at the Atlanta Pan Pacs. At the Atlanta 1996 Olympics, he took bronze with 4x100m medley mates and in 1997, Male Swimmer of the Year awards flowed after he claimed six medals, gold in the 100 and 200m free and four silvers (100 'fly and all three relays), at the Pan Pacs in Fukuoka.
The stage was set for Klim's coming of age in global waters. Over seven days at Perth 1998, he would rocket to a new status on the following trajectory for self, team and nation:
Gold, 200m freestyle – 1:47.41 [Rosolino, Van den Hoogenband]
Silver, 100m free – 49.20 [Alex Popov, 48.93 CR; bronze – Lars Frölander]
Bronze, 50m free 22.47, shared Ricardo Busquets (PUR) [Pilczuk, 22.29; Popov]
Gold, 100m butterfly – 52.25 CR [Frölander, Huegill]
Silver, 4×100m free [USA, Tucker, Walker, Olsen and Hall, Jr. – CR 3:16.69 to 3:16.97 for AUS, RUS]
Gold, 4×200m free [AUS – Kowalski; Hackett; Klim and Thorpe] -7:12.48 CR [NED, GBR]
Gold, 4×100m medley [AUS – Welsh, Rogers, Klim and Fydler] – 3:37.98 [USA, HUN]
What a week for the Australians, one fuelled by Klim's four golds atop seven medals that spoke to the emphasis placed by Talbot and Co on building team-wide and relay strength on the way to a home Olympic Games at Sydney 2000 and then, a year on, the toppling of the United States on gold count at the 2001 World Championships in Fukuoka.
On this day, January 16, 20 years ago, Klim was racing to his third gold of the meet – and by delivering it, he made sure that there were more medals in Room 8 at the Australia team hotel than the number on the door: five prizes belonged to Klim, who, in winning the 100 metres butterfly for gold No3, became the most successful man in world championship history.
The day after Ian Thorpe, Klim's roommate at the 1998 championships, made the record books by becoming the youngest world champion, at 15 years and 94 days, Klim, 20, set a championship record of 52.25sec, the second-fastest time recorded and just 0.1sec shy of his own world record.
Klim's victory saw him match the tally of three gold medals at world championships by Matt Biondi – and he still had three events to go. The American's count included two relay medals. Did such statistics mean much, Klim was asked. He replied: :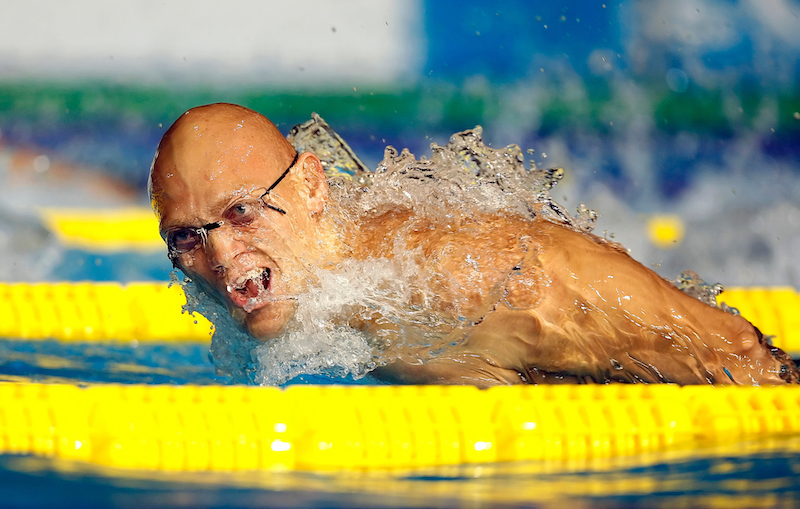 "Probably in two weeks' time when I'm lying on a beach, but right now I've got more races and I need to stay focused."

Michael Klim – Photo by Patrick B. Kraemer / MAGICPBK
Walking out both for his race and the medal ceremony, Klim hit a wall of sound from an Australian crowd building him into what they hoped would be one of the tallest waves at the Olympic Games in Sydney 2000. The noise was like a "cushion", Klim said. "It's like walking into a blanket."
Down Under, Klim was the man of the hour, day, week and month. The Age pondered: "One wonders whether even Michael Klim knows how big he has suddenly become. Move over Shane Warne. At the end of the day, cricket is a Commonwealth sport with a couple of disaffected former colonies thrown in. Klim's performance in Perth establishes him as the pre-eminent male swimmer in the world and gives him a profile in countries (and major economies) like the United States, Japan and Germany."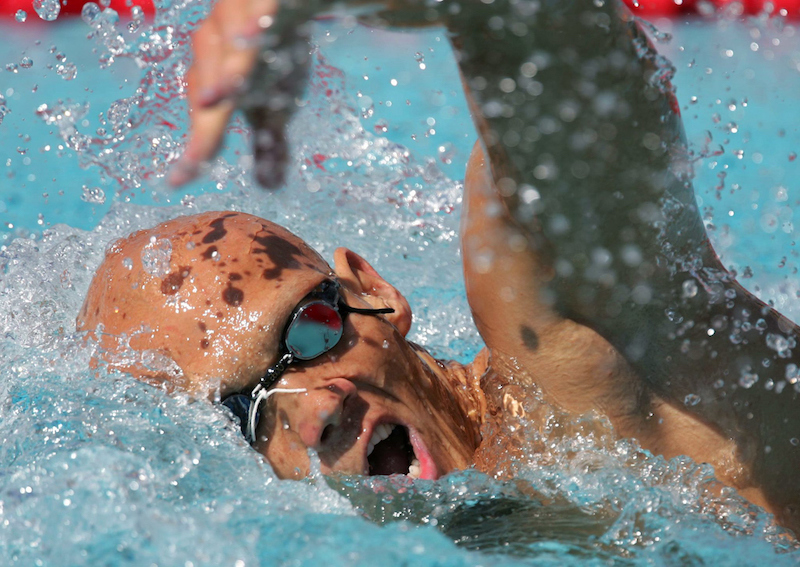 "Simultaneously, his image has become synonymous with Australia's aspirations in the 2000 Olympics. From an Australian viewpoint, Kieren Perkins' quest to win gold medals at three consecutive Olympics still looms as the event's major sub-plot, but Klim stands to rival him in the public imagination because he embodies hopes for the future. How will it affect a young man who is, after all, only 20?"

Michael Klim – photo – Klim at Athens 2004, by Patrick B. Kraemer / MAGICPBK
Talbot takes up the theme in his autobiography and refers to coach Gennadi Touretski in good and not-s0 good light. Back in 1998, Touretski spoke, often in poetic language the, of "the feel and balance of speed" and the "art of racing". He said of Klim at various points in 1997/98:
"With Michael, we had to change his stroke, he is now a kayak with snake"
"Inside everyone is a bit of a lion and a bit of a rabbit. I told Michael he had to let the lion out."
"A dolphin can swim at 80 kilometres an hour without a jet engine. Now why is that?"
"A swallow can migrate thousands of miles? How can that happen – and what can we learn from it?"
Russian-born and lured to Australia by Talbot, Touretsky emerged as master coach beyond his achievements with Alex Popov. The 48-year-old coach was hailed a genius.
That stretched to approaching kit makers and asking them to make a rigid suit. Guess what? They did . It was banned and the swimmer lived once more – but Touretsky, like others of his ilk, had understood the nature of swimming speed and how to switch it to fast-forward.
The Russian was, ultimately, a controversial figure in Australia. At one stage, the Australian Swim Coaches Association banned him from the national swimming team. He was singled out and professionally persecuted after being arrested for assault on a fellow passenger on a plane. He was sentenced to a month's jail and fined a $10,000 for the incident. After that, Talbot told him, in so many words, 'I've stuck my neck out defending you – but no more incidents… can't help you if it happens again.' A different story for another time but something did indeed happen again and Touretski's days Down Under were numbered couple of Olympics down the road from Perth 1998.
Klim emerged from his home world title a hero a couple of years out from Sydney 2000. All super-troupers trained on him, Thorpe and Hackett. It would not be an easy ride, for any of them, one way or another, along the spectrum of their careers and retirements.
For Klim, injury would intervene to leave him shy of the great expectations of Spitzean heights placed on his shoulders by a nation in love with its swim team and looking for the Dolphins to lead the way to a home success fit to spill down the years.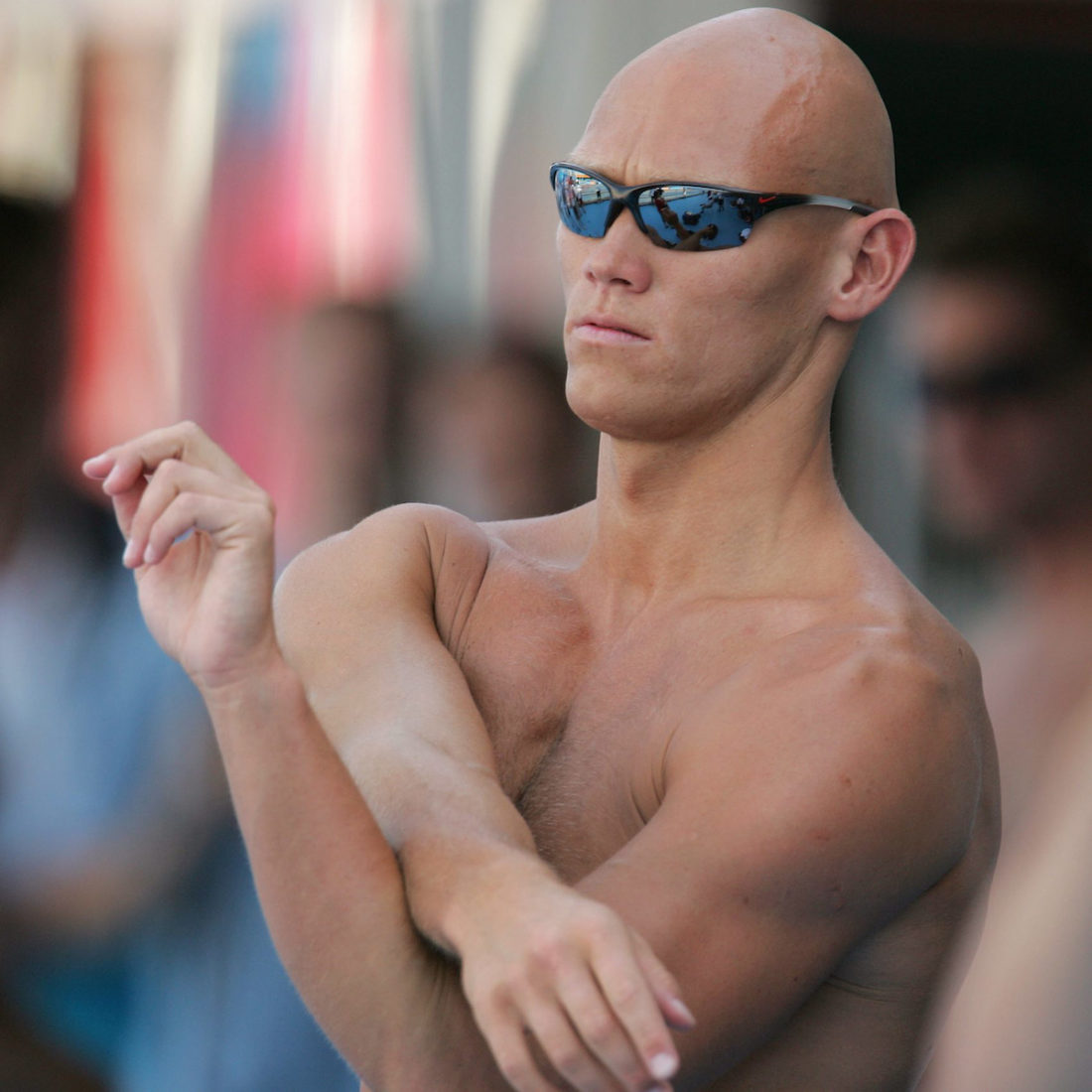 By the time Klim got home to Melbourne, a bodyguard had been arranged for the new celebrity to keep overzealous fans at bay. "Dad told me that I'm going to get a bodyguard for the first few days when I get back to Melbourne," Klim revealed to the Australian media. "I said: `Oh yeah, whatever'."
His father, Wojtek, had a useful business partner at his side: manager Rob Woodhouse, the 1984 Olympic 400IM podium placer for Australia, would go on to represent a string of big names in swimming. In the past decade, he has been based in Great Britain and has skilfully managed the out-of-pool careers of Becky Adlington, the double Olympic champion of 2008, and Adam Peaty, Olympic champion of 2016.
Back in 1998, Woodhouse could be found honing professional skills. He told the media, with a nod to Klim: "He'll be alright, we've been getting ready for this for many months. Michael is a very strong person, he knows what he wants."
What he wanted was to get back into training, he said at the time. And that he did, without any overt desire to embrace the celebrity part of his new status. Said Klim: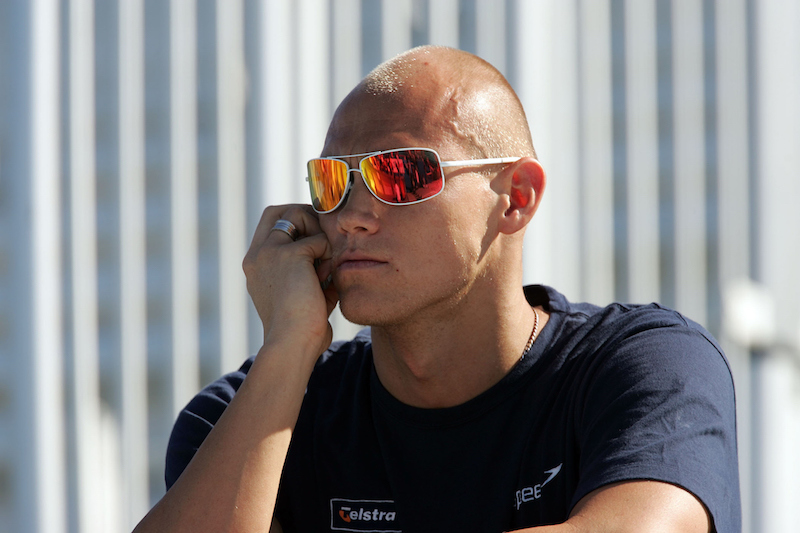 "I don't feel any different although obviously a lot more people are starting to recognise me. Hopefully, if I try not to change too much things won't get too out of hand."

Michael Klim – Photo, at Montreal 2005 World titles – by Patrick B. Kraemer / MAGICPBK
On the other side of the world, Poland was also hailing Klim as its own. Klim was born in the northern town of Gdynia before migrating to Australia at the age of 11. He was afforded a hero's welcome during a visit to Poland after the 1996 Atlanta Olympics. With seven world-titles medals, including four gold, the wider attention was only going to grow. Klim was happy to embrace his roots: "I was brought up in Poland and I still regard myself as part Polish."
What happened after Perth is another story but down the years of success, challenge and experience, Klim has talked about what he learned beyond the art of racing.
In 2016, Klim compared the stresses of a swim career to those of life and was clear about which was the more stressful.
"As a swimmer I never got stressed; It's everyday that can be stressful" – Michael Klim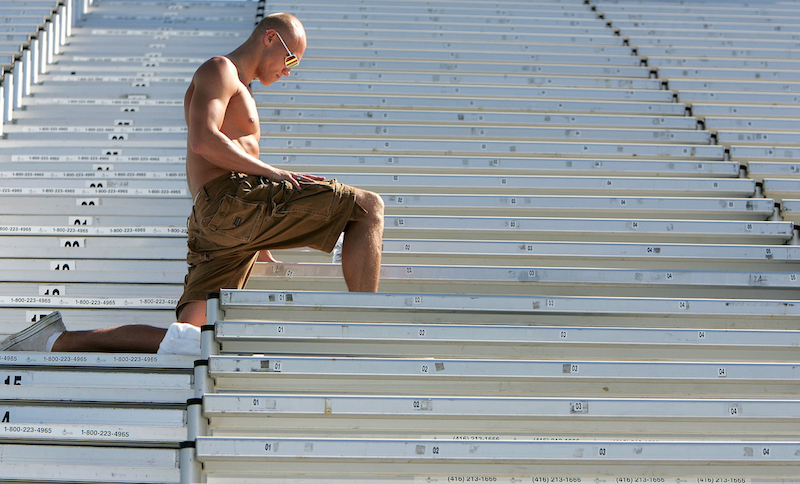 He revealed that he had visited a sports psychologist to help him through the hard transition from Australia team swimmer to life beyond elite racing after retirement in 2007.
Speaking to Kate Waterhouse in The Sun Herald, the then 39-year-old revealed that he found the transition harder than Olympic training. His tale is a fairly common among leading swimmers who often struggle to make a smooth affair of the move from the organised regime that is the life of a world-class athlete to a post-race-retirement world of many choices but little guidance.
Klim, a father of three, summed it up very well when he said: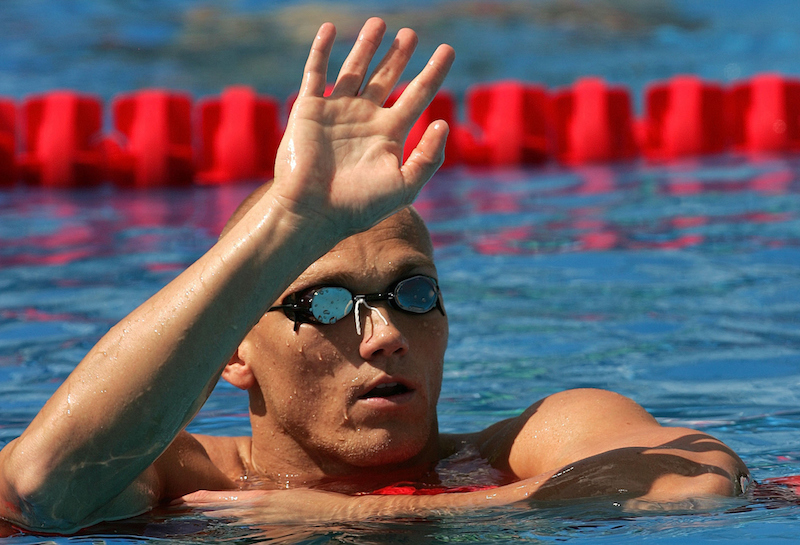 "When I was swimming I never got stressed.  [At retirement] You want to move on with life and progress, but your identity is always going to be that [swimming]. I only saw a sport psychologist once I retired, not when I was swimming."

Michael Klim – image – Australia's Michael Klim – Photo by Patrick B. Kraemer / MAGICPBK)
Klim is among the growing number of leading sportsmen and women who want open discussion on mental health in professional sport and beyond. He suggests things are getting better as those in charge of sport recognise that planning for the transition from Game to post-fame can be a difficult one. Klim says: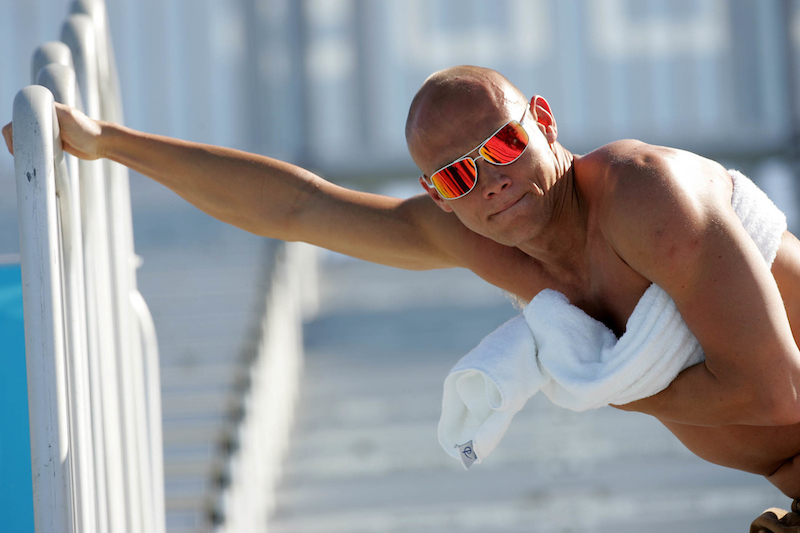 "Definitely in sport, mental health is much more accepted now. When I was swimming there were many things, like this, you felt couldn't be discussed. It was more post-career I started using some of the lessons I learnt. It's everyday challenges we all experience that can be stressful."

Michael Klim – Photo by Patrick B. Kraemer / MAGICPBK)
Something that is obvious to most of us but not always young folk who emerge from the bubble of world-class sport seemingly unprepared for a life without a constant hand to hold and a schedule to follow.
Dame Kelly Holmes, the British athletics Olympic champion, runs the eponymous Holmes Trust these days – and that includes the More Than Medals project:
"Every year hundreds of world class athletes reach a position where they need to consider their lives beyond sport. More Than Medals is a campaign that demonstrates the positive contribution this group can make to society, businesses, communities and ultimately the overall UK economy, if they receive appropriate levels of support and development."
Klim and contemporaries such as Ian Thorpe and Grant Hackett have all experienced serious issues that required one form of rehabilitation or another, much of the troubles of the distance freestyle aces stemming from their transition to 'normal' life.
Founder of Milk and Co with ex-wife Lindy eight years ago, Klim launched his own men's skincare range named KLIM last June, four months after the couple announced they were separating after 10 years of marriage.
At the time of publication, Klim is reported to be dating Desiree Deravi, an Australian based in Bali, while his former wife is now engaged to her new partner Adam Ellis.