Memories of Moscow 1980 – When Sergei Fesenko Became The First Soviet Swimmer Among Men To Claim Olympic Gold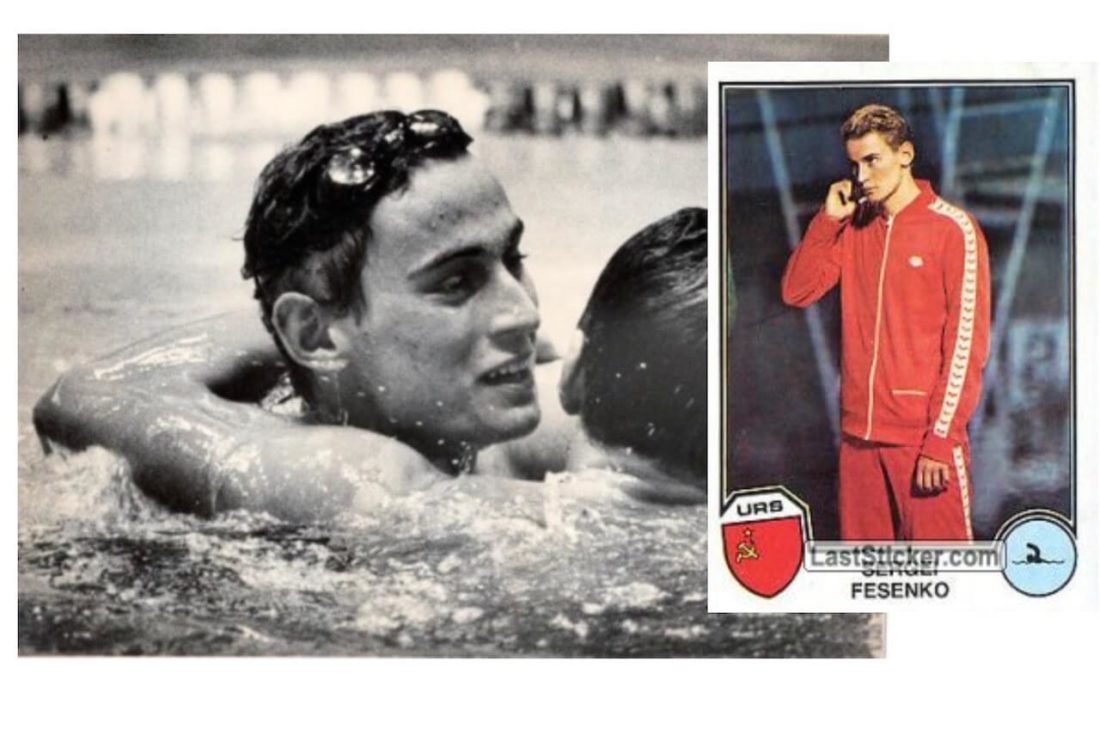 Today marks the 40th anniversary of the first day of racing in the pool at the 1980 Olympic Games in Moscow, where Sergei Fesenko became the first Soviet swimmer among men to claim Olympic gold in the pool.
Boycott meant boycott in Moscow 1980 so there was no Mike Bruner to defend the 200m butterfly crown at Moscow 1980 nor his American teammate at Pan Pacific Champion Craig Beardsley to take on Sergei Fesenko as he sought to write a new chapter for Soviet swimming a decade before there would be no such country.
Fesenko is from Ukraine, which was part of the Soviet block back in 1980. When he stopped the clock at 1:59.76 at the end of dominating the Olympic 200m butterfly final 40 years ago this day at the helm of the first pool final of the Moscow Games, he became the first Soviet swimmer among men ever to claim Olympic gold.
In qualifying, Fesenko had put the World record of 1:59.23 (Bruner's standard set when he claimed gold at Montreal 1976) on notice. Fesenko was a touch slower in the final but his 1:59.34 took out the European record of the GDR's Roger Pyttel and established the last continental mark before the era of Michael "The Albatross" Gross would begin" the young West German had been destined to be in Moscow but boycott ended his hopes of a first Games.
By Los Angeles 1984, when he claimed 200 free gold and 200 'fly silver beyond Jon Sieben, Gross would have set six of his nine career European marks, the last effort among which, a 1:56.24 World record in June 1986, would survive as the European high bar until 1995, when Russian Denis Pankratov intervened a year out from being the first Russian to win Olympic 200 'fly gold.
In Moscow 40 years ago, Phil Hubble claimed silver for Great Britain in 2:01.20, Pyttel, who in 1976 had become the first man inside 2 minutes, with a World record of 1:59.63. third in 2:01.39
Bruner's World standard survived Moscow but not Beardsley: on July 30, 1980, at U.S. Trials and knowing they would not lead to a Games, the new king of American 200 'fly clocked a stunning 1:58.23. A year later, Beardsley took the mark down to 1:58.01.
Fesenko, who raced for the "Avangard" Club (Kiev), was the first of five Soviet men to claim solo gold at Moscow 1980. He also celebrated silver in the 400m medley adrift teammate Oleksandr Sidorenko.
No sooner had Fesenko won the 200 butterfly and received his Moscow 1980 gold medal from Lord Killanin, president of the International Olympic Committee (IOC), than the absence of Bruner was raised as the first question at the post-race final.
Fesenko, 21, said that he was disappointed that the Americans were not here because he had hoped to challenge their best. He added:
"I was going to retire after the Olympics, but because of the boycott, I would like to go on so I can swim against Bruner and the other top Americans."

Sergei Fesenko
Beardsley would have made things very tricky for anyone in the normal run of things that summer, that day: at U.S Nationals on July 30, he clocked that 1:58.21. Mike Bruner was on 1:59.13 – and Bill Forrester 1:59.40. All three Americans topped Fesenko on the clock. Indeed, in 8th place, Steve Gregg, on 2:00.98, was faster than the time in which it took to claim silver in Moscow.
By 1982, a new order had taken shape in the 200m butterfly: at World Championships in Guayaquil that year, Gross claimed the crown in 1:58.82, Fesenko silver in 1:59.91, Beardsley bronze in 2:00.08.
Gold at Moscow 1980, Fesenko's gold was a case of fine fortune coming in threes: before the Games he had completed his studies at the Institute for Physical Sport and Culture in Kiev and had married his schoolmate Iryna Fesenko, who became  an interior, home, and landscape designer.
The couple have two sons, Serhiy Fesenko Jr. (born in 1982) and Kyrylo Fesenko (born in 1986). Both became swimmers. Serhiy Jr. competed at the Sydney 2000, Athens 2004 and Beijing 2008 Olympic Games for Ukraine. In the midst of all that, he studied at and raced for Indiana University and became a Big Ten swimmer of the week twice.
Kyrylo Fesenko competed at 2006 and 2008 European Championships, respectively in Budapest and Eindhoven. He studied at Drury University and raced in NCAA division 2 competition, excelling in 2006-2009.
Moscow 1980 – The Dominance of The GDR Women Begins Again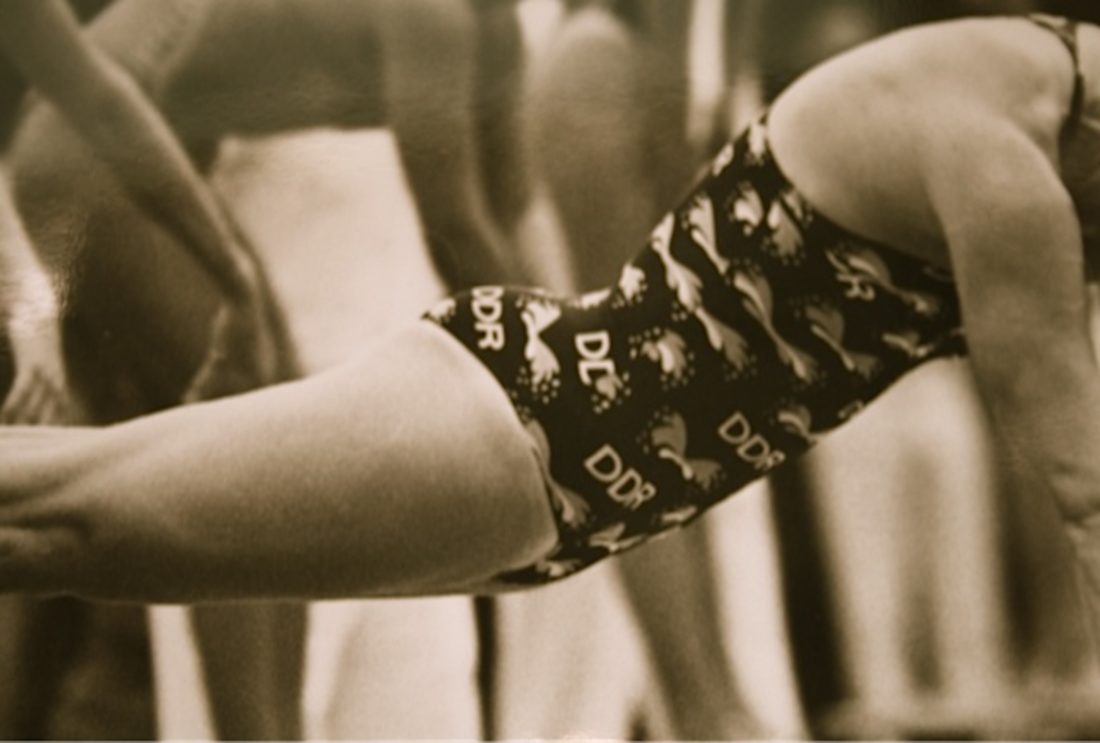 Where the Soviet men's team, with Sergei Fesenko and Co, benefitted most at Moscow 1980 from the absence of Americans and the best of the missing rest in Moscow, then the GDR women, simply capitalised on the absence of American women by deepening their dominance after an  11-gold near-wipeout of the opposition at Montreal 1976. Just two titles got away in 1976: the 200m breaststroke, to Lina Kachushite, of the USSR, and the 4x100m free, to a USA quartet that produced what remains the most thrilling upset in Olympic swimming relay history, so poignant was the moment Shirley Babashoff stopped the clock to end the GDR bull run.
In 1978, the East German women had had a relatively poor World Championships in West Berlin. Two of their big names were missing: one had slipped in the shower and hurt herself, the other had a bad cold. Or so the story went. In fact, both had been pulled out of line awaiting transport to the World Championships and driven instead south to Kreischa, the IOC-accredited laboratory, where an attempt was made to turn internal positive tests for doping into clean athletes.
One, a double Olympic champion of 1976 did not make it to Moscow, the other claimed a bronze medal in Moscow.
At Moscow 1980 on this day 40 years ago, the GDR women's team claimed its first victory of the 22nd Olympic Games and celebrated three World records on the opening day of competition.
First up, Barbara Krause cracked her own 55.51sec World 100m free mark with the first sub-55sec effort, a 54.98, off a 26.78 split, in the third heat. Later in the day, Rica Reinisch led off the medley relay with an equalled World 100m backstroke record of 1:01.51. The time, matching 1976 champion Ulrike Richter's world record, contributed to a new global relay standard of 4:06.67, inside the 4:07.95 that had stood to the GDR since victory – by more than 6sec over the USA – at Montreal 1976.
Reinisch was followed by Ute Geweniger, Andrea Pollack and Sabrina Hulsenbeck. Krause would not make the final despite her 100m free speed, the freestyle berth going to GDR No 2 Caren Metschuk, who would go on to win the 100m butterfly. Anyone tempted to read tactics into that call might consider that an entire B team line up would have won the race too.
Second home that day as the first clean team to the wall at Moscow 1980 was the British quartet of Helen Jameson, Margaret Kelly, Ann Osgerby and June Croft. Take away the GDR results in the mix of the careers of that generation of British swimmers and you have a very different view of their achievements as elite swimmers. The Brits closed 4:12.24, more than 2sec up on the speed of USA 1976, the bronze going to the hosts in 4:13.61.
Here's a view of day 1 racing from the New York Times 40 years ago:
Moscow 1980 – Pool is Rated Fast
The record times by the East German women, competing virtually against the clock, confirmed that the 10-lane pool (the two outside lanes are not used) was sufficiently fast.

"This pool is fairly fast," said Sweden's Pär Arvidsson … "It could have been deeper, but they've gotten some good times tonight, so what more can you say?"

There is little doubt that the East German women want to repeat their Montreal sweep in which they won 11 gold medals in 13 events. But they are also aware that American swimmers will be trying to play beat the clock against these performances at the United States trials that begin two days after the Olympic swimming competition.

As the Soviet flag was raised between an East German flag (for Pyttel) and an Olympic flag (for Hubble), Sergei Fesenko sang his national anthem. He showed his emotions, as his eyes filled. Until last year, Soviet swimmers, although affiliated internationally since 1947, had never set a world record other than in the breast-stroke.

Their frustrations in the sport have involved more than close finishes. Viktor Kuznetsov, a promising backstroker, was disqualified from third and sixth-place finishes at the 1978 world championships in Berlin because he failed the doping control tests.

Tonight, Kuznetsov swam the fastest time in the 100 backstroke semifinals, 56.75, and looms as a potential gold medalist. But then, Peter Rocca of the United States will not be in the next lane.
Olympic Games – day 1 results
Finals
Men
200-meter butterfly Final
1. Sergei Fesenko, U.S.S.R., 1 minute 59.76 seconds
2. Philip Hubble, Britain, 2:01.20
3. Roger Pyttel, East Germany, 2:01.39
4. Peter Morris, Britain, 2:02.27
5. Mikhail Gorelik, U.S.S.R., 2:02.44.
Woman
400-meter medley relay Final
1. East Germany, (Rica Reinisch, Ute Geweniger, Andrea Pollack, Sarina Hulsenbeck), 4:06.67 (World record)
2. Britain, 4:16.29
3. U.S.S.R., 4:16.46
4. Sweden, 4:19.94
5. Italy, 4:21.69.
Qualification Day 1 Moscow 1980:
Men
100-meter backstroke First Heat 1. Vladimir Dolgov, U.S.S.R., 57.87 seconds; 2. Dietmar Gohring, East Germany, 58.02; 3. Miloslav Rolko, Czechoslovakia, 58.15; 4. Branimir Popov, Bulgaria, 1:00.06; 5. Nenad Milos, Yugoslavia, 1:00.41; 6. Robert Rudolf, Hungary, 1:00.85; 7. Daniel Ayora, Peru, 1:03.93.
Second Heat 1, Mark Tonelli, Australia, 58.66. 2, Gary Abraham, Britain, 58.79. 3, Jorg Stingl, East Germany, 58.98. 4, Frederic Delcourt, France, 59.16. 5, Herwig Bayer, Austria, 1:00.04. 6, Ricardo Prado, Brazil, 1:01.03. 7, Laris Phylactou, Cyprus, 1:08.92.
Third Heat 1. Michael Soderlund, Sweden, 57.75; 2. Romulo Duncan Arantes Jr., Brazil, 57.90; 3. Fred Eefting, Netherlands, 58.59; 4. Douglas Campbell, Britain, 58.75; 5. Rui Pinto Abreu, Portugal, 1:00.62; 6. Pedro Cruz, Mozabique, 1:15.25; 7. David Cummins, Ireland. Fourth Heat 1. Glen Patching, Australia, 58.30; 2. Paul Marshall, Britain, 58.35; 3. Viktor Kuznetsov, U.S.S.R., 58.47; 4. Vladimir Shemetov, U.S.S.R., 59.01; 5. Franky De Groote, Belgium, 1:00.35; 6. Jorge Lima, Angola, 1:14.33; 7. Alberto Eugenio Mestre, Venezuela.
Fifth Heat 1. Zoltan Verraszto, Hungary, 57.92; 2. Sandor Wladar, Hungary, 58.07; 3. Mark Kerry, Australia, 58.08; 4. Bengt Baron, Sweden, 58.46; 5. Mihai Mandache, Rumania, 1:00.26; 6. Moises Gosalvez, Spain, 1:00.90; 7. Van Hoanh Lam, Vietnam, 1:07.29.
First Semifinal 1. Viktor Kuznetsov, U.S.S.R., 56.75; 2. Bengt Baron, Sweden, 57.51; 3. Mark Tonelli, Australia, 57.89; 4. Gary Abraham, Britain, 57.90; 5. Fred Eefting, Netherlands, 57.91; 6. Miloslav Rolko, Czechoslovakia; 7. Vladimir Dolgov, U.S.S.R., 58.04; 8. Sandor Wlador, Hungary, 58.05.
Women:
100-meter freestyle First Heat 1. Natalya Strunnikova, U.S.S.R., 57.43; 2. Olga Klevakina, U.S.S.R., 57.62; 3. Jacquelene Willmott, Great Britain, 58.78; 4. Carine Verbauwen, Belgium, 59.08; 5. Celeste Garcia, Peru, 1:02.44; 6. Michele Pessoa, Angola, 1:09.10.
Second Heat 1. Ines Diers, East Germany, 56.83; 2. Guylaine Berger, France, 57.80; 3. Isabel Reuss, Mexico, 58.36; 4. Larisa Tsaryova, U.S.S.R., 59.12; 5. Rosemary Brown, Australia, 59.35; 6. Mariam Paris, Costa Rica, 1:01.08; 7. Lynne Tasker, Zimbabwe, 1:03.36; 8. Nadia Fezzani, Libya, 1:09.28.
Third Heat 1. Barbara Krause, East Germany, 54.98 (new world record; old record 55.41 by Krause); 2. June Croft, Britain, 57.88; 3. Carina Ljungdahl, Sweden, 58.05; 4. Michelle Pearson, Australia, 58.90; 5. Heidi Koch, Austria, 59.73.
Fourth Heat 1. Caren Metschuck, East Germany, 55.44; 2. Conny Van Bentum, Netherlands, 57.51; 3. Agneta Eriksson, Sweden, 57.67; 4. Monica Vallarin, Italy, 59.43; 5. Natalia Mas, Spain, 59.53; 6. Bako Ratsifa, Madagascar, 1:07.21; 7. Thi Thanh Lan Chung, Vietnam, 1:12.27.