McKeown Tops The Athens Day 2 Bill With 57.63 Cup Mark A Touch Away From Her WR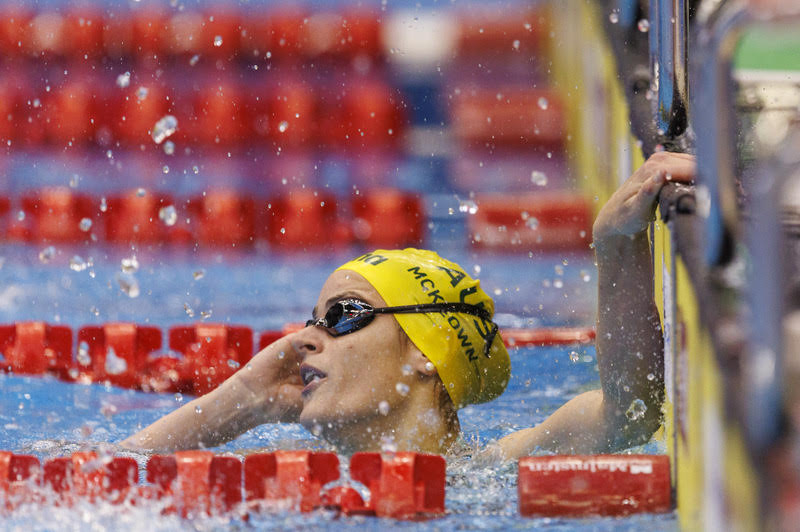 Kaylee McKeown gave her World record of 57.45 a scare with a 57.63sec display of technical mastery over 100m backstroke on day 2 of action at the mid-point of the three-event series in Athens.
The Australian triple Olympic and triple World champion was out in 28.32, home in 57.63, after an effort of 28.58 for 57.95 a week ago. Her World record of 57.45, set in Adelaide in June 2021 on the way to glory at the Tokyo Olympics later that norther summer, came off a 28.10 split.
So, this day, McKeown was fastest getting from turn to end wall than she was when setting the World record, the opening length accounting for the gap between global best and today's match of her sixth best performance ever, her best seven including the 57.47 in which she claimed Tokyo gold, one of the fastest five efforts in history that all have her name on them.
McKeown said she didn't expect to be quite this fast so soon in the season: "We had two weeks off after World Championships in July … so its been a short little prep' but I'm enjoying challenging myself."
The Athens race: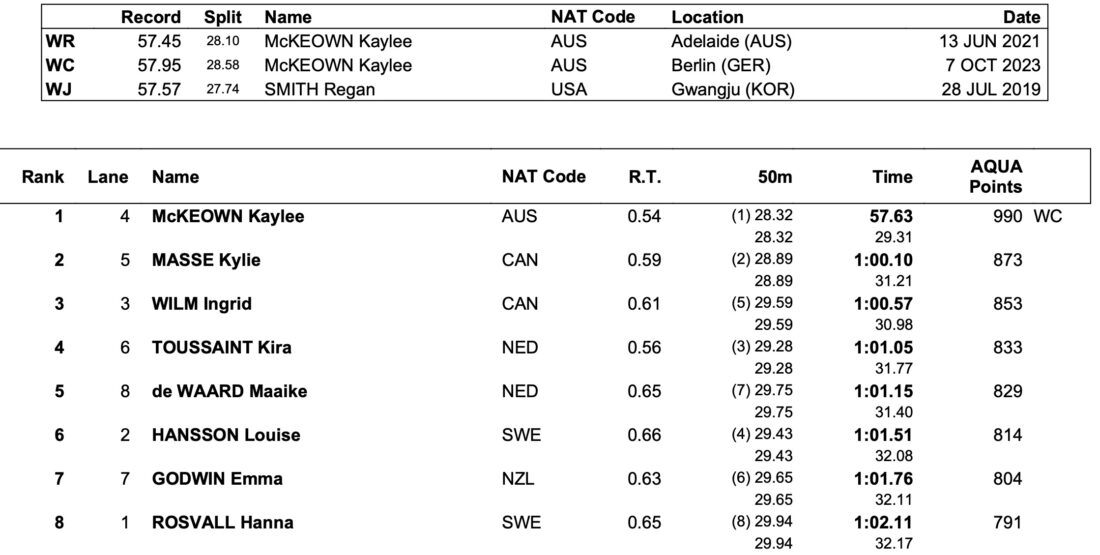 W50 'Fly: Sjostrom Take World Cup Pace Below 25sec For First Time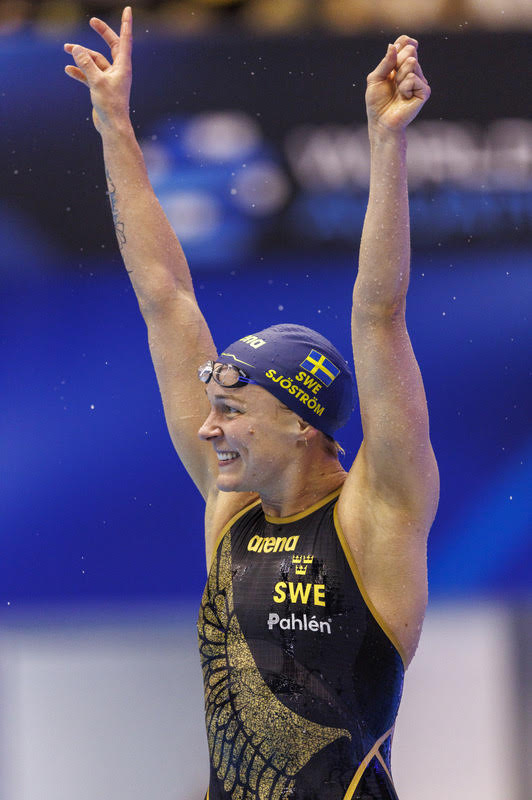 "Every time I swim below 25, it feels like a best time," said Sarah Sjostrom after a 24.97 World Cup record that took the best series pace below 25sec for the first time.
Of course, we look back at an extraordinary moment in Boras in 2014 when the Swedish sprint queen put one of the most enduring World records in the books with a 24.43.
At this time of year, pre-Olympic season and testing her race skills while chasing the money the tour offers… well, no wonder anything inside 25 feels like a best time all over again, the thrill and stroke-rate skill of it all a wonder.
It helped to have Zhang Yufei on her tail last week in Berlin when Sjostrom clocked 25.06. Today, Zhang was closest again, on 25.31:

W200 Free: Haughey Slices 0.07sec Off Her Week-Old Cup Mark on 1:55.03
Siobhan Haughey, of Hong Kong, sliced 0.07sec off the World Cup record she set a week ago in Berlin. The 100-200 double Olympic silver medallist, who set an Asian record of 52.02 in the 100m on the last day of action in Berlin, was a class apart over four lengths. Her pace was very similar week on week, the record coming down to Haughey's faster opening 100m:
27.05; 56.14; 1:25.86; 1:55.03 WC rec – Athens
27.34; 56.56; 1:25.76; 1:55.10 WC rec – Berlin
The top three was completed by New Zealand's Erika Fairweather and Hungary's Nikolett Padar: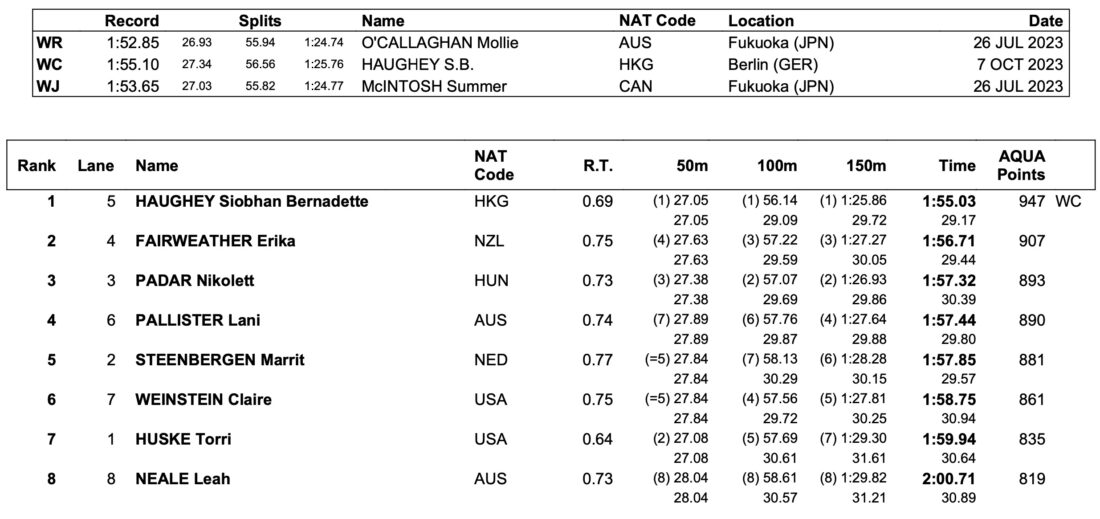 M800 Free: Christiansen Sets 7:51 World Cup Mark
Henrik Christiansen, of Norway, swam lonely out front for much of his way to a 7:51.91 World Cup record that took down the
7:56.96 standard of Gregorio Paltrinieri the year before he claimed the first ever Olympic gold for Italy in the 1500m freestyle at the Rio Games. The times on Cup tour are far away from what makes podiums at global and even continental level, Paltrinieri's record reflecting three things: the cup is swum long-course once every four years in pre-Olympic season; is aways held in the autumn/early winter when swimmers, particularly the distance crew, are testing their race skills at a time of hefty training; and the 800 was added to the Olympic program for the first time at Tokyo 2020ne, motivation to focus on the 16-length challenge heightened as a result.
The top three was completed by home favourite Dimitrios Markos, own 7:58.16, and Kaito Tabuchi, of Japan, on 7:58.70 as last man home inside 8mins. The top 8: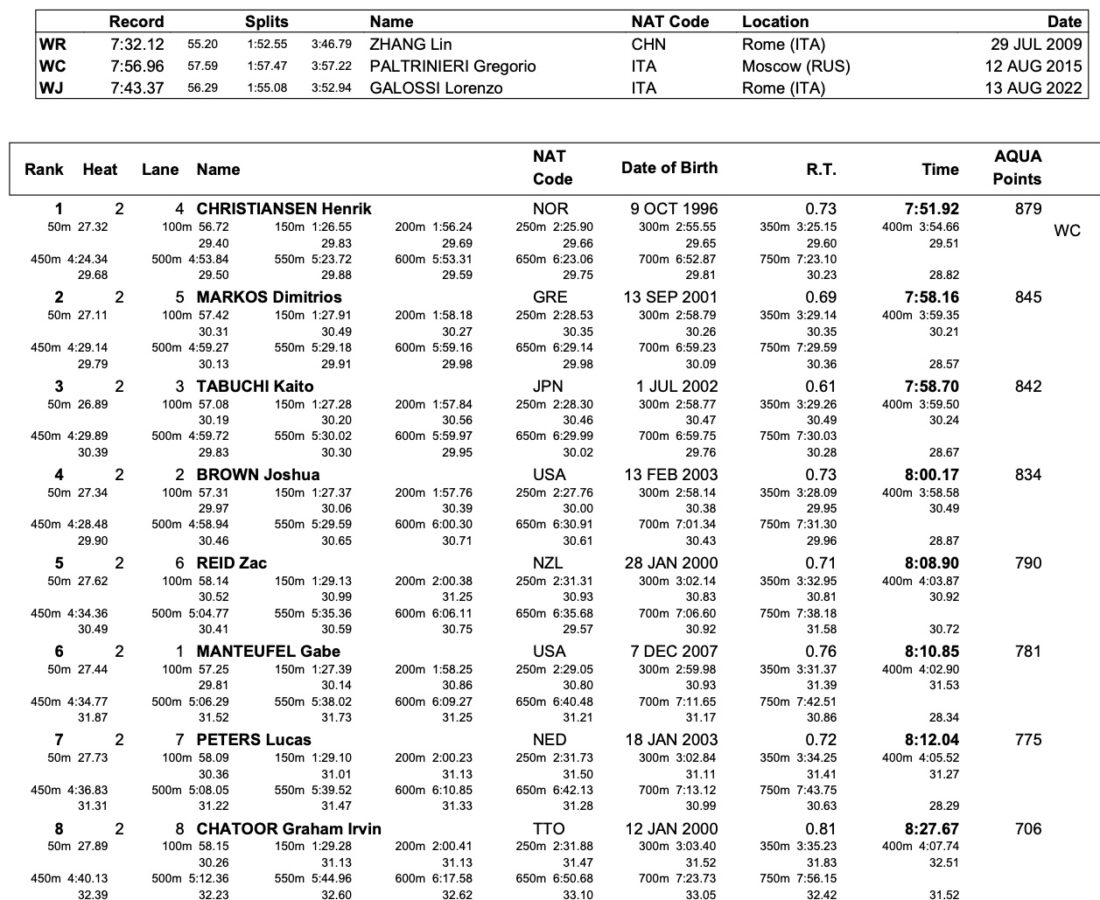 M50m Breaststroke: Qin Win But Slow-Burn Return Of Peaty Tangible
Qin Haiyang has dominated all breaststroke races at World Championships, Asian Games and so far on this World Cup Tour in 2023. Today's 26.52 in the dash left him home and dry without a need to be at his best but for the first time in two years, we saw Adam Peaty, the World record holder on a different voyage to his third Olympics, look like his old strength is awakening.
At 26.89, he was almost a second down on his World record pace but when Qin clocked a 26.29sec Cup record in Berlin last weekend, Peaty was back in third on 26.98. Today, the British ace stepped up to 26.89, his start leaving him with catch-up work to do, his swim phase as good as any in the race. Third place went to Nic Fink in 26.98, with Arno Kamminga, the double Olympic silver medallist from The Netherlands, on 27.04.
A happy Peaty said: "That was a really big drop for me from this morning. I was calm until I heard the crowd so thank you Greece. It's great to race in places where people have such passion. That was the first race where I felt I'm getting back after two years.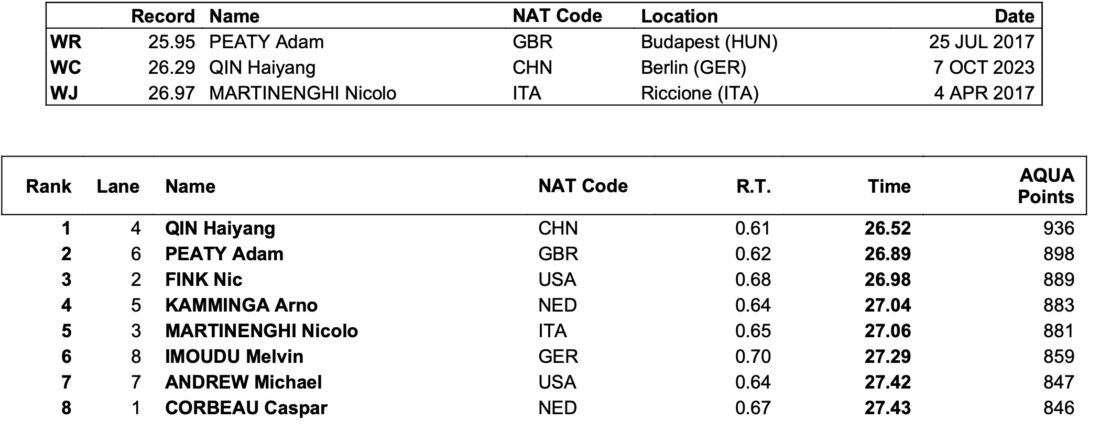 W400 Medley: Grimes Grinds Out Another Race-Pace Test On 4:38
Katie Grimes clocked 4:37.20 a week ago in Berlin as the Cup got underway and was not too far off that today in Athens as she took the first final of day 2 in 4:38.74.
A second of that deficit on self week-on-week came down to breaststroke. The silver medallist in the long medley at both the 2022 and 2023 World Championships, had all the hallmarks of an athlete toughing the tour out by training for bigger moments in between the race-pace test sets.
"The breaststroke really got me," said Grimes after emerging from a final she dominated on three strokes but saw her Japanese rivals Waka Kobori and Ageha Tanigawa catch her on the third 100m. There was never any doubt Grimes would take the race, her stroke rate longer, calmer more in control of those giving her a decent fight.
Kobori was closest at the close, on 4:39.35, Tanigawa third in 4:40.23. The top 8: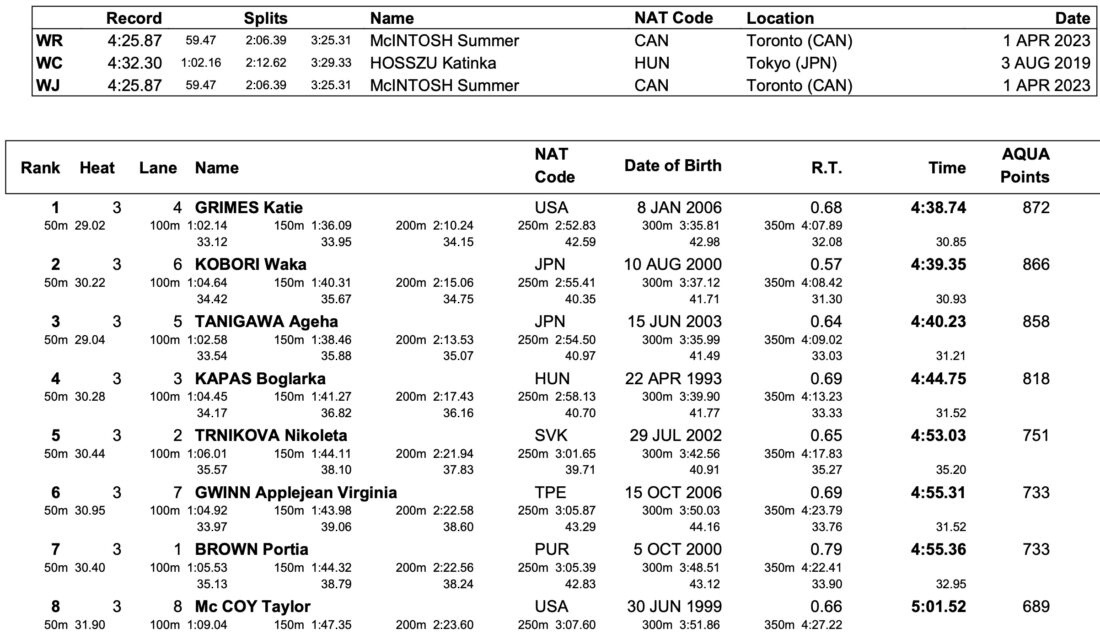 M50 Back: Andrew
Michael Andrew is the man to beat in the dashes on this tour across the board, every stroke. On backstroke, he blasted off from a 0.59 reaction time on his way to a 24.79 win by 0.1sec over South African Peter Coetze, Australia's Issac Cooper another in the top three of dashes on multiple strokes having won the 50m freestyle ahead of Andrew in Berlin: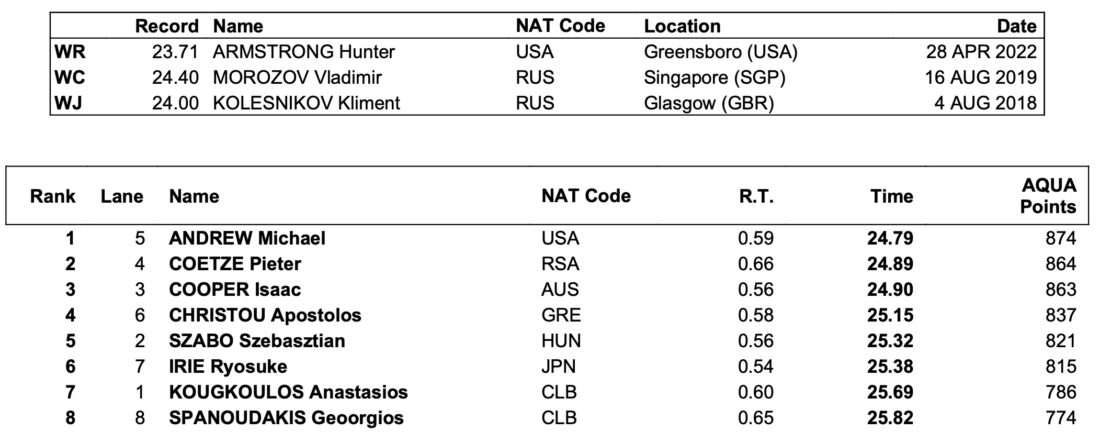 M100m free: Ceccon Keeps Control Of The There & Back
Thomas Ceccon, of Italy, took his second win of the series in the 100m freestyle, a 48.36 not quite the sub-48 of a week ago but good for the win ahead of Dylan Carter and Zac Incerti:
W100m breaststroke: Ruta Hangs On After Dominance To The Turn
Ruta Meilutyte turned in 30.63, no-one within a second of her. A homecoming 36.07 added up to 1:06.70, fast enough to fend off the catchers-uppers, 200m winner Tes Shouten second, Sophie Hansson third: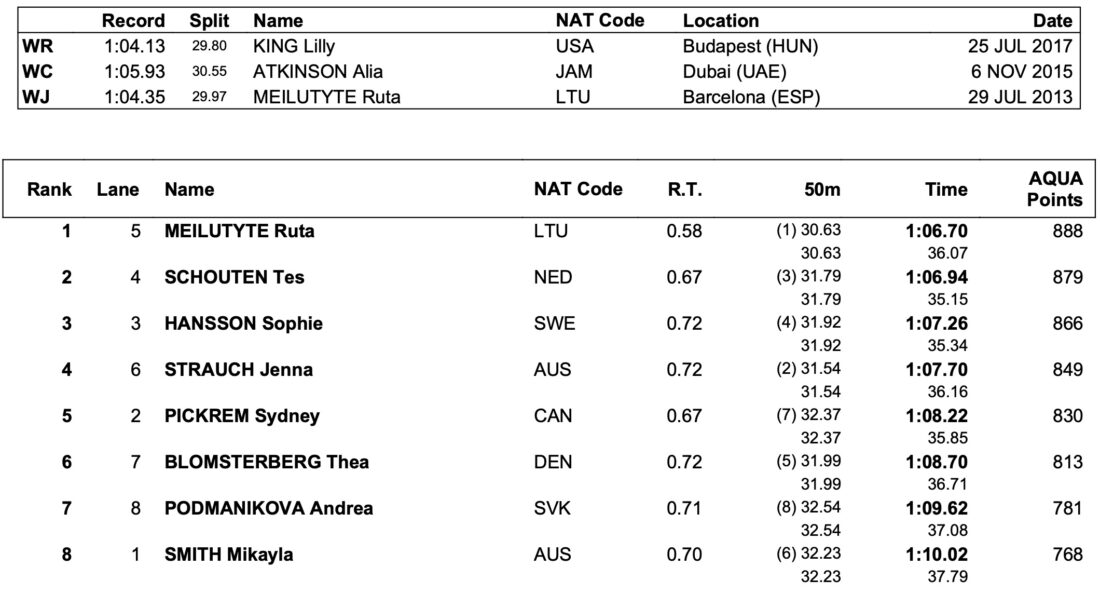 Matt Sates At The Double In 200 IM & 200 'Fly
As in Berlin, Matt Sates, of South Africa, completed the 200m medley and 200m butterfly double once more in Athens. He held off Kieran Smith in the medley, 1:58.86 to 1:59.56 …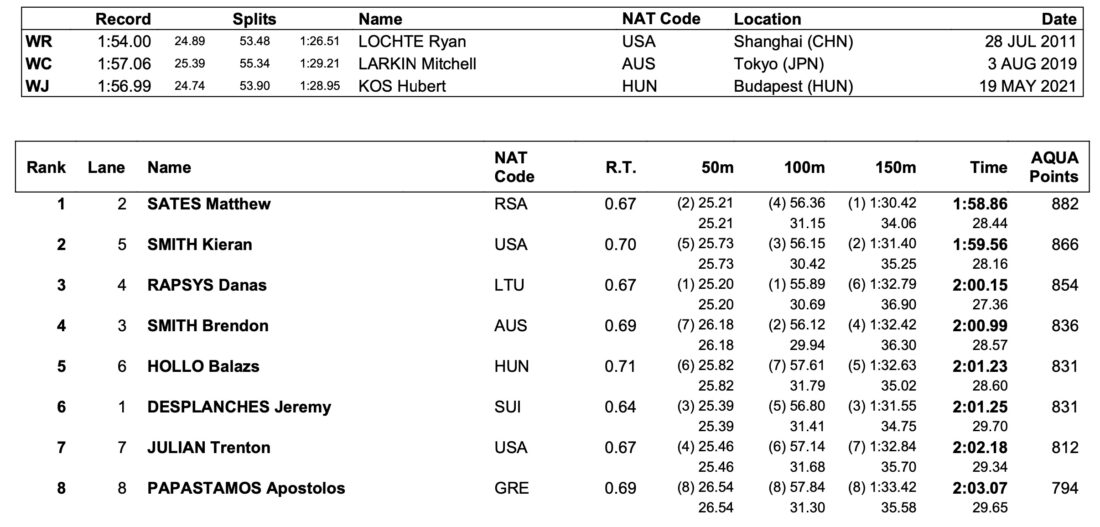 … and then held off Richard Marton 1:55.44 to 1:56.60 in the 'fly: