McKeown, Titmus, Mckeon & Campbell Lead Aussie Sorority Of Swim Sensations To Tokyo Olympics As Trials End In Record-Breaking Form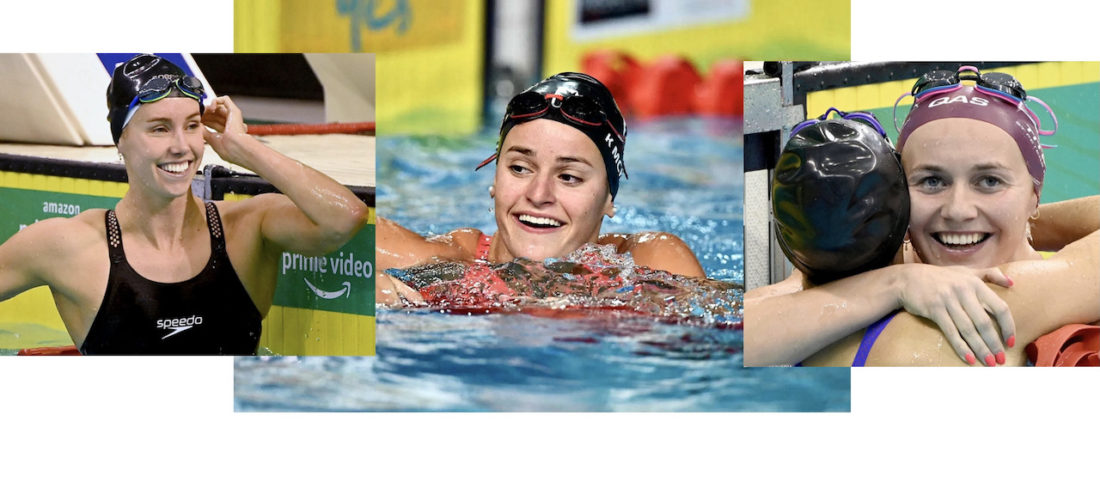 Kaylee McKeown and Ariarne Titmus, two of the outstanding acts at a fast Australian Olympic Trials in Adelaide over the past six days, brought the Tokyo 202One qualifier to a sizzling conclusion with an Australian record apiece, McKeown's 2:04.23 also inside her own Commonwealth standard and all-time No3, Titmus on 8:15.57 over 800m freestyle.
Now starts the art of the coach and support team around athletes clearly capable of bringing home a ute-load of medals if they can replicate their trials efforts at the end of July in Tokyo.
Emma McKeon and Cate Campbell added to the weaponry in the Aussie arsenal heading to Japan with respective blasts of 23.93 and 23.94 in the 50m freestyle, while Matt Temple not only dominated the final of the 100m butterfly with an Australian and all-comers-record of 50.45, just 0.06sec shy of the Commonwealth record in which Joe Schooling claimed Olympic gold at Rio 2016, but gave Australia hope and possibilities for its medley relays.
McKeown has had a stellar week, with a 57.45 World record in the 100m backstroke backed up by a 2:08.1 in the 200m medley and her record-setting 200m backstroke today ahead of a 2:06.38 qualifier for Australian backstroke standard-bearer of the past decade Emily Seebohm, who will race at her fourth Olympics in Tokyo 13 years after gold with mates in the medley relay at Beijing 2008.
The race:
29.24; 1:00.54 (31.30) 1:32.30 (31.76) 2:04.28 (31.98) Kaylee McKeown
29.65; 1:01.36 (31.71) 1:33.63 (32.27) 2:06.38 (32.75) Emily Seembohm
30.15; 1:02.74 (32.59) 1:35.88 (33.14) 2:09.24 (33.36) Minna Atherton
McKeown, coached by Chris Mooney at USCS, set the Commonwealth standard at 2:04.31 last month. Now she has just over a month before she meets Regan Smith (assuming the World champion and 2:03.35 World-record holder qualifies for the 200 in Omaha later this week, which looks highly likely) and others at the moment that counts beyond all times posted on clocks and domestic races won and dominated.
Seebohm understands well the joy and heartache of the big-wave ride and the transitory nature of records. In March 2008 at Aussie nationals and Olympic trials, she took down the Worlds 50m backstroke record in 27.95. Fifteen days earlier the standard had been set by American Hayley McGregory at 28.00. Then a day after Seebohm's record, fellow Australian Sophie Edington moved the pace on to 27.67. Seebohm skipped the final to focus on the Olympic 100m: on 59.78, she became the first Australian inside the minute and then lowered the mark in the final to 59.58 for a ticket to Beijing.
In China, she missed the final by one place and the raced the heats and finals of the medley relay, claiming her first Olympic gold with mates. Four years on, it was gold in the 4x100m free, silver in the 100m back after she rattled the World record in semis, and silver in the medley relay. At Rio, another silver, in the medley relay. At World long-course level, her vault boasts 14 podiums, 5 of them gold, including the 2015 100 and 200m backstroke titles and the 2017 200m crown. Standards that set a high bar for Aussie backstrokers, Kaylee McKeown now moving the pace on in time for a Tokyo Games delayed by the Covid-19 pandemic.
Where McKeon and Seebohm Stack Up This Year & All-Time In Textile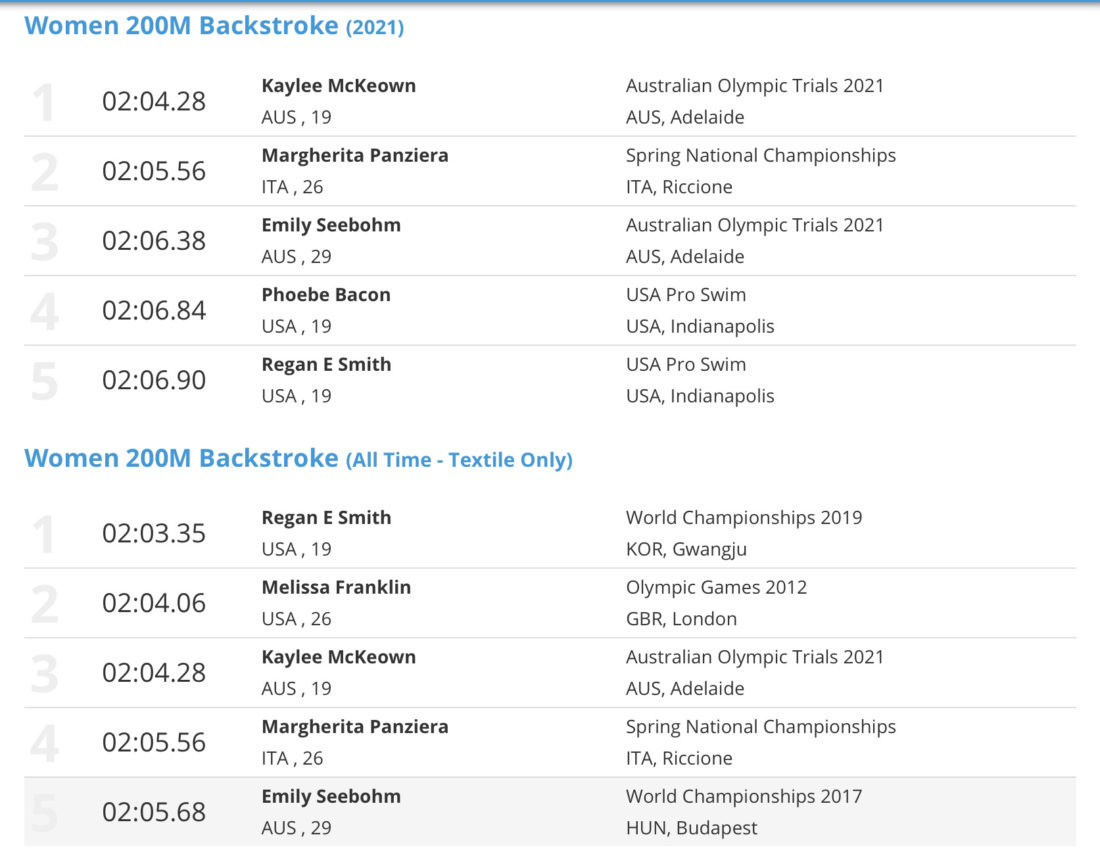 Women's 800m freestyle
Ariarne Titmus, a Commonwealth record of 3:56.90 an arm swing shy of Katie Ledecky's World mark over 400m free and a World textile best 1:53.09 200m in the bag this week, led a tussle with Kiah Melverton that led to Tokyo tickets for both and an Australian record 8:15.57, inside the 8:15.70 standard she set in the World-Championship final in 2019 for bronze behind Katie Ledecky's 8:13.58 and Simona Quadarella's 8:14.99.
In 8:19.05, Melverton became the third Australian to race inside 8:20, after Jess Ashwood and Titmus. The Adelaide battle:
0.59.92; 2:02.75; 3:05.56; 4:08.46; 5:10.87; 6:12.95; 7:15.11; 8:15.57 Titmus
1:00.25; 2:02.89; 3:05.95; 4:08.95; 5:11.63; 6:14.31; 7:17.34; 8:19.05 Melverton
Third home was Kareen Lee, whose new best of 8:23.54 was also inside Tokyo target (without ticket) and swept her from 17th on the all-time Aussie list to 8th past some big names from history, including 1980 Olympic Champion Michelle Ford, 1978 World champion Tracey Wickham and Olympic finalist Janelle Elford, mother and coach of current distance charge Lani Pallister. Still ahead of Lee on the clock is 1988 Olympic bronze medallist Julie McDonald, on 8:22.93 and among those deprived of a rightful finishing place by the systematic doping of the GDR.
Men's 100m butterfly
Matt Temple, of Nunawading and coached by Scott Talbot, for New Zealand International and son of Don Talbot and Jan Cameron, rattled Joe Schooling's Commonwealth record, falling just 0.06sec shy for an Australian record of 50.45. Good for the solo, good for the medley relays. David Morgan joined him on the team for Tokyo in 51.67, another result that reflected the fine week being enjoyed by TSS coach Chris Nesbit. Shaun Champion not that this day but on 51.93 third home with experience in the vault and a headline waiting to happen.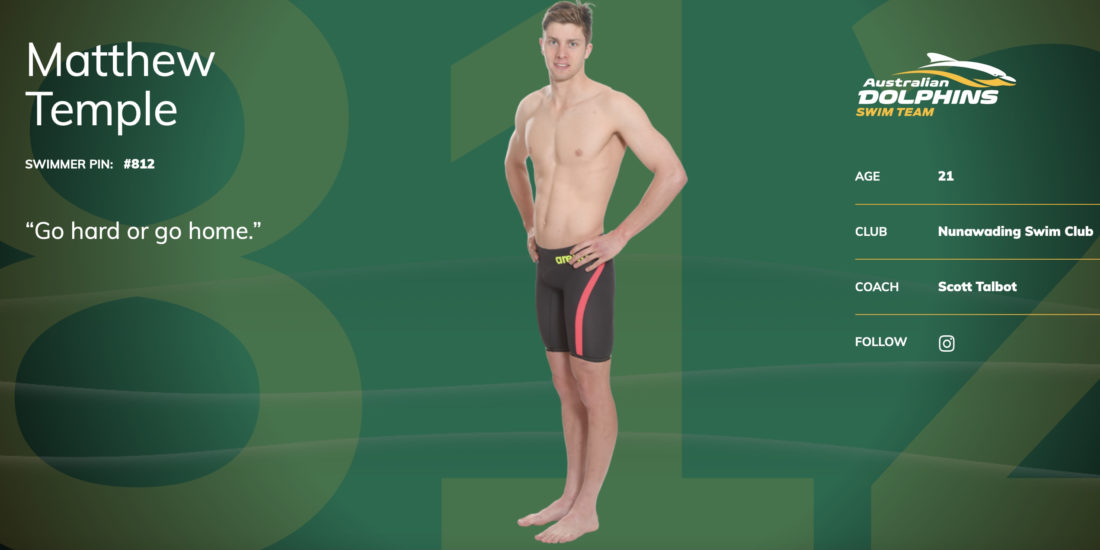 The splits:
23.67 50.45 (26.78) Temple
24.48 51.67 (27.19) Morgan
24.03 51.93 (27.90) Champion
Women's 50m freestyle
Emma McKeon added the dash to her 100m victory by the smallest of official margins over Cate Campbell, 23.93 to 23.94. Podium-tilting times come Tokyo. At 0.76, Campbell had the slowest reaction time, McKeon joint fastest on 0.67. Third place went to Bronte Campbell in 24.46, also inside cut but no ticket, ahead of Meg Harris, in 24.51.
McKeon and Campbell led an historic 100m free final this week: the first in history to produce four sub-53s in one race – and Australia the First Nation with 5 swimming having raced in that zone, next best nations (USA, NED) … two.
With McKeown and Titmus, the sprinters will lead the charge for medals in Tokyo at the helm of the Dolphin school's sorority.
Men's 50m Freestyle
Australia will not be represented in the 50m freestyle in Tokyo: the win in Adelaide went to Cameron McEvoy in 22.07, shy of the 21.77 requirement set by Australia. Grayson Bell was second in 22.16, James Robert third in 22.21. In the B final, 400m winner at trials, Elijah Winnington, took a sprint test, clocking 22.79.
Men's 1500m freestyle
Aussie pride was saved at the other end of the spectrum, with one qualifier for the longest race: Jack McLoughlin added a third Tokyo test to his schedule in 14:52.69 ahead of Samuel Short, on 14:57.22, shy of the 14:55.06 required, and a 15:08.55 from Thomas Neill.