McKeown Rattles World Record With 27.02 Oceania, Commonwealth & Cup Dash Mark In Athens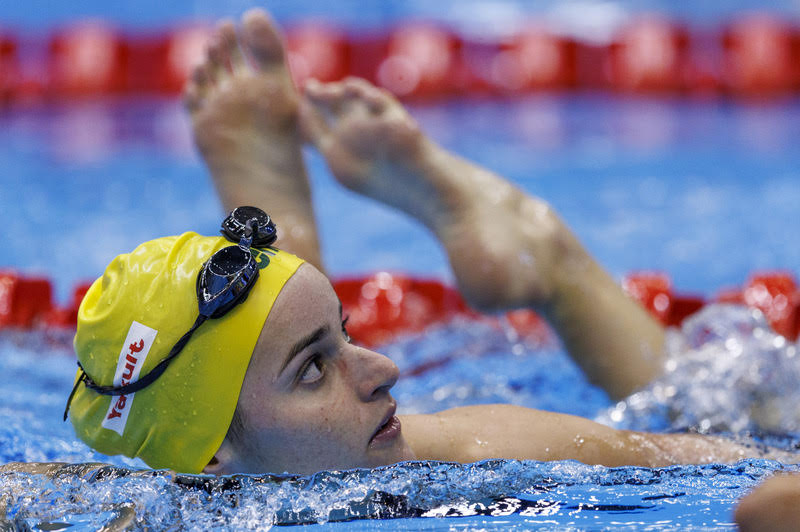 Kaylee McKeown backed up on her opening World Cup triple on backstroke in Berlin last weekend with 27.02 Oceania, Commonwealth and World Cup record in the 50m backstroke in the opening session of finals at the Athens round of the series this evening.
The Australian whacked the 27.24 Cup record she set in Berlin seven days ago by rattling the World record: her display of dash dominance dominance left her just 0.04sec shy of the 25.98 clocked by China's Liu Xiang back in 2018.
The Athens top three was capped by Canadians and Ingrid Wilm got the touch over teammate Kylie Masse 27.94 to 27.95.
McKeown's margin of victory in an Oceania, Commonwealth and Australian record inside her 27.08 best established for the World title in July this year, reflected the Australian's current dominance of women's backstroke as triple Olympic (with medley relay) and triple World (50,100, 200) champion. The Athens Dash:

Athens Results in Full at Omega
W50 Free: No Stopping Sarah Sjostrom – 24.10 Takes It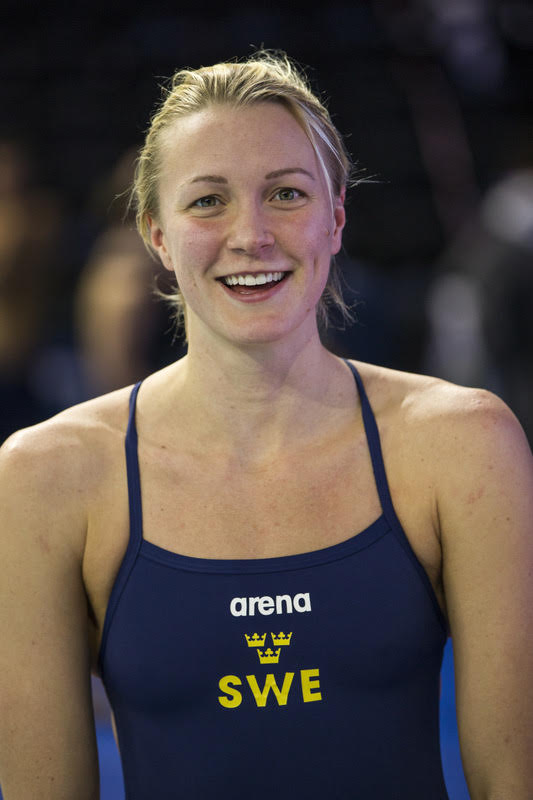 Swedish sprint queen Sarah Sjostrom cracked the 24sec mark in Berlin last week but if today was a touch slower, at 24.10, her dominance was undeniable. Australian Cate Campbell, 24.54, and American Torri Huske, 24.62, completed the top three.
Bronte Campbell, starting to show signs of her old self, was fourth in 24.70. Huske put the moment in context: "… pretty good for this time in the season".
For those who have Olympic Heights in their sights, the Cup, notwithstanding the fine earning opportunity it delivers, is a fine moment to test what's working, what's not in the midst of training for much bigger moments.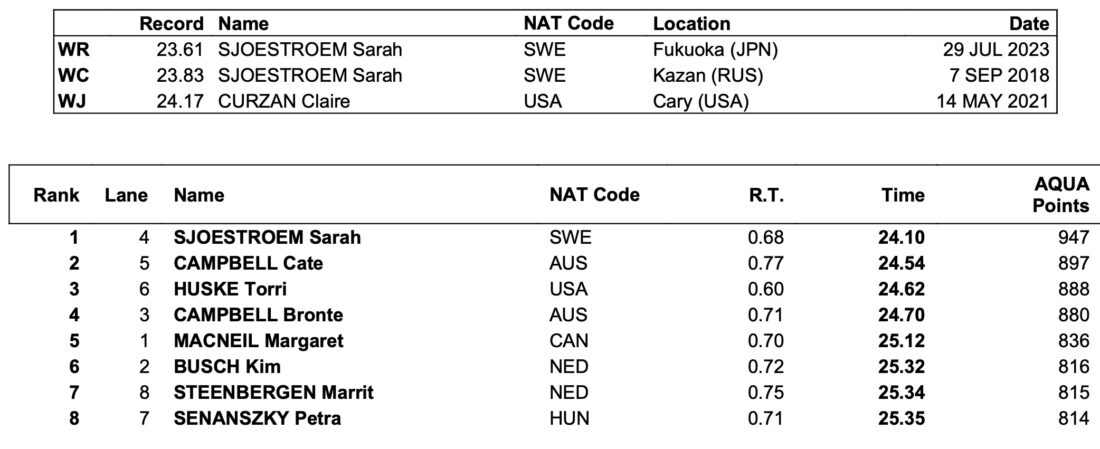 M50 Free: 21.96 Win In The `Bag, Andrew Dedicates Athens Swims To "Innocent Victims" Of Hamas Attacks In Israel
Michael Andrew, the American sprinter who this week urged the swim community world-wide to join him in prayer for the "innocent victims" of the Hamas attacks on Israel and here citizens, dedicated his 21.96 win and his all Athens efforts to the same plea for support.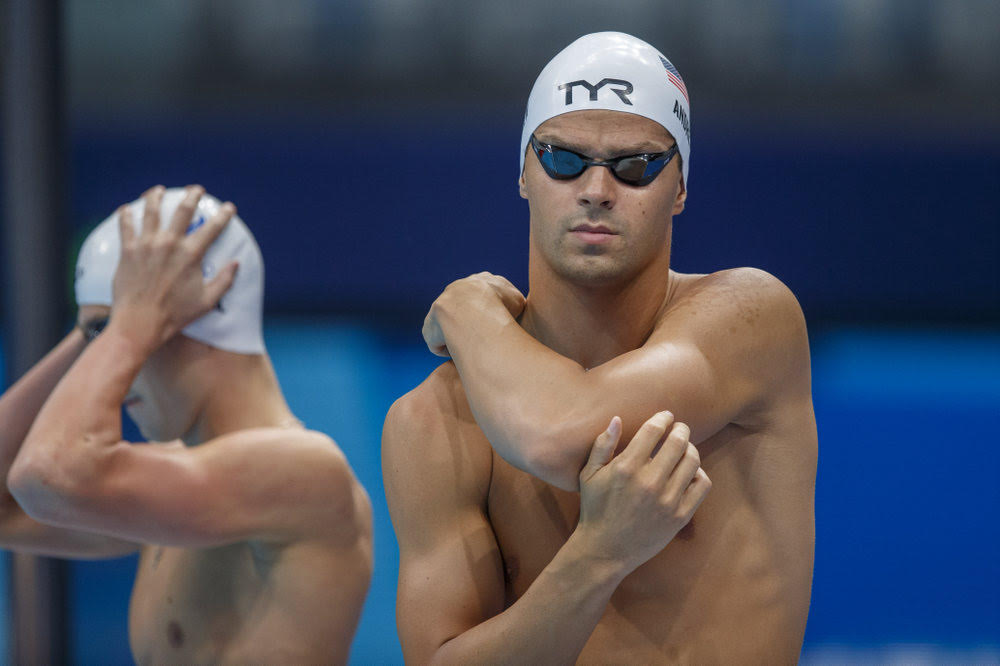 Isaac Cooper, the Australian winner in Berlin a week ago, when he was the only man in the final below 22, was closest to Andrew on 22.07. The American had already finished second in the 100m 'fly earlier isn the session and was happy to have stood up in a "tough double". Trinidad's Dylan Carter took third in 22.16.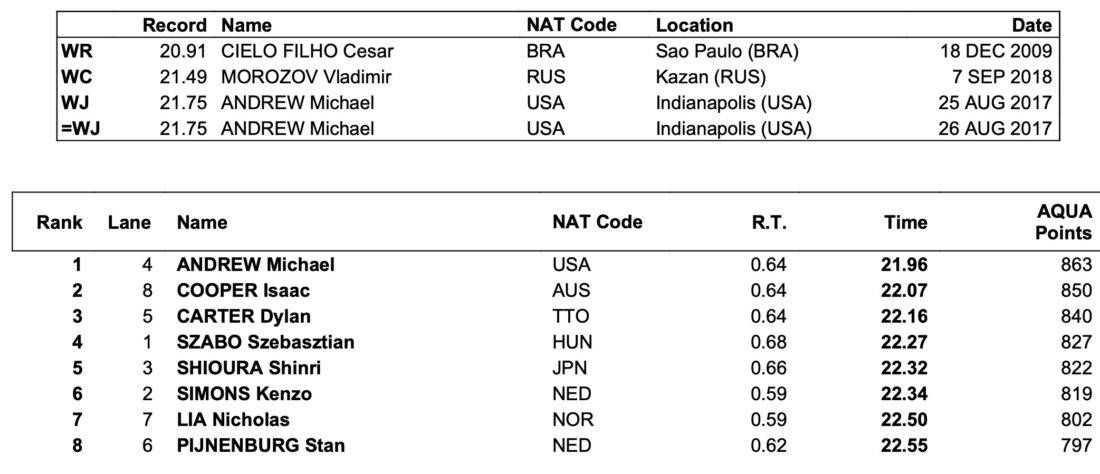 M100 Breast: Qin Wins In 58.44 After Peaty Shadows Him To Turn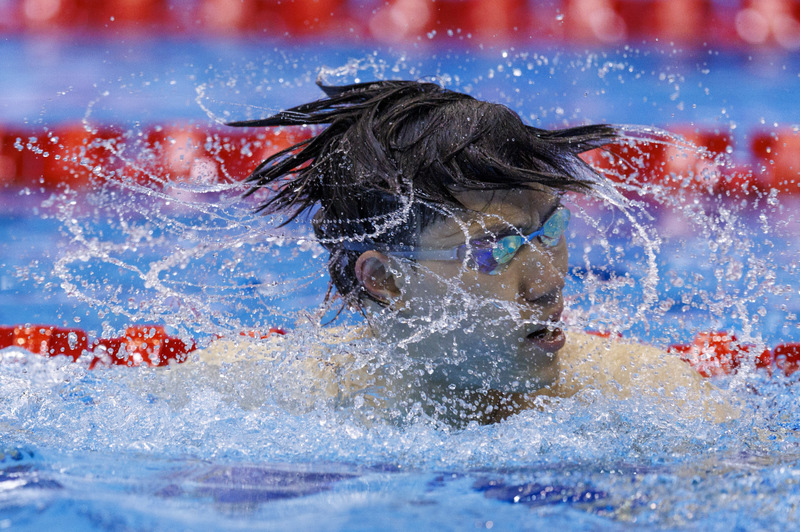 No getting to Qin Haiyang, the triple World champion and current favourite for Olympic gold in Paris next summer, but in keeping with the slowdown almost across the board since a fast start in Berlin last weekend, the Chinese speedster took the Athens race in 58.44, after matches hing his Asian record in 57.69 seven days ago.
There was something else distinct about the Athens race, too: Olympic champion and World record holder Adam Peaty, who made his return to racing in Berlin after a break from competition, recovered from a significantly slower start than Qin's to narrow the gap on the swim phase and turn just 0.1sec shy of the man to beat, 27.32 to 27.44.
Qin was fastest out and easily fastest home, no others getting inside 59. Second to the wall was American Nic Fink on 59.28, double Olympic silver medallists Arno Kamminga third in 59.40.
Qin said he was feeling tired but wanted to just "enjoy and try hard" in Athens before the Cup concludes ion Budapest the weekend after this one pending.
Italy's 2022 World champion and Olympic bronze medallist Nicolo Martinenghi close on 59.70, Andrius Sidlauskas on 59.88 and Peaty, his 32.56 the slowest return to base in the race, 6th place on 59.98 but the measures feeding into an "information-gathering exercise" in the report that will tell his coach Mel Marshall and entourage of experts how steep the climb will be test as the 2016 and 2020ne Olympic champion works on being the best he can be for a third shot come Paris next summer.
The Athens ebb and flow: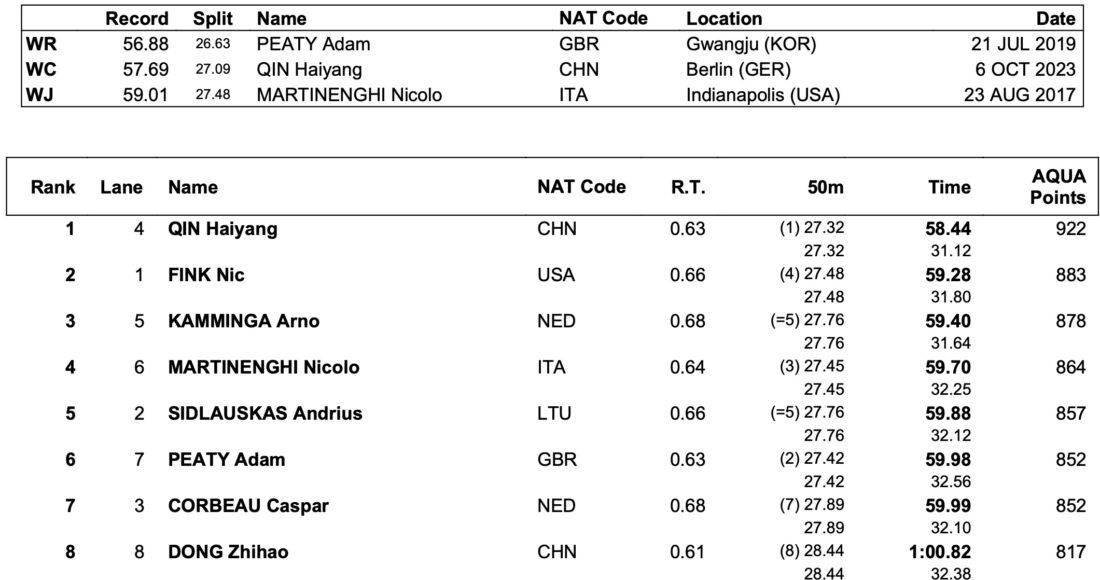 The SOS Big Read:
Adam Peaty, From Crisis To Quest: Into The Light Of Self-Discovery, No Need To Prove His Worth
Adam Peaty, Crisis To Quest – Part 1 – Winter 2022 To Spring 2023: My Self-Destructive Spiral
W400 Free: Fairweather-Palliser Duel Ends In 1-2 Snap of Berlin
In Berlin last weekend it was Erika Fairweather 4:01.09 World Cup record to Lani Pallister 4:02.07 and if the duel was even closer today in Athens, the pace was a slither slower, the New Zealander retained the edge over the Australian 4:01.90 to 4:02.47, with American Claire Weinstein third in 4:06.73.
There was a fraction in the battle for victory every stroke of the way. The Athens final: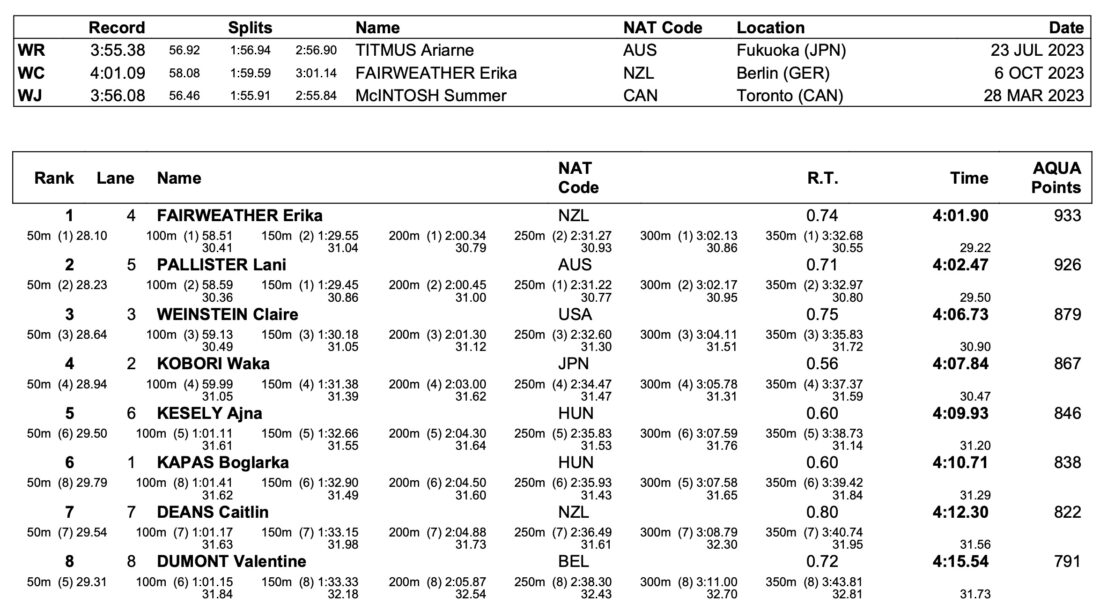 M400 Free: Rapsy Ends Close 5-Man Fight With Last-Lap Thump
It was not the race and pace of Berlin, where four men cracked 3:49 and Danas Rapsys ran away with it in 3:44, but the fight was a closer five-man tussle.
Lithuanian Rapsys led Kieran Smith by a slither all the way until the penultimate length, when the American turned for home 0.08sec ahead. That's when Rapsys roared, a 27.05 stopping the clock in his favour 3:48.64 to 3:49.46 for Smith, third place to Henrik Christiansen, of Norway, in 3:49.70, with home favourite Dimitrios Markos fourth in 3:49.92 as the last man home inside 3:50. The Athens tussle: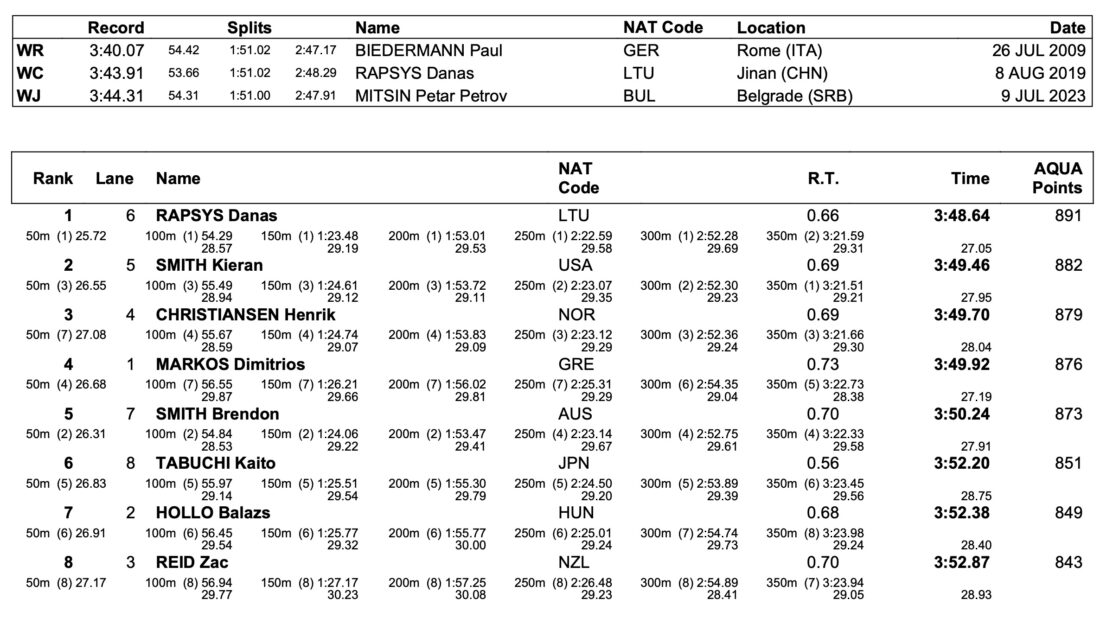 M200 Back: Coetze Takes It From Ceccon In Last-Strokes Scramble
Thomas Ceccon, the Italian multi-stroke sprinter, started his stamina test in the 200m with a win last weekend in Berlin. He almost repeated that today but South African Pieter Coetze shadowed him all the way to the last turn and in the last-strokes scramble to the end wall got past the Italian to win 1:56.32 to 1:56.49 courtesy of the sole sub-29 home comer. Third place went to Switzerland's Roman Miyukov in 1:57.16. The Athens battle: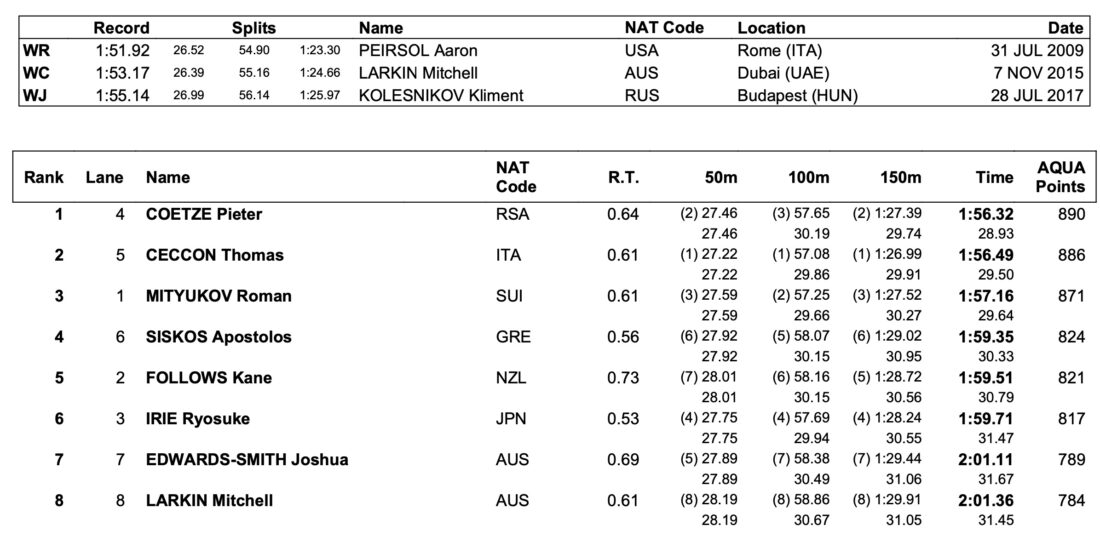 W200 'Fly: Zhang Pushes Record Pace To Last-Lap Fade For 2:06.7 Win
Olympic champion Zhang Yufei, of China, left the field in her wake to half-way, turning in a sizzling 59.44. The third length was tougher and the last a touch tougher still, a 2:06.73 good for the win. American Katie Grimes was the only rival anywhere close, own 2:08.70 for second, the top three completed by Japan's Ageha Tanigawa in 2:12.01.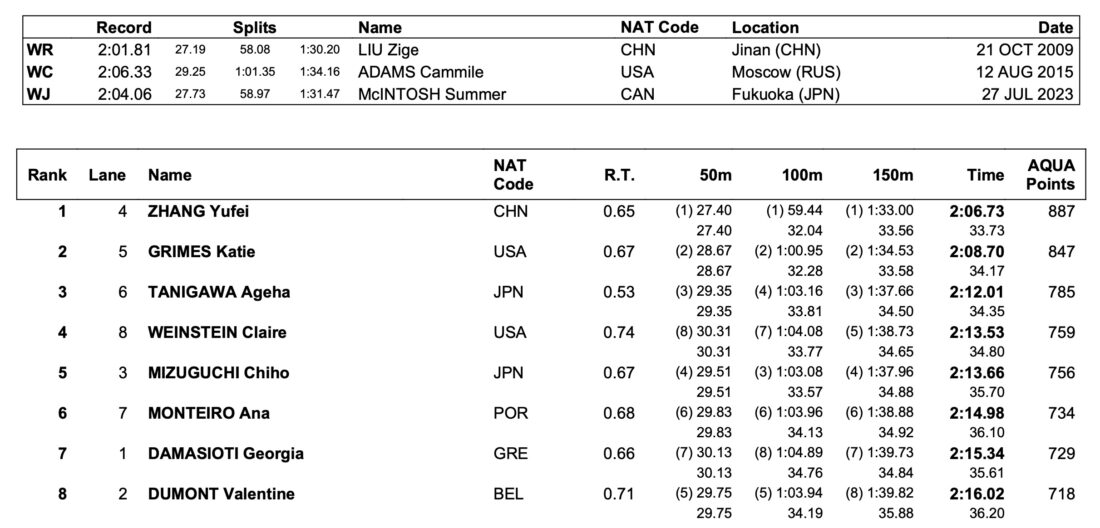 W200 Breast: Shouten Backs Up Berlin With Win In Athens
Tes Shouten produced a World-Cup-record victory of 2:22.13 a week ago. Today, in a rematch with Australian Jenna Strauch, the Dutch ace kept the series 200 crown own her head in 2:23.23 to 2:24.19 for the visitor to Europe. Denmark's Thea Blomsterberg round off the top three in 2:24.34.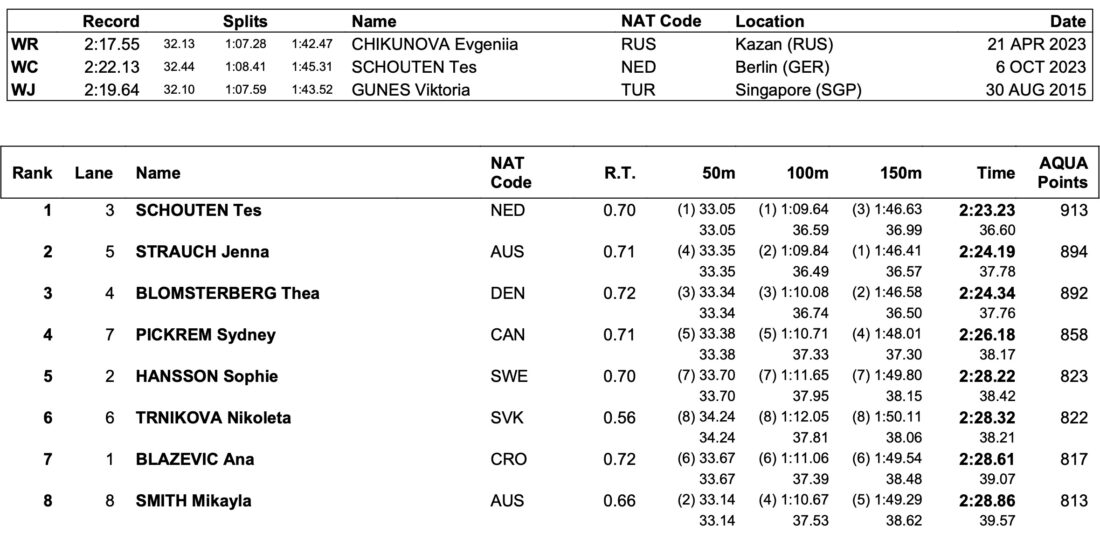 M100 'Fly: Sates Pips Andrew At The Touch
American Michael Andrew had a strong lead on 23.68 down the opening length and with five metres to go looked set to take the race but as he tightened the pack closed in and by the time Australian Cody Simpson had matched the leader on 51.92, both had been pipped by South African Matt Sates, on 51.82: