McKeown 57.90 in 100 Back Speed Test With O'Callaghan, 58.42, As Forrester Goes 4:35 400IM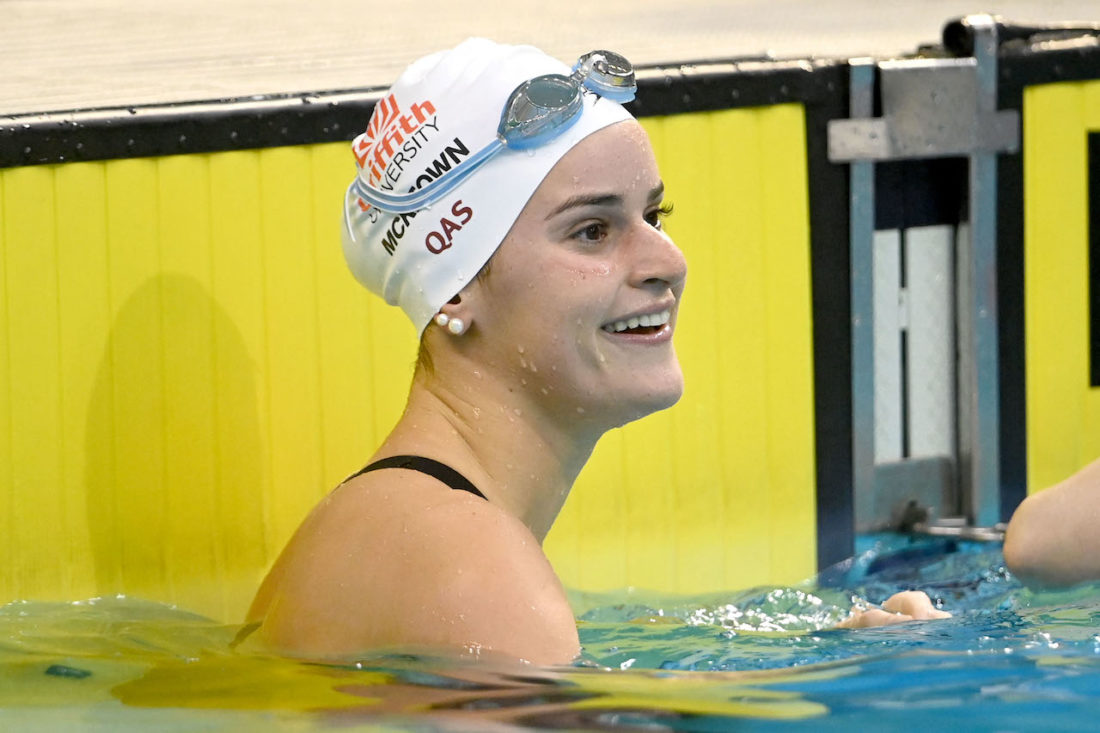 Double Olympic backstroke champion Kaylee McKeown topped the bill on the second day of racing at Australian Championships with a 57.90 victory in the 100m at The Gold Coast Aquatic Centre.
The winning time marked McKeown's sixth-fastest career effort and ninth time inside 58sec.
Out in 28.17, McKeown had the company of World 100m freestyle champion Mollie O'Callaghan, on 28.42, before the World 100m backstroke champion extended her lead on the qua home, O'Callaghan second in a sharp 58.42.
Also in fine fettle was Jenna Forrester, who followed a sub-2:10 200IM as runner-up to McKeown with a 4:35.05 victory in the 400m medley: 1:03.31; 2:12.92; 3:31.26; 4:35.05 (33.29, 30.50).
Australian trials for the World Championships are scheduled for June, the current championships a marker for swimmers and coaches on their way to the bigger moment.
The Day 2 Podiums:
W 400IM
1 FORRESTER, JENNA 19 STPET 4:35.05
2 MELVERTON, KIAH 26 STPET 4:45.41
3 RAMSAY, ELLA 18 CHAND 4:45.48
M200 Free
1 TAYLOR, KAI 19 STPET 1:46.65
2 SOUTHAM, FLYNN 17 BOND 1:46.67
3 GRAHAM, ALEXANDER 27 MIAMI 1:47.15
4 WINNINGTON, ELIJAH 22 STPET 1:47.24
5 NEILL, THOMAS 20 RACKL 1:47.53
W 100 Back
1 MCKEOWN, KAYLEE 21 GUSC 57.90
2 O'CALLAGHAN, MOLLIE 19 STPET 58.42
3 BARCLAY, JACLYN 16 STPET 1:00.31
W 50 Free
1 JACK, SHAYNA 24 STPET 24.45
2 HARRIS, MEG 21 MARI 24.55
3 CAMPBELL, CATE 30 RACKL 24.88
4 O'CALLAGHAN, MOLLIE 19 STPET 24.99
M 100n breaststroke
1 STUBBLETY-COOK, ZAC 24 CHAND 2:09.03
2 WILSON, MATTHEW 24 SOSC 2:12.38
3 MENZIES, ANGUS 21 KPSC 2:13.35
W 200 'Fly
1 DEKKERS, ELIZABETH 18 CHAND 2:06.55
2 THROSSELL, BRIANNA 27 STPET 2:07.08
3 MCKEON, EMMA 28 GUSC 2:09.40
M 50 back
1 ARMBRUSTER, BEN 20 BOND 25.27 (H: 25.11)
2 NIKOLAEV (V), MARK 25 BOND 25.43
3 WOODWARD, BRADLEY 24 MING 25.44
W 100 breaststroke
1 HARKIN, ABBEY 24 STPET 1:07.77
2 STRAUCH, JENNA 26 MIAMI 1:08.16
3 DIXON, TALARA-JADE 26 SHILD 1:08.60
M 1500 Free
1 SHORT, SAMUEL 19 RACKL 14:58.90
2 GALEA, MATTHEW 21 SOSC 15:10.22
3 SLOMAN, NICK 25 NOOSA 15:18.20