McKeown Checks Into World-Title Defence with WR-Rattling 2:03.7 In Melbourne Trials 200 Back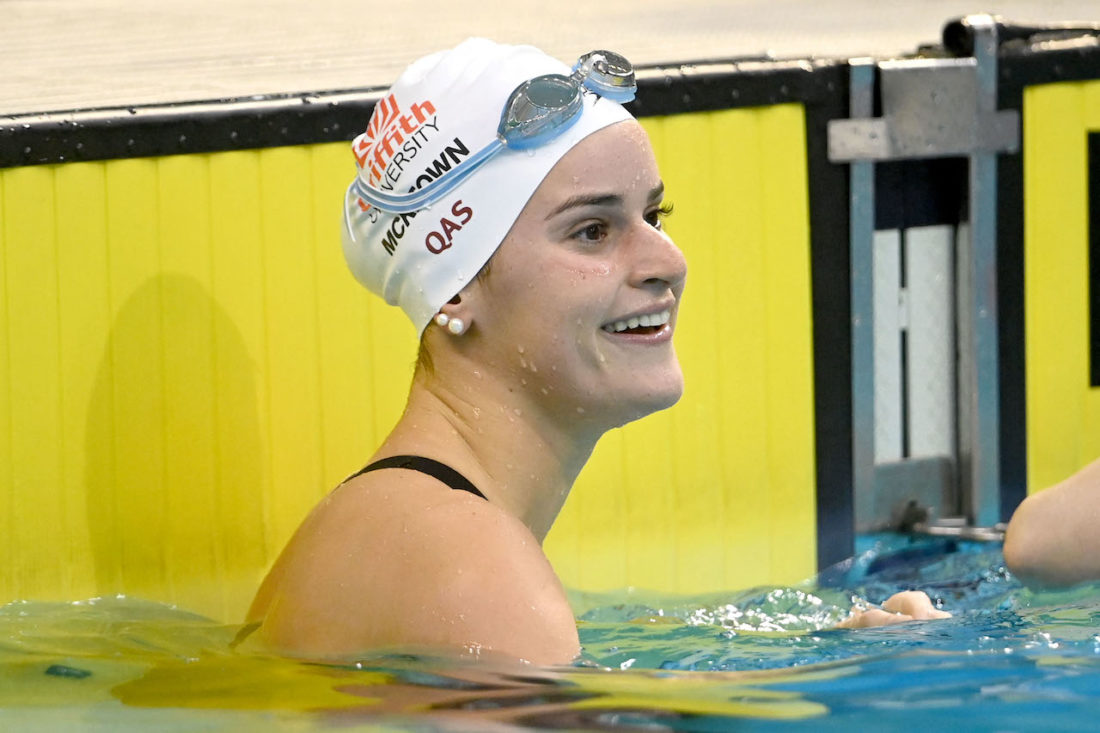 Kaylee McKeown rattled her own World record with a 2:03.70 over 200m backstroke for a third victory at Australian Trials in Melbourne 2023.
She emerged from the "unexpected/untapered" blast to predict that both her global standards were set to "plummet" next month a year out from the Paris 2024 Olympics and the defence of her Tokyo 2020ne crowns. McKeown said: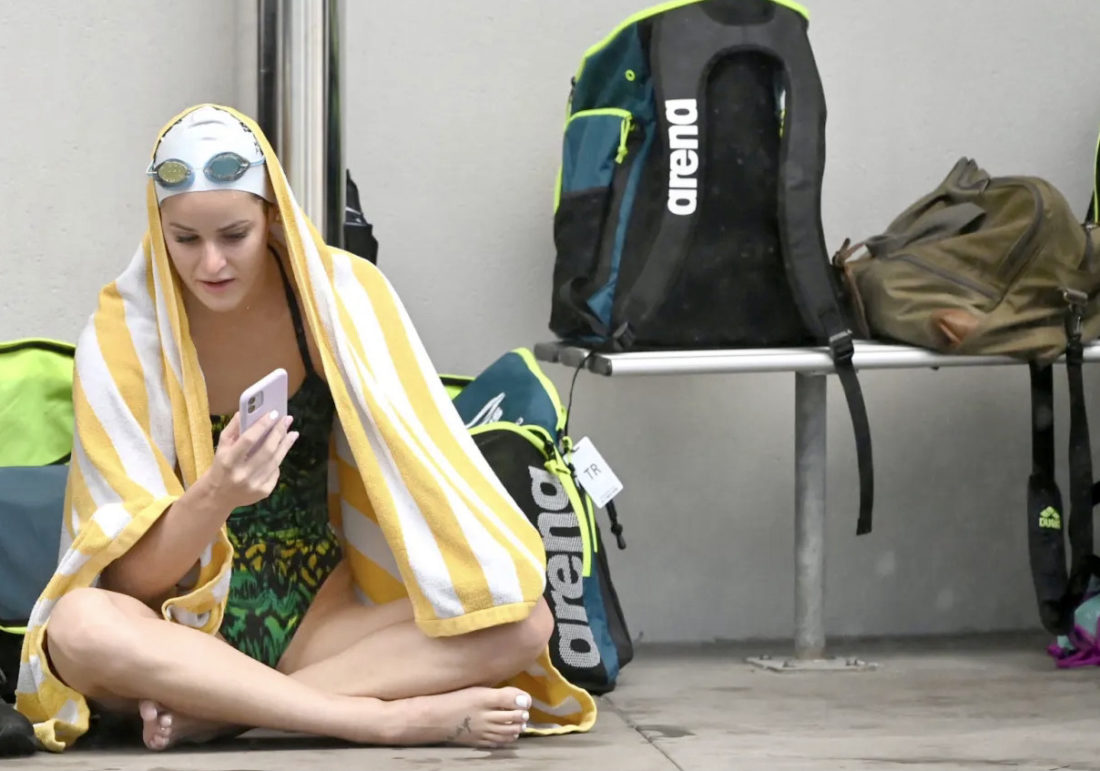 "I'm still learning how to pace a 200m with that easy out-speed so I think I probably went out a little bit too hard and didn't have my back end like I usually do, but in saying that I'm super happy with the time. I would have never thought in a million years I would have been able to go under 2.04 let alone twice now. I'm fully expecting both world records to plummet if not next week, at the World Championships, so I'm fighting for Paris really."

Kaylee McKeown, photo courtesy of Swimming Australia
Looking ahead to Fukuoka, she added: "There are a few things I think me, is just trusting myself mentally, I know my body is more than capable of doing it but sometimes I can get in my own and any prep talk I have before I go to Bohly [Michael Bohl, coach] is like 'don't get in your own way'. So that is just something I've got to learn to manage."
Olympic and World 200 and 400m freestyle champion Ariarne Titmus also claimed a third win at trials, this time with a strong 8:15.88, again untapped, 800m, the event in which she has so far won silver behind American Katie Ledecky at global level.
Titmus nodded to the purpose of trials when she said: "The job's done, I'm on the plane and now my focus has to shift to Worlds. I've got a lot of work to do between now and then and I feel like if I get my head into gear I can do it."
Titmus lost her 400m free World record to Canadian teen Summer McIntosh this season but has her sights on success in all three events 200-800. On her 800 strength, she said: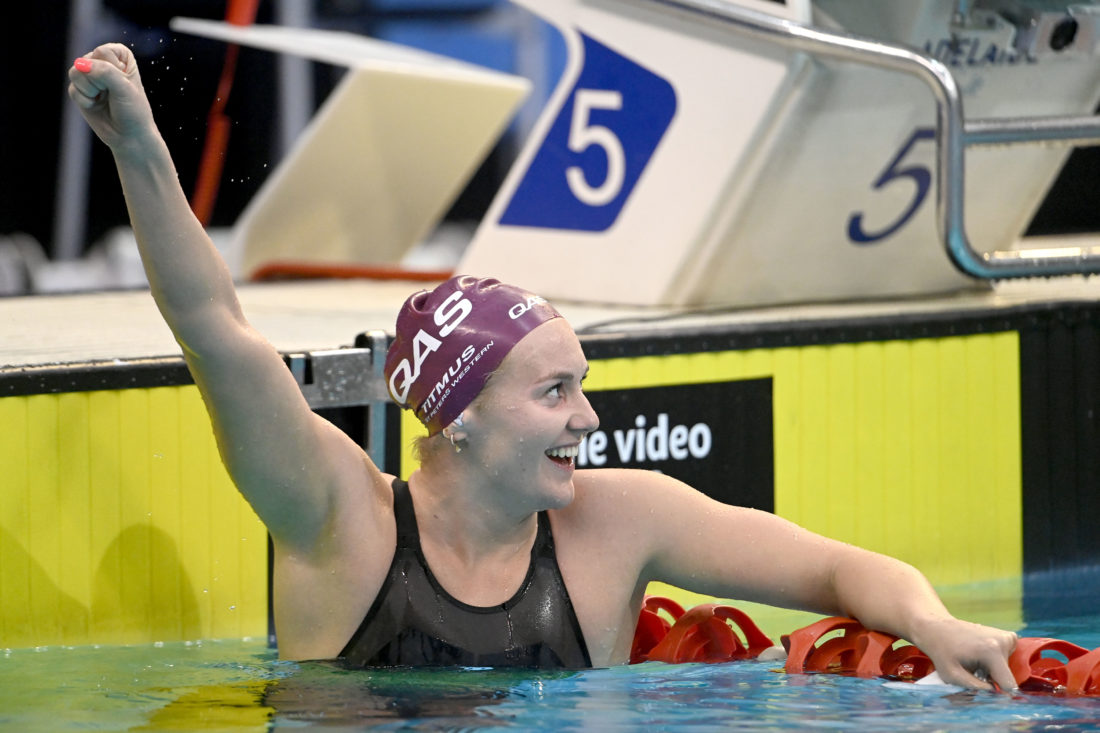 "I think it does potentially get overlooked because Katie [Ledecky] is in a class of her own in the 800. I believe her world record is going to stand for a long time. So for me I feel like the training I do probably is for the 400 particularly, but we do speed work for the 200m and aerobic stuff complements the 800m. I feel like all the training I do is great for all three… all three of them are opportunities to race for Australia and win medals for our country."

Ariarne Titmus, by Delly Carr, courtesy of Swimming Australia
Results in full … and at a glance:
 
Women's 200m Backstroke: 1. Kaylee McKeown, 2.03.70, (Griffith University); 2. Jenna Forrester, 2.10.37, (St Peters Western); 3. Hannah Fredericks, 2.10.84, (St Peters Western)
 
Men's 200m Individual Medley: 1.Thomas Neill, 1.57.7 (Rackley); 2. Brendon Smith, 1.58.84, (Griffith University); 3. William Petric, 1.59.29, (Nunawading)
 
Women's 200m Butterfly: Elizabeth Dekkers, 2.05.26 (Chandler); 2. Abbey Connor, 2.07.61(Revesby Workers); 3. Brianna Throssell, 2.07.68 (St Peters Western)
 
Men's 100m Freestyle: 1. Kyle Chalmers, 47.44 (Marion); 2. Flynn Southam, 47.77 (Bond); 3. Jack Cartwright (St Peters Western) 48.50
 
Women 50m Breaststroke: 1. Abbey Harkin, 31.14, (St Peter's Western); Talara-Jade Dixon, 31.19, (St Hilda's WA); Mikayla Smith, 31.26, (Griffith University)                   
 
Men 50m Backstroke: 1. Isaac Cooper, 24.56 (St Andrew's); 2. James Bayliss, 25.32, (Chandler); 3. Lewis Blackburn, 25.38, (St Andrew's)                             
         
Women's 800m Freestyle: 1. Ariarne Titmus (St Peter's Western); 2. Lani Pallister, 8:20.56, (Griffith University); 3. Kiah Leverton,  8:26.65, (St Peter's Western)