McKeown Caps 2023 World Cup Tour With Aus$300,000 Pay Day After 2:04 World Cup 200m Record For 9 in 9 Backstroke Wins, 2 WRs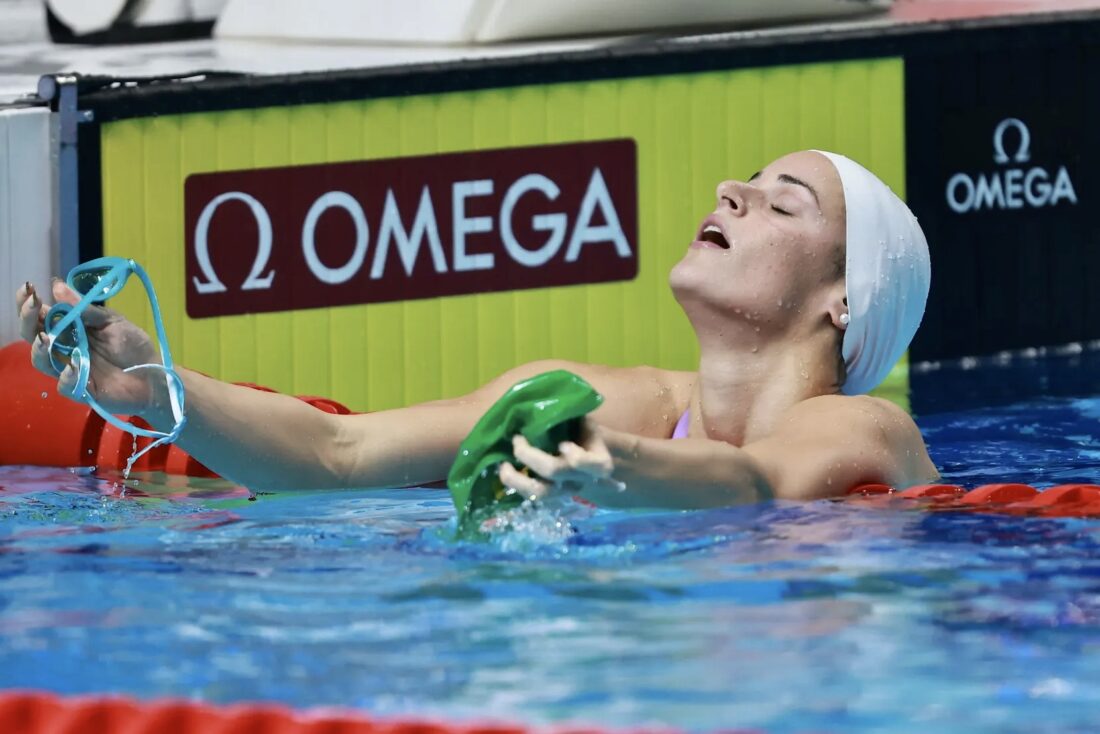 Australian ace Kaylee McKeown capped a sensational World Cup Tour as the top swimmer of the series, the ninth of her clean-sweep of nine backstroke victories, a 2:04.81 Cup record making it nine World Cup records in nine finals, all in Cup standards and two of those World records.
McKeown, coached by Michael Bohl, got faster in all three events, the 50, 100 and 200m with each passing round of the Cup, her bull run amassing almost a quarter of a million dollars in prize money for culm the three-meet tour held in Berlin, Athens and Budapest over the past fortnight.
CORRECTION: We originally reported that McKeown's pot came to US$240,000 tally. It is actually $186,000 broken (approx AUS$298,000) down as follows (with much thanks to reader Maciek Bonecki for spotting my misunderstanding of the subtleties of scoring):
$100,000 at the top swimmer overall on tour
3×12,000 for winning each round of the World Cup (top points score)
3×10,000 for winning the same event in each round (50, 100, 200 backstroke
2×10,000 for her World records in the 50 and 100m backstroke
Matthew Sates, of South Africa, with ten wins on medley and butterfly, his last in the 400m medley today, was overtaken by Qin Haiyang for the men's prize after the Chinese breaststroke bolter and triple World champion clocked a Cup record of 2:07.32 for his ninth win in nine finals. The overall prizes for the top eight descending from that through 70,000 for second, 30,000 for third, then 15k, 14k, 12k, 11 k and 10k.
How McKeown Got Better & Better – 50, 100, 200m Backstroke: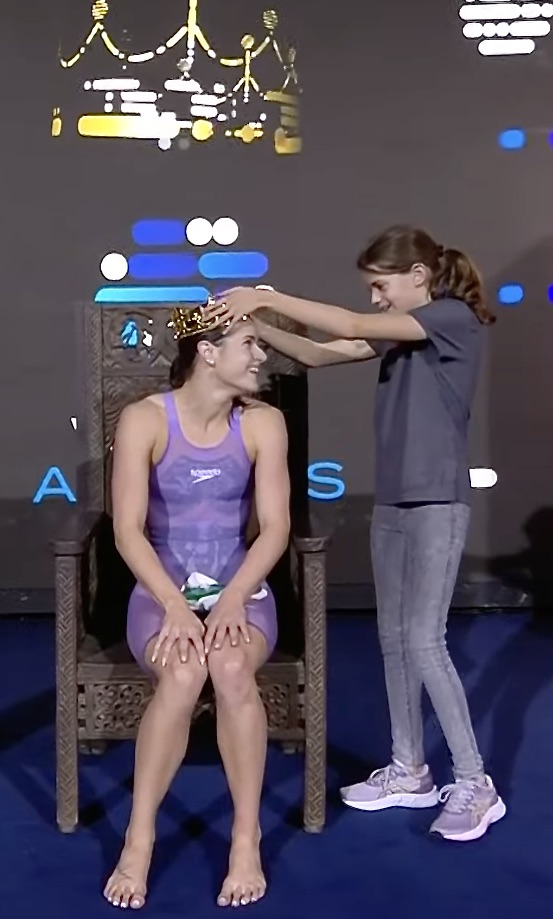 McKeown Delivers Classic, Role-Model Tour
A classic, role-model tour in the vault, McKeown emerged from her last win to say: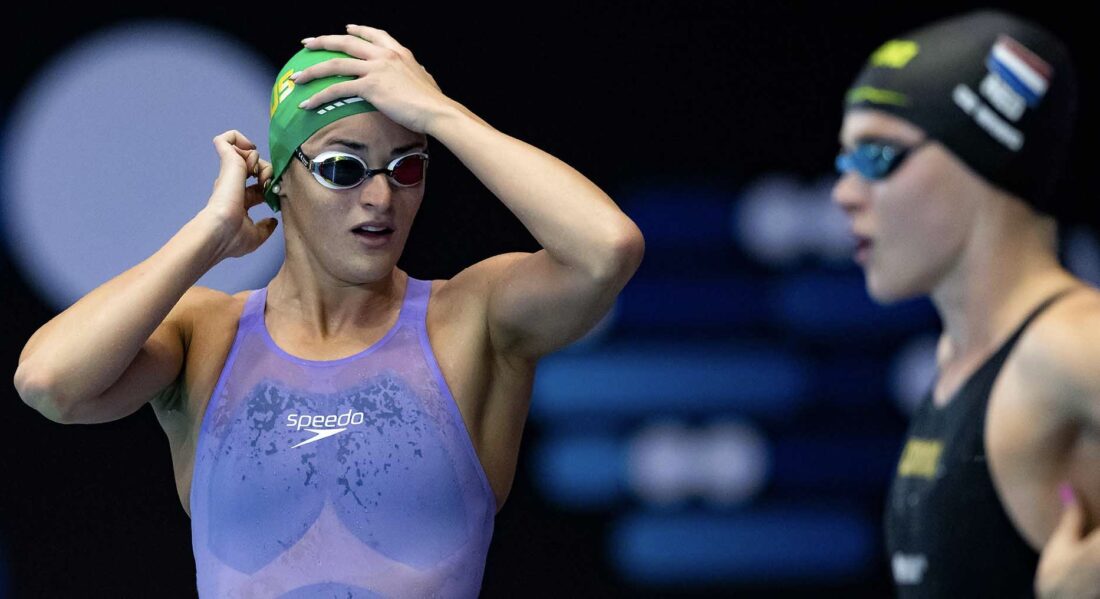 "I'm just really happy ending my series like that.The most important thing for me [of the tour] was to be able to keep training and be able to get in and do [all of[ that in racing too. It's lovely and it's a great experience to take away from these world cups. It gives me extra motivation and some money from those last PBs. My coach said to be sure not to get in my own way and just pick yourself up in that third 50. It's really nice to bring these results back home to Australia. We can't always be thinking about the Olympics because it can be overwhelming, so I often wake up thinking about training."

Kaylee McKeown. Image: Kaylee McKeown had warmed up for the world record she set in Budapest throughout the Cup series – photo courtesy of AQUA
Out in 29.33, 0.01sec inside her own World record pace, the global standard slipped away down the next two lengths but McKeown practised her pace test well, finishing on 31.44, a touch faster than the last length of her world-record swim.
The gauntlet has been well and truly chucked in the past fortnight by McKeown: if she can do that in October on a busy tour of three cities half-way across the world as practice for her return to the continent for the Olympics next July, what can we expect to see in Paris? It'll be on the mind of every backstroke rival all the way to the biggest of blocks.
McKeown Dominates: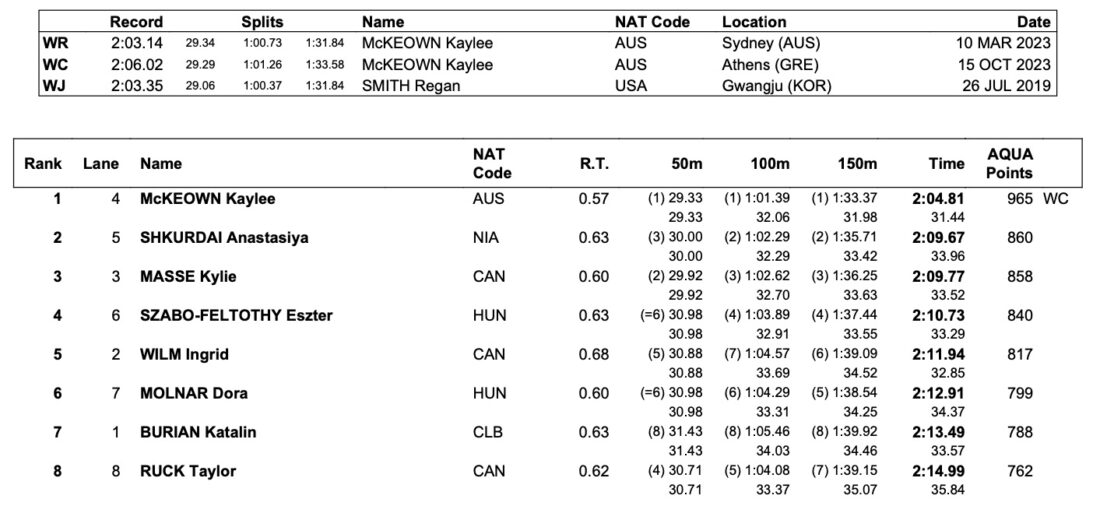 World Cup Series Results in Full
There were 33 World Cup records in all, 26 of them in women's events, nine of those to McKeown. Closest to her was Siobhan Haughey, with four new cup standards, three of them over 200m freestyle, while Qin Haiyang set five Cup marks on breaststroke. Though it sounds like a high tally, the context is clear: the cup is mostly held short-course and so the long-course records tend to be spread out over longer periods of time and the breaking of them concentrated when the Cup entry is at its best. In recent years, until Putin's war on Ukraine, the Cup had become less popular than the International Swimming League, which is temporarily on hold.
The Points winners:
Overall points champion: Kaylee McKeown 177.4
Women: Kaylee McKeown 177.4; Siobhan Haughey (166.4); Zhang Yufei (166.2)
Men: Qin Haiyang, 175.4; Thomas Ceccon, 167.9; Matt Sates, 166.8
World Cup Statistics, courtesy of Georges Kiehl, the French Olympian and swim brain who has been the go-to World Cup stats guru for as long as there has been a Cup.
W800 Free: Pallister Leaps From 16th to 7th All-Time With 8:15.11 World Cup Mark

By the time McKeown, raced, she had already seen her home squad celebrate victory in a World Cup record. Lani Pallister concluded her European Tour with a World Cup record of 8:15.11 inside her 8:16.82 from the first round of the series in Berlin a fortnight ago.
The Top 7:
Katie Ledecky USA 8:04.79 WR
Li Bingjie CHN 8:13.31
Ariarne Titmus AUS 8:13.59
Rebecca Adlington GBR 8:14.10
Wang Jianjiahe CHN 8:14.64
Simona Quadarella ITA 8:14.99
Lani Pallister AUS 8:15.11
Her new career high rocketed Plalister up from 16th all-time to 7th on the way to Olympic year.
Another of coach Michael Bohl's charges, the daughter of his assistant coach and former Australia distance freestyle international Janelle Elford no less, heading towards trials for Paris 2024 in fine fettle.
Pallister, pressed by three-times 400m winner on the tour, Erika Fairweather of New Zealand, was out in 4:05.25, to 4:06.71, before pulling away at a pace that left her in a league of her own.
M200 Breast: Qin's 2:07.32 World Cup Record Seals $100,000 Top Man's Tour Purse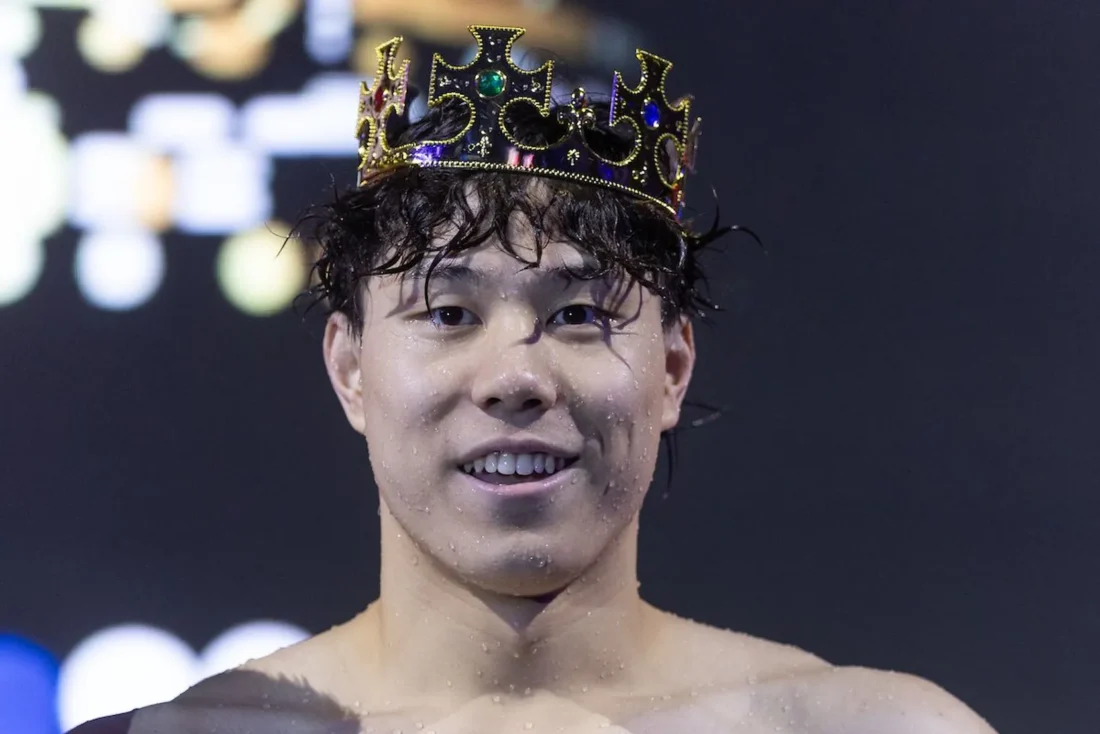 Qin Haiyang completed nine victories in nine breaststroke finals with a 2:07.32 World Cup record after testing what he will be aiming for in Paris next summer: he raced just shy of his own World-record pace, on 1:00.77 (to 1:00.72) but faded off his pioneering speed during the back-end of battle.
An amazing year is done: Qin claimed three World titles as the first man ever to achieve that feat in the 50, 100 and 200m (the latter in that world record) in Fukuoka in July, then backed that up with the same triple at the Asian Games before racing on Cup tour off the back of his second major taper of the year.
Qin, coached by Cui Dengrong, will arrive in Paris next summer, assuming all goes well on the way to and at trials in China, as the clear favourite for both the 100 and 200m titles but, as its is with every Olympic cycle, expect surprises as we get closer to what will be the biggest challenge of the triple World champion's life.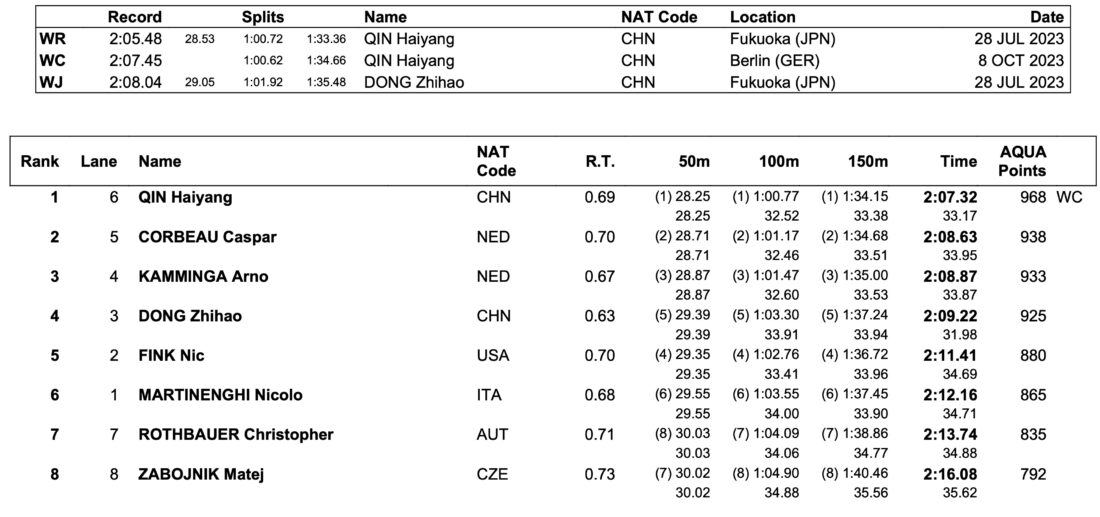 M400 Medley – Sates Takes His 10th Win Of Tour To Keep $100,000 Prize Alive For A Half An Hour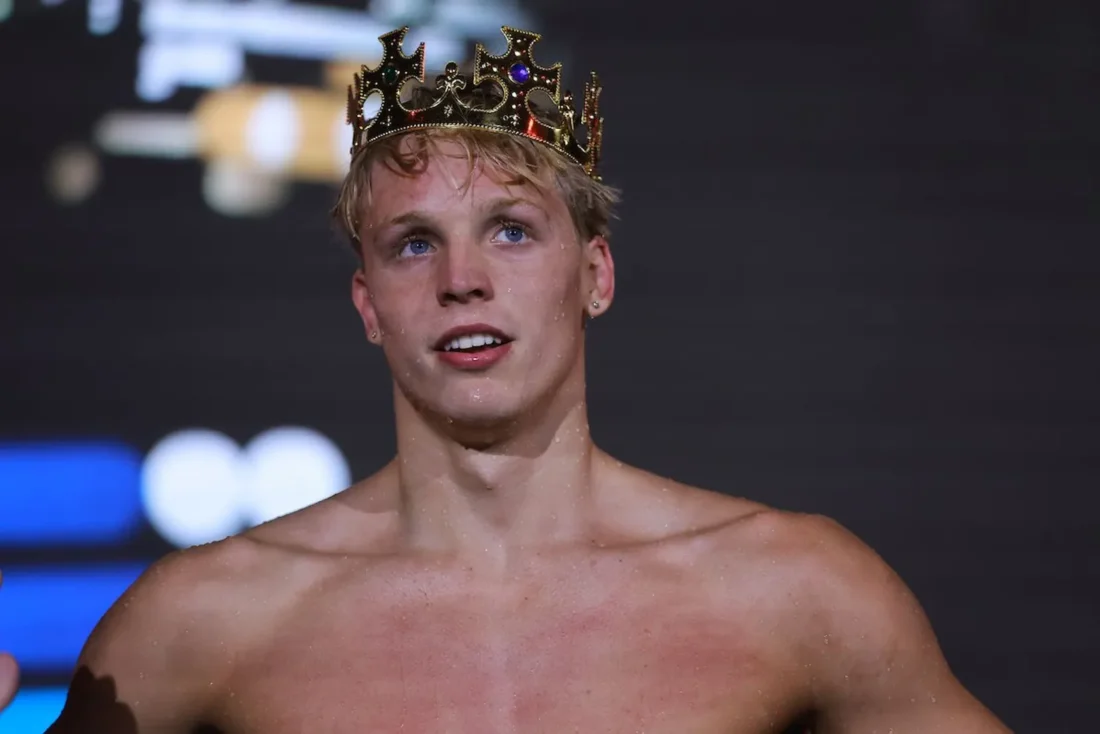 Matthew Sates has put in a string of medley and butterfly wins on the 2023 tour, his first nine leaving him at the helm of the race for the overall best man prize of $100,000, while a 4:15.68 victory in the 400m today confirming his lead position in the overall men's Cup race – until Qin's 200m breaststroke victory for nine in nine and the pace of a World Cup standard granting him the extra points needed to tip the balance in his favour. Thomas Ceccon's win in the 100m backstroke also took him a point beyond Sates for second overall among men, Sates claiming the third spot.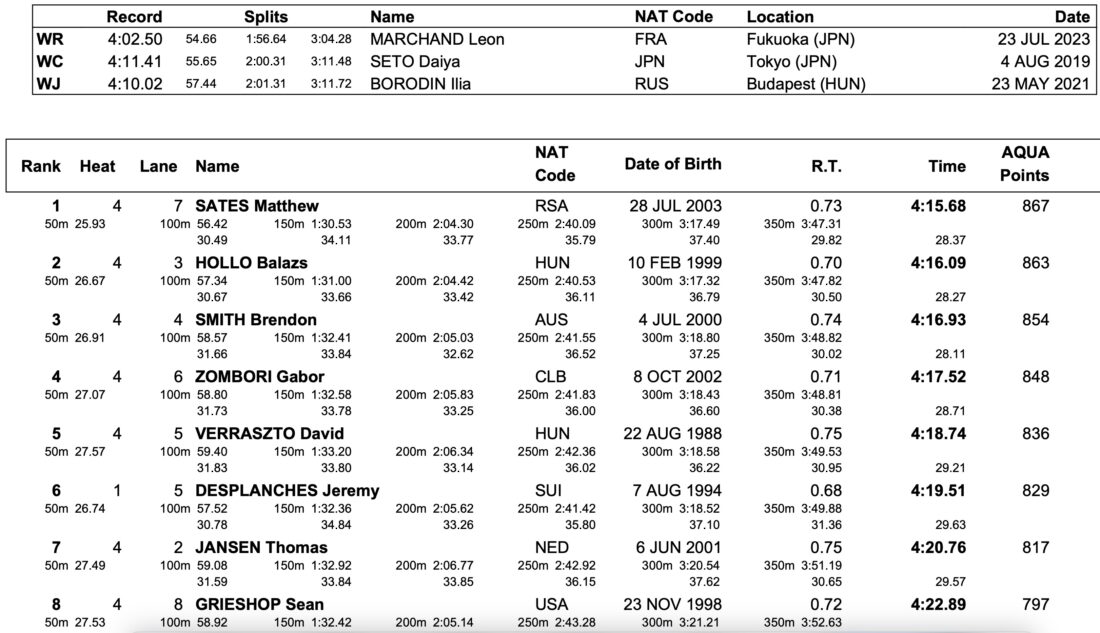 W100 Butterfly: Zhang Yufei Flies Inside WR-Pace To Half-Way, Fades But Takes Her Third Win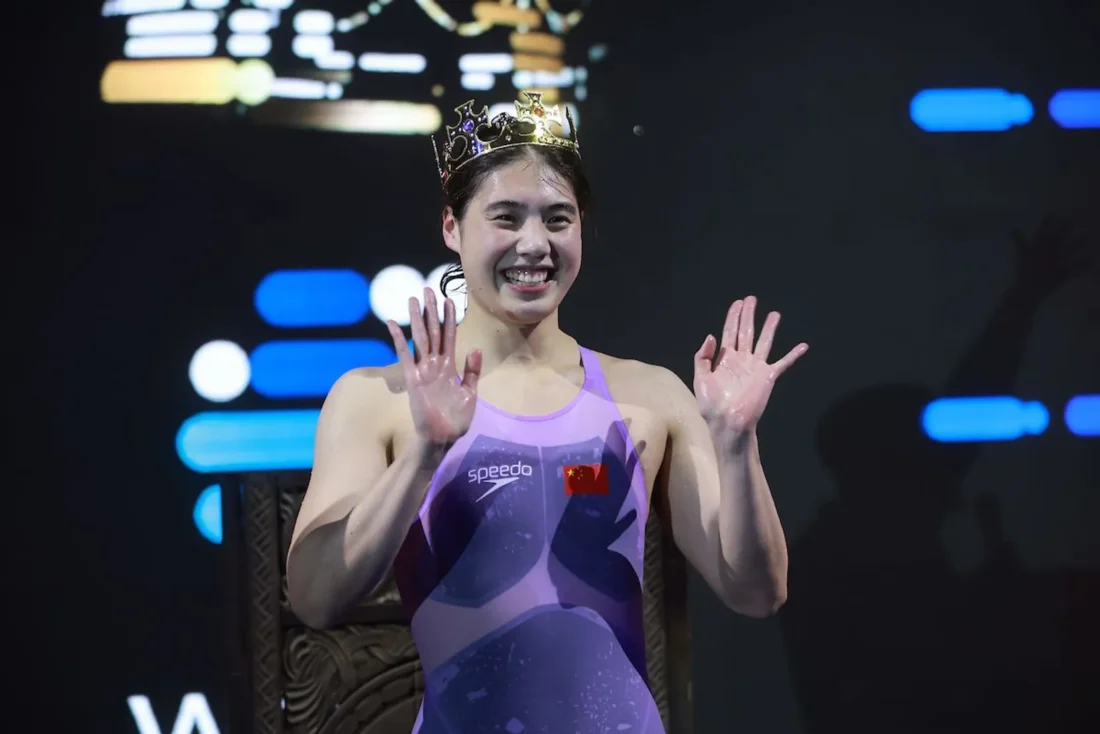 China's Olympic 200m champion Zhang Yufei whistled inside world-record pace to the turn, on 25.74, before paying the price on the way home, at least on the clock. he win was her's: three out of three on tour.
The world-record was set off a 26.01 by Sarah Sjostrom as she turned on her way to the global standard on her way to becoming Sweden's first ever female Olympic swimming champion at Rio 2016.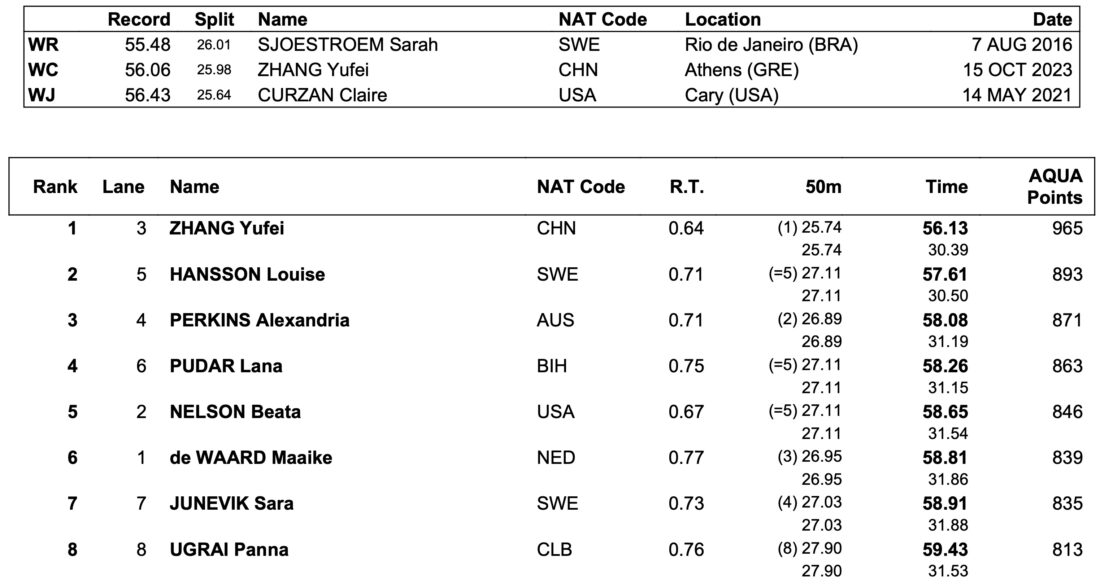 M100 Back: Ceccon In A League Of His Own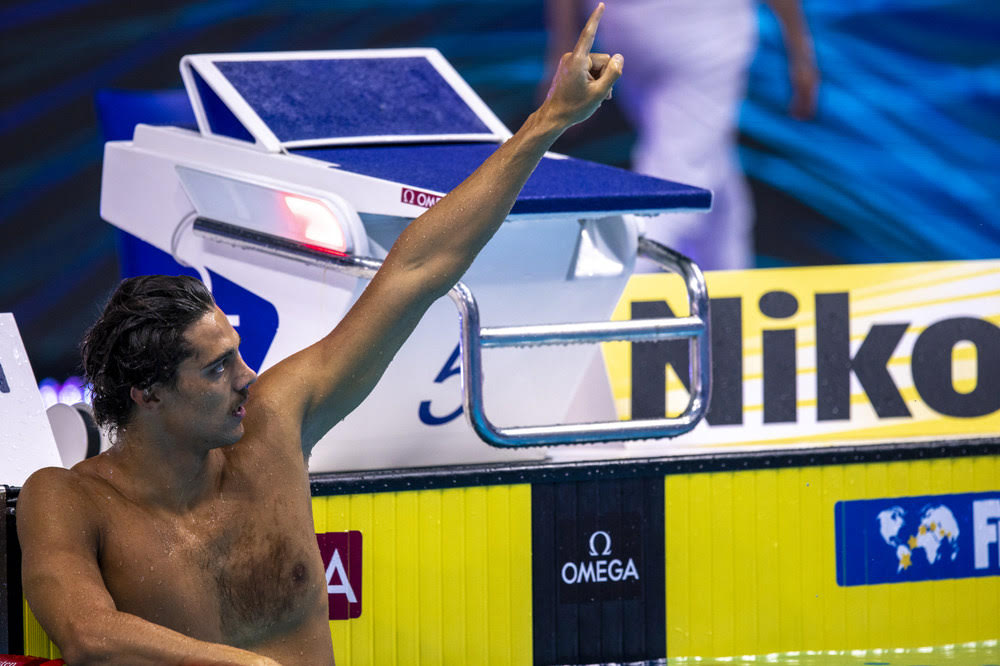 Italy's versatile Thomas Ceccon was in a class of his own on this cup tour once more, victory in 52.58 delivered in 25.72 out and 26.86 home as the only man inside 27.7 on the second length.
That added to Ceccon's wins in multiple dash events, the 200m backstroke and the 100m freestyle over the course of the three tour events.
It was in the same Duna Arena venue last year that Ceccon claimed the world title in what remains the World record, of 51.60, off a half-way split of 25.14.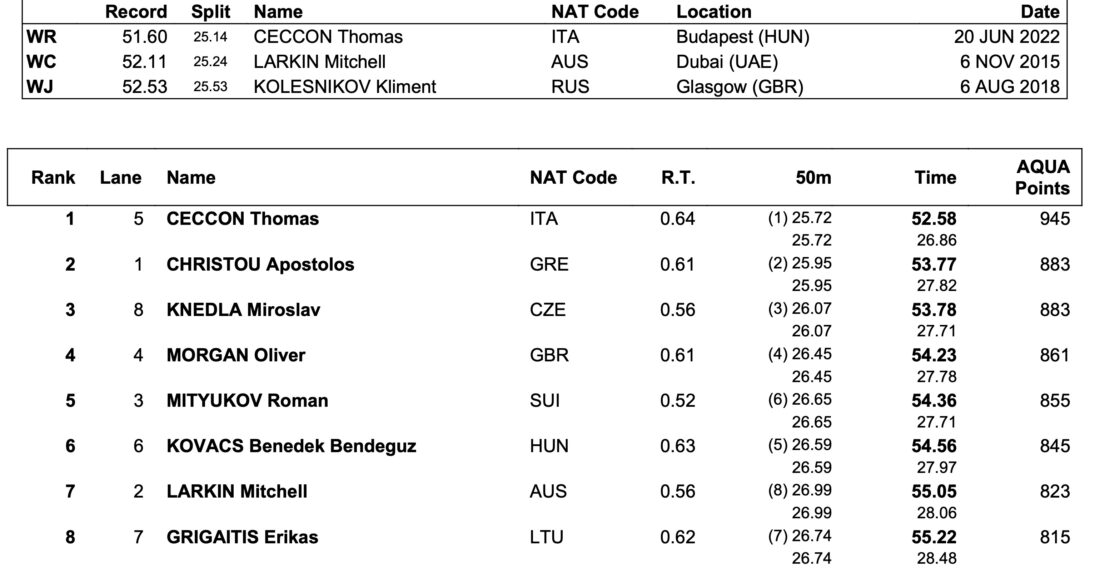 W100 Free: Haughey Concludes A Stellar Season With Dominant 52.2 Win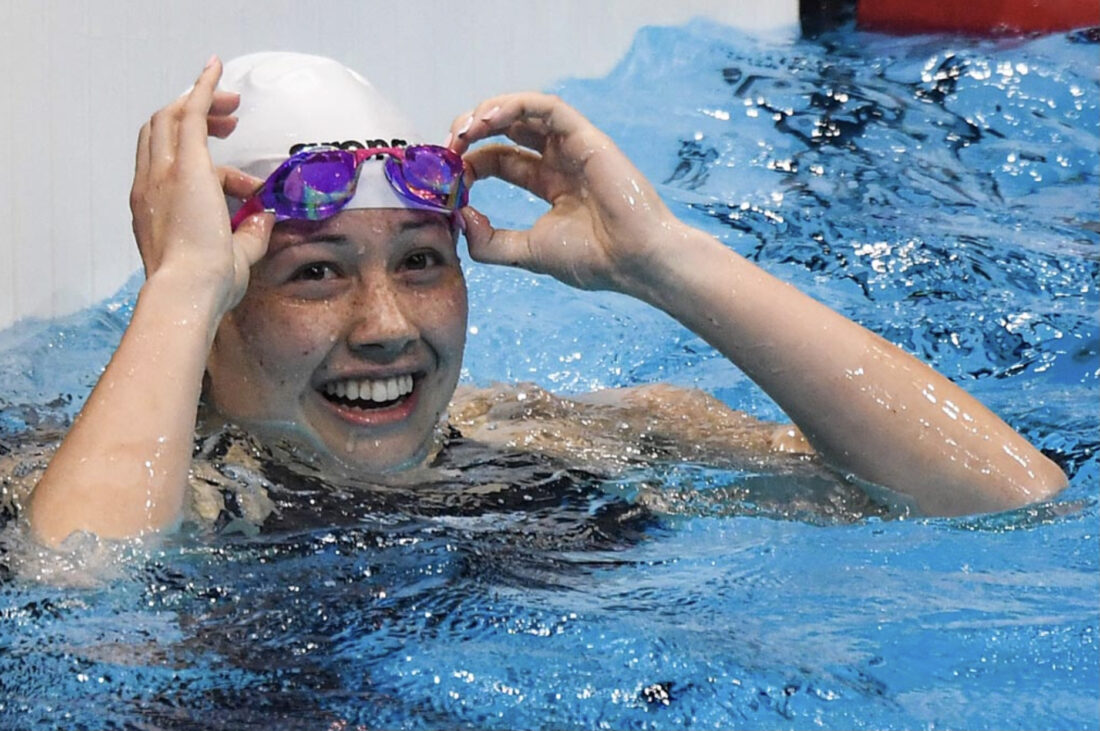 Siobhan Haughey concluded a stellar season and fine World Cup tour with a 52.24, 0.2 shy of the World Cup record she established in the 100m free at the opening round of the series in Berlin two weeks ago.
No-one has coped with the Hong Kong ace over 100 and 200m freestyle during the Cup, World Cup records falling to her in both events and the Hong Kong record in her grasp as a bonus in Budapest. Coached by Tom Rushton, her 52.02 in Berlin is the third fastest in history after the only two women to have raced below 52, World record holder Sarah Sjostrom, second today, and Olympic champion and another Bohl charge, Emma McKeon.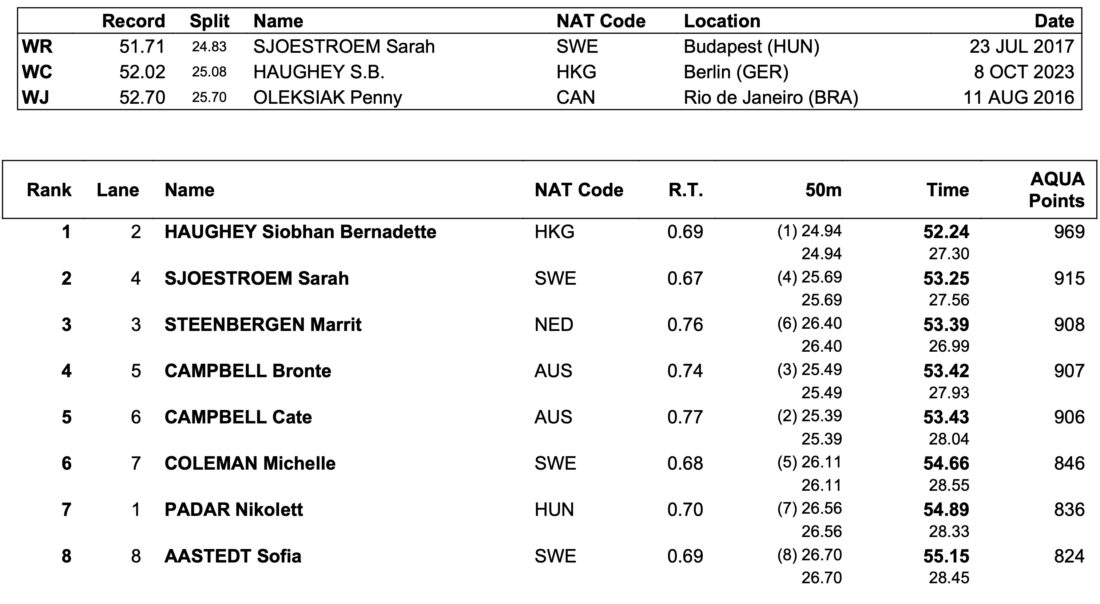 In other finals:
M50 'Fly: Andrew Grabs The Last Dash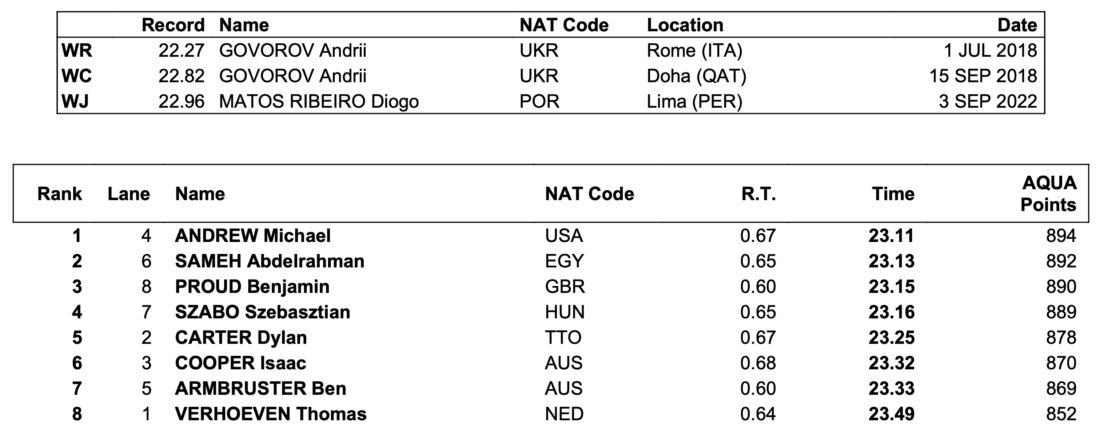 W50 Breast: Pilato Wins In Final Without Meilutyte
World champion and record holder Ruta Meilutyte has raced the whole series but today withdrew suffering from a heavy cold. That robbed the race of a clash with the former World record holder Benedetta Pilato, the Italian who claimed a second solid victory after her 100m win yesterday: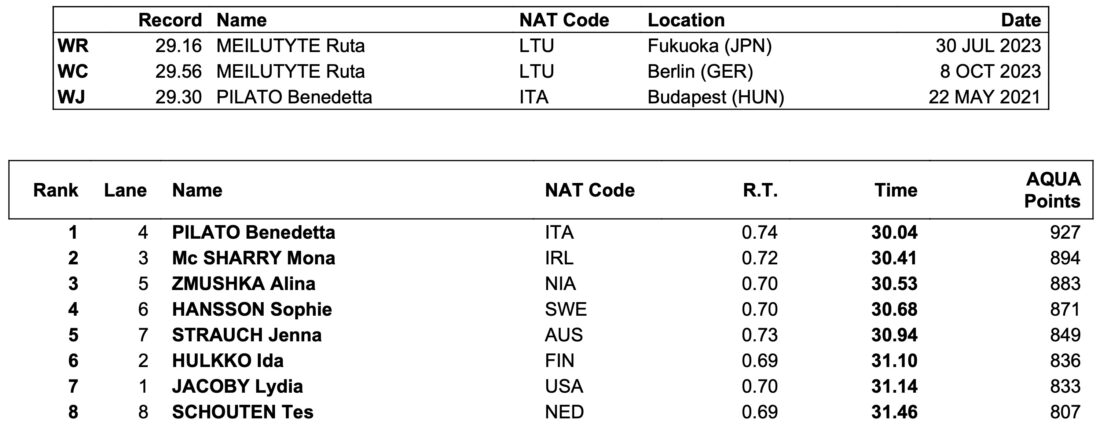 M200 Free: Giuliani Takes Last Men's Final For Australia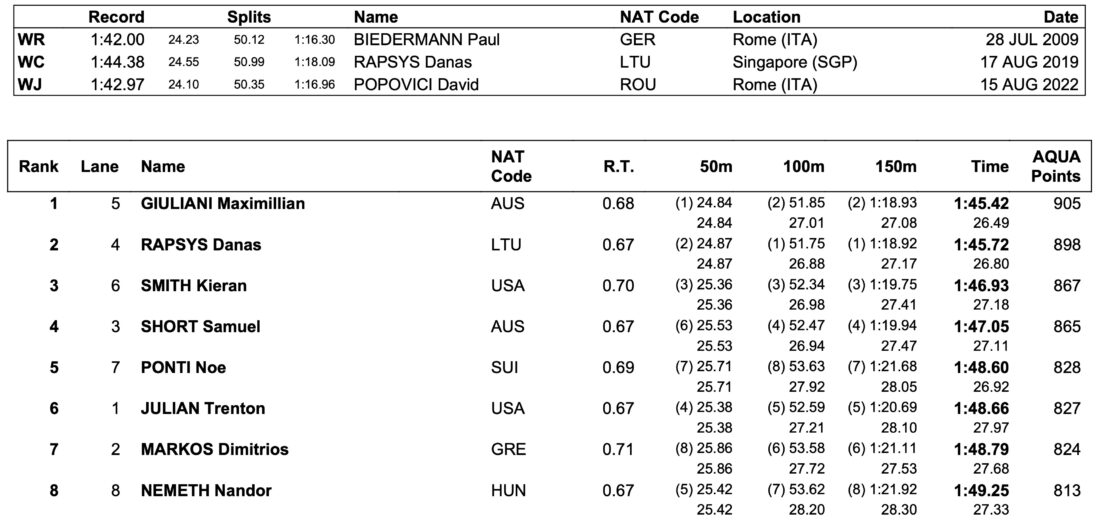 W200IM: Steenbergen Ends Series With Her First Victory On Cup Tour