McIntosh Caps Maelstrom Meet With 1:53.91 World 200 Free Junior Mark: 2WRs & 5WJRs in Six Days Of Sensational Swimming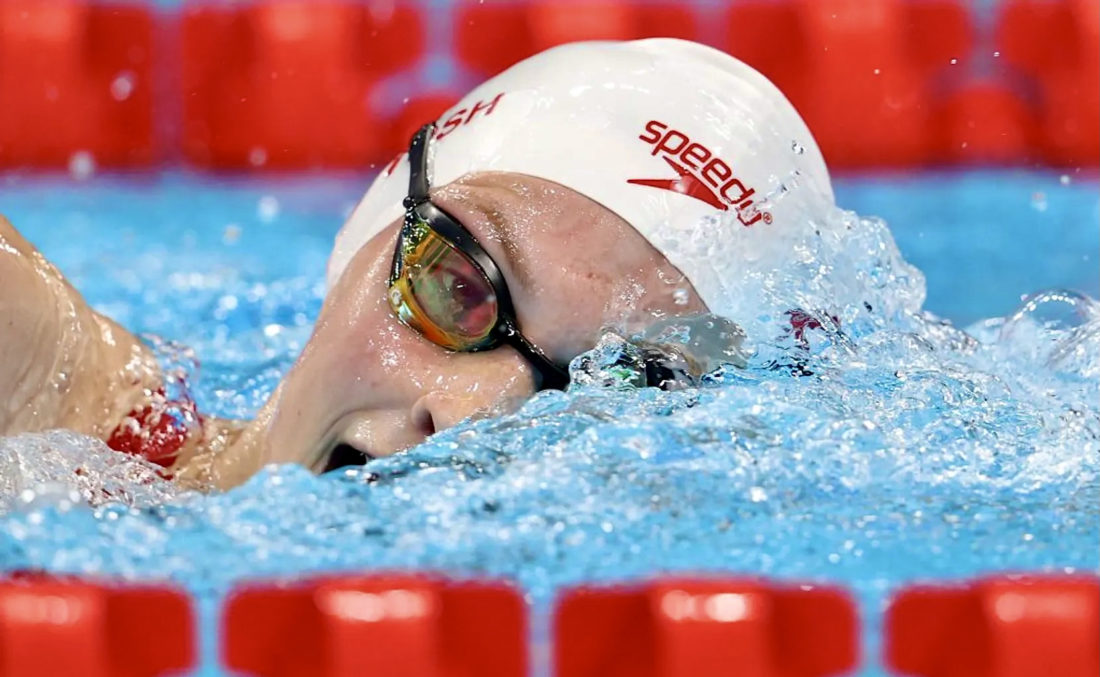 There were few survivors of Storm Summer in Toronto this past week: two shiny suit global marks (200 'fly and 200 free, both from 2009) lived to fight another days as Summer McIntosh banked two World senior records and five World Junior standards in six days of racing.
The 400m freestyle (3:56.08), the 400m medley (4:25.87) wrote a pioneering line: no other swimmer, male or female, has ever held the global long-course standards in those two events. The other three World junior records fell in the 200m butterfly (2:04.70), the 200m medley (2:06.89) and the 200m freestyle, as McIntosh, 16, wiped 0.75sec off the best time she sent last month. A 1:53.91 victory in the curtain-closing session of trials in the 16-year-old's home town of Toronto capped a maelstrom of a meet for McIntosh.
That 1:53.91 makes McIntosh the fourth-fastest ever in textile, fifth in all suits, shy of the 1:52.98 World record held since 2009 by Italy's queen of global 200 free racing Federica Pellegrini (she of 1 Olympic, 4 World titles and 8 World /lc podiums etc). The World best in textile is the sensational 1:53.09 clocked by Ariarne Titmus at Australian Olympic trials on the way to Tokyo 2020 gold in 2021.
All those faster that McIntosh have claimed the ultimate crown: the Olympic title, and three of them have held the World 400m free World record, Katie Ledecky's standard going to Ariarne Titmus in 2021 and Titmus' mark now in the hands of McIntosh since Wednesday last.
McIntosh And The Olympic-Champion Splits She's Chasing:
27.02; 55.58 (28.56) 1:24.87 (29.29) 1:53.91 (29.04) Summer McIntosh, Toronto 2023
27.34; 55.60 (28.26) 1:24.38 (28.78) 1:52.98 (28.60) Federica Pellegrini Rome 2009 Gold
26.81; 55.55 (28.74) 1:24.64 (29.09) 1:53.09 (28.45) Ariarne Titmus Olympic Trials 2021
27.18; 55.58 (28.40) 1:24.35 (28.77) 1:53.61 (29.26) Allison Schmitt London 2012 Gold
27.00, 55.43 (28.43) 1:24.55 (29.12) 1:53.73 (29.18) Katie Ledecky Rio 2016 Gold
McIntosh, an Etobicoke Swim Club member now coached by Brent Arckey at the Sarasota Sharks in Florida, threw her last gold ion the meet up into the stands for fans to catch.
She summed up one of the most versatile and complete weeks of racing in domestic waters that Planet Swimming has witnessed in the way she has spoken about every stroke of her progress since she entered her teen years already a phenomenal prospect – a learning process: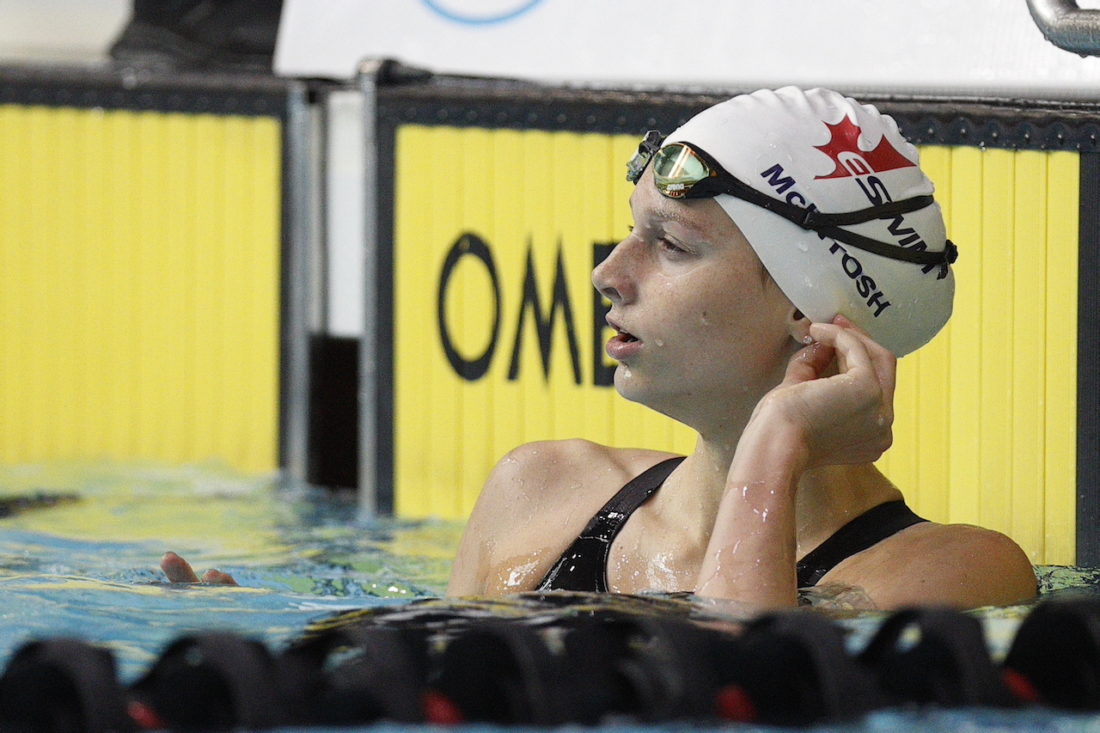 "I'm really happy with the two world records. I never thought that was a possibility going into this meet. Overall, I can only just really be happy. But no matter what, there are always still things to improve on and learn from.

"I think just taking on five events within six days is something that I haven't really done before ever. It's something that I need to continue to work on if I want to be able to execute it on the highest level and world level as well."

Summer McIntosh, photo by Kevin Light, courtesy of Swimming Canada
McIntosh will still be 17 when the Paris 2024 Olympic Games come around. They would be her second Games, Summer a finalist at 14 in Tokyo. She will defend two titles at her second World championships this summer in Fukuoka, Japan (July 14-30) just a year after a racing rhapsody in Hungary last June: the 200m butterfly and the 400m medley crowns capped a tremendous week in Budapest, silver in the 400 free and bronze in the 4×200 free with Canadian teammates completing a rich return at her debut global senior showcase.
Asked about how her opponents might now see her in Japan this summer, she said: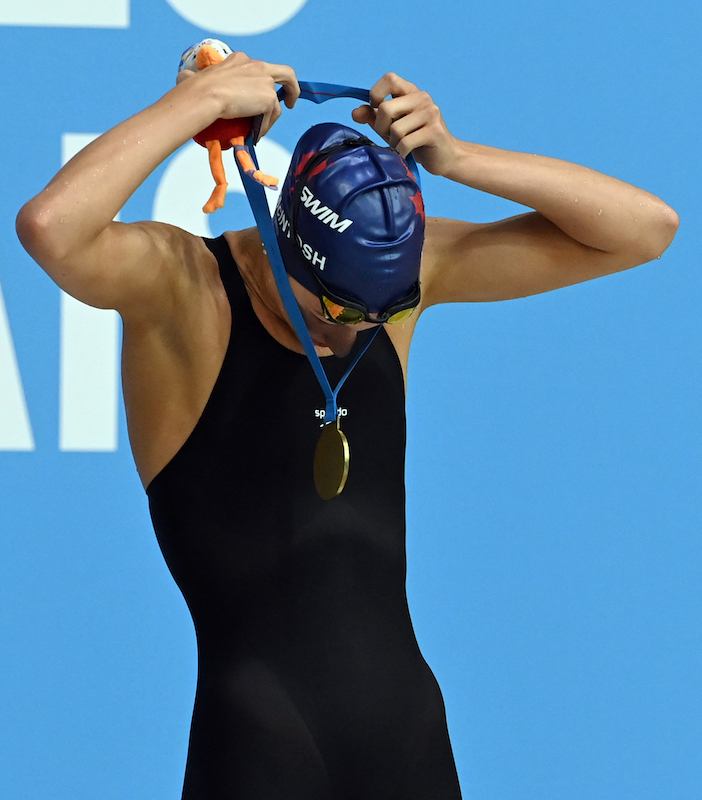 "I've actually never really thought about how my competitors perceive me. I respect all of them. I think we all respect each other on a very high level, just because we know how much work it takes and how much time you have to put in to get to this certain level." 

Summer McIntosh, photo by Scott Grant, courtesy of Swimming Canada
In the Toronto 200 free, Mary-Sophie Harvey, 1:58.40, and Ella Jansen, 1:58.46, completed the podium.
McIntosh Leads Team Canada At Fukuoka Worlds
Summer McIntosh will lead a 31-member Swimming Canada team at Fukuoka World titles.
Other top title and podium shots are Margaret Mac Neil, the Olympic gold medallist in the 100m butterfly; Kylie Masse, a world champion and Olympic silver medallist on backstroke; and Josh Liendo, who claimed three medals at Budapest 2022 Worlds.
McIntosh, who broke five Canadian and world junior records during the trials, hinted more is possible at the world championships: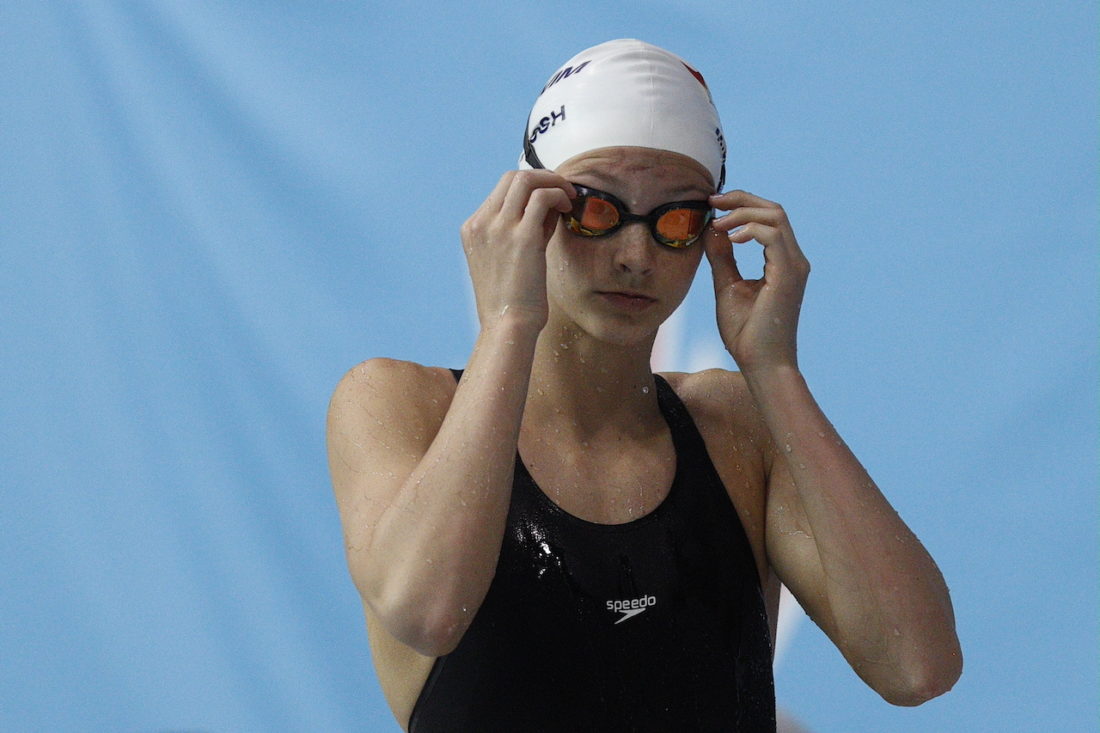 "I'm really excited to be honest. There's always room for improvement. I always watch my races with my coach and kind of nitpick what I could do better to keep improving. Once you get to the world stage and really big meets, it's just about getting your handed on the wall. My goal is always to keep improving. I'm just excited to race a bunch of people."

Summer McIntosh, photo courtesy of Swimming Canada
Canadian swimmers won 11 medals (3 gold, 4 silver, 4 bronze) at last year's championships in Budapest, the country's most ever, and broke five Canadian records. Canada ranked third in total medals and fourth in gold.
This year's team consists of 14 men and 17 women. There are 21 swimmers (12 women, 9 men) returning from the Budapest squad while 10 swimmers (5 women, 5 men) will be making their world championships debut.
The Team Canada announcement and International team lists in full
The Rest of Day 6 Action – from Swimming Canada
Returning to the worlds team after making her debut at Gwangju 2019 is Edmonton's Emma O'Croinin, who qualified for the women's 4×200 free by finishing fourth in 1:58.94.
"It means absolutely the world", said O'Croinin. "It`s been a really challenging few years. To be back on this team just means everything to me."
In the men's 200 free, Javier Acevedo of the High Performance Centre – Ontario posted a qualifying time of 1:47.72, a personal best. The two-time Olympian had already qualified for worlds in the 100 free as well as the 50 and 100 back.
Patrick Hussey of the Pointe-Claire Swim Club was second in a personal best 1:48.39.
Meanwhile, Tokyo Olympian Josh Liendo of Markham, Ont., also rewrote the Canadian record book on Day 6 with a winning time of 23.27 in the men's 50 fly, three hundredths of a second under Santo Condorelli's mark, which had stood since 2015.
"The big thing in my mind was just to nail the start," said Liendo, who also set a national mark in the 100 fly on Wednesday. "It's 50 fly, one lap of the pool and go for it. I think I did that and, you know, happy to end off the meet on a high note."
Mabel Zavaros of Burlington, Ont., who represents the Markham Aquatic Club, will make her worlds debut in July after winning the women's 800 free in 8:38.17. Her previous best of 8:40.31 had earned her seventh place at the 2022 Commonwealth Games in Birmingham, England.
"I thought my race was pretty good," the 23-year-old said. "I was happy that I got a best time. I can't complain. It's been a long meet, but I think I've done a good job of focusing on each event."
Eric Brown of Pointe-Claire, Que., took the men's 1500 free in 15:26.85, over the qualifying time. The 20-year-old, who competed in open water at Budapest 2022, will make his worlds pool debut this summer after qualifying in the 800 free on Wednesday.
In the women's 50 fly, Katerine Savard of Pont-Rouge, Que., clocked 26.56 to edge long-time national team teammate Kylie Masse of LaSalle, Ont., who finished just behind in a personal best 26.59.
McIntosh (400 IM) and Liendo (100 fly) merited swim-of-the-meet honours for the Olympic program based on the 2002 world rankings.
In Para swimming, Shelby Newkirk of Saskatoon wrapped up an exceptional meet by winning the women's 100 backstroke multi-class final in 1:21.96, just off her own S6 national mark of 1:20.76 set at last year's Trials.
The 26-year-old Paralympian, who won gold in the event at last summer's world championships, set a pair of S6 Canadian records earlier this week, in the 50 and 100 free.
She was one of three swimmers in the 100 back final to go under the world qualifying time, along with Danielle Dorris of Moncton, N.B., in the S7 class and Katie Cosgriffe of Burlington, Ont., in the S10 category.
"It's been really, really good," said Newkirk. "I'm going into it like I always want to improve on the previous year's Trials and just kind of see where I'm at.
"I was able to break two records that aren't typically mine but I'm definitely getting closer in the world rankings and just super excited to race in the summer."
In the men's 100 back multi-class, Nick Bennett, an S14 Paralympian from Parksville, B.C., prevailed in 1:02.57.
While no finalists met the world standard, Hunter Helberg from Fort McMurray Swim Club lowered his own Canadian S12 record, touching in 1:15.57. He had clocked 1:16.94 last December at the Ken Demchuk International Invitational in Vancouver.
"I don't know about expecting it but I was hopeful," said Helberg about breaking his record. "Prelims kind of set me up to think I could. Then it was just about executing the little things."
Dorris (50 fly) and Bennett (200 IM) claimed the swim of the meet awards for the Paralympic program.
A total of 17 Canadian records were established over the course of the six-day Trials, including nine from the Olympic Program (5 women, 4 men), and eiht Para swimming standards (5 women, 3 men). In addition, nine age-group records fell, as 14-year-old Laon Kim from the Hyack Swim Club in New Westminster, B.C., added four new marks to McIntosh`s five.