McEvoy Is Back In The Shout With Dashing 21.35 In Heats, Manaudou, Proud At A Cruise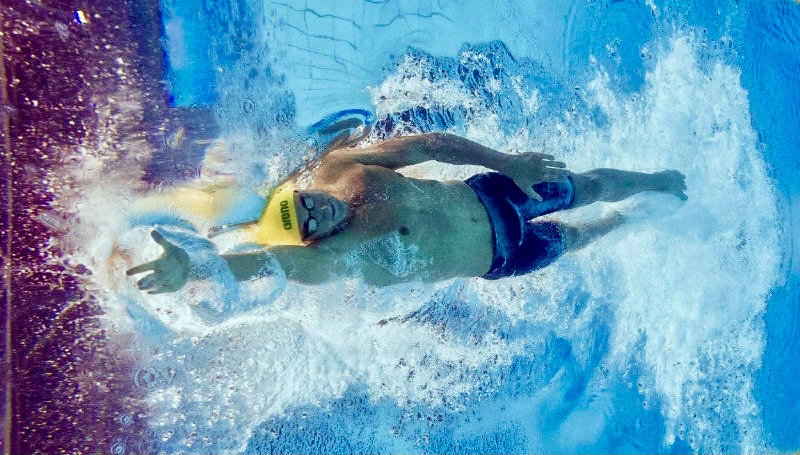 Day 6 at the 20th World Championships and Cameron McEvoy, a blast from the past very much present who know a thing or two about bending time, whistled out a 21.35 to top the heats of the 50m freestyle at the Marine Messe in Fukuoka.
You don't need to look at the title on the 50m free sheet, just the numbers give it away: 123 blokes, two no shows, two DQs, 54 of them slower than Sarah Sjostrom, 82 of them slower than Tom Jager's winning time back in 1986 when the dash was born as an official World-Championship event.
Comment:
Questions? Where's the development and what is the global regulator doing about it. 400IM. What a thriller – 4:02.50 Word record from Léon Marchand: 27 swam, just over 20 nations, from 206. All things are a work in progress but when good money is being spent on coaching and swimmer and program development, centres to help spread the watery word and blazers take to their business class lounges on a site tour of it all, it's only fair to ask why the canvas painted by the paragraph above has barely shifted an inch since the last time Fukuoka hosted the championships in 2001.
No doubt there's good work and commitment going on out there but when track and field points to the far greater number of nations excelling at top level in athletics than in swimming and the spread of excellence runs deep and wider, its reasonable for aquatics to ask whether the model it has been following is actually what's going to get the job done. Heats involving more than 50 blokes who can't match Sarah does not a World Championship make – and World Aquatics needs to consider the many folk left at home because they were third, because they were second or even national champions shy of a much tougher target time set with standards and budgets in mind?
Perhaps it needs to consider a tier for development that provides incentives for getting to the A level. Perhaps it needs to find ways of preventing a situation in which 25 men get a ticket to a World Championship and swim 50 free slower than Adam Peaty covers the distance on breaststroke. And much slower than some will cover the distance in the media race for laughs.
So, back to the deep and sharp end of speed. At Trials back home a month or so ago, McEvoy gave warning of a return to contention with a 21.41 victory in the dash: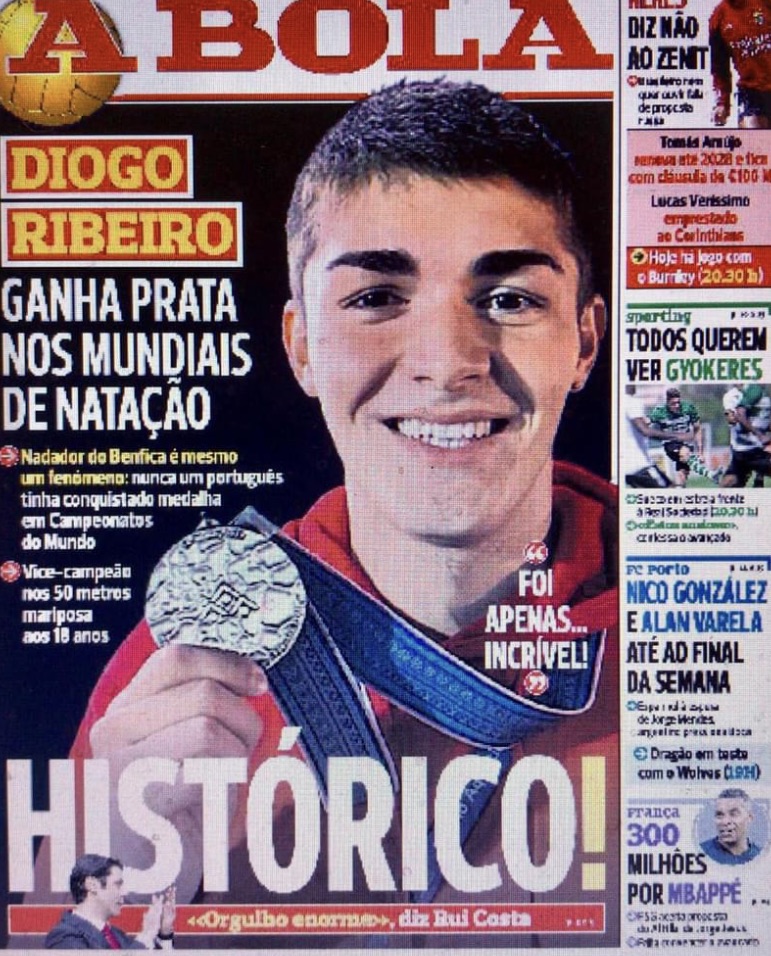 Also through inside 22sec this morning were Szebastian Szabo, Florent Manaudou, outside smoker to silver in the 100 Jack Alexy, and Ben Proud, the defending champion.
The door to semis closed at 22.05, courtesy of Portuguese teen Diogo Ribeiro, whose later in the morning clocked 51.57 to qualify for a second semi this evening in then 100m butterfly in a week he's making big headlines back home on the back of his silver in the 50 'fly.
Bigger than football in a small window of possibility with possibilities mounting for young Diogo, World junior record holder in the 'fly dash.
Day 6 heats brief notes, results in full: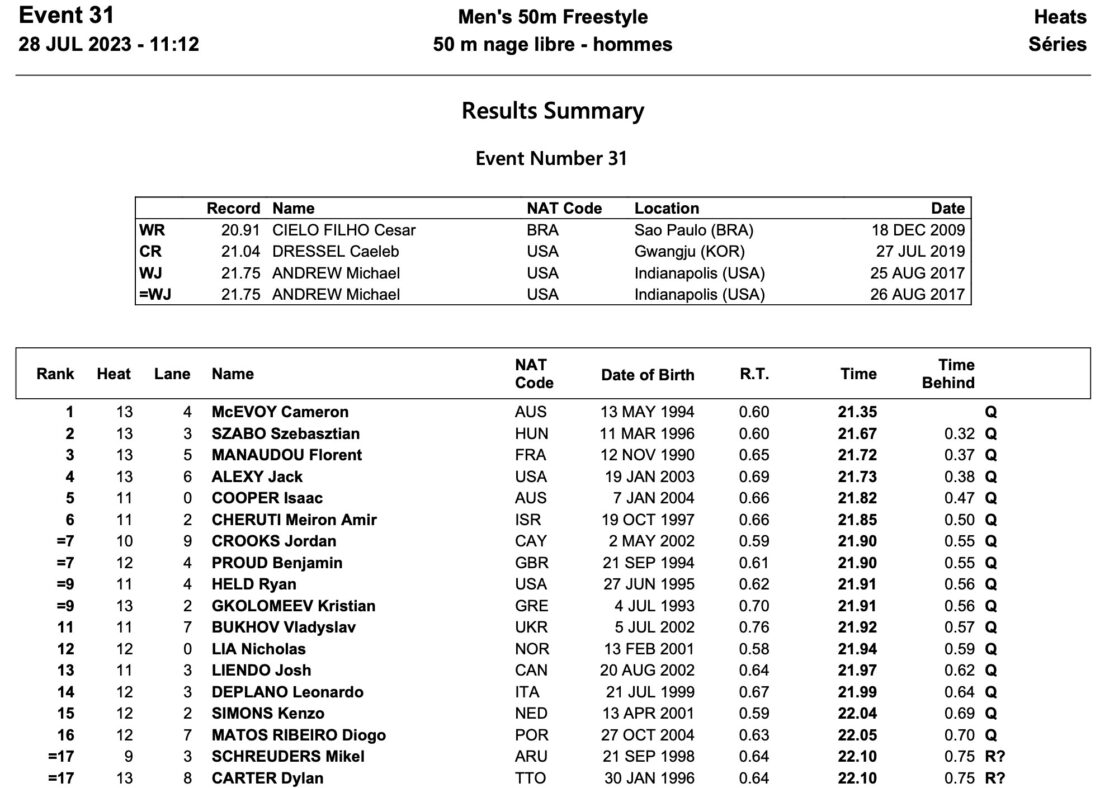 Katie Ledecky has five 800m titles to her credit: 2013, 2015, 20017, 2019, 2022. Here's comes the sixth if she can hold off the one swimmer in the final capable of getting close or one day, perhaps, even getting her hand to the end wall first: Ariarne Titmus, Olympic silver medallist. Both aces are on top form. Great race ahead.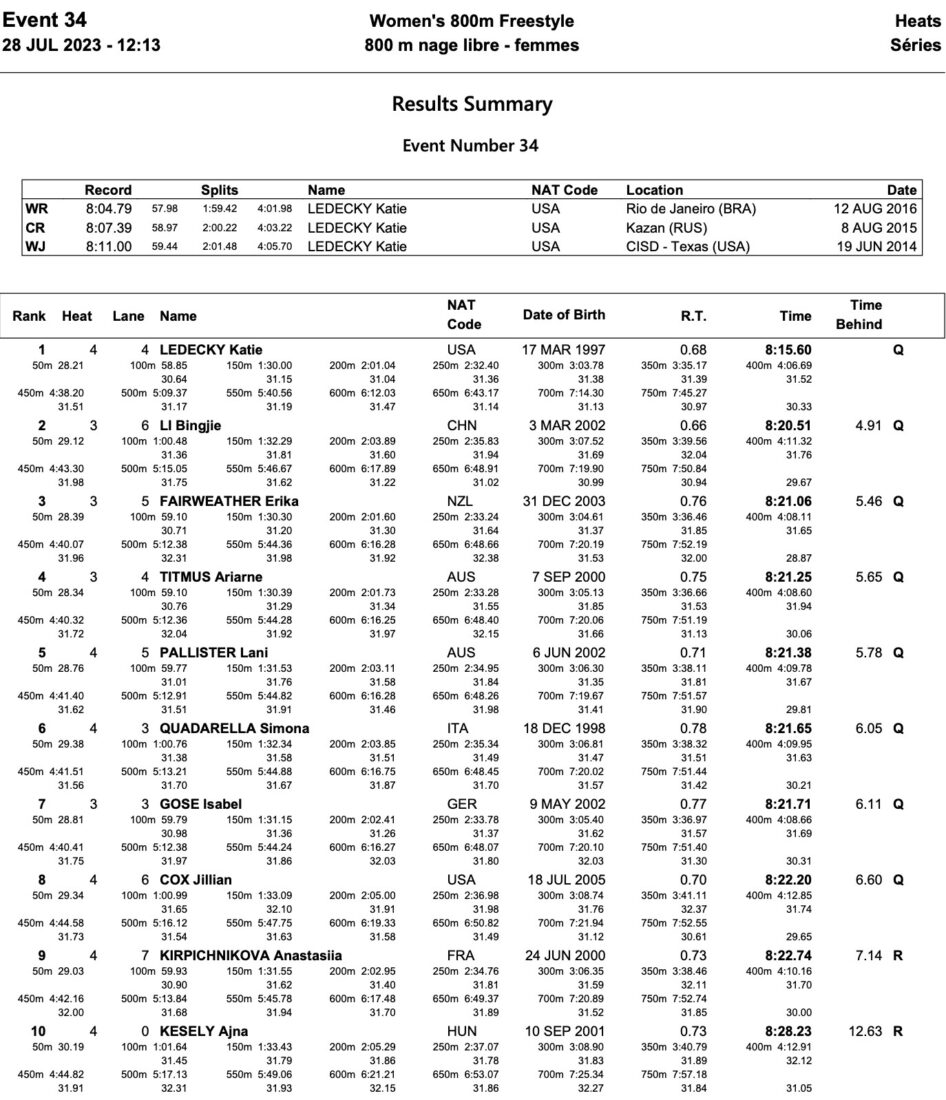 Kaylee McKeown is two 200m swims from the possibility of becoming the first in history to claim all three backstroke titles at one World championships. The semis will tell where the speed is going…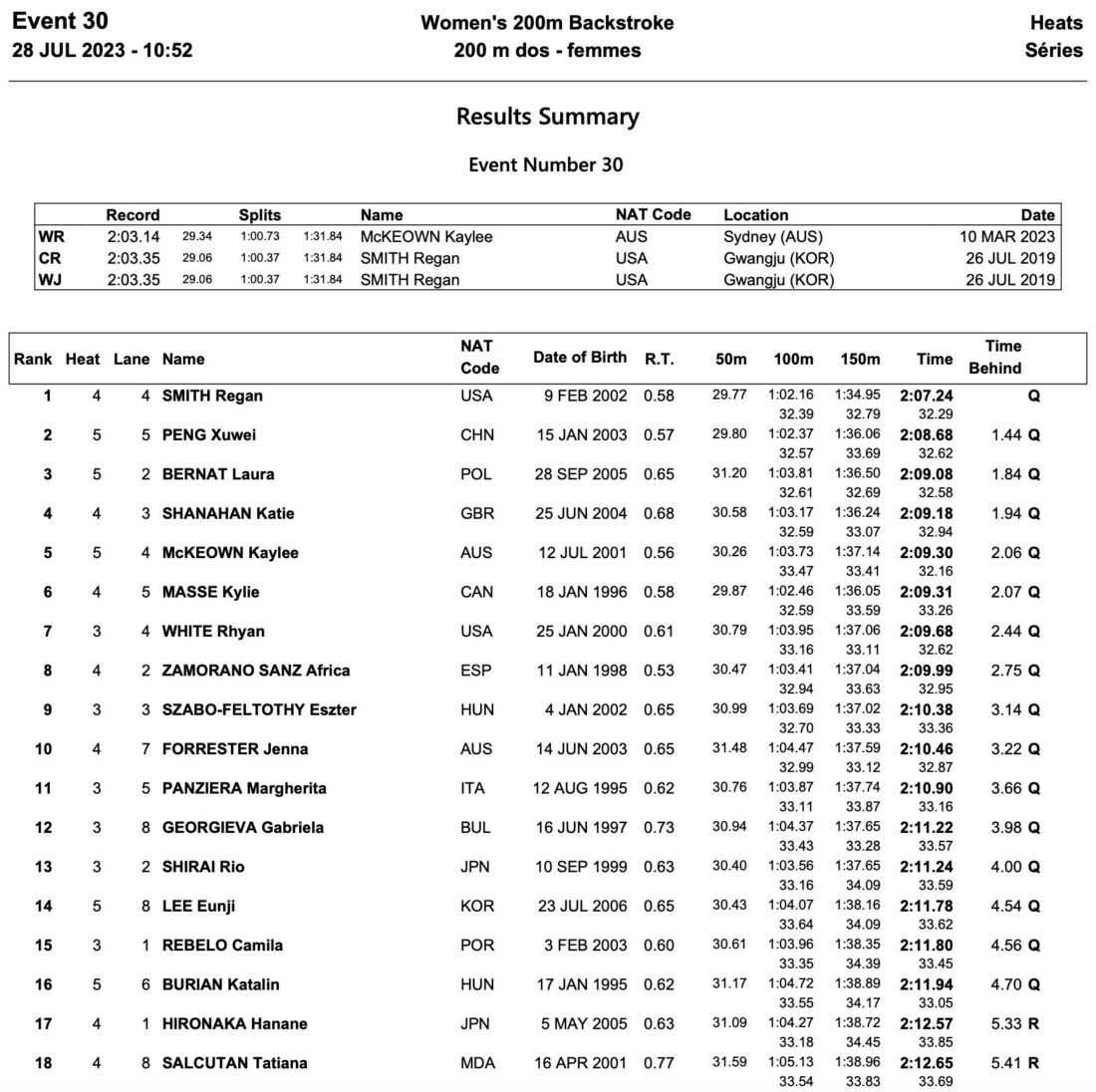 No Caeleb Dressel, no Kristof Milak. Matt Temple leads the way to semis wide open for all who made and will make it through.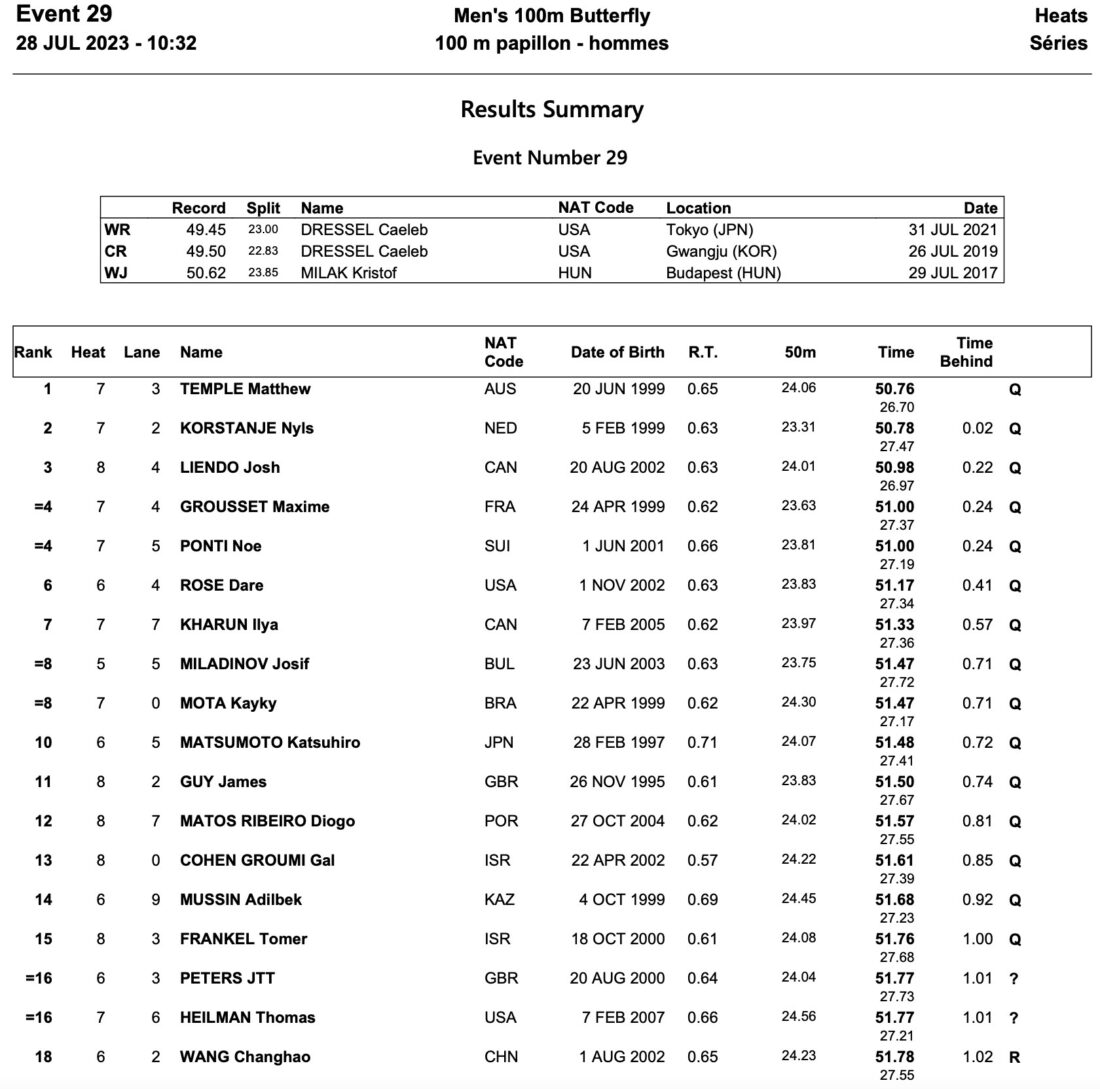 Sarah Sjostrom is in Fukuoka with a focus on the 50s. Here's her moment. Her heats time would have finished 88th out of 119 in the men's freestyle dash this morning. Nuff said. Beyond Zhang Yufei in second we find Rikako Ikee in third and the heart sings.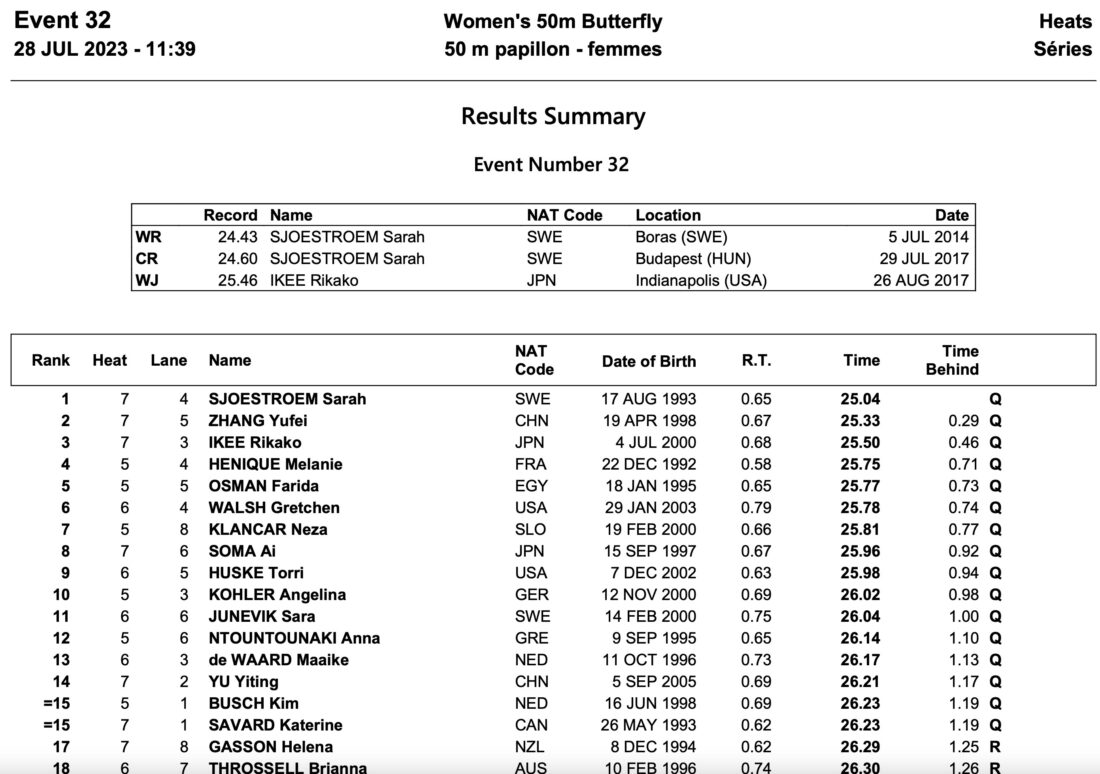 All through safely: all big guns through to the showdown have a man or two to add to the smoke of speed to come. Britain defending and, all being well, the World record is on notice.