Max Litchfield Delivers 1st British Medley Swim Brothers To Team GB At Same Olympics in 4:12.6, Brodie Wiliams A Hand Away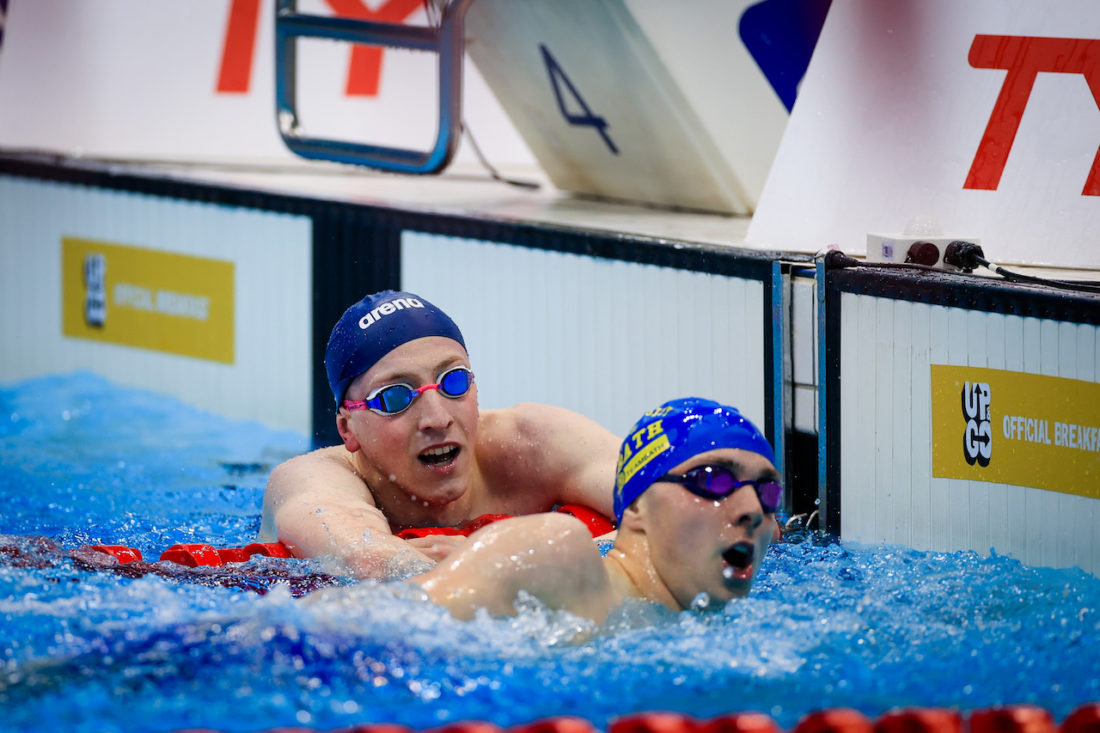 Max Litchfield joined his younger brother Joe on the list of those likely to be heading to the Tokyo 2020 Olympic this July with 2 4:12.67 ticket to the Games, Brodie Williams giving the British champion a battle all the way to a big best of 4:12.95 that made it two inside target time.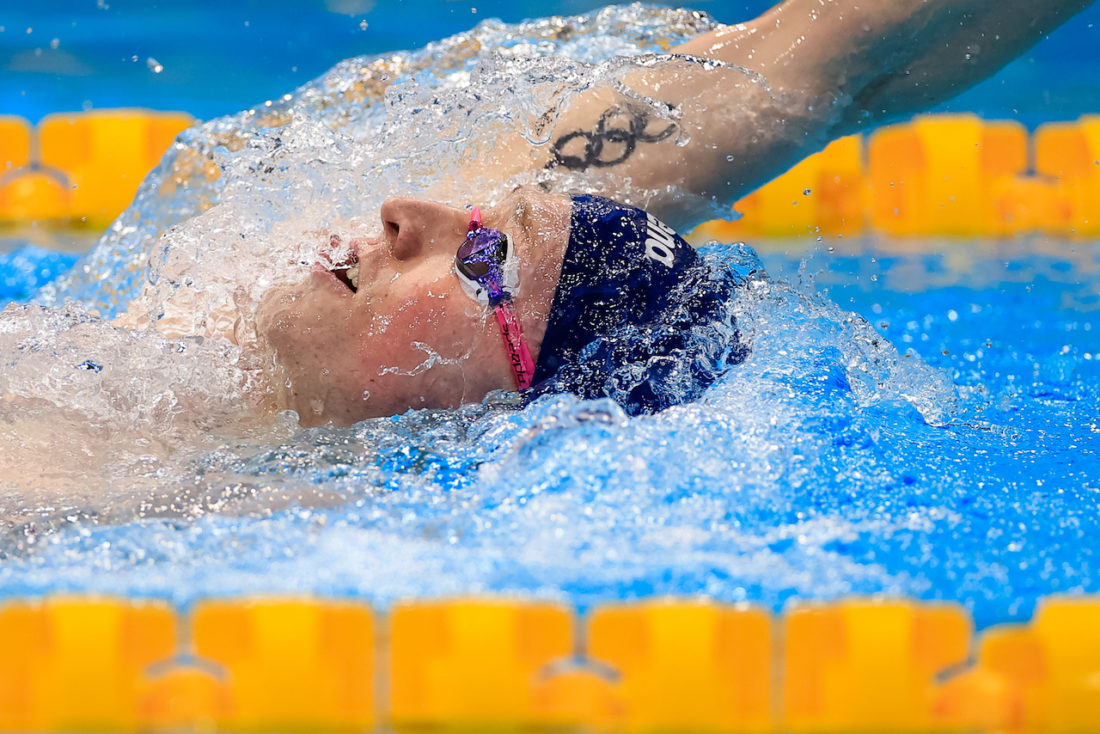 Litchfield took the lead from go, through from butterfly to backstroke on 56.90, then into breaststroke on 2:00.56. By the turn into freestyle, Max Litchfield held the lead yet, at 3:13.13, but Williams was not to be shaken off. A sub-minute freestyle finish was needed to make the target time of 4:13.47.
Neither of the battlers disappointed, Litchfield driving the pace, Williams fighting with every stroke towards wiping 4sec off his lifetime best for a likely debut Games selection.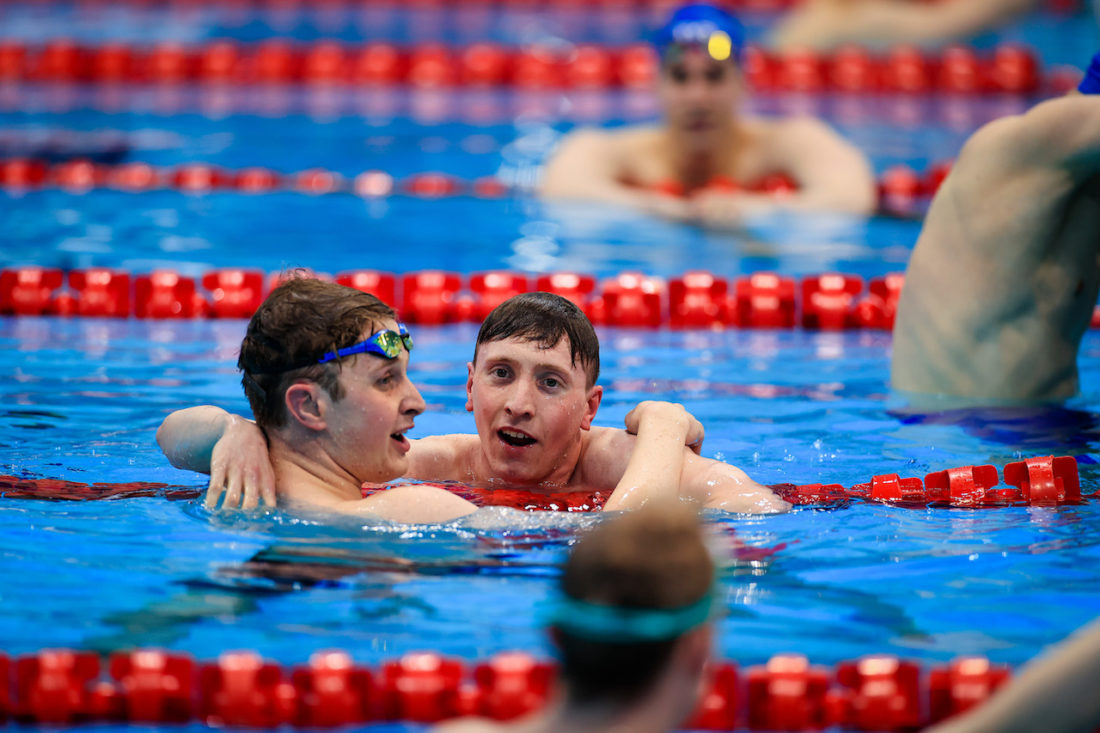 Winners inside target time are assured of confirmed selection, while the second home in each event inside target must wait for confirmation from the British Olympic Association, which has allocated 35 places in Tokyo for swimmers and swimming.
Max Litchfield, on 4:13 today in morning heats of the 400, finished third in the 200m medley this week when brother Joe took second to Duncan Scott, the top two inside target time. Joe Litchfield then won the 100m backstroke just outside target time and will race the 100m free final tonight, providing another chance of a relay berth in Tokyo.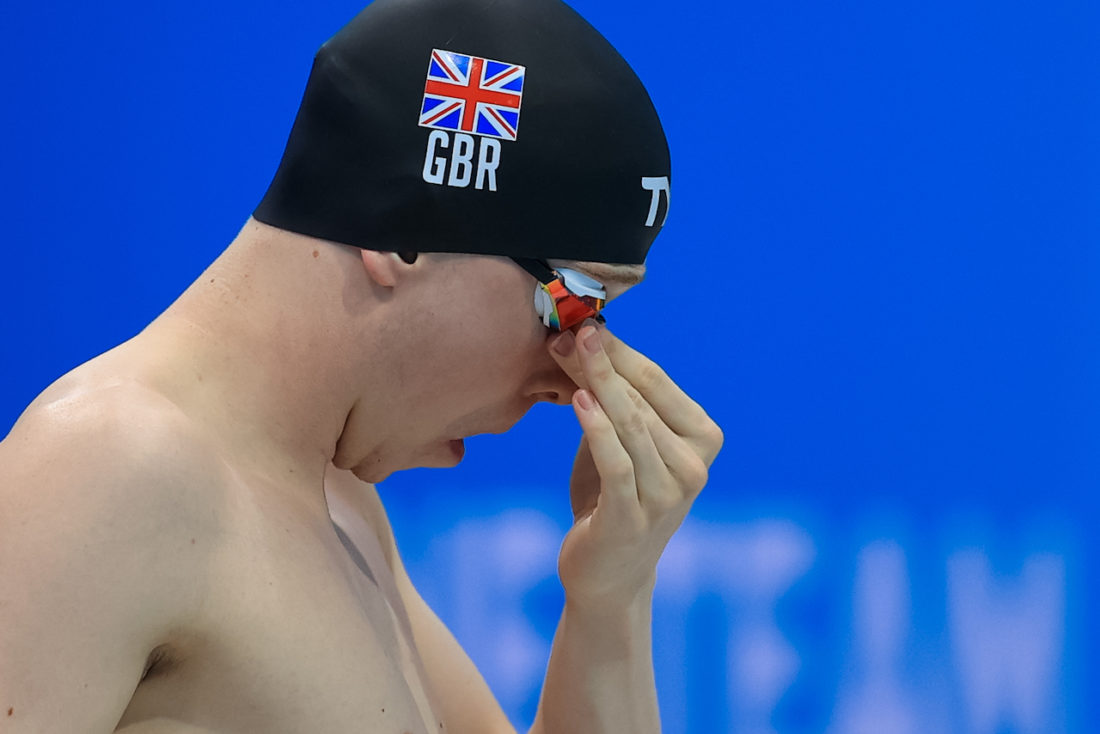 In effect, the Brothers Litchfield, both based at the Loughborough performance centre, are on the plane to Japan in July, pandemic allowing. They will be the first British brothers ever to race on the same Olympic swimming team in medley – and the second brothers to make any team at all, twins Bert and Jack Wardrop, of Motherwell, on the Helsinki 1952 team. Jack also raced at the London 1948 and Melbourne 1956 games, before the birth of medley, made possible by the birth of butterfly by the splitting of breaststroke and dolphin action into separate disciplines.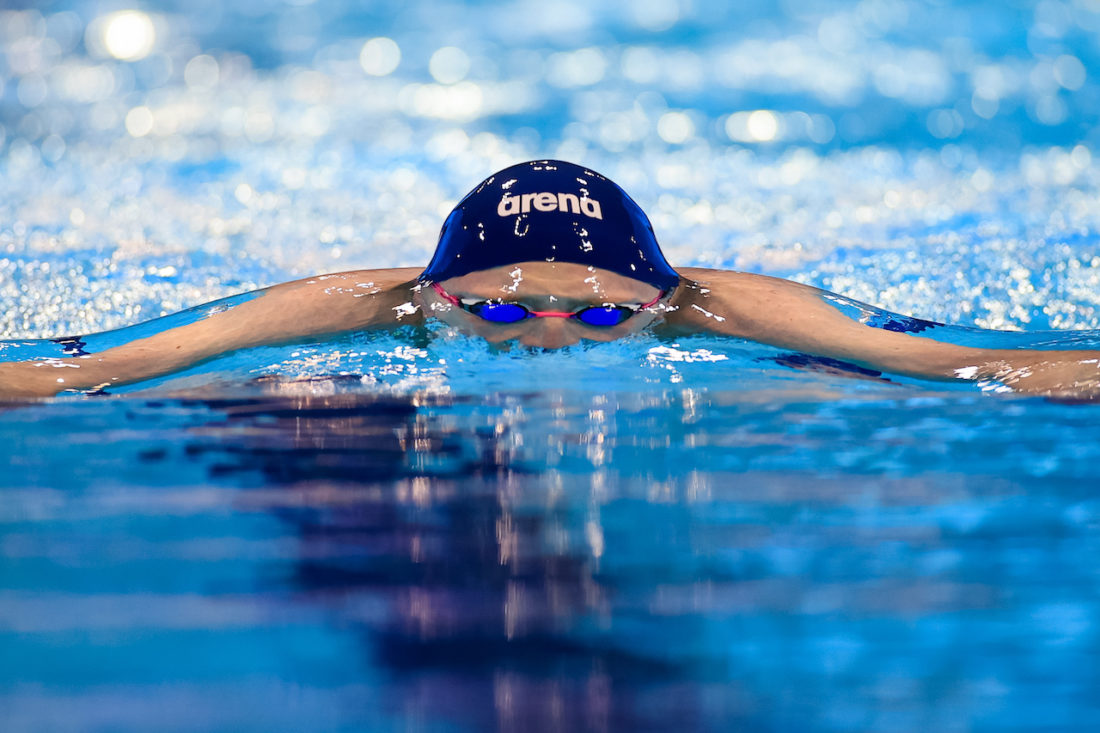 The Brothers Litchfield will be the third bros to swim on the same GB Olympic team in any events. The first combo was that of Albert Dickin and his brother John, together in the swim at Antwerp 1920. Albert also raced at the Paris 1924 and Amsterdam 1928 Olympics and also competed as a diver at those latter two Games. Spot of springboard, Max and Joe? Perhaps not in these days os needing to be at your best and at the cutting edge of your game just to be at the Games.
Back to the London race, and beyond Brodie Williams was Mark Szaranek, on 4:17.44 for third place.
The flow of the fight:
Place
Name
YoB
Club
Time
Pt
1.
Max Litchfield
(95)
Loughboro NC
4:12.67
898
50m 26.84
100m 56.90
150m 1:29.12
200m 2:00.56
250m 2:36.43
300m 3:13.13
350m 3:43.19
400m 4:12.67
26.84
30.06
32.22
31.44
35.87
36.70
30.06
29.48
2.
Brodie Williams
(99)
Bath NC
4:12.95
895
50m 27.02
100m 57.82
150m 1:30.12
200m 2:01.19
250m 2:37.47
300m 3:13.98
350m 3:43.85
400m 4:12.95
27.02
30.80
32.30
31.07
36.28
36.51
29.87
29.10
3.
Mark Szaranek
(95)
UniOfStirl
4:17.44
849
50m 26.66
100m 58.62
150m 1:31.55
200m 2:04.90
250m 2:39.75
300m 3:16.44
350m 3:46.72
400m 4:17.44
26.66
31.96
32.93
33.35
34.85
36.69
30.28
30.72
Third Time Lucky Is What Max Litchfield Is Working For

…

Max Litchfield knows what it feels like to finish a frustrating fourth, having been there at Rio 2016 and then against the 2017 World Championships when a 4:09.62 made him the first man of the Commonwealth to race inside 4:10 over 400m medley. He emerged from the race to say:

Brodie Williams, who trains under Finck at the Bath National Centre, made a real impression on his favoured backstroke section – and his freestyle caught the eye too as he stayed right on Litchfield's trail to put himself into contention for a spot on the plane this summer.

"I'm really, really happy with that. I'd have liked it to be a little bit quicker, but it's under the consideration time – and I'm really pleased for Brodie too, he's an awesome swimmer," said Litchfield the elder.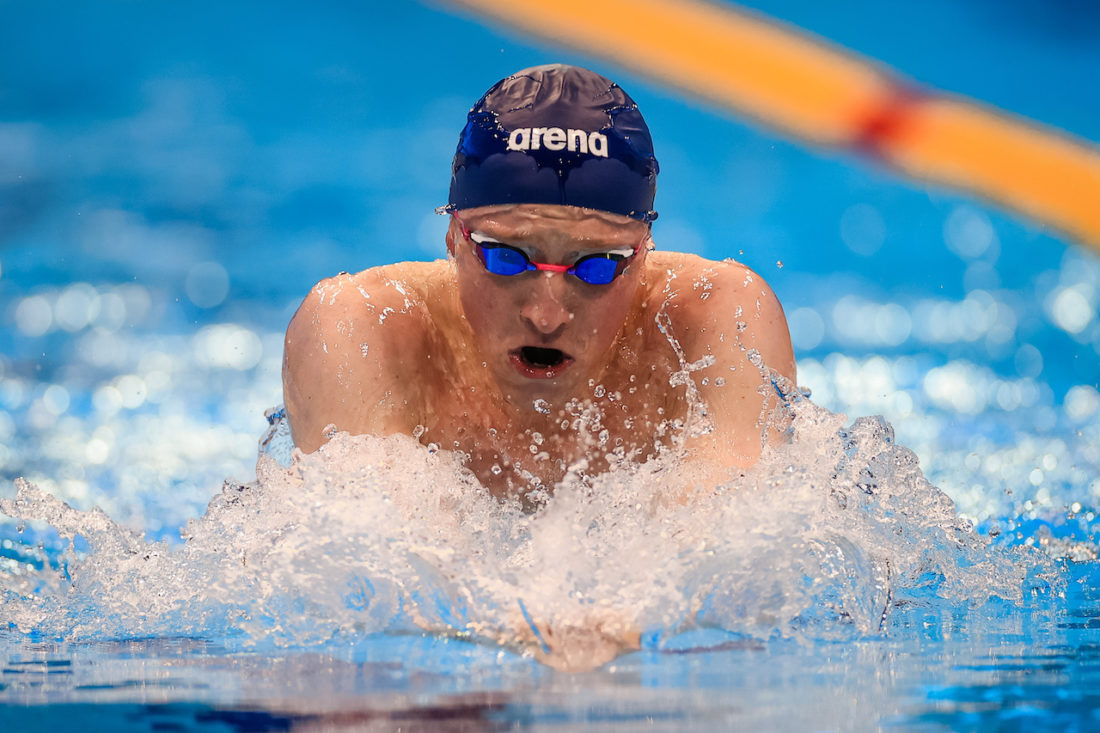 Jazz Carlin, the double silver medallist for Britain in the 400-800m free at Rio 2016, was on hand to ask the poolside questions in a crowd-less venue. About those fourth places …. Said Litchfield:
"In Rio, I was over the moon with fourth, but this time I want to go at least one better and get into the medals. I'll need to be a little bit quicker than that, but it's only April, so we've still got time."

Max Litchfield – by Georgie Kerr, courtesy of British Swimming
Litchfield was in fine form on the eve of the pandemic changing all plans for the Tokyo Games and much else. In December 2019, he claimed the European 400IM short-course crown. Then came the latest setback for Litchfield, among many others, on his mission to the 2020 Olympics.
In 2018 Max Litchfield withdrew from the Team England Commonwealth Games swimming team after a shoulder injury knocked his preparations for the Gold Coast event.
A shoulder problem that dogged him through the winter 2017-18 was "responding well to treatment", but the then 22-year-old believed he would not be ready to be at his best for the Games in April that year. He said:
"I'm disappointed not to be attending the Commonwealth Games, but at the moment my focus has to be on my shoulder rehabilitation and looking ahead to Tokyo in two years' time.
Three years as it turns out and provided it all goes ahead, Litchfield will be in the fight.
Holly Hibbott Out Alone For The Win But No Tokyo Cut, For Now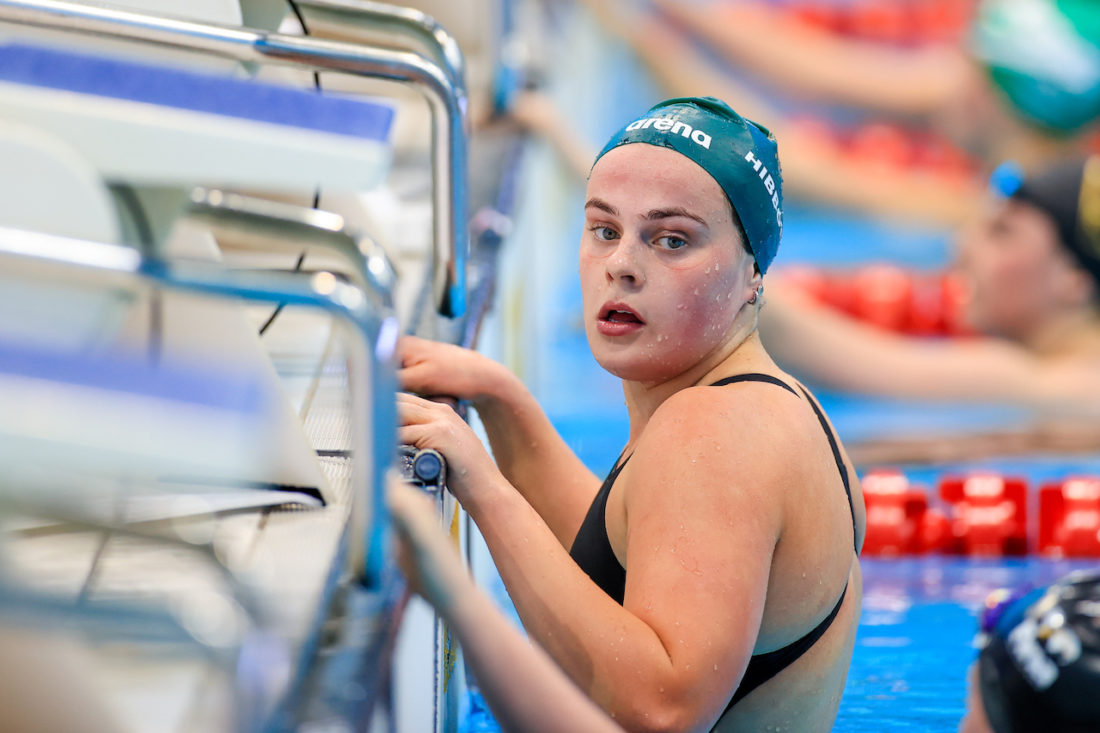 Holly Hibbott claimed the 400m freestyle win way out ahead 7secs clear. While loneliness is no explanation – take Katie Ledecky, for instance – the lack of anything remotely close to championships atmosphere may well have played a part in several performances among top names in London today after the novelty of the bubble fades.
On 4:07.03, Hibbott was 2sec down on best and just over a second outside the consideration cut for the Tokyo Games. She has other chances in May, so all is not lost in the win today. Said Hibbott:
"Obviously I'm a bit disappointed with that. I felt I was in good enough shape to do the time, so I'm disappointed with it. I'm one of those people who loves to race. I'm really enjoying the move to Bath, it's been a really positive move for me and that's one of the fastest I've been since Europeans in 2018. I've got to take the positives out of it," she said.

Holly Hibbott – by Georgie Kerr, courtesy of British Swimming
| | | | | | | | | | |
| --- | --- | --- | --- | --- | --- | --- | --- | --- | --- |
| Place | Name | YoB | Club | | Time | | | Pts | |
| 1. | Holly Hibbott | (99) | Bath NC | | 4:07.03 | | | 877 | |
| | 50m 28.87 | 100m 1:00.02 | 150m 1:31.63 | 200m 2:02.89 | 250m 2:33.84 | 300m 3:05.23 | 350m 3:36.52 | 400m 4:07.03 | |
| | 28.87 | 31.15 | 31.61 | 31.26 | 30.95 | 31.39 | 31.29 | 30.51 | |
| 2. | Leah Crisp | (01) | Bath NC | | 4:14.03 | | | 806 | |
| | 50m 29.42 | 100m 1:01.18 | 150m 1:33.48 | 200m 2:05.94 | 250m 2:38.23 | 300m 3:10.36 | 350m 3:42.45 | 400m 4:14.03 | |
| | 29.42 | 31.76 | 32.30 | 32.46 | 32.29 | 32.13 | 32.09 | 31.58 | |
| 3. | Tamryn Van Selm | (04) | Millfield | | 4:16.17 | | | 786 | |
| | 50m 29.83 | 100m 1:02.25 | 150m 1:35.11 | 200m 2:08.09 | 250m 2:40.73 | 300m 3:13.34 | 350m 3:45.35 | 400m 4:16.17 | |
| | 29.83 | 32.42 | 32.86 | 32.98 | 32.64 | 32.61 | 32.01 | 30.82 | |