Matt Richards – "You have to give up your baby and miss out on a lot of his growing up. I'd cry all the way home on a Sunday" – Mum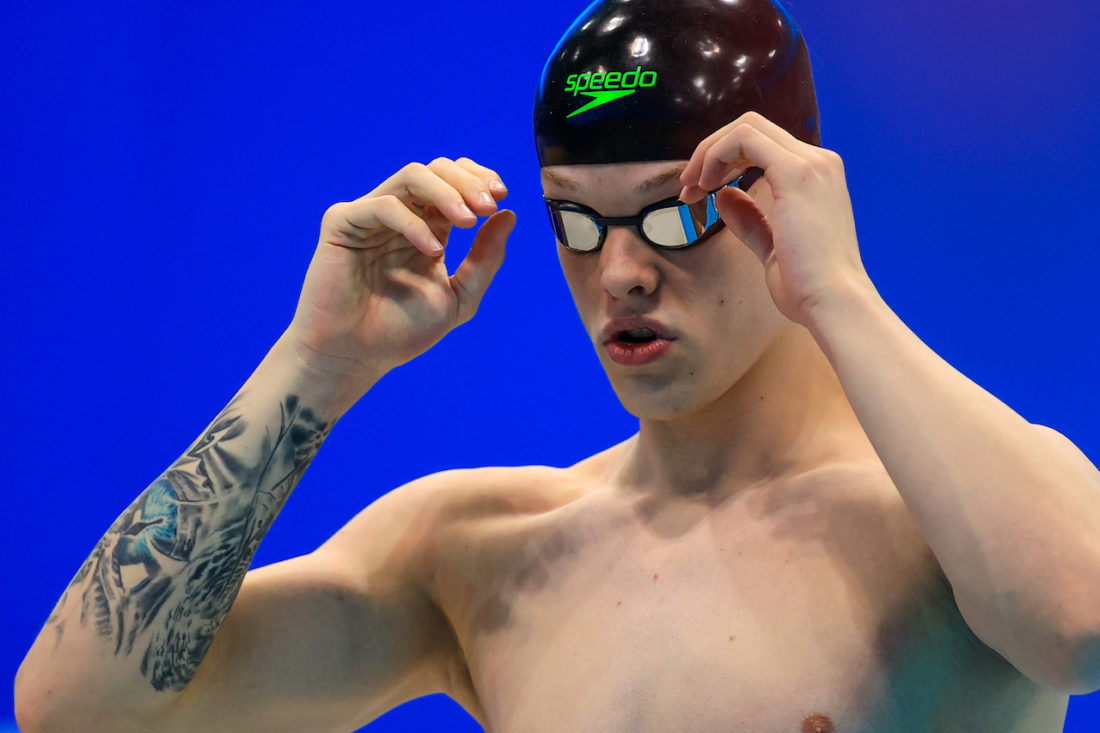 At 18, Matt Richards swam a superb leg of the 4x200m free in his first Olympic final. Like many who reach the Olympic podium, a final or even the Olympics at all, the boy turning man who clocked a 1:45 split to put Britain's gold beyond doubt does not come from a family steeped in performance sport.
This article is part of the following editorial and glimpse into some of the unsung heroes behind the success stories of swimmers at the Tokyo 2020 Olympic Games, here through the lens of the winning Great Britain 4x200m freestyle quartet
"There was no athletic background, no family history for us at all, until along came the little one," Simon Richards told Times 2's Hattie Crisell. The swimmer's dad captured the smiles either end of the journey so far when he tweeted:

As the above tweet indicates, he's not so little anymore: the 6ft 2in teen stood tall with a split of 1:45.01 that blew off the American title defenders over the second half of the 200, when Zach Apple's sprint form fell way, his 1:47.31 the sixth slowest split on the third leg, the USA staring at its first Olympic relay podium miss in history.
The race ended with Britain's Tom Dean, James Guy, Richards and Duncan Scott clocking the fastest time ever seen by a quartet in textile suits, a European record and the first 4x200m gold for Britain since 1908, Scott coming in for Calum Jarvis, who clocked a 1:45 in heats to get Britain to the showdown.
Guy, with a 1:44.4 blast, had clawed back a second on American Drew Kibler after Kieren Smith had opened for the defenders on 1:44.74. Richards left his blocks 0.13sec. By the 100m turn of the third leg, Apple, a 47-mid 100m man, had edged ahead, by 0.03sec. Half a lap later, there was a hint of struggle in his stroke and Richards was gathering momentum. Last turn, third leg: Richards had regained his 0.13sec lead, precisely. He then drove and dolphined off the wall like he was fresh from a dive and broke into stroke with the gait and gathering-storm of a man who knew the quarry was done.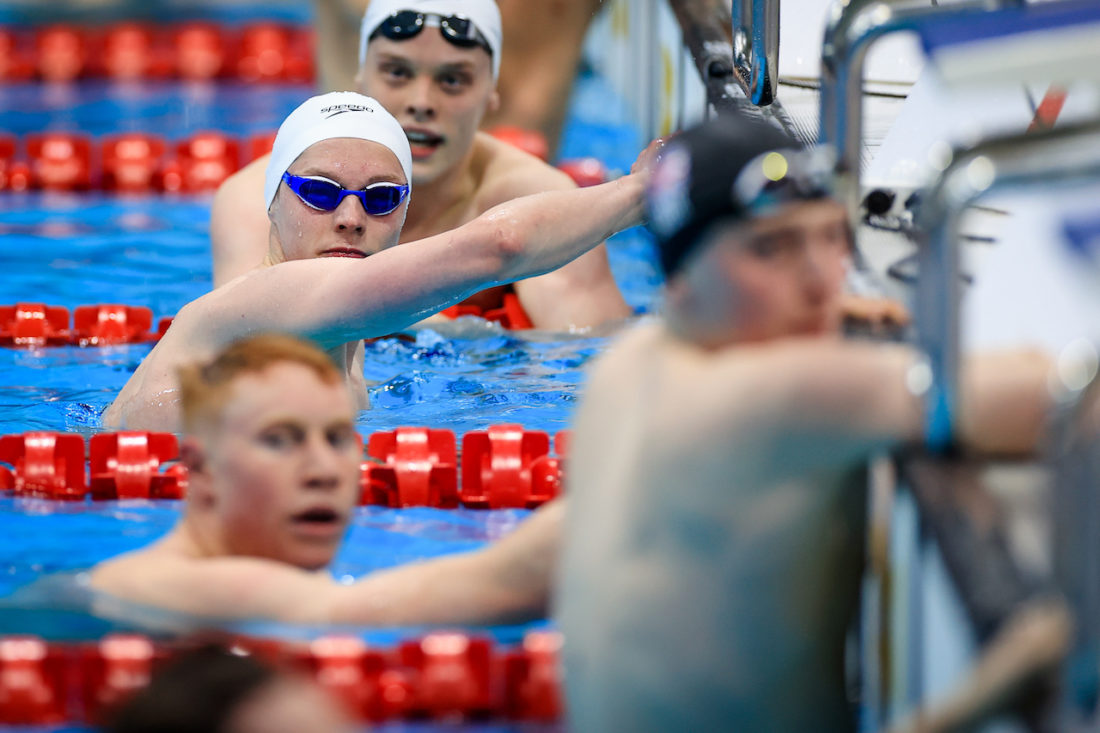 Half-way down his last length, Richards had got his feet to a place where Apple's fingertips were struggling to keep a grip as Russia and Australia also started to pile the pressure on defenders with two crowns to lose: the 4x200m and an unbroken record of making the podium in every Olympic relay final the UISA had ever entered, which was all of them barring those the 1980 boycott had blocked them from.
With the fastest split on the third leg, Richards handed over to Scott, who could have cruised to victory in 1:45 but roared home in the sole sub-1:44 of the Games, on 1:43.45, for gold in a European record and World textile best of 6:58.58.
Richard's parents, Simon and Amanda, spoke to The Times via Zoom from their home in Droitwich, where the Union Jack bunting is matched by the flags on mum's nails, fitting for an Olympic week she describes as "absolutely crackers … the most surreal experience of my life".
Matt may only be 18 but we have to look back eight years to find the seeds: at 10 he was in the pool for a few hours of swim practice a week but by 12, he was training a couple of mornings a week before school and five evenings a week after school at Worcester Swimming Club. It wasn't long before his talent called for more and his parents agreed to send their only child off to be a week-days boarder to the Royal School Wolverhampton and its elite swimming programme. It meant he could spend much less time in a car and go instead from pool to homework, food and bed in a more productive manner.
We're 20 years beyond the point Australian Bill Sweetenham told Britain as he arrived to turn around a sinking ship: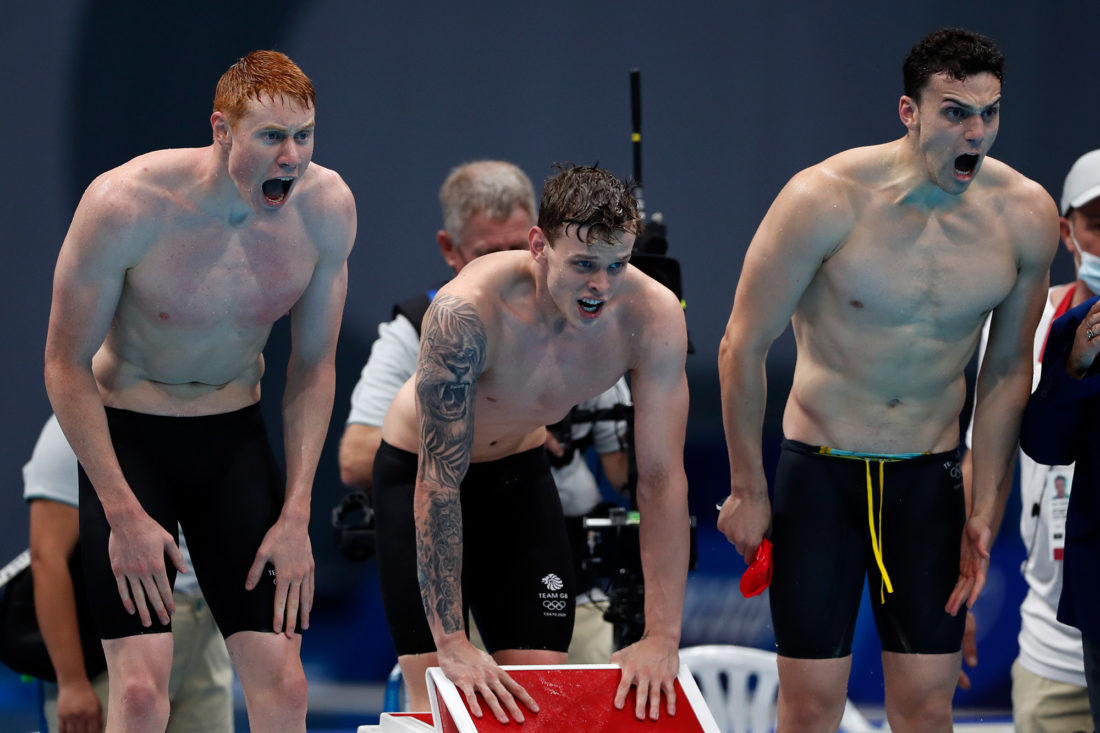 "If you have a really good prospect but the parents have to drive two and three-hour round trips, if the family unit might break under the stress, you have to step in and change the environment. That might be the whole family moving; it might mean moving the swimmer to a better situation that helps him or her and the whole family at the same time. It's not easy but if you aspire to success in the Olympic cauldron, you better be ready to leave no stone unturned. You can have birthday parties, evenings out and all the rest for the rest of your life; after the gold medal's round your neck."

Bill Sweetenham – photo – (l-r) Tom Dean, Matt Richards and James Guy yell Duncan Scott home – by Simone Castrovillari, courtesy of Speedo
The current performance team in Britain, led by Bill Furniss and Chris Spice, with former international Tim Jones working on talent and development pathways and Kevin Renshaw the experienced coach the Pathway Implementation Manager at British Swimming, have been working on strategies that speak to 'no stone unturned' within the limits of available resources.
Parents are critical in the decision-making process, of course. Richard's mum Amanda recalls: "It was one of the hardest decisions we've ever had to make. You have to give up your baby and miss out on a lot of his growing up. I'd cry all the way home on a Sunday."
And then in holidays, where there was no boarding, this: "I had to get up at half past three every morning and drive him to Wolverhampton and back for training, then do it again in the afternoon."
The school is fee-free but the boarding is not. Some £10,000 a year takes a big bite of a family budget. Note what it means and Amanda's understanding of the knife-edge that a ripped suit means to a stretched budget: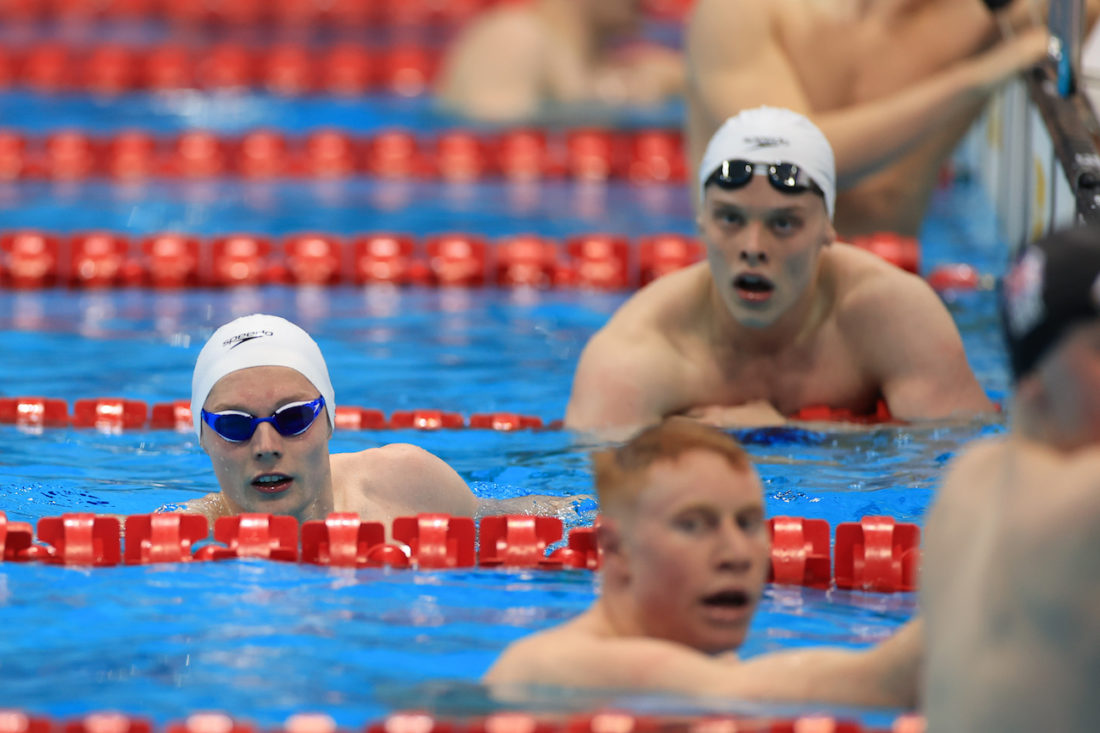 "It was like another mortgage and it was a big stretch for us — it meant we didn't have holidays and didn't do any decorating, and the house fell apart around our ears. But it was well worth it … you see so many parents at a meet who are practically in tears, because their daughter's just put her nails through a swimming kit and they've got to find another one."

Amanda Richards – Photo – The 200m podium at Britain Olympic trials – Duncan Scott, left, Tom Dean, near, and Matt Richards, far – by Georgie Kerr, courtesy of British Swimming
Crisell notes in Times 2: "In his 2009 memoir, the former world No 1 tennis player Andre Agassi wrote of his dad's merciless coaching style: 'Nothing sends my father into a rage like hitting a ball into the net. He foams at the mouth'."
Simon and Amanda Richards respond by noting that to raise a healthy and successful athlete, you need to be supportive, not pushy. A child's will and enthusiasm must lead the way. They also emphasise the importance of a young athlete learning to bounce back from "failure" as part of the perspective and understanding required to handle such all-but-inevitable moments of falling shy as part of the learning process.