Matt Richards Named British Swimmer Of Year For Double Gold At World Titles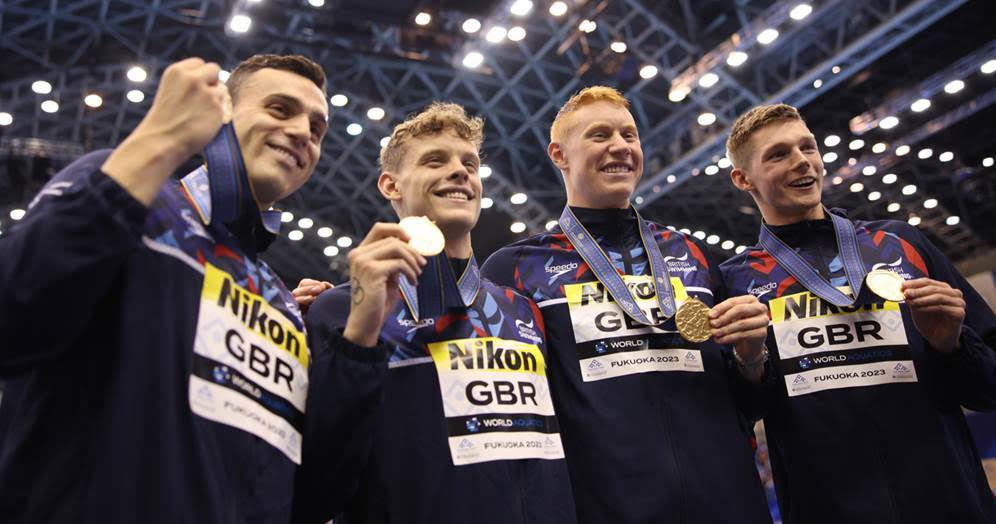 Matt Richards, World champion in the 200m freestyle and, with teammates Tom Dean, James Guy and Duncan Scott, the 4x200m freestyle this year, was named Britain's Swimmer of the Year at the national federation's annual niche celebration of achievement across all aquatics disciplines.
There are no awards for team events (nor media presence, nor even a press release) at the British Swimming Awards.
In the 200m freestyle at the 2023 World Aquatics Championships in Japan, Richards stopped the clock in 1:44.30, 0.02sec ahead of Dean, the pair securing another Brit 1-2 punch in the event two years after Dean pipped Scott by 0.04sec for gold and silver at the Tokyo Olympic Games.
That victory landed Dean the swimmer of the year award in 2021, while Bath coach Dave McNulty was aware coach of the year. A year later, Dean took bronze at the 2022 World Championships before Scott returned from illness to claim the Commonwealth crown for Scotland ahead of England's Dean in Birmingham, the city where the British Swimming awards was hosted on Saturday night.
Richards' win in Fukuoka was the first in the 200m free by a Brit at World titles since Guy claimed the 2015 crown. The 20-year-old, who at 18 was a member of the Olympic-champion 4x200m freestyle (same) quartet from Tokyo 2020ne, also established British records in all three rounds of the 100m freestyle (47.59, 47.47, 47.45) in Fukuoka in July and helped Britain to bronze in the Mixed 4x100m Freestyle.
Work With Richards Lands Livingstone Coach of Year Award
His achievements also helped Ryan Livingstone lift the Swimming Coach of the Year award for the work with Richards at Millfield.
In accepting the award on Saturday evening, Richards said:
"I'm over the moon. It's been a great year – this wasn't the goal at the start of the season, but obviously I'm super happy to walk away with this. It's a testament to my team, Ryan [Livingstone] and the rest of guys at Millfield and the hard work we've all put in. Hopefully we can just continue to improve and build now and have an even better one next year [Paris 2024 Olympics].

"It was my first individual gold on a senior level, so obviously that was massive. There were lots of things that didn't quite go right – the 100m wasn't necessarily where I wanted it to be, but getting the British record was still a big win. We've got so much momentum now, I've got a lot of confidence going into this year and I'm really excited to see what we can do in Paris."

Matt Richards
British Swimming Awards 2023
Athletes
Matt Richards – Swimming Athlete of the Year
Andrea Spendolini-Sirieix & Lois Toulson – Diving Athlete of the Year
Kate Shortman – Artistic Swimming Athlete of the Year
Kathy Rogers – Water Polo Athlete of the Year
Maisie Summers-Newton – Para-Swimming Athlete of the Year
Coaches
Ryan Livingstone – Swimming Coach of the Year
Alex Rochas – Diving Coach of the Year
Yumiko Tomomatsu – Artistic Swimming Coach of the Year
Alastair Roberts – Water Polo Coach of the Year
Andy Sharp – Para-Swimming Coach of the Year