Matt Richards Leads Another GBR 1-2 Punch With Tom Dean 0.02 Shy As David Popovici Misses 1:44s 200 Free Podium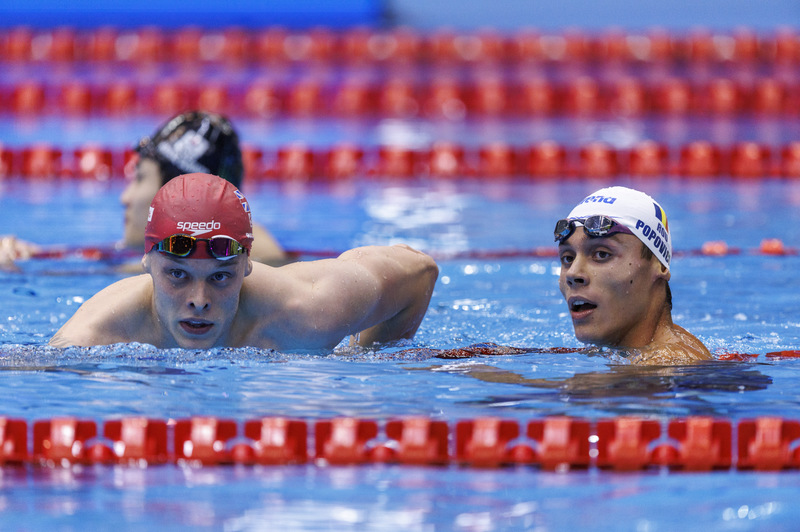 Matt Richards and Tom Dean punched another historic 1-2 for Great Britain in a global 200m freestyle battle at World Championships two days shy of the second anniversary of Dean and Duncan Scott's gold-silver epic at the Tokyo Olympic Games.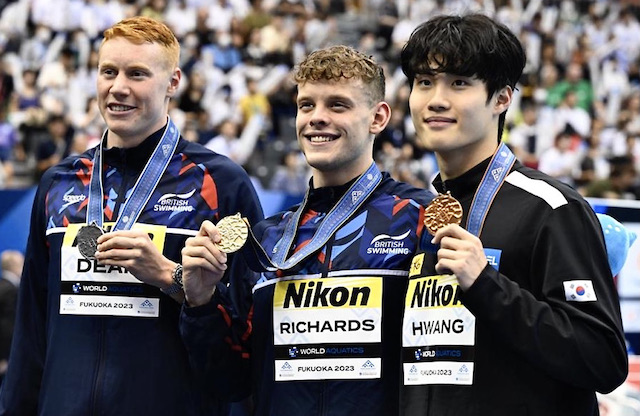 On that occasion, David Popovici was fourth, a 16-year-old destined for greatness. He still is but this was not his day and the 1:42.97 man who found himself locked off the podium in a top four of 1:44s.
He was among the safest bets at the championships but then sports doesn't work like that and I'm not a gambling man. Racing counts. Always. Richards got his hand to the wall in 1:44.30, 0.02sec ahead of teammate Dean, then Korean teen Hwang Sunwoo grabbed bronze in 1:44.42, Popovici fatigued and knowing the crown had gone, on 1:44.90.
In Tokyo, Dean, coached by Dave McNulty at Bath, clocked 1:44.22, Scott on 1:44.26 in a race Hwang led at the last turn before paying the price for rattling inside world-record pace for the first three lengths. Richards' new best time today makes it three Brits in the all-time top 3 in the 200m freestyle, Dean at No7, Scott No8 and Richards in at No9.
This was the first Brit 1-2 in the 200m free at Worlds but Britain had celebrated gold in the 200m freestyle before, James Guy, the remaining member of the Olympic-champion 4x200m freestyle quartet, having claimed the solo World title in 2015. He then rolled out the most successful relay career for Britain in the history of his sport, with this sensational count: Olympic (5, 2 gold), World (7, 3 gold), European (10, 7 gold) and, for England, Commonwealth (8, 2 gold).
Britain's strength in the 200m was not lost on Richards, of course, who emerged from his first World-title win to say: "It's pretty special. Me and Tom were chatting just before we got our medals, it's got to be one of the most dominant events for a country in the history of the sport.
"Our 4x200m relay in a few days time, we've got two individual world champions [including James Guy], an individual Olympic champion and a guy, Duncan Scott, who's had world and Olympic medals on that event multiple times. It's definitely a really dominant event for us, but it's incredible for me to have my turn on top of that podium and hopefully continue that success going forwards."
Tokyo 2020ne Flashback:
Matt Richards – "You have to give up your baby and miss out on a lot of his growing up. I'd cry all the way home on a Sunday" – Mum
Popovici Off The Pace As Richards, Dean & Hwang Steam Home
In Tokyo two years ago, Popovici was fourth, behind Brazil's Fernando Scheffer, on 1:44.68. Terrific for anyone, sensational for one so young. The reigning World champion was slower today. He raced inside World-record pace to half way, on 50.18, led at the last turn a second ahead of Richards, the Brit in third but with not much space between the four following the Romanian.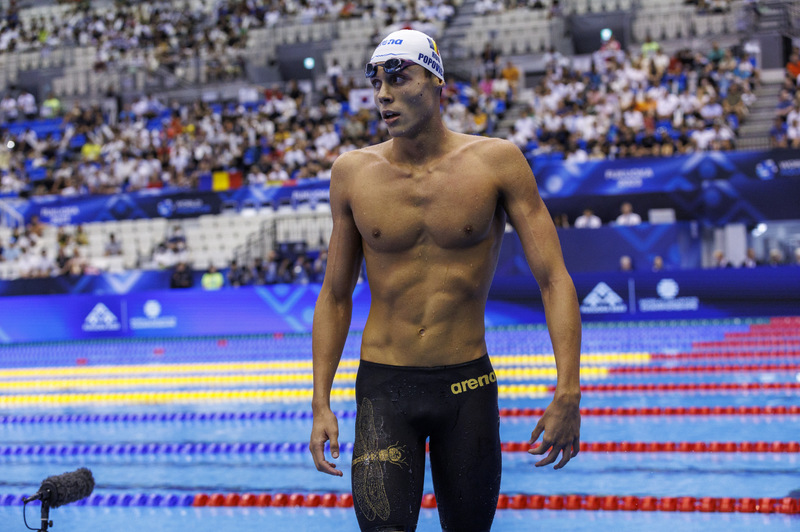 The dynamics of the Fukuoka race then shifted just as it looked like Popovici would retain the crown he claimed a big comfort zone ahead of the rest last year in Budapest when Dean took bronze. A taper not quite on, a response to the pressure of momentum building around him? Explanations to follow but what was clear was clear: the Brits and Hwang smelled blood and as Popovici struggled, they pounced, dug deep and rode the wave of belief that was part of the fuel of Britain's most successful Olympics in the pool at Covid-delayed Tokyo in 2021.
The race entered the top 4 of fastest podiums in the event and marked only the second time in history that four men finished inside 1:45. The record podium was 2009 but it was in 2011 that the grit of proving themselves after the shiny suits era swept not four but five men inside 1:45, led by Ryan Lochte, who popped his USA teammate Michael Phelps.
Richards, who shifted programs from the Bath Performance Centre to Millfield and coach Ryan Livingstone last year, emerged from battle to say: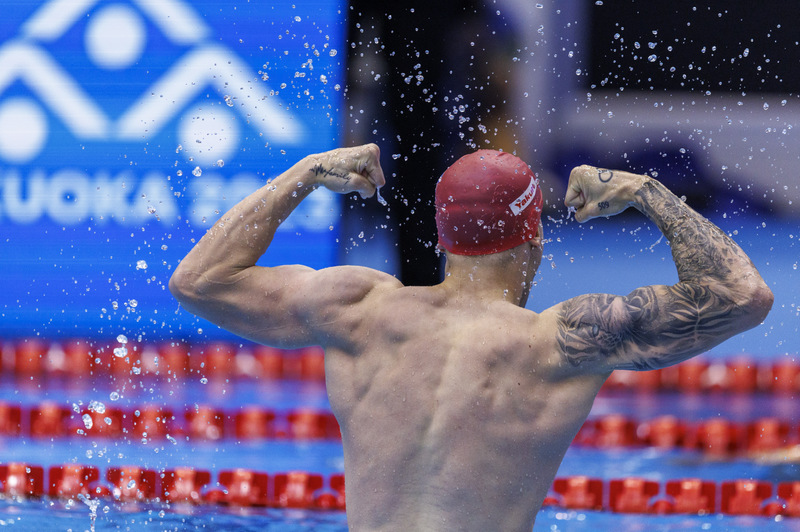 "I'm over the moon. That was a hell of a race, probably one of the most stacked 200 freestyle fields ever. It's awesome to land a 1-2 for Great Britain one year out from Paris and after Tom and Duncan did it in Paris. I was lucky to be breathing to the right down the last length so I could see where everyone was. We got the job done and I can't wait for the relay."

He later added:

"It's definitely a pretty cool feeling! I said after Tokyo, being part of the 4x200m Free relay gold, that the next step for me was trying to win individual medals.

"Last year was a bit of a setback for me, it wasn't going my way, but I made some changes and learned a lot from a tough year. They say you learn far more from your failures than your successes and I think that's true … so, it feels pretty incredible now to be stood on top of the podium, a year out from an Olympics again, it fills me with a lot of confidence, but the work is far from done yet.

"We've still got guys like David Popovici going 1:42s, so a 1:44.3 is great, but that may not be enough to win it next year. This is just the beginning of a two-year cycle into the Games, we've got a big step of work to do now to get to where we want to be next year.

Matt Richards. Photo – Matthew Richards saw the back of all challenges when he stopped the clock for gold 0.02sec ahead of teammate and Olympic champion Tom Dean (Photo by Patrick B. Kraemer / MAGICPBK)
Tom Dean, with six 200 free podium prizes for Britain and England now in the vault, was delighted to have played a podium role in such a terrific tussle: "I was breathing the other way so I didn't see the other boys! I was just 'get your head down, work for that last wall'. I've had so many people come up to me and say, 'that was a great race!', I wish I could've watched it, but unfortunately I was in it.
"That last 50m, you just have to go hell for leather, give everything you possibly can and hope you can get your hand on the wall first. There was about 0.10 secs between the top three boys, so a really, really tight race."
Gallery – Live in Fukuoka, Patrick B. Kraemer / MAGICPBK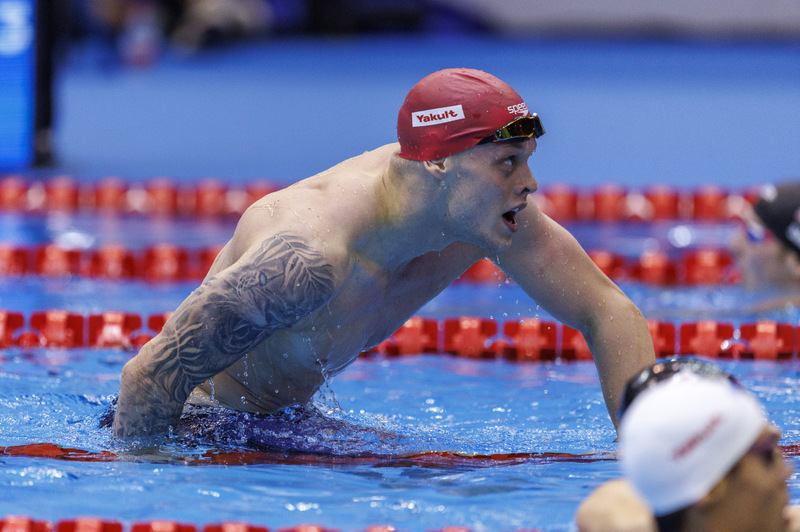 In Rome last year as Popovici excelled in European senior waters at the pool where shiny suits held sway back in 2009 (43 assisted World records in eight days), he reckoned the the 200m free global standard (Paul Biedermann, GER, 1:42.00) from that era was an easier target (not just for him but in general) than the women's 200m butterfly (Liu Zige, CHN, 2:01.81 )and the men's 800m freestyle (Zhang Lin, CHN, 7:32.12).
That 1:42 zone remains in Popovici's sights for Paris 2024. But not this day. This day belonged to the Brits in a result that bodes very well indeed for the 4x200m free when Scott and James Guy, who missed the cut for the solo 200m at trials won by Richards back in spring, join them once again as Olympic champions looking to stamp their authority on the long relay once again as the fastest quartet ever in textile suits. The Fukuoka 4×200 unfolds Friday.
The significant splits compared:
Fukuoka gold:
1:44.30 – 24.23; 50.83 (26.60) 1:17.77 (26.94) 1:44.30 (26.53) Matt Richards GBR
Textile
1:42.97 – 24.10; 50.36 (26.26) 1:16.96 (26.60) 1:42.97 (26.01) David Popovici ROU 2022
1:43.14 – 24.55, 50.64 (26.09) 1:17.16 (26.52) 1:43.14 (25.98) Yannick Agnel FRA 2012
1:43.21 – 23.77; 49.96 (26.19) 1:16.27 (26.31) 1:43.21 (26.94) David Popovici ROU 2022
1:44.06 – 24.81, 51.45 (26.64) 1:18.26 (26.81) 1:44.06 (25.80) Ian Thorpe AUS 2001
1:43.86 – 24.47, 51.00 (26.53) 1:17.73 (26.73) 1:43.86 (26.13) Michael Phelps USA 2007
Non-textile
1:42.00 – 24.23, 50.12 (25.79) 1:16.30 (26.18) 1:42.00 (25.70) Paul Biedermann GER 2009
1:42.96 – 24.31, 50.29 (25.98) 1:16.84 (26.55) 1:42.96 (26.12) Michael Phelps USA 2008