Marco De Tullio Finds Balance For World & Home-In-Rome European Campaigns With 200m Lifetime Best Of 1:46.2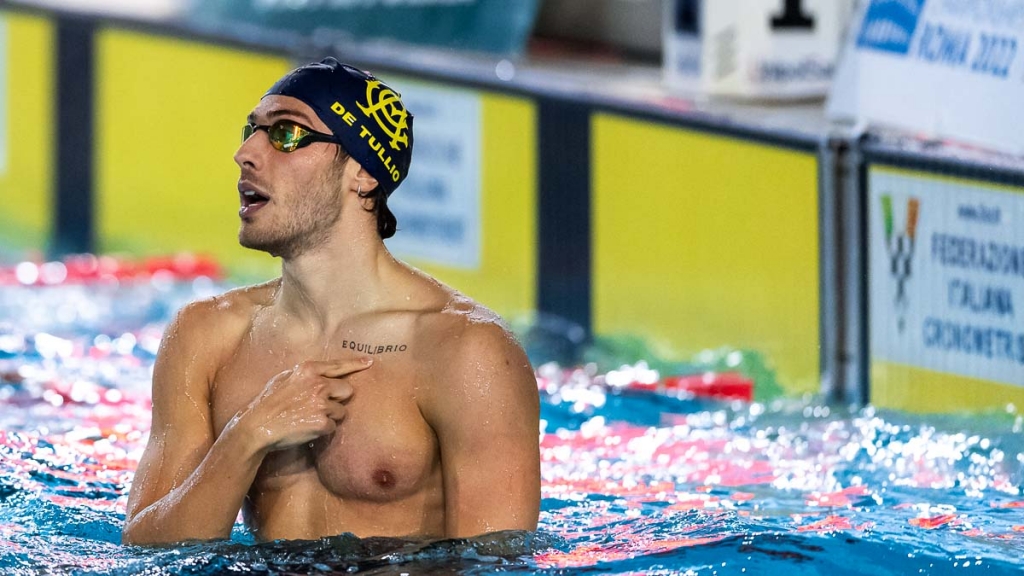 On victory at Italian nationals, Marco De Tullio pointed to the 'equilibrio' tattooed on his chest as if to sum up not just his form but the balance of things on the way to international waters in summer season 2022 on a lifetime best of 1'46"29 over 200m free at the helm of five 1:47 men who will join him in relay action at the World Championships in Budapest in June and the home-in-Rome European showcase in August.
De Tullio had already qualified for both big competitions in the 400m freestyle on the first day of action. Today, he led the way in the 200m on the penultimate evening of finals in Riccione.
The 21-year-old from Bari – racing for CC Aniene and coached by Christian Minotti, went through the half-way in 52.31 and was home 0.27sec inside his previous best, of 1:46.56, clocked on August 13 in Rome last year.
De Tullio will be back in Rome this August to have a tilt at the tough middle-distance events, in which speed is building in the 200m and across all distances 400 to 1500m.
He was pressed by chief domestic rival in both 200 and 400m, Olympic and Worlds medallist Gabriele Detti, home second in 1:47.50 and followed in a flash by Stefano Di Cola (1:47.55), Stefano Ballo (1:47.75), Matteo Ciampi (1:47.81) and a man with a name associated with Italian speed in the 200m, Matteo Lamberti (1:47.97). A 4×200 on the move.
De Tullio, who claimed bronze at European short-course titles in both the 200 and 400m, said:
"I changed a lot of things in this period and it shows, I would say: the results I was hoping for are coming. I am very calm and convinced that I'm on the right path. This time is excellent, but I feel I can do even better."
De Tullio's training and junior partner Lorenzo Galossi topped the B final in 1:48.26, an Italian age record.
The Italian championships are not the only qualifier for selection to the World and European Championships and Italy is likely to have representatives in several events where the win in Riccione was shy of the target time.
In other action there were also wins for:
Silvia Di Pietro, whofell 0.1sec shy of the Rome cut on 25.10 in the 50m free but went under the mark in heats on 24.97
Margherita Panziera, on 1:00.25 in the 100m backstroke. Outside the cut times for Budapest and Rome
Piero Codia, on 51.65 in the 100m butterfly, outside the cut for Budapest but 0.05sec inside the cut for Rome.
Matteo Restivo, on 1:57.56 in the 200m backstroke, 0.15sec ahead of Lorenzo Mora, both outside the cuts for both major internationals
Ilaria Cusinato in the 200 'fly on 2:10.36, far from both A cuts
Luca Pizzini on 2:10.98 for the win over 200m breaststroke, just under a second shy of the Rome cut