Marchand & The Detail In The Sun Devil Guided By Bowman On The Trail Of Phelpsian Medley Heights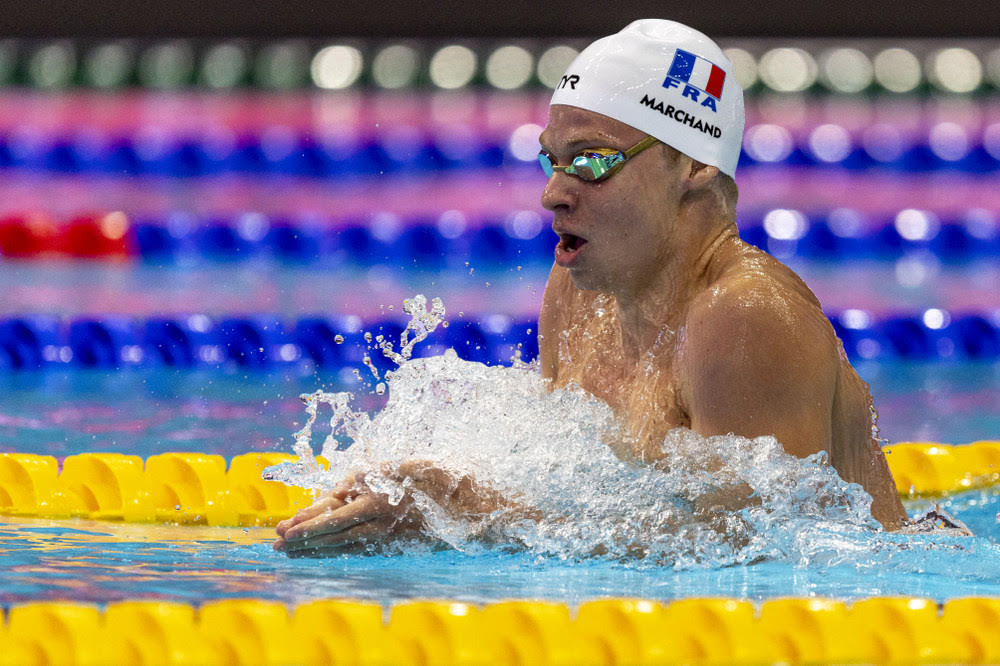 Today's the day Léon Marchand takes to his blocks in the 400m medley at French Championships in Rennes after a series of more than solid 200m swims (and victories) on breaststroke, butterfly and freestyle.
[Update – Marchand retains French title in 4:10.57 – see below]
The watching world of swim fandom, niche watchers and a wave a tad wider than that in France is fixed on the clock. Wherever that stops in relation to his best or the best ever, look to glistening detail for a glimpse of the trail of a golden performance in prospect at Paris 2024 and a home Olympics a little over a year from now.
Take Michael Phelps, the American great whose 4:03.84 from 2008 remains the 400m medley World record. He ended his game-changing career in 2016 as Olympic champion and 1:51.51 World-record holder over 200m butterfly, having raced inside 2 minutes in his signature event more than 100 times in his career and more than 30 time inside 1:55.
I once asked coach Bob Bowman about the purpose of him showing up at a domestic meet in the deep winter of a prep phase of training and clocking around 1:57-58.
Bowman, who now coaches Marchand at Arizona State University, home to the Sun Devils, replied: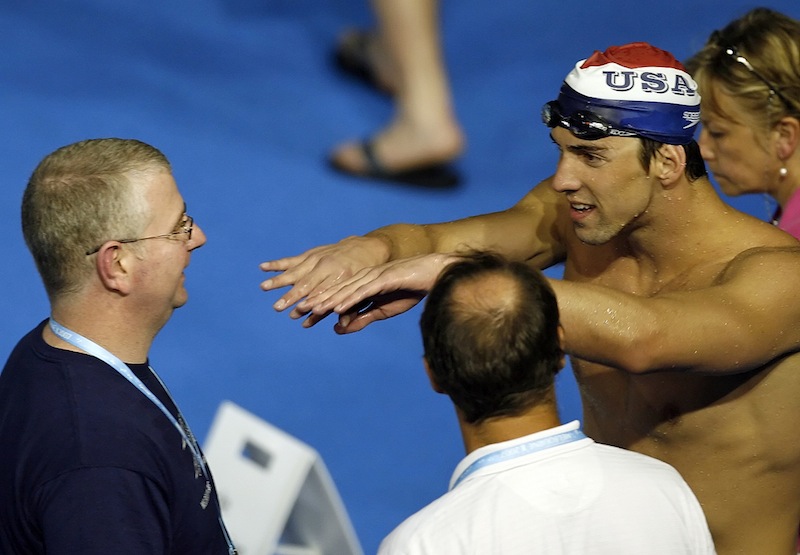 "Every meet has a purpose even though that purpose is not obvious to anyone else. It could be a singular matter of saying 'we're here for turns, approach to the wall, off the wall, streamline, break into stroke', getting that right and making every single moment of focus count as part of the process of working on every aspect of the performance you're building. The overall time of a swim is not what we're looking for at that point; it's the detail, a chance to hone in on an aspect of a performance in a competition setting, where you might also practice some habits out of the water."

Bob Bowman – Photo: Michael Phelps (R) talks to his coach Bob Bowman (L) at the Susie O'Neill pool at the FINA Swimming World Championships in Melbourne, Australia, Friday, March 23, 2007 – by Patrick B. Kraemer / MAGICPBK
Beyond the lights, beyond the ken of those watching but in plain sight and with the athlete understanding precisely the point of the exercise, in the moment and for moments to come. You may have heard it hinted that where the swimmer needs to endure over 400m and needs to sprint within that endurance, train the 200m.
So, 2023, Léon Marchand in Rennes: 2:06.59, French record and all-time No4, 200m breaststroke; 1:46.44, 200m freestyle; 1:55.79, 200m butterfly; 1:56.25, 200m medley – in that order, day 1 to day 4. The remoteness of swimming coverage these digital days, even if there is a video of a race, makes the result sheet the sharpest clue-giver but neither video nor flow of splits, nor a combination of both, gets close to actually being there to watch and witness every detail of a performance in context.
In that sense, some of the 'purpose' that unfolds in Rennes on day 5 will as Marchand seeks a fifth national solo crown in as many days, may be masked by the time as well as the circumstance.
Marchand is racing just shy of a year after he rattled Phelps' global standard with a 4:04.28 European and World-Championship-record victory in Budapest. He's untapered for French trials, so 2:06.59 and today's 4:10 win over 400IM? Extremely good.
Here's how he swam in Rennes today:
56.54; 2:01.01 (1:04.45); 3:11.20 (1:10.18) 4:10.57 (59.37)
Here's how his and Phelps' best splits compare, breaststroke the glaring strength of strengths of the Frenchman set against those of the American with advantage on 'fly, backstroke and freestyle:
54.92; 1:56.49 (1:01.57); 3:07.05 (1:10.56) 4:03.84 (56.79) Phelps 2008 WR Olympic Title
55.54; 1:58.66 (1:03.12); 3:05.94 (1:07.28) 4:04.28 (58.34) Marchand 2022 WCR, ER World Title
And here's the best of them over 200m (at this point of pitch in the live roar of Léon):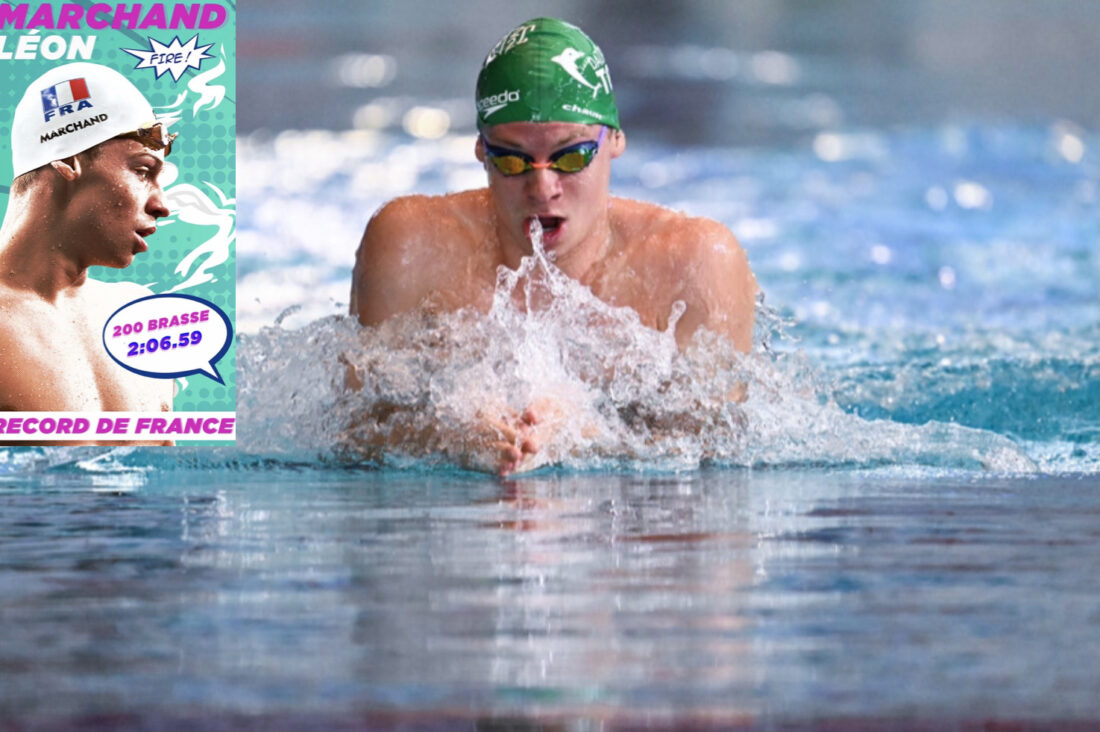 Phelps
Fly 1:51.51 (AR, former WR)
Back 1:54.65 (US all-time No 6)
Breast 2:11.30 (US all-time No 34)
Free 1:42.96 (AR, former WR)
Medley 1:54.16 (US all-time No2)
Marchand
Fly 1:53.37 (FR, all-time No 9)
Back 2:11.49 (seldom raced, his best from 2019 as a 16-year-old unreflective of what it would be today)
Breast 2:06.59 (FR, all-time world No4)
Free 1:46.44 (France all-time 3; event seldom raced; best as junior in 2019, 1:53.74)
Medley 1:55.22 (FR, all-time No 6)
During his career, Phelps led the 200m world on freestyle, 'fly and medley and was in the world top 10 for a while on backstroke. Marchand is now in the all-time world top 10 on 'fly, breaststroke and medley, his freestyle ever sharper, his backstroke likely to have improved.
Today's splits may tell us more about the direction of light, mirrors, magic and moments to come. Predictions are not my thing. What will be will be but it's not hard to see the significance and magnitude of a sum of relative subtle improvements in a 400m medley flow, whichever direction you look in. Two of many possible ebbs and flows, for example:
Take Marchand 2022 and give him 0.2 on 'fly, 0.6 on backstroke, leave his breaststroke alone, and give him 0.2 on freestyle = 4:03.28
Or achieve the same thing by making Marchand stand still on the clock at the bookends but take half a second off his back and breaststroke splits = 4:03.28.
It may well be much quicker, of course. And, as history shows, slower can get the race-day job done too.
Whatever the purpose of each passing meet Marchand has excelled in when it comes to working on the parts of the sum, including the learning curve of skill and speed we witnessed in his NCAA season for ASU, it is not hard to imagine the last days of Phelps as a solo World record holder in the pool as something near and nigh, regardless of the clock in Rennes this day. Look to the detail in the French Sun Devil's splits: six seconds down on best, just about half of that ebbed away on breaststroke, the rest scattered throughout the swim.
Ultimately, only the swimmer and coach will know why, what it means at the heart of the why and wherefore of the hour, the work put in, the work to come and and how it fits the puzzle of Paris 2024.