Marchand Sings Les Bleus – A Song Of Providence For Paris After Third Gold In 1:54.82 200 Medley ER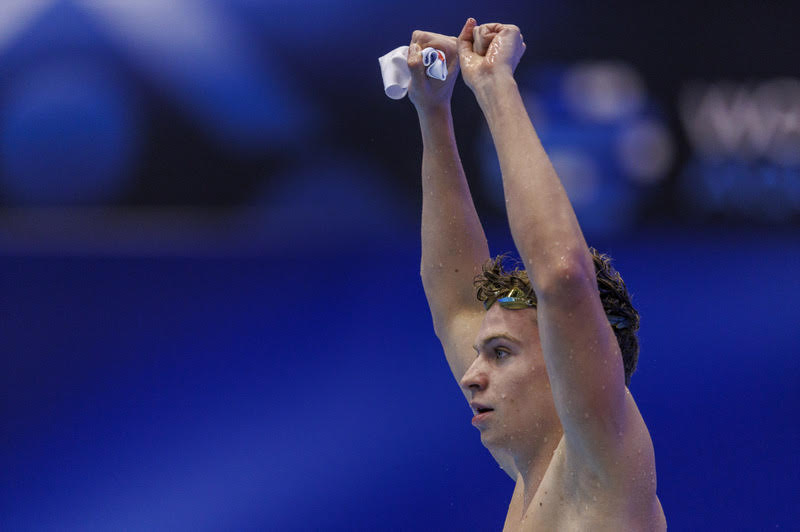 Léon Marchand completed a hatrick of golden goals with a stunning 1:54.82 European-record victory that made him only the third man in history to race inside 1:55 after American duellers retired Michael Phelps and reigning World-record holder Ryan Lochte.
It's been 12 years since Lochte clocked a stunning World record of 1:54.00 to pip Phelps by 0.16sec in a blistering battle for the 2011 World title in Shanghai – and for 12 years the world has waited for another man to break the 1:55 barrier.
Marchand, 21, is that man. Titles in the 400m medley and 200m butterfly in the vault, the 21-year-old set French hearts racing with a force-majeure medley masterclass inside the pace at which Phelps became the first man ever to get into the 1:54s, for the 2007 World title in Melbourne in 1:54.98.
Asked by Céline Nony of L'Equipe what he took most pleasure and pride in this week of triple gold, Marchand said: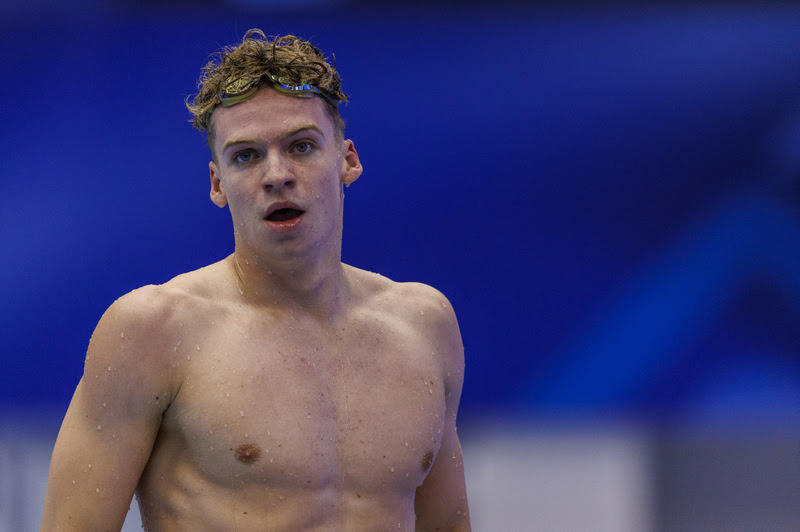 "To have done what I did tonight after what I did earlier in the week. To do 3 from 3, to win three titles, to meet expectations, to handle the pressure. To be in the final and, above all, to have fun."

On the Race:

"It was a great final, there was a big field and it went quickly a bit all over the place. I was at (line) 4, I was able to see a bit of everything that was going on. And I'm having a good race, I'm winning, I'm happy. In the breaststroke, I gave everything … and afterwards, in the crawl, it was hard but I gave it everything until the end. I wanted to swim a little faster. Lochte swims 1:54.00; I would have liked to have done done 1:54.50, something closer to that. But it's the first time I've gone under 1'55, and I'm doing better than last year, so I'm happy. "

Léon Marchand – photo by Patrick B. Kraemer
On his progress from a 1:55.22 for the 2022 crown, Marchand said: "We will have to analyze the race. I think if I manage to start faster, I can [get faster] because in general my breaststroke and front crawl are pretty good. On crawl, I lack a bit of power to finish, but I think it's mainly the butterfly and the backstroke where I need to be able to get a little faster."
Guided by Bob Bowman, Marchand was too much for anyone this day but Brits Duncan Scott and Tom Dean followed him onto the podium and celebrated a new bout building on the way to Paris after gold and silver in the Tokyo 200m free and shared gold in the 4x200m free.
Britain had had just one medal in the history of the 200m medley at Worlds, a bronze for David Wilkie (on his way to 200m breaststroke gold at the 1976 Olympics) in the inaugural World-title final in 1973. Since then, nothing. Until today.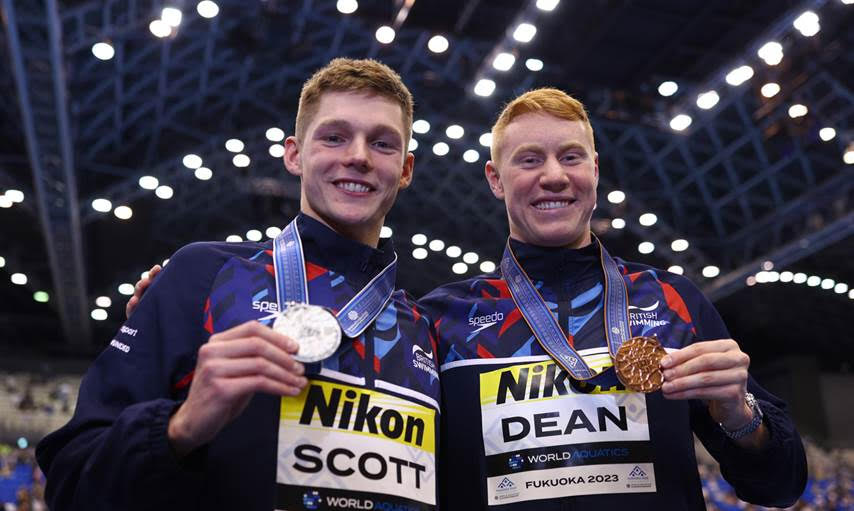 Scott, with a season of lean racing opportunities against big opponents behind him, was home in 1:55.95, Dean out on then wing in lane 1 on a personal best of 1:56.07, locking American Shaine Casas and Carson Foster out of the medals.
Racing counts, as Dean and Scott know so well, having fought side by side to big prizes season after season back to their youth. In Tokyo, Dean struck gold by 0.04sec over Scott in the Olympic 200m free final, took a gold each with Matt Richards and James Guy in the 4x200m free, and Scott took silver in the 200m medley and the 4x100m medley.
Marchand was too young to figure and is yet to make his Olympic debut as a serious contender. It'll be a big one for all the reasons we saw today. He was in a league of his own, as the split laid out below show and as anyone watching the race will have noticed in such majestic details as Marchand's Phelps-Lochte-like dolphin drive off the last wall to home.
All great stuff in a race stacked with wows. If Scott was 6th after 'fly, fifth after back and up to third by the last turn, look at Dean's trajectory: 7th, 8th, 7th more than a second behind Scott and 2.39 behind Marchand. And then he dropped a 27.12 in a race in which Scot's 28.12 was the next best homecoming split in the final. Dean was slower throughout of course but his last length was swifter than Lochte and Phelps ever raced, even when they graced the pantheon with their 1:54.00 and 1:54.16 duel at Shanghai 2011 that remains the all-time top 2 by a wide margin. The gap to Marchand today, in fact.
The Brits and their coaches, respectively Steve Tigg in Stirling and Dave McNulty in Bath, now have more to work on in the relative infancy of medley missions for freestyle aces with an assortment of other skills worthy of prizes when put to work as the parts of sums. The Brits can make big strides in the year ahead. And we can bank on Marchand doing so too.
The Race: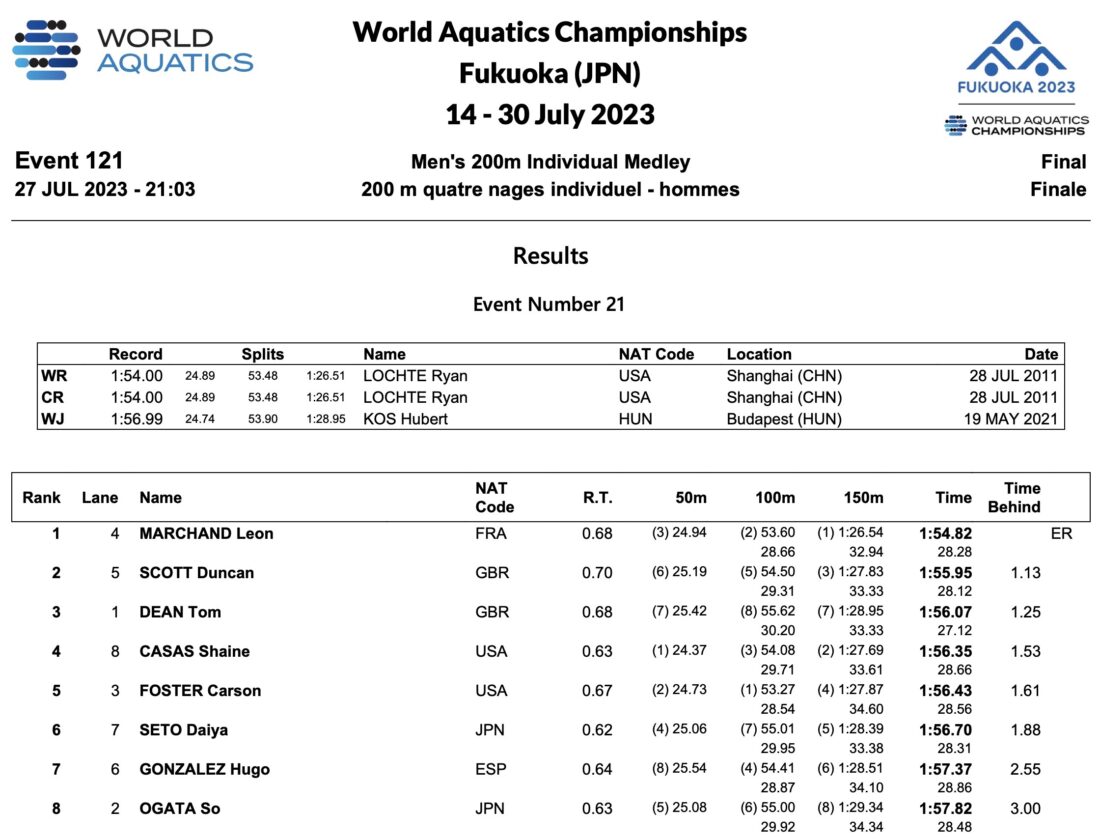 Marchand Joins A Club Of Doubles & Double Doubles
In victory four days after a bombastic 4:02.50 World record in the 400m medley inside Phelps' 2008 standard, Marchand became the seventh man since 1973 to claim the medley double (Hargitay, Darnyi, Phelps, Lochte, Seto and Kalisz) and the fourth man to do that twice (Darnyi, Phelps, Lochte), albeit just one-year apart owing to a crunch of Covid contracts that screwed up a race calendar already in intensive care after decades on a bolt-on diet.
In the midst of all that madness, swimmers and coaches work on and the likes of Marchand emerged a solid hope with great genes as a junior and school boy: Léon is the son of Xavier Marchand, 1998 Worlds silver medallist in the same 200IM event, and Céline Bonnet, also a former French international swimmer who raced on backstroke and medley at the 1992 Olympic Games and made the semi-finals of the 200m medley for 14th place overall.
Marchand sailed The Pond to Arizona a couple of seasons back and under the guidance of Bob Bowman, has prospered greatly. Bowman has now coached three of those men with medley doubles to their credit, Phelps, Kalisz and the Frenchman topping news bulletins back home as the great hope for a home Paris Olympics in the pool.
Here's where Marchand got to in the history of speed today and relative to those he raced who got closest:
The splits compared – a medley nerd's delight:
2023
24.94; 53.60 (28.66) 1:26.54 (32.94) 1:54.82 (28.28) ER Marchand
25.19; 54.50 (29.31) 1:27.83 (33.33) 1:55.95 (28.12) Scott
25.42; 55.62 (30.20) 1:28.95 (33.33) 1:56.07 (27.12) Dean
Tokyo 2020ne
24.78; 53.78 (29.00) 1:27.63 (33.85) 1:55.00 (27.37) Wang Gold
25.06; 54.52 (29.46) 1:27.82 (33.30) 1:55.28 (27.46) Scott Silver
Shanghai 2011 – the best two performances ever:
24.89; 53.48 (28.59) 1:26.51 (33.03) 1:54.00 (27.49) Lochte Shanghai gold WR (the first set in the new textile suit era)
24.83; 53.67 (28.84) 1:26.80 (33.13) 1:54.16 (27.36) Phelps Shanghai 2011 silver
And how they went in textile and then shiny in the decade before their best:
24.96; 53.58; 1:27.47; 1:54.98 Phelps Melbourne 2007 gold
24.72; 53.30; 1:26.28; 1:54.10 Lochte Rome 2009 gold
In an interview with L'Equipe's Céline Nony, Marchand was asked to express how he felt about the 200 medley. He said: "I'm going to savour it, just as I savoured the 400m medley and the 200m butterfly but inevitably it's a loss of energy too when you explode with joy, so I keep my emotions under wraps a little. I'll soon be happy to be on holiday and savour it all then."
On his third gold of the week, he said: "Three out of three, it's nice, it's not easy to recover after a big victory like the 400m medley (Sunday) but I got back into it, I managed to make the most of everything, the nice moments spent here. I'm happy to have made three out of three: the most successful French individual [gold] count [at one championships]. It's cool … I think it's just the beginning. "
The Brits Build A Bout On The Back Of Many A Tough Fight
Scott missed the Budapest Worlds last year following illness. He was glad to be back isn the fray and up on the podium two years after Olympic silver. He said: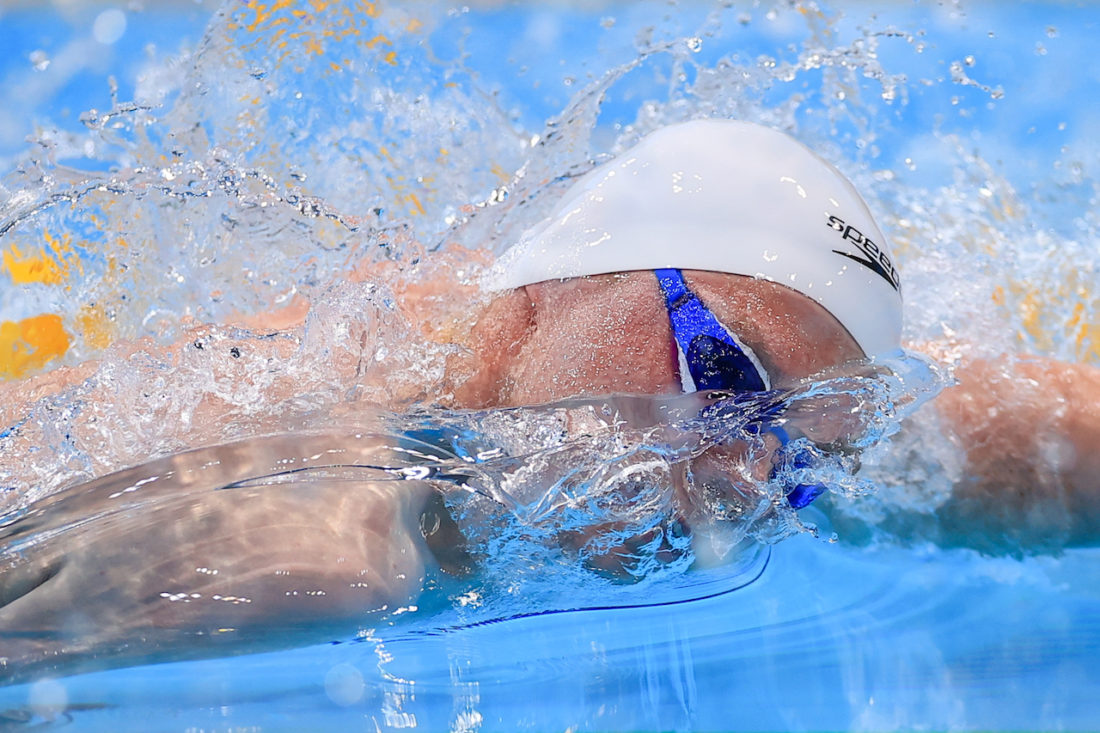 "I was absolutely gutted to miss out on Worlds last year. What I love to do is compete on the highest stage, and not getting to do that last year was really upsetting. Look, it's the first time I've raced some of those boys – a lot of them are really young, Carson, Leon and then it's the first time on an international stage with Deano, really. I'm just really happy to be back in the mix there. I stuck to what I wanted to do really well. I was just hurting at 150m more than I thought I would be – but to give myself a chance in the race, I knew I had to be there at 150m. I was really happy with that."

Duncan Scott – by Georgie Kerr, courtesy of British Swimming
Dean, silver medallist behind Richards in the 200m on Tuesday, added a fifth medal to his World Championships vault today, Scott a sixth. Dean paid plaudits to his teammates coaches and entourage as he said:
"I love being up there on the podium with my teammates because we are really good mates, it's a united front with everyone on this team. Duncan, I've obviously raced him for years and shared podiums with him at the highest level and every domestic meet in between … [in the] 200m free and 200IM, we are really forces to be reckoned with. It's brilliant, I couldn't have asked for a better result!"