Marchand Keeps Marching With 1:52 Victory In 200 'Fly & Lane 4 Ticket To Next Medley Final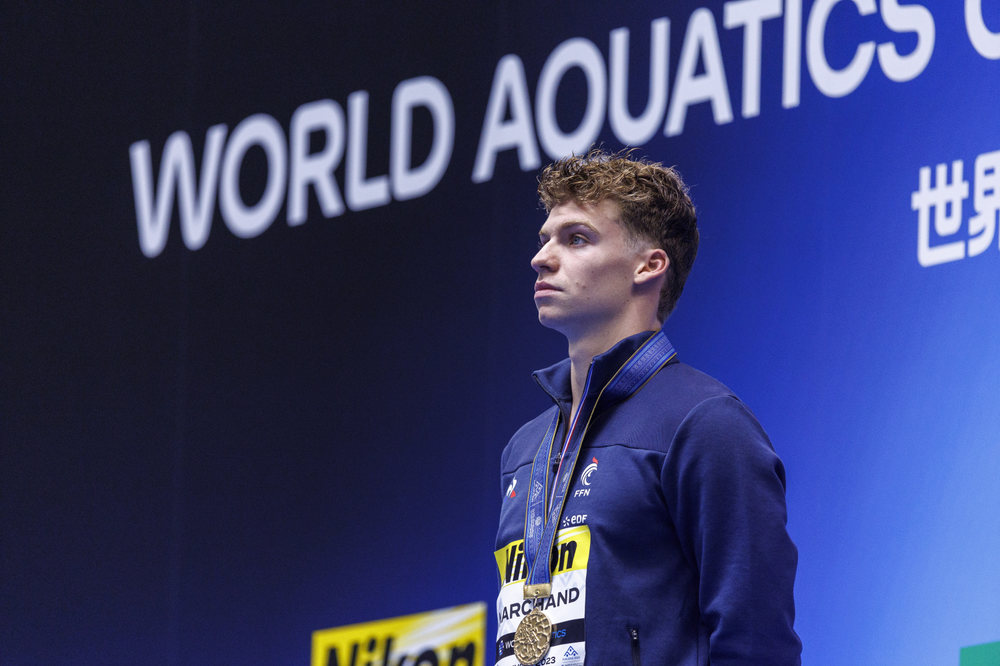 Léon Marchand was on the march for more gold medals at the 20th World Aquatics Championships today, a dominant 1:52.43 victory in the 200m butterfly preceding a ticket to lane 4 for the 200m medley showdown tomorrow at the Marine Messe pool in Fukuoka.
Marchand is the first Frenchman ever to take gold at global long-course level in the 200 'fly, at Olympic and World levels. His victory unfolded on the one-year countdown to a home Games in Paris. National sports paper L'Equipe's Céline Nony popped the question – how did he feel about that?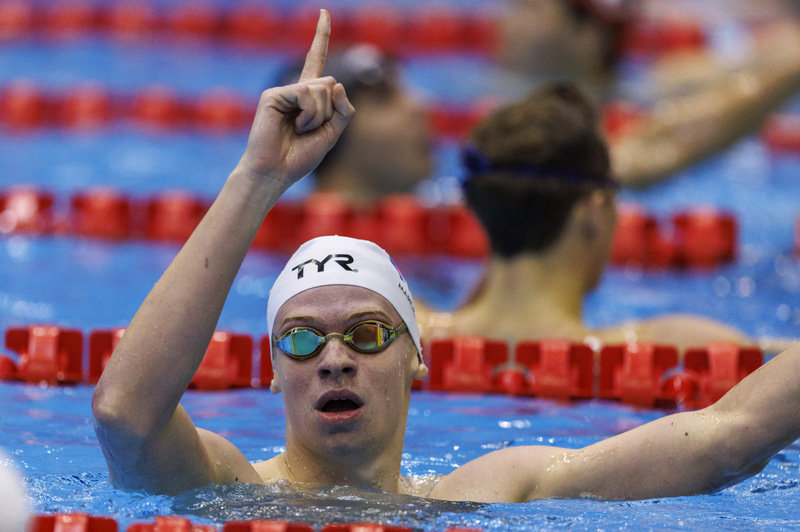 "I hadn't thought about it, but it's a nice preparation. How I perform, how I manage the pressure, how I manage to swim faster in the evening in the final. Its' a process. Every time. And above all, how I have fun. I really enjoy swimming. I think it will be the same in a year."

Léon Marchand – Photo by Patrick. B Kraemer
The 200 'fly silver went to Poland's Krzysztof Chmielewski, the bronze to Japan's Tomoru Honda, in 1:53.62 and 1:53.66, a shared place just 0.16sec away in the shape of Thomas Heilman of the USA and Ilya Kharun, who lowered his own Canadian record as the first Canadian to make a 200 'fly finals at Worlds since 1986.
The Frenchman's four lengths on 'fly represented more masterstrokes in versatility on Marchand's elevation to the elite of the elite: his winning effort was the third swiftest all-time, only Kristof Milak and Michael Phelps ever faster, at a stunning 1:50.34 and an awesome 1:51.51 (1:52.09 in textile, too) respectively.
So out ahead on the clock have the Hungarian, absent from Fukuoka, and the American been that Marchand's tremendous effort does not make the all-time top 10 performances list owned by Milak (top 5 and two other efforts) and Phelps.
Here's how Marchand, based with Phelps' mentor Bob Bowman in Arizona, stacks up against the top 2 all-time and the approach to Paris, including his own progress, after silver in Budapest behind Milak last year:
Let's get to the test he travelled and the timewarp twist in the tale:
24.19; 51.89 (27.70) 1:20.51 (28.62) 1:50.34 (29.83) Milak WR Budapest 2022
25.52; 54.25 (28.73) 1:23.66 (29.41) 1:53.37 (29.71) Marchand Budapest 2022
25.42; 53.59 (28.17) 1:23.15 (29.56) 1:52.43 (29.28) Marchand Fukuoka 2023
24.66 52.88 (28.22) 1:21.57 (28.69) 1:50.73 (29.16) Milak Gwangju 2019 WR
24.76 52.88 (28.12) 1:21.93 (29.05) 1:51.51 (29.58) Phelps Rome 2009 WR
So, Marchand made half a second gain on the first three lengths and half as second down the last lap, a balance of gains in speed and stamina in the past year of preparation from excellent to outstanding, outer orbit a relative place on the backs of doors hidden in the pages of private journals is the scribbler has any sense, until the feast of greatness baked on a low light of consistent heat and commitment is placed on the table for all to greet with a sharp intake of breath. Bowman knows how that feels, having been entitled to take a bow for each of Phelps' 28 Olympic medals, 23 of them gold, and part of a pantheon of 66 golds, 14 silver and 3 bronzes for the USA. That's 83 podiums – practice now feeling into a France's hopes and prayers.
Meanwhile, summing up just this one busy day, Marchand told Nony at L'Equipe: "The 'fly was great. I got into my flow from the start, I took full advantage, I pushed every stroke. At the 100m, I saw that I was leading, so I really seized the moment and then gave it everything down the last 50. And there it was 1:52: it's beyond good."
Asked how the move from 'fly to the medley semi had felt, he said: "I savoured [the 'fly victory] in my head; I didn't really show it. I had to move on pretty quickly. I had no more legs, no more arms. It wasn't easy [going straight into the medley semi]. I especially enjoyed being on the podium, it rounded off my afternoon."
Bowman has France's greatest hope in the pool at a home Olympic Games in Paris in 2024 on his books. So far so more than good. In Budapest last yea, Marchand took down the French 200 'fly record that had stood to Frank Esposito, a former teammate of Leon's mother, Céline Bonnet, and father, Xavier Marchand, at 1:54.62 since French nationals on April 18, 2002.
Marchand has risen to the ranks of game changers, his 400m medley world record last Sunday the nail in a point he hammers home with every passing swim.
The next one is the 200m medley, after he booked lane 4 for the showdown tomorrow in 1:56.34, 0.16sec ahead of Olympic silver medallist Duncan Scott, for whom the medley is a unique sole solo target for the Brit in Japan this summer of working towards next and a Paris Games that follows on from gold and three silvers in Tokyo a Covid-hastened three years on.
Olympic champion Wang Shun missed the cut in 11th but the final will be a rattling affair without him, Carson Foster, Hugo Gonzalez, So Ogata and Tom Dean and Shaine Casas out on the wings all piling into the showdown between 1:56.5 and 1:57.2.
Like Marchand, Scott the Scot was looking forward to the fun of a 200 medley final: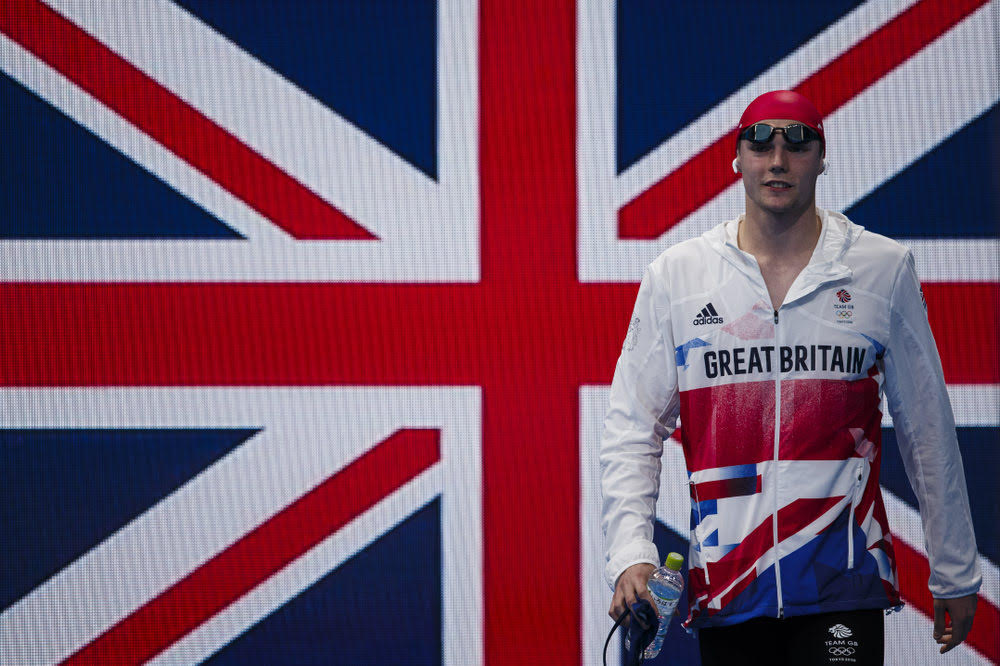 "There are a lot of the boys in there I've not raced before, missing last year, so it's good to get in there and race them ahead of next year in Paris. That's the main reason why I'm looking forward to tomorrow night, it's why I wanted a good lane as well, really just to get a sense of what it's like. I'm really happy I moved it on and see where I can make some changes ahead of tomorrow. Deano (Tom Dean) has already had a great week, Marchand speaks for himself, Carson is swimming well, Seto – it's going to be pretty good fun."

Duncan Scott – photo: Duncan Scott – by Patrick B. Kraemer
Dean and Scott took Olympic gold and silver in the 200m freestyle in Tokyo and were joined by Matt Richards and James Guy for gold in the 4x200m free. Richards pipped Dean by 0.02sec for 200 gold in Fukuoka yesterday and today reinforced his fine form and fettle with two British records in the heats and then semi of the 100m freestyle, a 47.59 this morning giving way to a 47.47 this evening for a ticket to lane 4 in the there and back showdown tomorrow.
Process is the common mantra of all multi-taskers, Scott still one of those in Fukuoka courtesy of three rounds of his solo and relay duty atop. Says Richards: "Coming into this today was all about progressing through the rounds, trying to swim smart – that was what got us the win last night, being smart with how we raced it. So that's what it's been about in both of those, getting the job done to get a place for tomorrow. Getting lane four for tomorrow night is great, it should be a really good race, it's another stacked field – I'm just really excited to get going again.
He added: "Something we really prepared for was trying to be as stable emotionally as possible after the win in the 200m Free, to allow us to have as much energy as possible to go again in this 100m. And likewise, regardless of the outcome tomorrow, good or bad, the same will stand – we'll try to stay as emotionally stable as we can to get ready for the relays at the backend of the week."
Richards and Co will face the favourites David Popovici, World record holder and the defending champion who off his best and off the podium in the 200m yesterday, and Kyle Chalmers, the Australian still at the top of his game seven years after claiming Olympic gold as a teenager in Rio. Chalmers said: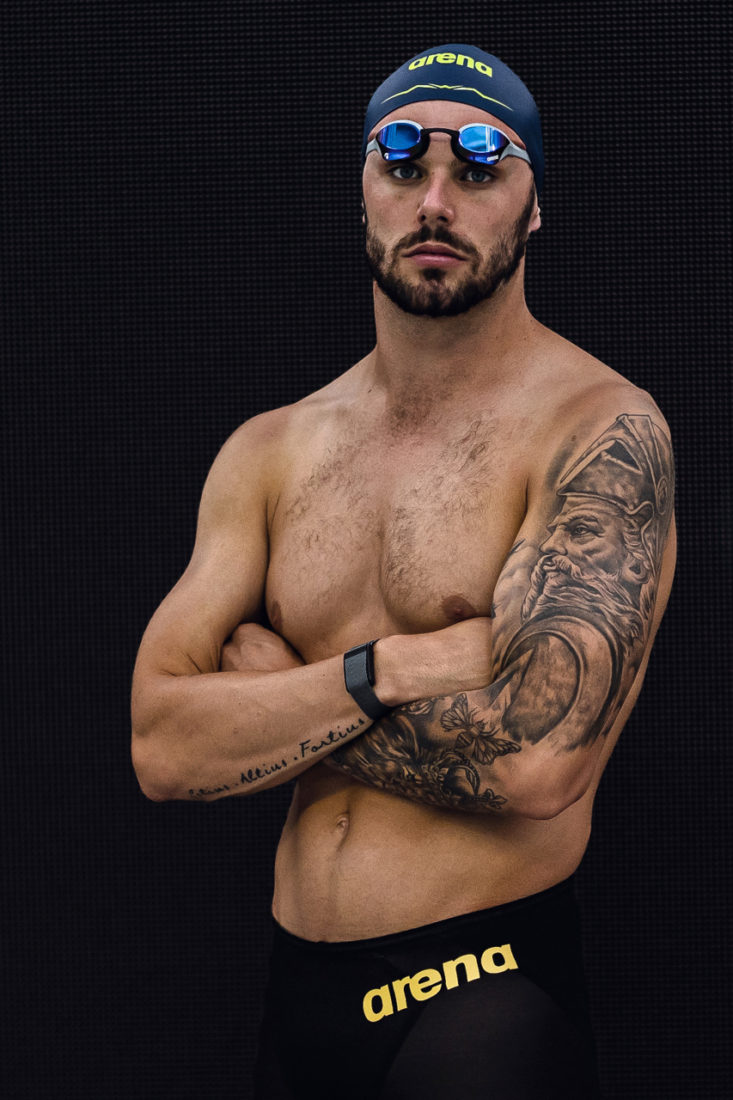 "Relays are always different to an individual race, obviously I get to swim through a little bit of wash whereas individual you have got to swim it yourself so di have definitely got a bit of confidence, two 47s in one day is nice, I think it's the fastest heat and then semi-final that I have ever done.

"So have the morning off tomorrow, caffeine up tomorrow night, I think I can swim pretty fast. Physically I feel really good, I have been able to get through both of these rounds with very minimal mental or emotional energy put in. Physically obviously you have to put in a little bit to swim that fast but I was able to get through those two rounds with that in the tank and tomorrow I know that I can put all my emotional energy into swimming fast and trying to make some proud.

"I'm 25. I think tomorrow night I will probably be the oldest person in the race, I have been through it quite a few times and I understand that heat, semi-final process a whole lot better now.

Kyle Chalmers – by Joel Spear, courtesy of arena
Gallery – Live in Fukuoka, Patrick B. Kraemer / MAGICPBK