Leon Marchand Heralded By Michael Phelps After Magnificent 4:02.50 Takes American's Last World Record Down In Fukuoka Flames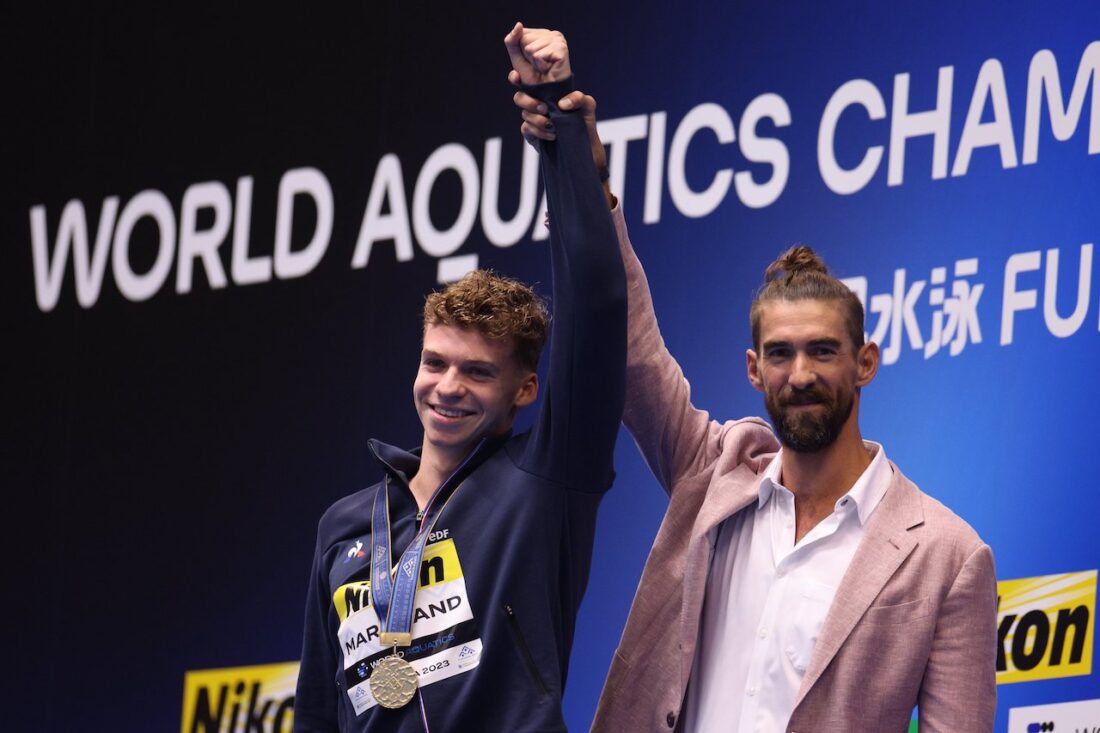 Leon Marchand graced the first day in the pool at World Championships with a magnificent 4:02.50 victory march was heralded as a prospective sub-4-minute 400IMer by Michael Phelps after the American watched his last surviving World record go down in the flames of a phenomenal evening in Fukuoka.
First consider the splits of the Frenchman who becomes the first in history to claim World 400IM titles in consecutive years (a quirk of Covid-pandemic contract delays and a crunched race calendar):
Consider the splits marching to a sensational 4:02.50 World-title victory in the 400m medley in Fukuoka this evening.
54.66; 1:56.64 (1:01.98) 3:04.28 (1:07.64) 4:02.50 (58.22) Marchand WR Fukuoka 2023
54.92; 1:56.49 (1:01.57) 3:07.05 (1:10.56) 4:03.84 (56.79) Phelps Beijing 2008 WR Olympic Title
55.54; 1:58.66 (1:03.12) 3:05.94 (1:07.28) 4:04.28 (58.34) Marchand Budapest 2022 WCR, ER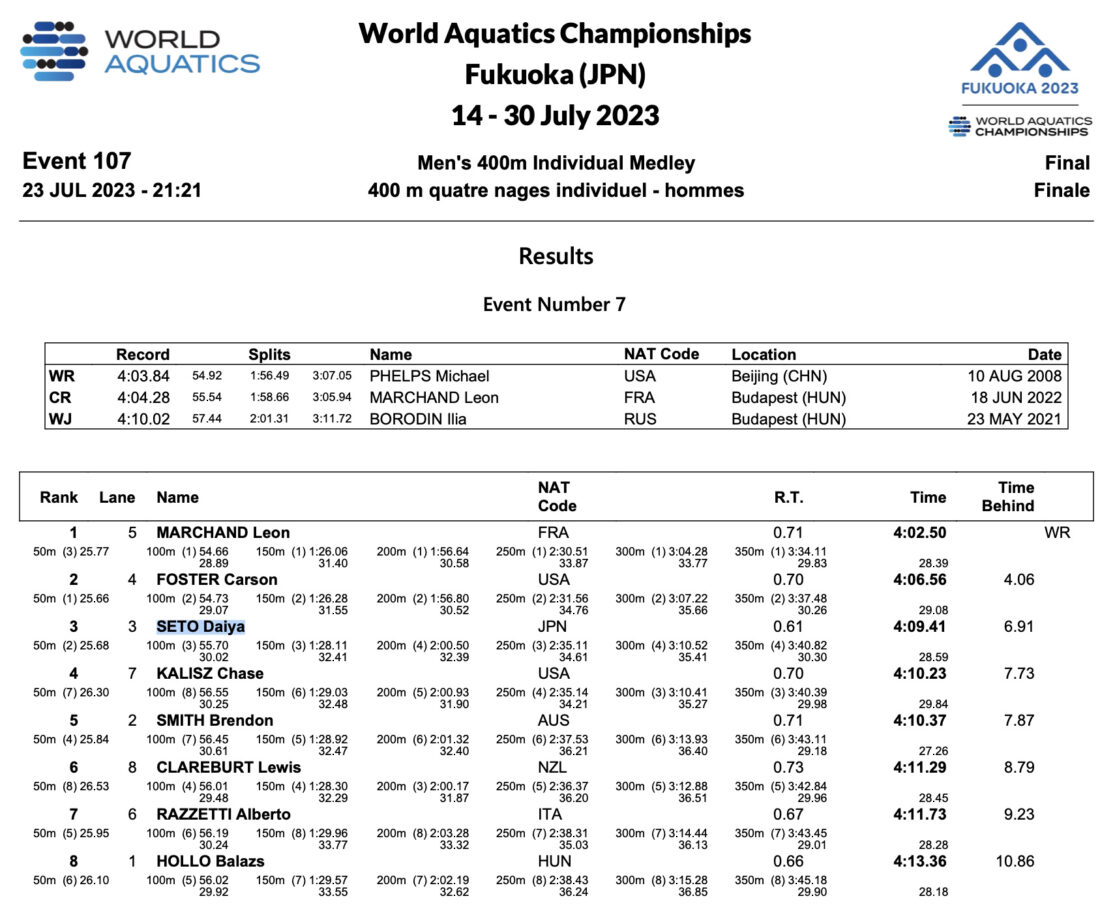 A 2:06 200m breaststroke swimmer, Marchand – developed to Olympic level by French coach Nicolas Castel, the sports director at Dauphins du TOEC in Toulouse – already had a big drop on Phelps for the third medley stroke but it was backstroke where we saw the 2008 standard fall, the writing on the wall at the half-way courtesy of a 1:01.98 backstroke split that compared to 1:03.12 when Marchand clocked 4:04.28 for the 400IM title just a year ago in Budapest.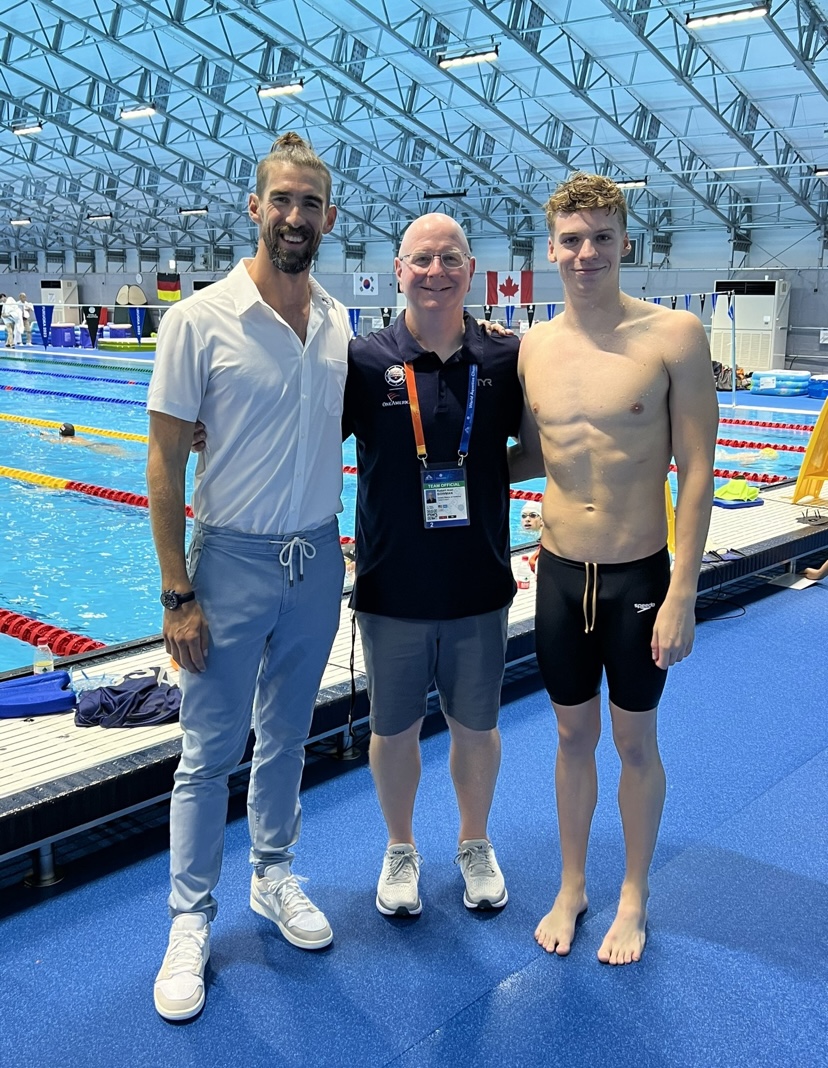 Phelps stood from his position in a commentary box and applauded the man now guided by the most decorated Olympian's old mentor, Bob Bowman at Arizona State University and the Sun Devils in a program where the warning "Fear the Fork" screams from hoodies, cups and an assortment of other merchandise. The team there has been denting the NCAA pride of traditional championship trophy chasers.
From Phelps today, it came as little surprise to hear a whisper of the mindset honed by the mind of a "Machiavelli in sneakers", as colleague and former swimming correspondent for The Australian Nicole Jeffery put it when Bowman told us back in 2008 how he had stood on a pair of googles before a young Phelps was due to race so that he's learn to race without props and comforts.
Not so much "what a great swim" from Phelps as this just after Marchand stopped the clock: "I'm just happy I have the longest-standing world recordI said to Bob earlier this year, 'I think this kid has the potential to break four minutes'."
Marchand is 21 and has made tremendous progress under Bowman's tutelage. The mentor, head coach to the USA in Fukuoka and cheering American charge Carson Foster on to silver in 4:06.56, the bronze to former champion Daiya Seto in 4:09.41, may have spotted some room for improvement here and there but the Frenchman's flow looked almost as close to perfect as we've ever seen.
Marchand's closest opponents had a slither more to give on freestyle but it was all too late, the work done, the harvest in.
A feast is in prospect for a home Paris 2024 Olympic Games if all runes are right. As Phelps once said of his records (200m free, 100 and 200m 'fly, 200 and 400m medley – and pioneering roles in all three relays open to him in his era) when asked how long they might last, "no idea, I just know they're there for breaking …". The record today ending the longest world-record bull run on the books in the modern era since the 1950s: the 400IM standard had been in Phelps' hands since August 15, 2002:
| | | | |
| --- | --- | --- | --- |
| 4:11.09 | Michael Phelps | 15 August 2002 | Fort Lauderdale, United States |
| 4:10.73 | Michael Phelps | 7 April 2003 | Indianapolis, United States |
| 4:09.09 | Michael Phelps | 27 July 2003 | Barcelona, Spain |
| 4:08.41 | Michael Phelps | 7 July 2004 | Long Beach, United States |
| 4:08.26 | Michael Phelps | 14 August 2004 | Athens, Greece |
| 4:06.22 | Michael Phelps | 1 April 2007 | Melbourne, Australia |
| 4:05.25 | Michael Phelps | 29 June 2008 | Omaha, United States |
| 4:03.84 | Michael Phelps | 10 August 2008 | Beijing, China |
| 4:02.50 | Léon Marchand (FRA) | 23 July 2023 | Fukuoka, Japan |
In all his history, Phelps's run is phenomenal in general and all the more so in context of longer records: Dutchwoman Willy Den Ouden held the 100m freestyle world record from 1933 for almost 23 years until Australian then. legend-to-be Dawn Fraser broke it in 1956, the war years having stretched time and possibility.
The statistics kept for swimming are particularly poor when compared to other sports. Let the addition begin: who can name the coach who was on the deck coaching wave after wave off swimmers who held the world record in the same event? Which coach, which program, which nation had the biggest bull run. Only then can you ask why in context; only then can the sport be explained to a wider audience with facts and romance entwined.
Phelps' record of 4:03.84 marked the the first of his eight gold medals at the Beijing 2008 Olympics. Marchand emerged from his epic to say: "That was insane. That was one of the most painful things I ever did … The best is yet to come."
On the trail of progress last year, Marchand said: "I don't want to be compared to Phelps all the time. I'm very, very far from him. And Bowman didn't just have Phelps, he had a lot of other [star swimmers]. Let's say I want to create my own path, I don't want to follow Phelps'."
Marchand Marc he'd to his own tune today but was also happy to be heralded by Phelps, as the World Aquatics image above shows so well.
Marchand Family Tradition & The Performance Pathway to Paris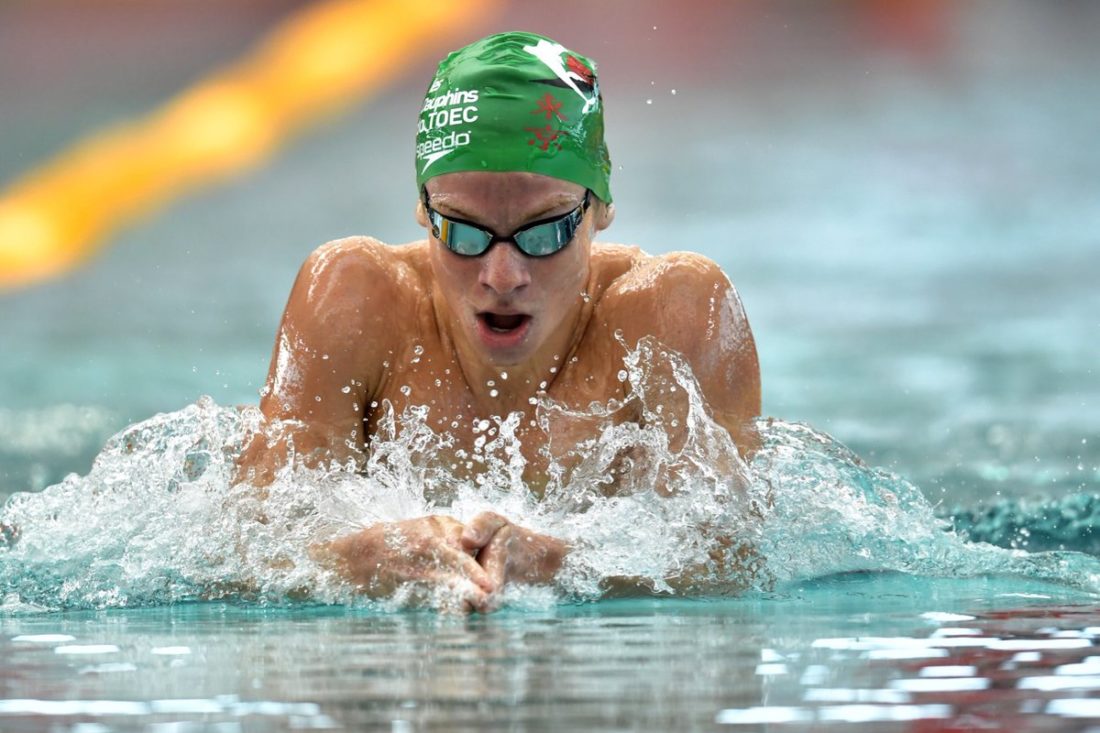 The son of Xavier Marchand, Perth 1998 Worlds silver medallist over 200IM atop a career that included European silver and bronze medals and the Mediterranean Games title in the same event, Léon Marchand caught up with dad on the clock as a 17-year-old in 2019: 1:02.3 on 100m breaststroke to 1:05 for dad; 54.28 in the 100 'fly, 55.45 for dad; 2:00.66 in the 200IM, 2:01.08 for dad … and so on.
Then on day 1 at French nationals in 2021, he turned the sailboat in which he sailed past Xavier's 4:21 best 400IM in 2019 into a speedboat with a 4:09.65, which stood as the French record until Budapest Worlds prelims last year. That passage of rites from junior to big senior prospect marked the latest extension of a steep trajectory for the son of Céline Bonnet, the French 1992 Olympic swimmer and teammate of French 200 'fly legend and national-record holder yet, Frank Esposito when he claimed Olympic bronze: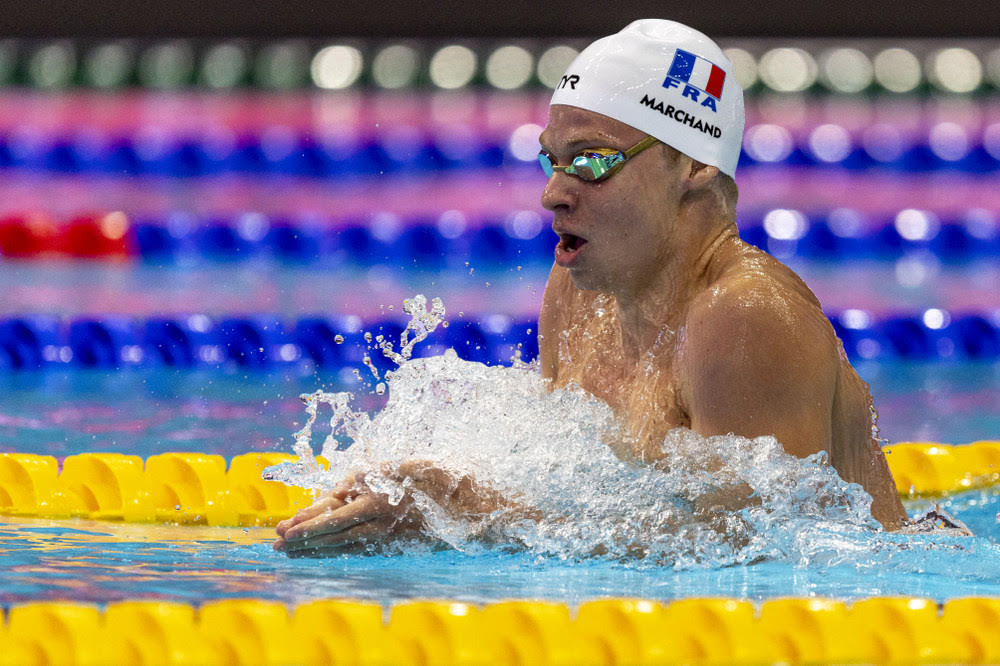 Leon's Progress
2022: 4:02.50 World record after:
2022: 4:09.09 in Budapest heats; 4:04.28 CR, ER, Textile world best and World title
2021: 4:14.97 then that 4:09.65 on the way to a ticket to Tokyo and race in his first Olympic final
2020 best – 4:16.81
2019: 4:19.78 was the moment he got past dad on his way to a 4:16.37 best that season, with three other 4:19s in between and three efforts in the 4:20s.
2018: 4:35.37 at 15, with his eye on dad's 4:21.33.
Asked about the family Olympic swimming tradition, Leon says: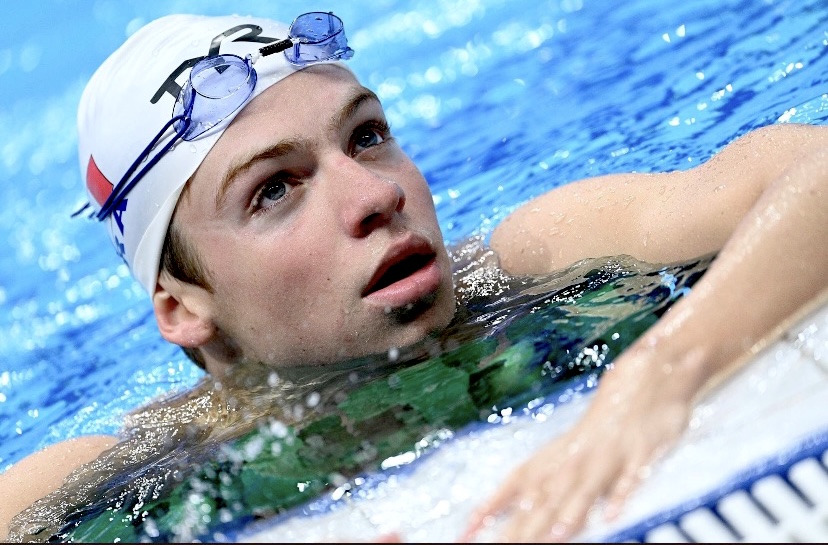 "It is very special because my father supports me every day. He gave so much advice about swimming, about everything, so I am just very happy to bring him this medal, to keep going (with) this swimming family.

"He told me very early that swimming is very hard and to be able to be at this level today, you need to train a lot. I think it's been five or six years I am just dedicating my life to swimming, so I think that is a good gift for me and for my family because they have to wake up with me every day, bring me to practice and that is pretty cool."

Leon Marchand – image courtesy of the French Swimming Federation – FFN
Performance guru Jacco Verhaeren, at the helm of the France's preparations for a home Olympic Games in Paris just two years away, told SOS last year that the presence of Marchand can only serve to motivate the medley ace's national teammates and Olympic-team prospects: "It was a great swim. So fun to watch. Having him there is great motivation for the French team and the whole national program. He's a very exciting swimmer and that was really fun to watch."
There's more to come from Marchand in Fukuoka as he practices a potential Paris 2024 programme: he's entered in the 200m butterfly (2022 silver behind the other man to take down a Phelpsian standard, Kristof Milak), the 200m breaststroke (4th fastest in history) and the 200m IM (reigning World champion from 2022). He may drop the 200m breast since the semifinals start 20 minutes before Thursday's 200m IM final.