Magyar King Kristóf Milák Makes It A Sizzling Six Hungarian Golds With 50.47 Record In 100 'Fly After 1:46.1 200 Free Victory At Budapest Finale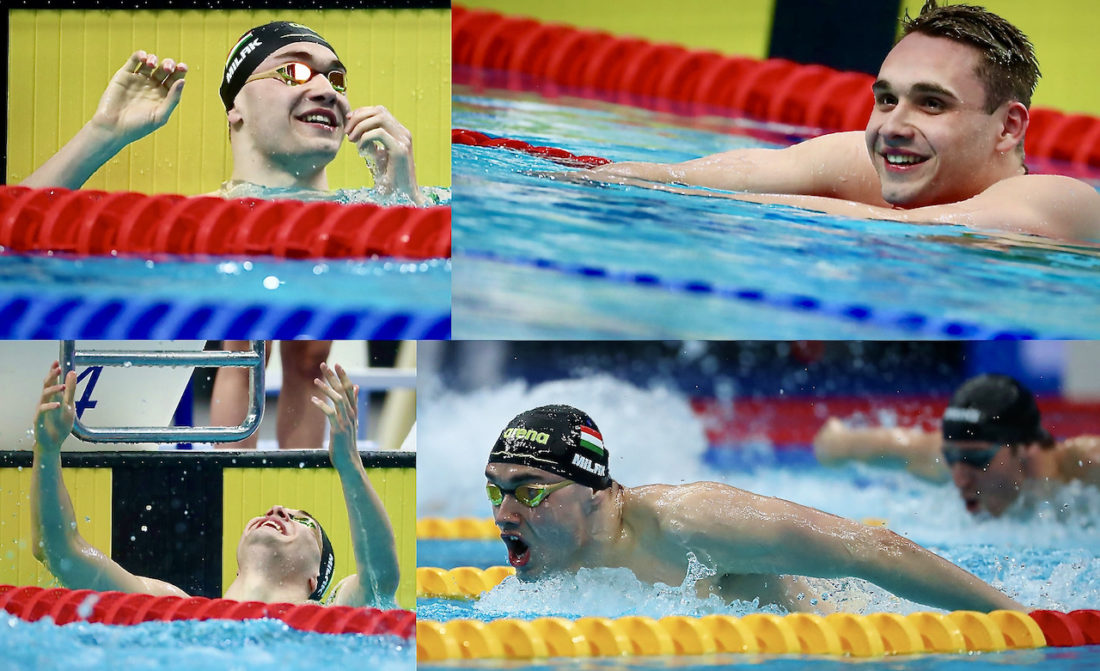 Kristóf Milák ended his 2021 Hungarian Championships campaign in the most fitting of fashions after five days of gauntlet chucking in Budapest, a 50.47 national record in the 100m butterfly following a 1:46.15 triumph in the 200m freestyle taking his tally of gold to six.
There were victories in the 50, 100, 200 and 400m freestyle and the 100 and 200m butterfly (an early report omitted the freestyle dash, apologies).
In the 100m butterfly, Milák's 50.95 from 2019 World titles and his national record of 50.62 from 2017 were on notice before the gun went off. At 50.47, Milák is now 5th all-time in textile and 7th all-suits.
At the 50m mark, Milák was on target, a 23.84 comparing to the 23.78 he went through in for 50.93 in the semis in Gwangju back in 2019. In the final on that occasion he went out in 23.63 and was back in 27.63, for a frustrating fourth place in 51.26, shy of the 51.16 in which 2012 Olympic 200m butterfly champion and the first clean man home over 200m free at Rio 2016, Chad Le Clos (RSA) took bronze.
Today, Milák was back home in 26.63, a full second swifter than his Gwangju return in a week that saw him claim the 200m World titles and record in a sensational 1:50.73, the past of the best freestylers in the world in the late 1970s.
Milák's Rise In The All-time Top 10 World Rankings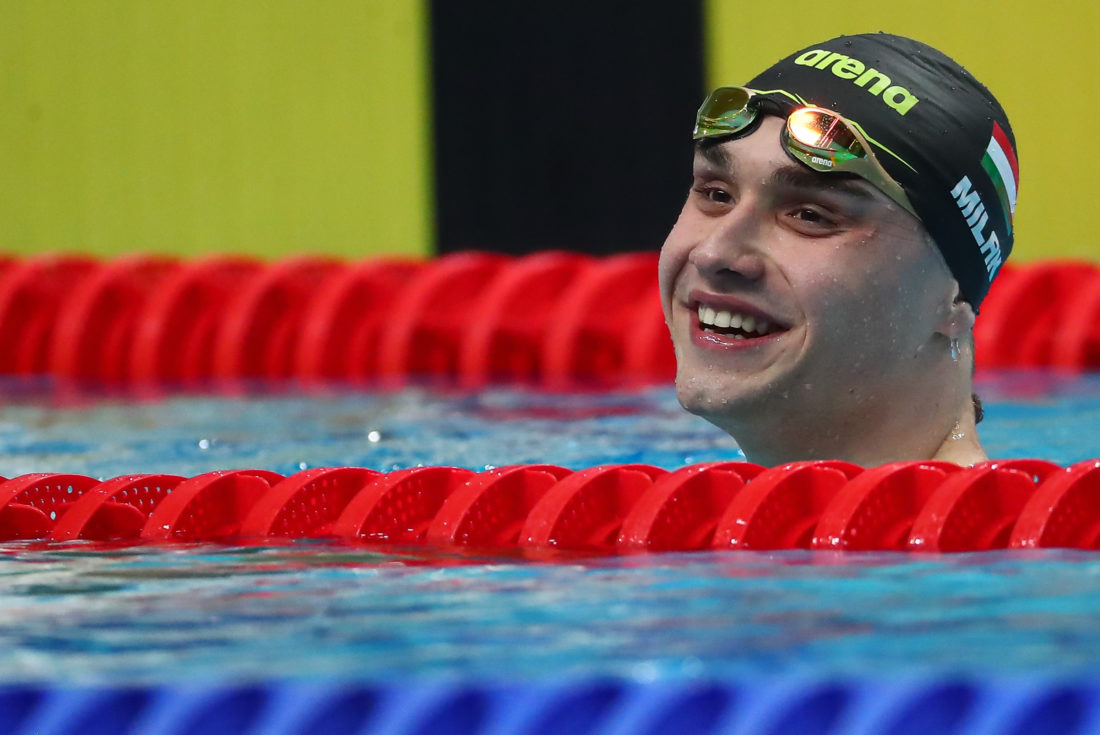 Milák's 50.47 places him fifth in the all-time textile top 10, squeezed between the best of Michael Phelps and Le Clos:
49.50 Dressel, Caeleb, USA LCM2019
50.39 Schooling, Joseph, SIN LCM2016
50.40 Crocker, Ian, USA LCM2005
50.45 Phelps, Michael, USA LCM2015
50.47 Milák, Kristóf, HUN LCM2021
50.56 Le Clos, Chad, RSA LCM2015
50.64 Codia, Piero, ITA LCM2018
50.67 Guy, James, GBR LCM2017
50.68 Rooney, Maxime, USA LCM2019
50.83 Minakov, Andrei, RUS LCM2019
All suits, Milák is up to No7:
49.50 Dressel, Caeleb, USA LCM2019
49.82 Phelps, Michael, USA LCM2009
49.95 Cavic, Milorad, SRB LCM2009
50.39 Schooling, Joseph, SIN LCM2016
50.40 Crocker, Ian, USA LCM2005
50.41 Munoz Perez, Rafael, ESP LCM2009
50.47 Milák, Kristóf, HUN LCM2021
50.56 Le Clos, Chad, RSA LCM2015
The Budapest podium was completed by Hubert Kós, 17, out in 24.18, home in 51.61, and 50m champion ahead of Milák, Szebasztián Szabó, out in 23.59 ahead of the man of the meet, home in 51.71.
In fourth: László Cseh, at 36 on 53.03, an Olympic silver medallist and World 'fly and medley champion whose soaring career has spanned two decades.
Coached by Attila Selmeci at BHSE, Kristóf Milák struck from the get-go in the 200m freestyle, turning with a lead of almost half a second at the 50m mark before Nandor Neméth cut the gap back to 0.19sec by half-way. The second half of battle belonged to the man racing towards the title with greater momentum than his closest challenger, though the prize for the fastest last lap went to medley man Balázs Holló.
The 200 Free Flow:
23.54; 50.31; 1:18.18; 1:46.15 (28.34) Kristóf Milák
23.97; 50.50; 1:18.91; 1:47.52 (28.61) Nandor Neméth
25.15; 52.28; 1:20.16; 1:47.67 (27.51) Balázs Holló
National record holder Dominík Kozmá withdrew from the final after qualifying third-fastest for the final yesterday. His 1:45.57 Hungarian mark from 2019 World titles survived but Milák gets ever closer.
He arrived at nationals with a 1:46.90 best from 2019 Hungarian nationals. A 1:44.8 relay split earlier in the week indicated that Milák had something sharper in prospect for the solo battle. On the last of five days of intensive racing, Milák rattled Kozmá's record with a 1:46.15 that would not have put him in the mix of a 2019 World-titles final ranging from high 1:44 through to 1:45.90 but is also 0.52sec of the pace it took for bronze in Gwangju.
Milák's verdict: "Disappointed – I wanted a 1:44". What he wants he appeared to work for – and Hungary appears to have a Chad Le Clos of its own, a man capable of claiming Olympic gold over 200m butterfly and freestyle. If that is one comparison, there's another, taking in the use of the 400m and the 100m freestyle as part of preparation for the signature event in a multi-event program: the Phelpsian pathway set for Michael Phelps along the years by coach Bob Bowman.
Kristof Milák – High Five Days At Budapest Nationals
Kristóf Milák has spent the last five days racing into waters previously uncharted by him – most races (barring the 200m butterfly and 400 free) produced a personal best and, in the case of the 200m butterfly, he raced into waters uncharted by anyone else, with the swiftest times ever seen in evening heats (or any heats) and morning finals. The highlights of his week: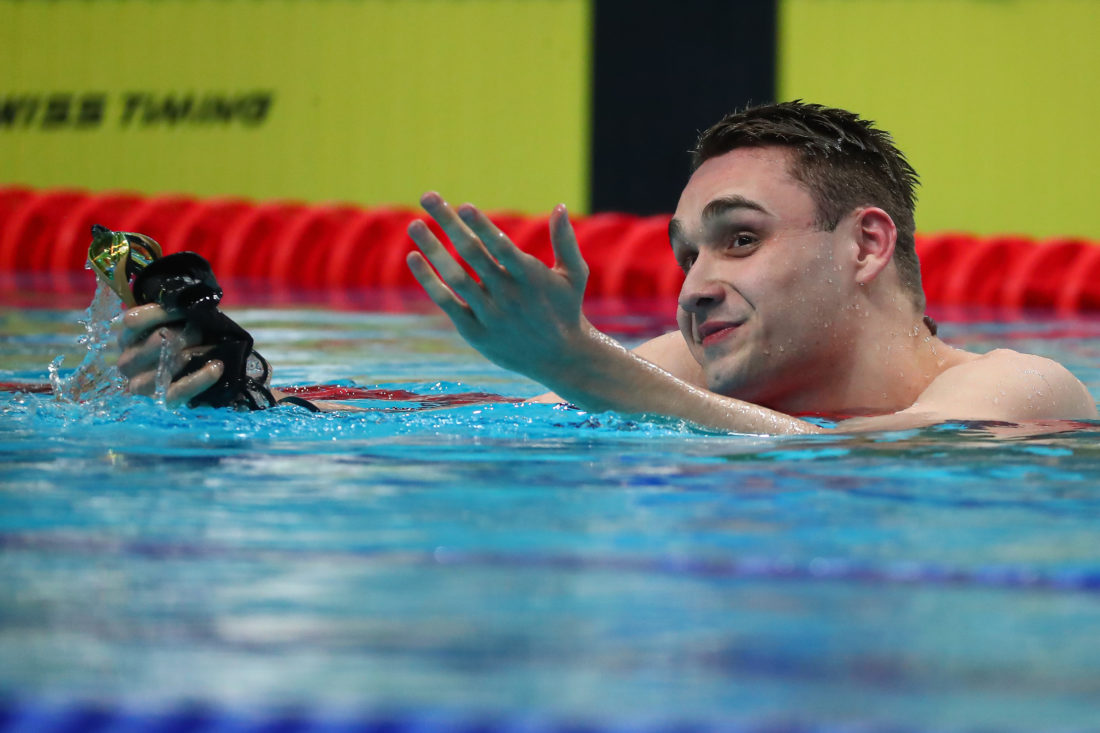 Champion this week over 100, 200 and 400m freestyle and 100 and 200m butterfly, Milák took silver behind Szabó in the 50m butterfly – and will now, he says, get down to "serious preparation", as he called it, for the Covid-delayed Tokyo 2020 Olympic Games.
After his 1:51.40 in the 200 'fly earlier in the week, Milák said:
"The last 50 wasn't so good – a clear sign of under-training. Serious preparation starts after this."

Kristóf Milák – image of Milák racing in Budapest at nationals , courtesy – Hungarian Swimming Federation
In other finals…
The top four in the women's 100m butterfly produced 59sec efforts, Katinka Hosszu at the helm on 59.30, followed by Dalma Sebestye, 59.52, Boglárka Kapas, 59.53, and 16-year-old Panna Ugrai, on 59.94.
There were distance crowns for Kristóf Rasovszky, on 7:55.52 in the 800m freestyle, an Viktória Mihályvári-Farkas, on 16:27.22 in the 1500m freestyle.
The last session also delivered titles for Richard Bohus, on 25.07 in the 50m backstroke; Csaba Szilagyi, on 27.46 in the 50m breaststroke; Katalin Burian, on 28.53 in the 50m backstroke; Dalma Sebestyen, on 31.59 in the 50m breaststroke; ; and Laura Veres, 15, on 1:59.60 in the 200m freestyle.