Mack Horton Says He Would Stage A Form Of Peaceful Protest Again At Tokyo 2020ne Olympics If Sun Or Similar Issues Rise Up The Aerial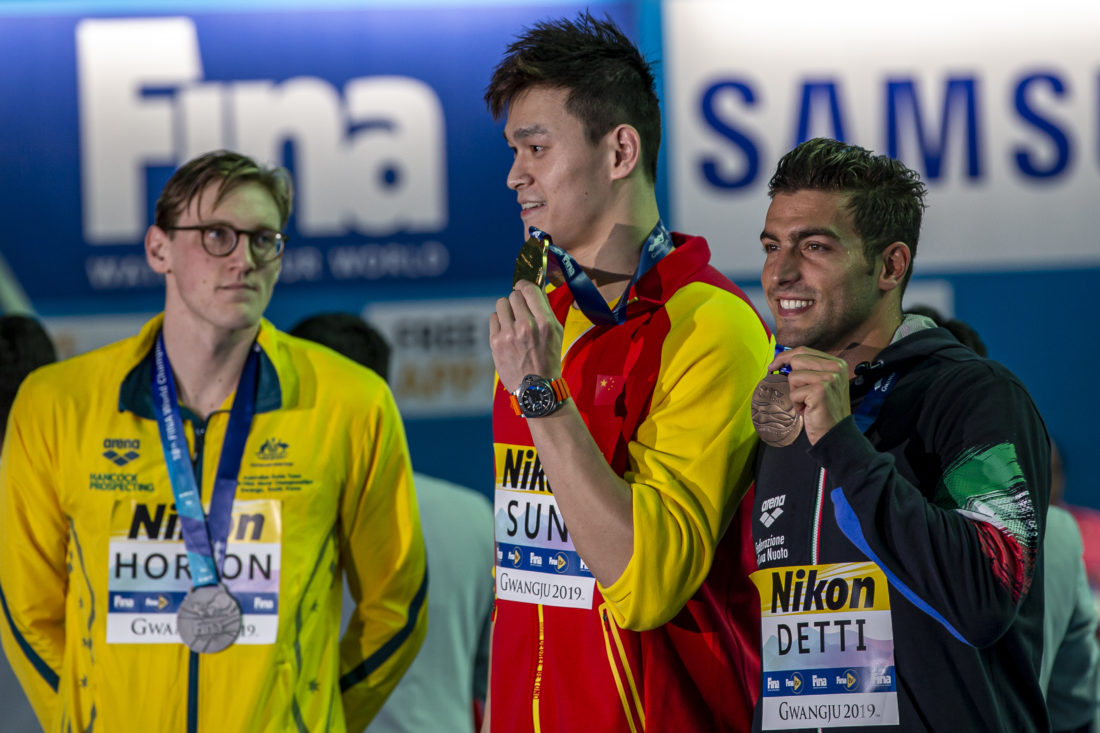 Olympic 400m freestyle champion Mack Horton would repeat his peaceful podium protest of 2019 at the Tokyo Games this summer if Sun Yang* or similar circumstances as those in which he found himself standing next to a fellow medallist towing a doping record ere to crop up again.
In an exclusive sit-down interview with Australia's Sunday Telegraph (subscription), Horton disclosed that "even though he's still copping abuse from Sun's fanatical Chinese supporters, he has never had any misgivings about standing up for clean sport and was prepared to do it again," writes reporter Julian Linden.
Horton, described by the paper as "the unflinching Australian anti-drugs crusader" refuses to cave in and compromise on his beliefs and says that he is willing to put his neck on the line again and stage another demonstration at this year's rescheduled Tokyo Olympics if a similar situation to that which unfolded in Gwangju at 2019 World Championships arises again. Horton tells Linden:
"I did it because I didn't want to regret not doing it or not saying something; so yeah, I would do something again."

Mack Horton
The Telegraph opines: "Horton's explosive admission will be music to the ears of everyone who firmly believes that athletes should be free to speak out on issues close to their hearts, but it will set off alarm bells among Olympic and swimming officials frightened of upsetting China."
Sun Yang was slapped with an eight-year ban by the World Anti-Doping Agency (WADA) on February 28, 2020 after a November 2019 hearing at the Court of Arbitration for Sport (CAS). All three judges sided with WADA in its challenge to a FINA Doping Panel ruling that issued Sun Yang with a blistering warning after an acrimonious four-hour dispute through the night with Chinese out-pf-competition testers working for an international testing agency on behalf of FINA ended with a blood sample signed off by the swimmer into the chain of custody being taken back.
WADA argued that that alone constituted manipulation in the WADA Code, even before considering the actions of a security guard who was asked to fetch a hammer by Sun Yang's mother Ming Yang before he smashed the outer casing of the sample on a pavement outside the control room as Sun stood shining a smart-phone light on events, according to the original report that FINA sought to keep confidential.
This author and the Sunday Times revealed the details of the case in January 2019 and when those details were drawn to WADA's attention, it took the decision, in March 2019, to appeal the FINA decision to the CAS.
Gwangju Podium Protests Of Mach Horton & Duncan Scott
The length of time it took and takes for cases to make it to a hearing meant that Sun was free to race on in summer 2019 and at World Championships he took gold in the 200 (after the disqualification of Lithuania's Danas Rapsys for a false start) and 400m freestyle.
The 400m was the first of those races and Mack Horton, who defeated defending champion Sun for the 2016 Olympic title two years after Sun's first brush with WADA and a backdated suspension that was never actually served, staged a peaceful podium protest. In Gwangju, he refused to stand on the dais for medals and during the playing of the Chinese anthem sounded and then refused to stand for group-podium photos with Sun.
Britain's Duncan Scott staged a similar protest by refusing to stand for group photos after he claimed bronze in the 200m freestyle final. Sun screamed in Scott's face that he was a "loser" as the medallists left the stage under the giant Championship motto "Dive Into Peace" in full view of the world's cameras.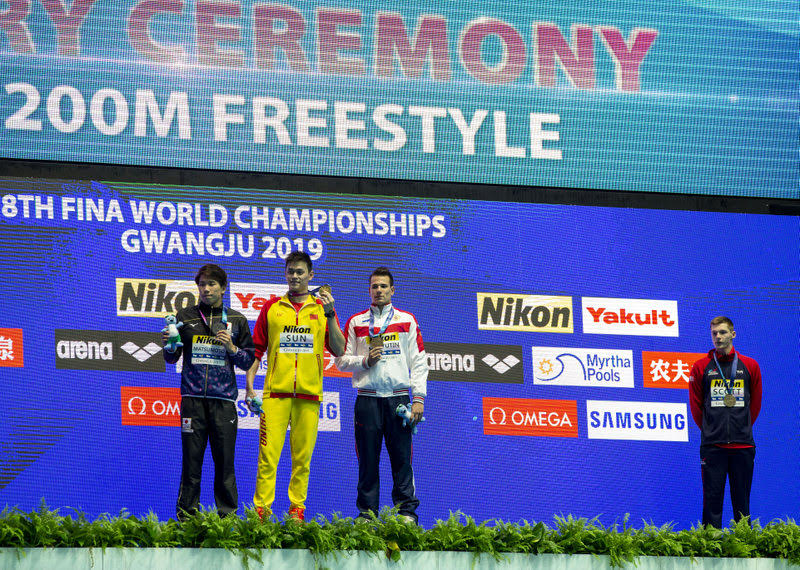 FINA slapped all three swimmers with warnings and rushed through hastily worded by-laws to quell further podium protests. Today, Horton reflects on his Gwangju protest and says that if there's a next time he would opt for the choice Scott made:
"In hindsight, maybe it (his own version of the protest) was a bit extreme.I think Duncan Scott was maybe a bit more tasteful but maybe he looks a bit more tasteful because of what I did. He got up on the podium but didn't get on the top dais for the photo."

Image: Joint-third-placed Duncan Scott of Great Britain (R) refuses to pose with winner Sun Yang of China during the medal ceremony in the 200m freestyle at the Gwangju 2019 World Championships – by Patrick B. Kraemer
Horton reminds readers of the Telegraph that his campaign to protect clean athletes has never been personally directed at Sun or his homeland, but, as the paper notes "was instead aimed at the flawed system which permits athletes from some countries to compete at major events while they're still under investigation for alleged anti-doping offences while competitors from other nations are immediately stood down."
Horton, 24, copped it from Chinese fans in the wake of his protest, some of the bad behaviour stretching to death threats and acts of vandalism including shards of broken glass being thrown into the Horton family pool. Says Horton today:
"It was obviously pretty brutal for a bit and it goes on. But you adapt. Everyone's got used to it and we've obviously got a fair bit of support as well."

Mack Horton – Image – by Deli Carr, courtesy of Swimming Australia
As revealed last year, global swimming officials at FINA secretly tried to strip Horton of the silver medal he won at the 2019 world titles, but were persuaded to back down for fear of inciting more protests.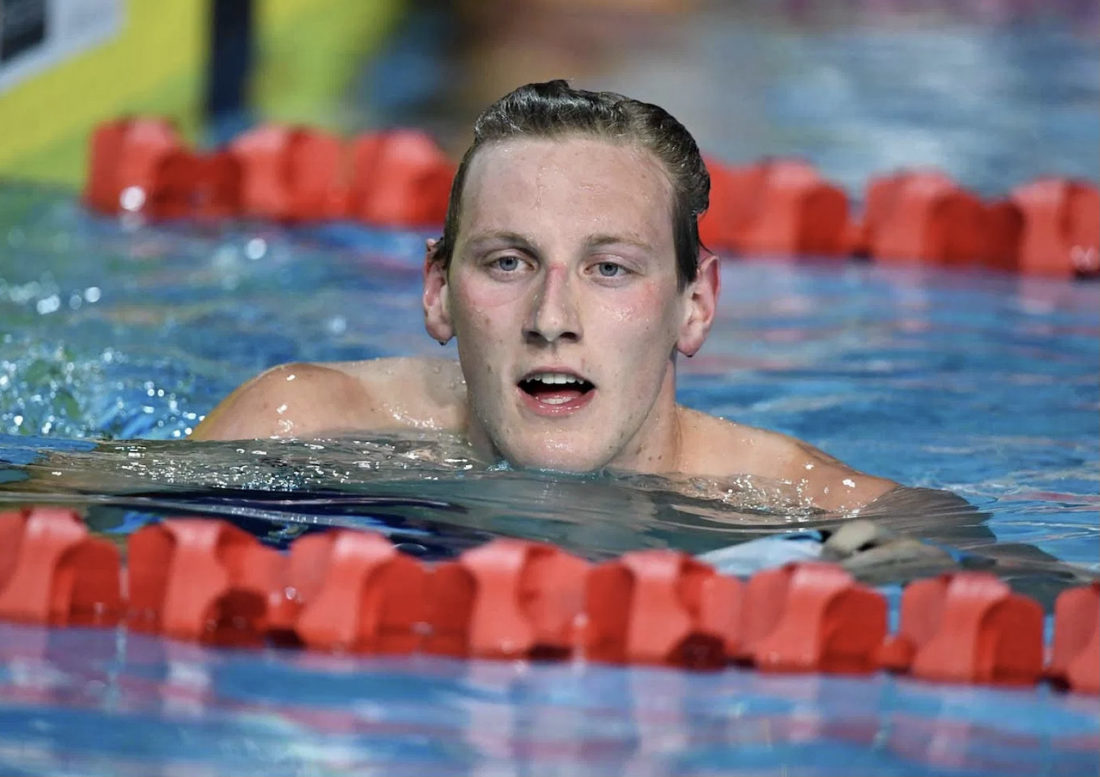 Horton has maintained a dignified silence in the 18 months since Gwangju but now says he will stage a protest of one kind or another should he be forced to stand next to a swimmer towing a doping record. he tells The Australian Sunday Telegraph that he is yet to figure out the best way to make his point.
The second hearing of the Sun case is set to take place via video conference between May 24-28 and it may well be that no verdict will be announced in time for the June deadline fort entries to the Tokyo Olympic Games. So far, Sun has not qualified for the Games but if China wanted to select him, it could, the Telegraph suggests.
That said, a verdict may be fairly swift this time round in that all the key arguments have already been heard in the public domain and recorded by the CAS.
Meanwhile, the men's Olympic 400m freestyle final is scheduled for July 25 in Tokyo and Horton says he is preparing the same regardless of whether Sun is there or not. Horton tells Linden:
"To be honest, I haven't really thought about it but if he is there, it's no different to every other international meet I've raced because he's always been there. So, if he's not there. It'll be weird, it'll be different."

Mack Horton
*- indicates a swimmer who fell foul of anti-doping rules and received a suspension